Ready, Fire, Aim Real Estate and Stock Hacking w/ Habib Olawale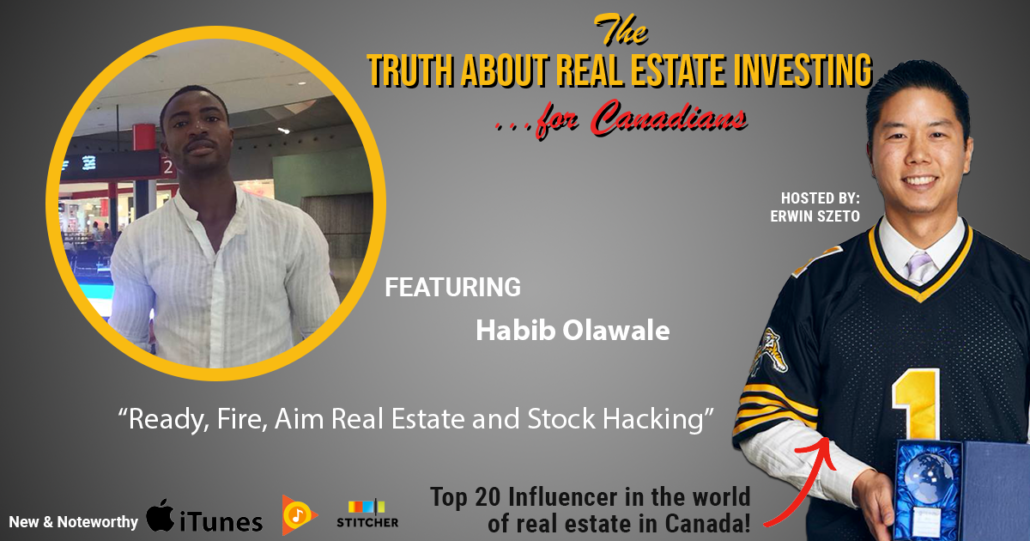 Hello Wealth hackers!!
What a week I had last month!! Fresh off Thanksgiving, it was already a short week and I took a 6am flight to Miami, Florida on Tuesday for my meetings with Grant Cardone and Steve Spray at Cardone Enterprises. Honestly, I don't usually book my own flights. Cherry usually does, or my travel agent, but being ultra frugal at times can cost me in different ways than money, and this time it did. Getting up at 2am for a 6am flight really cost me a lot of energy on Tuesday, so let that be a lesson learned for next time.
Hotel check in time is not until 3pm, so arriving at noon wearing in a suit jacket in humid, 28 degree celsius weather, while dragging luggage with me is hardly practical…
View this post on Instagram
Thankfully, I was able to check in early, at noon (Thank you Courtyard Marriott). I felt like crap, so I had a nap and did some work until my 3pm meeting with my videographer, Dorian Nash.
Dorian is a good guy, a 25 years old from Michigan who moved down to Miami to get out of his comfort zone, and make more money to pay off his student debts from college. Sadly, he could not find his path in college. He did study Psychology, but they didn't teach him anything about the Psychology of Success (That's the title of a wonderful book by Brian Tracy that I highly recommend).
Dorian's story is not uncommon. He went to college, it hasn't helped him in his career, but he's still paying off the debt. He asked me on camera what I would advise someone who is 25 years old and my advice doesn't change.
Invest in yourself first, get educated in areas where you can provide the most value in your current situation, assuming you like where you work. Look at who makes the most money in your organization, then request to take on similar duties. You'll notice whoever makes the company the most money or saves the company the most money earns the highest incomes.
My path was no different when I worked in corporate: I explored ways to transition into the Sales Department as our Sales Executives all made six figure base salaries and very lucrative bonuses based on performance. I was highly inexperienced when I checked the job description, so I made the move from Operations to Product Management.
In a software company that sells software products, those who manage the products are valuable and my salary increased by over 40%. Increased salary meant more savings, more RSP matching, more credit for mortgages for investment properties or funding your stock investing account.
Many people start out trading time for money, so you may as well trade your time for as much money as possible. I was no different and Dorian is no different. Then we discussed real estate and stocks. As he's still in debt and doesn't have a downpayment for a property, I suggested stock hacking and he's definitely interested. He'll start small just like we all do, but it's better to start and start small then not at all.
Anyway, as mentioned, I was in Miami, Florida to meet with Grant Cardone's team and to interview Grant for my podcast. For me, it was an awesome interview. I took a week to prepare my five questions I had to submit in advance. I wrote a sixth on the spot then had to freestyle, as I think Grant was enjoying the interview and we went over the 20 minutes I was allotted.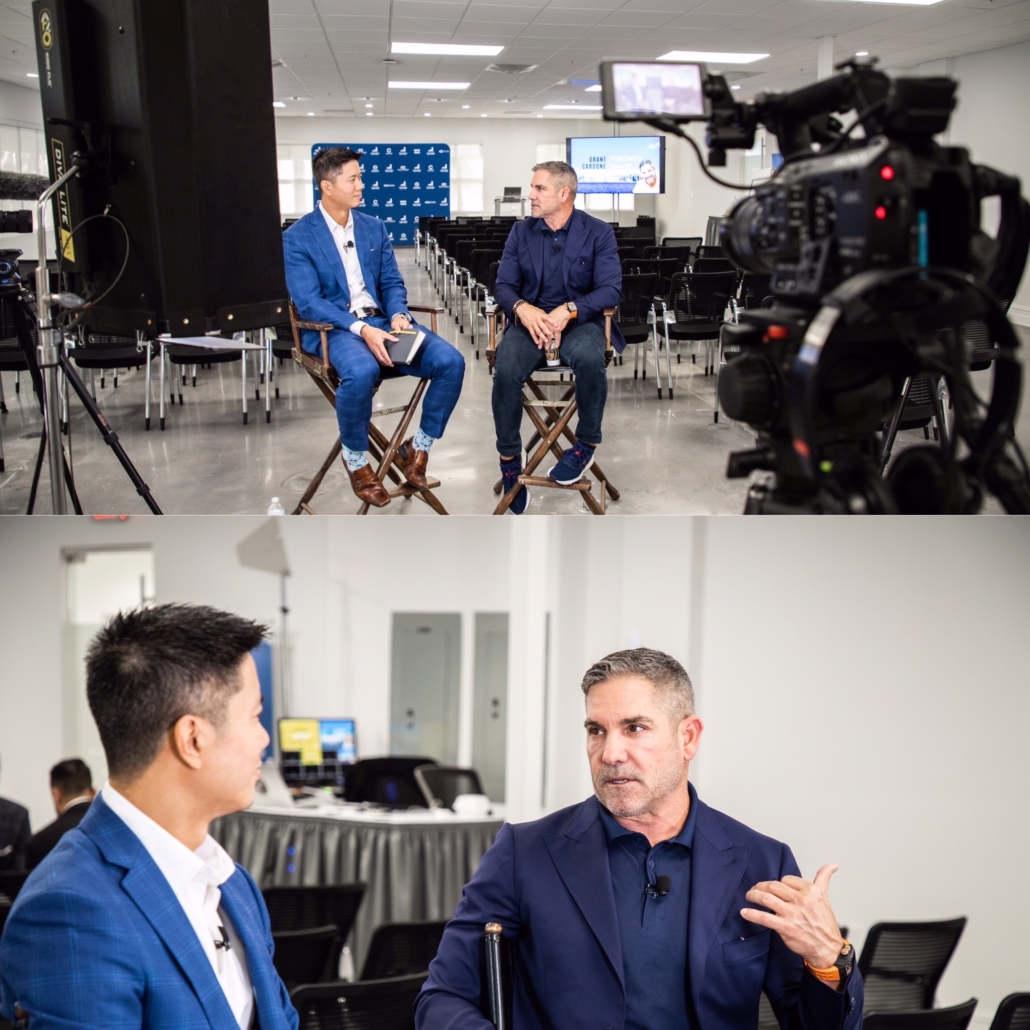 We discussed how to avoid burnout, how he's raising his daughters and their education, why he shows off so much with his Rolls Royce and private Gulf Stream jet plane, why people hate him and why people love him. The lovely Elena Cardone walked in during the interview as well so I couldn't help but ask her if she's coming to Toronto on November 9th and spoiler alert, she is.
Elena Cardone is totally underrated as an influencer by the way. She has so much presence, it felt like Julia Roberts walked into the room when she did.
I'm getting side tracked, on to this week's show!!
Ready, Fire, Aim Real Estate and Stock Hacking w/ Habib Olawale
We have my friend Habib Olawale of no surname 🙂 Habib doesn't share his surname on social media, so to respect his privacy I'll leave it out here as well.
Habib is a real estate investor with properties all over the Greater Toronto Area. His strategy is not quite refined, but he's bought mainly new construction condo apartments spread out over the Greater Toronto Area. He's done some stock investing as well, as he explains, but I think it's safe to say his strategy was hardly sophisticated.
We met over social media, as Habib reached out after being a fan of this show. He came to an iWIN meeting in July, saw the presentation by Matthew, Omar and Adriano, my stock hacker friends and ever since, Habib has been obsessed with stock hacking.
Habib took the first Stock Hacker Academy course in September and to date has made himself over $10,000 as a beginner stock option trader. Note, he's made far more on his real estate. However, even Habib wouldn't recommend anyone follow his strategy, but the most important part is he got started.
For anyone interested in taking the same Stock Hacker Course Habib did then save the dates Saturday and Sunday Nov 30th-December 1st for the in class portion of the next Stock Hacker Academy.
To Listen:

Show notes:
Two books mentioned:
Money for Nothing by Derek Foster
Get Rich With Options by Lee Lowell
FYI – both authors are expected as future guests of this show
Sponsored by:
TitanInvestmentRealEstate.com – would you like to know how our investors returned 341.8% on positive cash flowing real estate over the last five years? On average, that was 68.4% per year, just imagine what winning in real estate could do for you. If you would like to know how we did it, ask us how by calling 289-288-5019 or email us at admin@mrhamilton.ca. Don't delay, the top markets we focus in are trending upward in price, so you can pay today's price or tomorrow's price.
Till next time, just do it because I believe in you.
Erwin
Hamilton, St. Catharines, Toronto, Land Development, soon to be builder and Real Estate Investor
W: erwinzeto.com
FB: https://www.facebook.com/erwin.szeto
IG: https://www.instagram.com/erwinszeto/

https://www.truthaboutrealestateinvesting.ca/wp-content/uploads/2019/11/Habib.png
630
1200
Erwin Szeto
https://www.truthaboutrealestateinvesting.ca/wp-content/uploads/2017/06/TruthRectangleLogo.png
Erwin Szeto
2019-11-08 23:48:00
2019-11-08 23:48:03
Ready, Fire, Aim Real Estate and Stock Hacking w/ Habib Olawale