How An Investor Retired Him And His Wife With Dividends in 2011 With Brian Zammit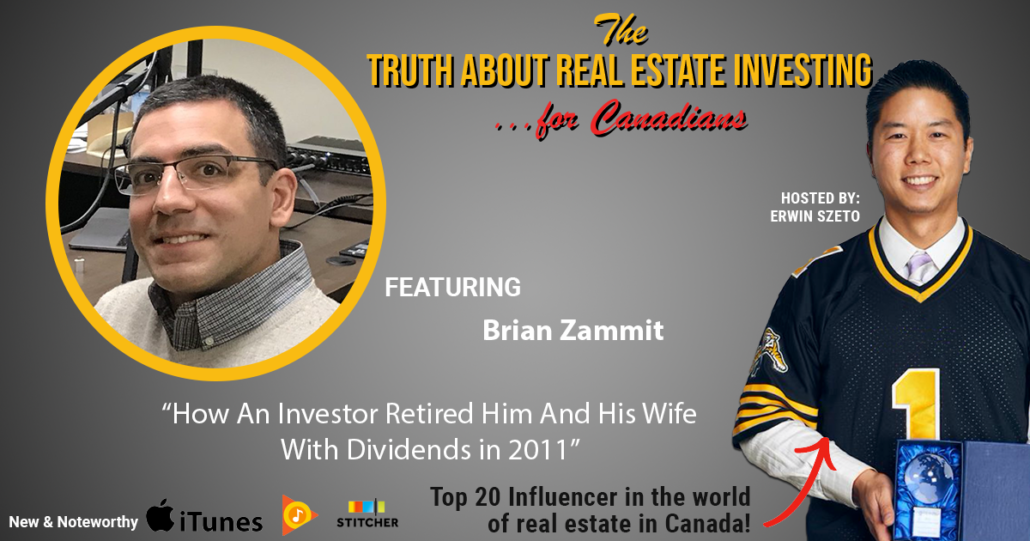 Here's a quick update from these parts, my stock option selling is going great, my realized return is $550 and I've collected $1,100 in cash. 
In bigger news, my AirBnb is now sold, fully furnished, and we close in just a few days! I can't wait to have that capital back so I can trade more stock options!  The plan is to increase my bank roll into six figures and take it from there. The last six weeks have been amazing for myself and our group of 70 stock hackers. With each day that passes, we have more investors reporting in their first thousand dollars in profits. Several have a couple thousand, my friend Monica reported 10% in returns in just six weeks. That's a high number for the group thus far and, just to clarify, those are absolute numbers not annualized and the last few weeks have been quite good for the market… let's see how long the stock market holds up.
View this post on Instagram
In even bigger news, we're about to pass 1,200 in ticket sales for our Wealth Hacker Conference. I'm realizing I don't often mention how many tickets we've sold, but for everyone involved, this is the biggest audience we've ever spoken to. Grant Cardone, our keynote, has done several talks to much bigger audiences, but this is yet another step out of my personal comfort zone.
Get comfortable being uncomfortable, I always say.  If you've followed my story of always trying out new things: AirBnb, private lending, stock option selling… and stuff in my personal life. I'm a weak swimmer but I got my SCUBA license and have done at least ten dives. Crossfit, Brazillian Jiu Jitsu, facing my fear of heights, etc…. I'm no one special, but I'm determined to just show up, go through the process, give my best on a daily basis, and results tend to show up. 
For my fellow introverts, this may shock you… I prepared and delivered a presentation in Toronto last week, I went through my slides once in preparation to a room of 50-60 of mostly strangers. I've never given a talk on joint venture investing in real estate before, but it was well received. Just like this podcast, I think people enjoy the no agenda, no-holding-back sharing we do on this show. One thing I don't like to do on this show is to NOT scare the listener. As I produce this episode, Halloween is only days away but I'm talking about much scarier things, such as a recession.
Recession, recession, recession.  There I said it. I hear it often, I don't know when it's going to happen. My crystal ball is no better than yours, but what I know is my portfolio is designed for said occurrence because it pays for itself. My portfolio mix is almost entirely duplexes and student rentals in areas with very little vacancy.  
The great things about recessions is the opportunity to buy the bottom and retire shortly after, like this week's guest Brian Zammit.
How An Investor Retired Him And His Wife With Dividends in 2011 With Brian Zammit
I've known Brian for a couple years.  He's extremely successful with his eCommerce business of buying goods from the far east to market and sell to the west, some on Amazon too. Brian has been doing it very successfully for years.
Brian is also a real estate investor, but he didn't retire off of his real estate. Regardless, he invests in real estate, which qualifies him to be on the show. However, I wanted this specific part of his story, so you the listener may benefit and hopefully retire shortly after the next recession like Brian and his wife did.  
Brian retired him and his wife off of the stocks he bought in 2008 and 2009, after learning how to sell stock options by reading Canadian author Derek Foster's book "Money for Nothing."  The same book we've mentioned on this show a couple times.
Brian timed a once in a lifetime opportunity and nailed it. He doesn't think so, and I'll let him explain, but if you can make an investment and retire off of it, I'm all ears because when the next correction comes, I want to be ready for it.  
Brian shares how he timed the market, the plethora of books he's read, what he really thinks of Omar and Matthew's Stock Hacker Academy, the same program him, myself and a couple other past guests are taking.
Brian is a good guy, really sharp, and I'm really glad we had someone like him in the first group through the Stock Hacker Academy to validate that the strategy works.
To Listen:

To follow Brian:
Books:
Intelligent Investor, Benjamin Graham

The Investment Zoo: Taming the Bulls and the Bears, Stephen A. Jarislowsky

Beating the Street: Peter lynch

Bull in China: Jim Rogers

Thomas Connolly: www.DividendGrowth.ca
Are you interested in learning more about selling stock options?  Our expert teachers Omar and Matthew's next talk is at the Wealth Hacker Conference in Toronto on November 9th. 
For anyone interested, the presentation that opened our eyes to selling stock options, you can see that exact presentation if you use the promo code stock when purchasing your tickets to the Wealth Hacker Conference.
All you need to do is go to www.wealthhacker.ca and just before selecting what level ticket you want, click on the promo code blue hyperlink and enter stock.
Or use the direct link in the show notes: 
Link: https://wealthhacker.eventbrite.ca?discount=stock 
For anyone interested in taking the same Stock Hacker Course Habib did then save the dates Saturday and Sunday Nov 30th-December 1st for the in class portion of the next Stock Hacker Academy.  We will announce full details on November 9th at the Wealth Hacker Conference. See you there!!
Sponsored by:
TitanInvestmentRealEstate.com – would you like to know how our investors returned 341.8% on positive cash flowing real estate over the last five years? On average, that was 68.4% per year, just imagine what winning in real estate could do for you. If you would like to know how we did it, ask us how by calling 289-288-5019 or email us at admin@mrhamilton.ca. Don't delay, the top markets we focus in are trending upward in price, so you can pay today's price or tomorrow's price.
Till next time, just do it because I believe in you.
Erwin
Hamilton, St. Catharines, Toronto, Land Development, soon to be builder and Real Estate Investor
W: erwinzeto.com
FB: https://www.facebook.com/erwin.szeto
IG: https://www.instagram.com/erwinszeto/

https://www.truthaboutrealestateinvesting.ca/wp-content/uploads/2019/10/Brian-Zammit.png
630
1200
Erwin Szeto
https://www.truthaboutrealestateinvesting.ca/wp-content/uploads/2017/06/TruthRectangleLogo.png
Erwin Szeto
2019-11-01 16:07:50
2019-11-01 16:07:53
How An Investor Retired Him And His Wife With Dividends in 2011 With Brian Zammit