Cash Flowing $500-1,000/Mth On YouTube, House Hacking In Northern Alberta With Nick Peitsch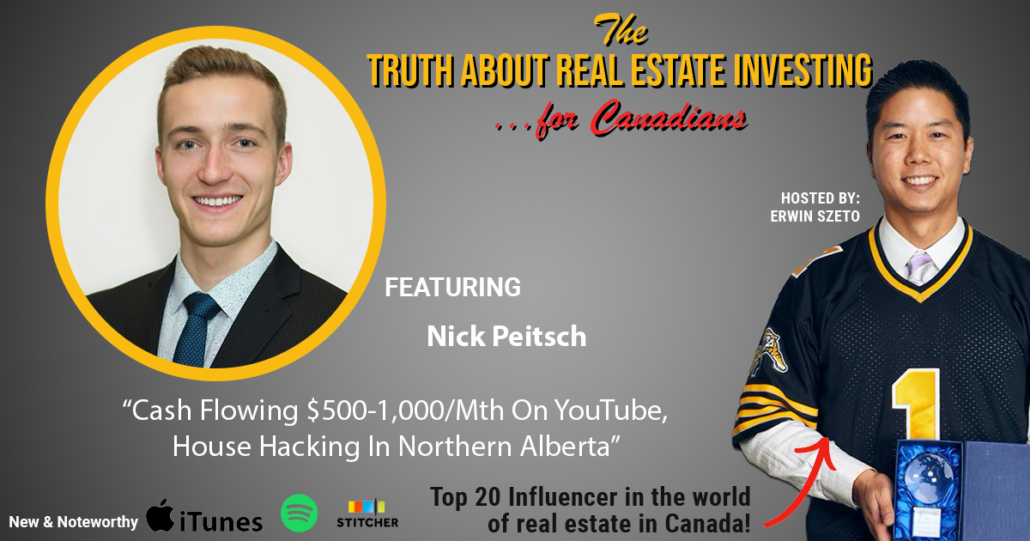 Our iWIN meetings are live and in-person again! 
The next meeting is on November 13th at our iWIN Real Estate office in Oakville, Ontario.  The address is 418 North Service Road East – Unit 3C, Oakville, Ontario.
CLICK HERE to grab your tickets now.
We'll discuss some current events and how they affect the real estate market… without the fear, uncertainty, and doubt that so many out there are pushing to get your attention. 
We'll talk about inflation, where interest rates are going, oil prices, immigration, etc. We'll also discuss what's happening in the local markets; cost of renovations, what houses are selling for, and market rents for grade A tenants.
Our guest speaker should be well known to you… 
She's a real estate investor and professional property manager. She's also President of the grassroots organization, Ontario Landlords Watch and National Ambassador of Landlord Credit Bureau. 
Kayla will join us live and in person to share how we landlords can report our tenants paying rent on time or not, thus affecting our tenant's credit… without any judgement at the tenant-friendly tenant bureau and Tenancy Act.  
See what I did there? I left "landlord" out of the names since both the Bureau and Act are so one-sided 😏
Unless you've been living under a rock, you would have heard the stories… Stories from other investors who recovered thousands or tens of thousands in rent arrears by reporting tenants on LCB.  
Plus, I see LCB is rolling out new additional services… So you don't want to miss this networking meeting to learn how to service your tenant better and protect your investment. 
Saturday, Nov 13th, is our final publicly available meeting of the year, as our December meeting will be for clients only.  
Following the meeting, we'll go for lunch, an opportunity to network with successful, like-minded individuals. Everyone is welcome; just pay your own way.
On a personal note, Cherry ordered us a Tesla model Y car without telling me.  
She called me the morning to ask what paint colour a friend of ours chose before having the car wrapped in matte black (it looks super sleek)… and that was it!
Later that day, I saw Cherry's post on Facebook that she ordered a Tesla. Oh well, I look forward to the day we no longer have to pump gas in the rain or snow or cold. Instead, we'll leave our driveway each day with a full tank 😎.
On to this week's show!
Cash Flowing $500-1,000/Mth On YouTube, House Hacking In Northern Alberta With Nick Peitsch
We have Nick Peitsch, a young, 25-year-old hustler making his way by:
Investing in stocks

Making 500-$1,000 per month by creating educational videos on YouTube

House hacking in Northern Alberta.  
Nick shares how he learned from entrepreneurial parents and grandparents to start his wealth hacking journey without fear. 
He also shares his favourite stock picks (his opinion, not financial advice), the effort and metrics needed to monetize a YouTube channel, and so much more.
Please enjoy the show!
We're hiring!
Just a friendly reminder that we are hiring more investment Realtors who want a full-time challenge to help our clients, regular everyday people, mostly from the GTA, invest in the top investment towns west of the GTA. 
This is for driven folks who want to multiply their current incomes.
APPLY HERE: https://www.infinitywealth.ca/hiring

To Follow Nick:
YouTube: https://www.youtube.com/c/nickpeitschinvesting
Instagram: https://www.instagram.com/nickpeitschinvesting/
Website: https://www.nickpeitsch.com/
HELP US OUT!
Please help us reach new listeners on iTunes by leaving us a rating and review!
UPCOMING EVENTS
You are the average of the five people you spend the most time with! Build connections with empire builders and trailblazers at our iWIN events.
BEFORE YOU GO…
If you're interested in being a successful real estate investor like those who have been featured on this podcast and our hundreds of successful clients please let us know.
It is our honour to give back and educate others on how we build cash flowing real estate portfolios using all the best practices shared on this podcast, from the lessons of our hundreds of clients and of course our own experience in owning investment real estate.
If you didn't know already, we pride ourselves on being the best of the best real estate coaches, having the best property managers, contractors, handy people, cleaners, lawyers, accountants, everyone you need on your power team and we're happy to share them with our clients to ensure your success. 
New investor or seasoned veteran investor, we can help anyone by providing our award winning coaching services and this isn't all talk.
We have been awarded Realtor of the Year to Investors in 2015 by the Real Estate Investment Network, 2016 by the Canadian Real Estate Wealth Magazine and again in 2017 because no one told the judges no one is supposed to win the award twice but on merit, our peers deemed us as the best.  In 2018, we again won the same award by the Real Estate Investment Network.
Hopefully being the most decorated team of Realtors in Ontario will make you consider us for your first or next real estate investment.  Even if you don't invest in our areas, there's a good chance I know who would be ideal for you. 
I've been around for a while, some Realtors are talented at servicing investors there are many with great ethics.  The intersection of the two, talent and ethics is limited to a handful in each city or town.
Only work with the best is what my father always taught me.  If you're interested, drop us an email at iwin@infinitywealth.ca.
I hope to meet you at one of our meetups soon.
Again that's iwin@infinitywealth.ca
Sponsored by:
Infinity Wealth Investment Network – would you like to know how our investors returned 341.8% on positive cash flowing real estate over the last five years? On average, that was 68.4% per year.
Just imagine what winning in real estate could do for you.
If you would like to know how we did it, ask us how by calling 289-288-5019 or email us at iwin@infinitywealth.ca.
Don't delay, the top markets we focus in are trending upward in price, so you can pay today's price or tomorrow's price.
Till next time, just do it because I believe in you.
Erwin
Hamilton, St. Catharines and Toronto Land Development, Real Estate Investor, and soon to be builder.
W: erwinszeto.com
FB: https://www.facebook.com/erwin.szeto
IG: https://www.instagram.com/erwinszeto/
https://www.truthaboutrealestateinvesting.ca/wp-content/uploads/2021/11/Nick-Peitsch.jpg
630
1200
Erwin Szeto
https://www.truthaboutrealestateinvesting.ca/wp-content/uploads/2017/06/TruthRectangleLogo.png
Erwin Szeto
2021-11-08 17:52:46
2021-11-08 21:06:28
Cash Flowing $500-1,000/Mth On YouTube, House Hacking In Northern Alberta With Nick Peitsch