Top Coach Elizabeth Kelly Shares Lessons From Having Taught 1,000s of Investors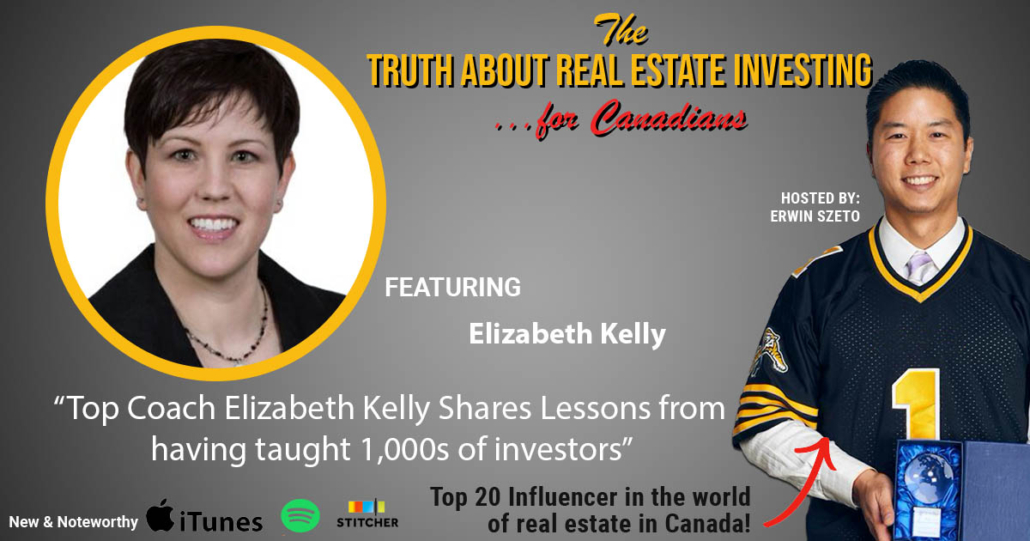 Can we do away with daylight savings already? I mean I wake up in the dark and drive home in the dark…. At least we can walk our kids to school in the light..
I hope you're all adjusting better than I am.  I made the mistake of going out Friday night till the early hours of the morning for a guys night with my Hambundance group.
You read that right, my real estate buddies group is called Hambundance, a word mash up of Hamilton and Abundance.  It's a play off of the elite mastermind group called Gobundance I was too cheap to join lol.
So my buddy Charles Wah and I formed Hambundance with a group of successful real estate investors like James Money Baggs Maggs, Andy Tran, Roger Auger, Kevin my mortgage guy, a builder, and another of my most successful clients John.
We try and meet once per quarter for 24 hours of fun.  The Friday started with Pew Pew, an indoor shooting facility with airsoft guns so we'd move through obstacles shooting targets while being timed.  With a group of competitive A types, that's a lot of fun.  Thankfully no one got shot like last time when we were in Vegas.
Next is the commute to dinner because getting around downtown Toronto takes forever like it always has.  We dined at a restaurant known for serving game meats called Antler.  They got famous because as a tongue in cheek joke, on their side walk chalk sign they posted "Venison: the new Kale."
Well animal rights groups did not think that was funny then proceeded to protest outside the restaurant on weekends which made the news internationally.  The owner of the restaurant was even invited on the Joe Rogan podcast to share his story and ever since, celebrities from all over the world stop in to support Antler.
We didn't see any celebrities but we ate like them when considering the size of the bill afterwards.  I had the elk tartare and venison ribeye which tasted nothing like Kale.
From there it was drinks at one of our friend's condo, then a roof top restaurant with the CN Tower in the background.
Needless to say the day and night were legendary and while pricey, still a business expense for me since we were talking real estate all night. 
While standing on the roof top on the patio with Andy Tran I couldn't help but think how much things have changed and how much hasn't since Andy and I first stood on a roof together.
The year was 2010, Andy the house buyer was inspecting a bungalow he had purchased conditionally on inspection. I was a new agent and keen to learn, I followed the home inspector Andy up the ladder onto the roof while dressed business casual and dress shoes.
Andy looks at me standing there on the roof as if I had two heads.  I ask "what?" 
Andy shares that in 1,200 home inspections, I was only the 2nd agent to ever get on the roof with him at a home inspection.  That was over ten years ago standing on a bungalow he bought for just over $200,000 that is now worth about 4 times…. I'm a good agent…
Fast forward to today, we both have more laugh lines and grey hair, while sipping ridiculously expensive drinks at one of the most exclusive restaurants in the city.
Life can be good and it's even better with like minded, good friends.
We started from the bottom together and now we are here.
I hope you all take the opportunity to grab some friends for a good time but maybe get more sleep than I did.
Top Coach Elizabeth Kelly Shares Lessons from having taught 1,000s of investors
On to this week's show!!
My friend Elizabeth Kelly is joining us to share what she's been up to the last two years since she was last on the show.
Elizabeth was a paid instructor of real estate training and has trained hundreds if not thousands of investors in rent to own, wholesaling, buy and hold, etc… many of the influencers today have been her students.
Elizabeth has done over 100 rent to owns as investments, manages over 400 doors, but most importantly she's discovered what she enjoys most and that's helping people via coaching.
She's on the show today to share many of the lessons and hurdles newer investors make, what market she's selling her properties in and lessons in investing in a mining town.
So get your pen out, take plenty of notes and please learn from Elizabeth's lesson and enjoy the show!
We're hiring!
Just a friendly reminder that we are hiring more investment Realtors who want a full-time challenge to help our clients, regular everyday people, mostly from the GTA, invest in the top investment towns west of the GTA. 
This is for driven folks who want to multiply their current incomes.
APPLY HERE: https://www.infinitywealth.ca/hiring

To Follow Elizabeth:
Facebook: https://www.facebook.com/EKConsulting.ca/
LinkedIn: https://www.linkedin.com/in/elizabeth-kelly-consulting/?trk=people-guest_profile-result-card_result-card_full-click&originalSubdomain=ca
Website: https://www.sandstonemanagement.ca/index.htm
HELP US OUT!
Please help us reach new listeners on iTunes by leaving us a rating and review!
UPCOMING EVENTS
You are the average of the five people you spend the most time with! Build connections with empire builders and trailblazers at our iWIN events.
BEFORE YOU GO…
If you're interested in being a successful real estate investor like those who have been featured on this podcast and our hundreds of successful clients please let us know.
It is our honour to give back and educate others on how we build cash flowing real estate portfolios using all the best practices shared on this podcast, from the lessons of our hundreds of clients and of course our own experience in owning investment real estate.
If you didn't know already, we pride ourselves on being the best of the best real estate coaches, having the best property managers, contractors, handy people, cleaners, lawyers, accountants, everyone you need on your power team and we're happy to share them with our clients to ensure your success. 
New investor or seasoned veteran investor, we can help anyone by providing our award winning coaching services and this isn't all talk.
We have been awarded Realtor of the Year to Investors in 2015 by the Real Estate Investment Network, 2016 by the Canadian Real Estate Wealth Magazine and again in 2017 because no one told the judges no one is supposed to win the award twice but on merit, our peers deemed us as the best.  In 2018, we again won the same award by the Real Estate Investment Network.
Hopefully being the most decorated team of Realtors in Ontario will make you consider us for your first or next real estate investment.  Even if you don't invest in our areas, there's a good chance I know who would be ideal for you. 
I've been around for a while, some Realtors are talented at servicing investors there are many with great ethics.  The intersection of the two, talent and ethics is limited to a handful in each city or town.
Only work with the best is what my father always taught me.  If you're interested, drop us an email at iwin@infinitywealth.ca.
I hope to meet you at one of our meetups soon.
Again that's iwin@infinitywealth.ca
Sponsored by:
Infinity Wealth Investment Network – would you like to know how our investors returned 341.8% on positive cash flowing real estate over the last five years? On average, that was 68.4% per year.
Just imagine what winning in real estate could do for you.
If you would like to know how we did it, ask us how by calling 289-288-5019 or email us at iwin@infinitywealth.ca.
Don't delay, the top markets we focus in are trending upward in price, so you can pay today's price or tomorrow's price.
Till next time, just do it because I believe in you.
Erwin
Hamilton, St. Catharines and Toronto Land Development, Real Estate Investor, and soon to be builder.
W: erwinszeto.com
FB: https://www.facebook.com/erwin.szeto
IG: https://www.instagram.com/erwinszeto/
https://www.truthaboutrealestateinvesting.ca/wp-content/uploads/2021/11/Elizabeth-Kelly.jpg
630
1200
Erwin Szeto
https://www.truthaboutrealestateinvesting.ca/wp-content/uploads/2017/06/TruthRectangleLogo.png
Erwin Szeto
2021-11-16 10:53:15
2021-11-16 15:36:39
Top Coach Elizabeth Kelly Shares Lessons From Having Taught 1,000s of Investors