How An Electrician Learnt to Hack Stocks and Earn Six Figures From His Smart Phone with Adriano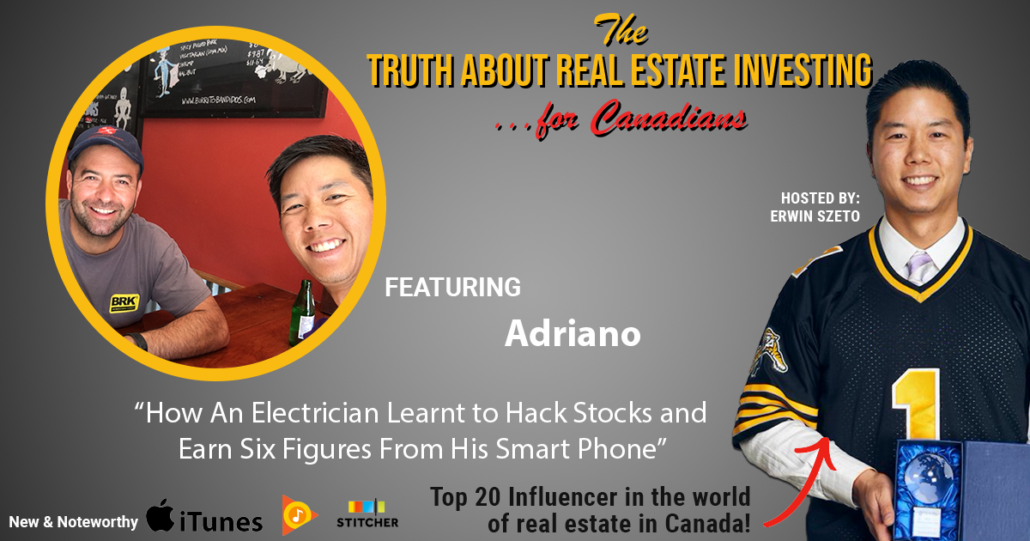 Hello Wealth Hackers!!
Welcome to the Truth About Real Estate Show!!
If you've ever felt like an underdog or that project or investment you wanted to start looks insurmountable then please just think of this podcast.
Everyone and everything starts from the bottom. If you did me the displeasure of listening to the first few episodes of this show, you know how bad it was.  I was nervous as heck, I spent hours to prepare and produce the show as part of a six episode experiment. I stuttered more than usual.
I like to experiment or test, so if a project fails, you move on to the next thing. Learn lessons, and move forward. I knew from the beginning that I wouldn't be the most well spoken host. Our music is, well, something I put together on GarageBand. Our audio quality wouldn't be the best, as my guests are hundreds if not thousands of kilometers away and driving is just a time vampire.
I'm not sure what happened in the last month, but we've had an overwhelming inflow of positive feedback.  Shout out to Jody Fleck, your email still makes me smile. I'm happy to hear you connected with Anna Moore, who is a past guest of this show, and are doing amazing things in affordable housing for retirees.
This morning, I checked our reviews of this podcast as a barometer, as I'm updating our Marketing from time to time, and in the whole world of business podcasts on iTunes, this little podcast that could is ranked 88th.  Lucky number 88. A podcast with a niche of investing and for Canadians.
Want to know the crazy part? There are only three Canadian Business Podcast ahead of the Truth About Real Estate Investing, including the CBC who has a lot more funding than I do. LOL. None of the three are about real estate, so I'm just speechless.
Please do keep sending in your feedback, it does help me guide where we go with the show.
One consistent feedback we have been getting is how we much truth we are sharing on this show about failures, especially mine. I've shared how I'm selling my AirBnb as it doesn't generate enough income above and beyond a long term rental. Before that, it was a student rental, but that didn't work out thanks to a student tenant who was just a nightmare.
I've said it from the beginning, this is the Truth About Real Estate. It's not always perfect and many influencers out there do have an agenda to promote their businesses. As marketers, they don't want to share the scary parts and there isn't really enough time for it in our format. 
However, as the host of this show, I have a lot more talk time. To make it easy on myself, I speak off the cuff, unrehearsed, just telling it like it is.
In case you missed it, the property I offered for short term rental, didn't work out for me, hence I'm selling it to do some stocks with a goal to earn higher cash flow returns like my friend, Adriano,  who is also my electrician from Etobicoke. He earned $120,000, or 30% returns, in his first year as a stock hacker.  I can't thank Adriano enough for getting me off my ass to believe I could be an option trader too and he is the guest of this week's show!
How An Electrician Learnt to Hack Stocks and Earn Six Figures From His Smart Phone with Adriano
Adriano is a wealth hacker. He operates a six figure business, owns a mid sized apartment building, plus three other investment properties, and he's a six figure stock hacker.
Adriano is also only a few years away from joining Canada's top 1% of income earners.
Let that sink in. Someone whose formal education is Electrician college and he will out earn 99 out of 100 Canadians.  I want the same as Adriano, hence I'm selling one of my ten properties to fund this investment strategy. Call it diversity, call it a cash flow play, I just want another six figure stream of income.
Adriano is mentored by Omar Khan and Matthew Todman, both past guest of this show from a 2-3 weeks ago. If you haven't already, have a listen to those episodes after this one.
If you'd like to take a deeper dive, you will want to see Matthew and Omar present on Nov 9th at the Wealth Hacker Conference where we have some of the world's leading experts on growing a business, investing in real estate and stocks. Our keynote speaker is Grant Cardone who also has multiple streams of income totaling over $100 million in revenues and his real estate company manages 1.2 billion of real estate.
As a special bonus to fans of this show and those interested in learning how to hack stocks like Adriano the electrician, use the promo code STOCK when buying your ticket and we will send you an exclusive video of a private presentation Omar and Matthew and Adriano did for my members-only iWIN group.  All you need to do is go to www.wealthhacker.ca and just before selecting what level ticket you want, click on the promo code blue hyperlink and enter STOCK.
Or use the direct link in the show notes: 
Link: https://wealthhacker.eventbrite.ca?discount=stock 
If you don't like stocks, that's OK, I didn't either. I was almost wiped out in 2008 with my stocks. The truth is, I chose very young companies, highly speculative ones that didn't pay dividends. Now I only want to own the cream of the crop of blue chip companies with decades of track record paying dividends. Only boring stocks for me as I despise speculation and gambling.
To Listen:

Are you newer to real estate investing or unsure of what to invest in next?
Would you like to know where the best areas to invest are near the GTA for the best return on investment?
Then you've found the right place as we're here to help everyone from new investors to seasoned professionals. We have helped 100's of everyday men and women buy their first investment property to their tenth property. It's easier than you think.
My name is Erwin and you may know me as the host of this podcast and I'm also the owner of the iWIN Real Estate Team, the four time Realtor of the Year to Investors per the Real Estate Investment Network, and Canadian Real Estate Wealth Magazine.
My team of investor coaches are licensed real estate professionals who help everyday, hardworking men and women from the GTA grow their real estate portfolio in the most efficient way possible.  You are welcome to use any professionals and contractors you want but you're welcome to our personal rolodex of professionals, the same people I use to become a successful real estate investor.
If you're too busy, we understand. You have better things to do, have dinner with the family, watch the kids play sports. What we do differently is we will preview properties on your behalf to pre-screen only the ones that are ideal investment properties. Many of our clients features on this podcast will even make an offer conditional on a home inspection so they can both beat the competition and have a chance to view the property before making a final decision during a professional home inspection.
After the purchase, we can refer you to our favourite property manager who is a former police officer with 20 year experience with the local police department. He also happens to be well over six feet tall and 220 pounds with a keen eye for finding you great, worry free tenants so tenants never call you and you can go on enjoying life knowing your investment is taken care of.  As an added bonus of being our client, he only takes referrals from our team. This property manager is the most well reviewed property manager I've ever seen in my city.
You can't get financing? You're in luck.  My personal mortgage broker is the best I've ever seen in my investing career. You may just be talking to the wrong people about a mortgage whereas my guy has more relationships with various banks and lenders others just don't and often they're less expensive.
For any of the above, go to www.truthaboutrealestateinvesting.ca/contact, fill out the form and one of the coaches I've personally trained will get back to you.
You don't have enough down payment or earn enough income? On my first properties I partnered with my ex in-laws.  If you don't have family to partner with, then I would suggest you learn how to hack stocks like my past podcast guests Omar Khan and Matthew Todman.  They both earn a mid-six figure income in only 30 minutes a day by getting paid to own blue chip stocks at prices they want anyways. It's almost money for nothing and as Robert Kiyosaki says, a must for the professional investor.
If this interests you, go to www.wealthhacker.ca/stock
Sponsored by:
TitanInvestmentRealEstate.com – would you like to know how our investors returned 341.8% on positive cash flowing real estate over the last five years? On average, that was 68.4% per year, just imagine what winning in real estate could do for you. If you would like to know how we did it, ask us how by calling 289-288-5019 or email us at admin@mrhamilton.ca. Don't delay, the top markets we focus in are trending upward in price, so you can pay today's price or tomorrow's price.
Till next time, just do it because I believe in you.
Erwin
Hamilton, St. Catharines, Toronto, Land Development, soon to be builder and Real Estate Investor
W: erwinzeto.com
FB: https://www.facebook.com/erwin.szeto
IG: https://www.instagram.com/erwinszeto/

https://www.truthaboutrealestateinvesting.ca/wp-content/uploads/2019/10/Adriano-Grande.png
630
1200
Erwin Szeto
https://www.truthaboutrealestateinvesting.ca/wp-content/uploads/2017/06/TruthRectangleLogo.png
Erwin Szeto
2019-10-11 15:34:35
2019-10-11 15:34:37
How An Electrician Learnt to Hack Stocks and Earn Six Figures From His Smart Phone with Adriano