Selling My AirBnb To Fund My Stock Hacking & the Rent to Own Queen Rachel Oliver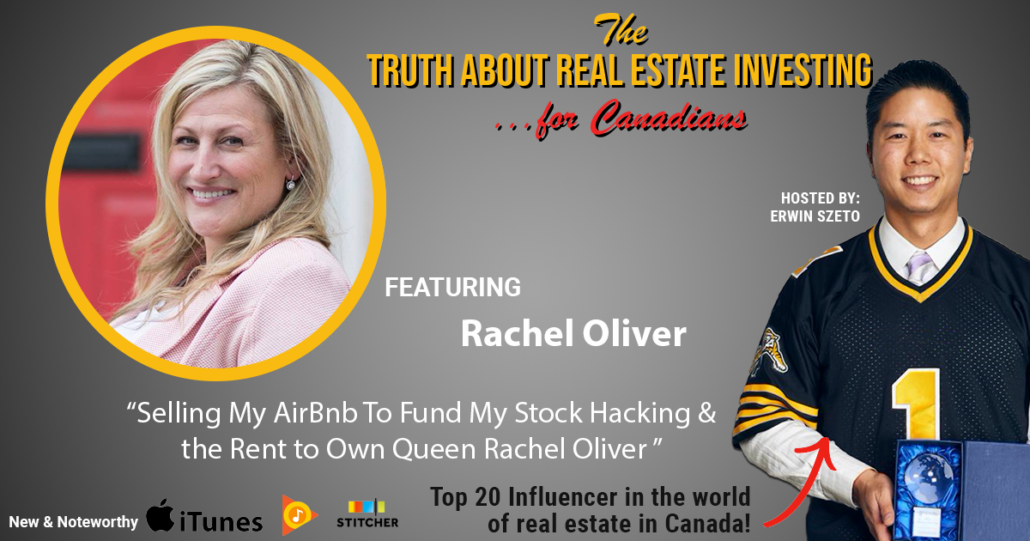 Hello Wealth Hackers!!
This is the truth about real estate show and our show title couldn't explain better what it is we do here.
Thank you listeners and thank you guests of this show, September is a new personal best for us in downloads and our top episode is not what one would expect.  The episode with stock hacker Matthew Todman is already one of our most downloaded episodes ever and we did not spend much time talking about real estate.
Matthew is a serious real estate investor having 10 investment properties. To give that number of properties context, past guest of this show, Dion Beg, who is a mortgage specialist to investors, told me around 10% of his clientele achieve 10 or more properties. This coming from someone who only works with investors. What's interesting is how he raised the funds for his down payments: selling stock options on safe stocks. Have a listen, as he explains it much better than I do.
Update on my Airbnb, as explained last episode, my September rents were projected to fall under that of a single family home.  Like many investors, we have lots of equity as we've been investing for quite some time with ten properties, so selling one in the pursuit of more cash flow is not the end of the world.
I've shared this story to my mastermind group with some of the top investors in Canada and at the KWCREI meetup up. Thank you Doug and Anna for having me out to share. Surprisingly, no one disagreed with my decision. Well, one friend did, but when I clarified there was not an affordable option to legalize the basement into an apartment, she agreed and now she too wants to learn more about stock hacking. LOL.
Speaking of learning, to quote Warren Buffet, the most successful investor in the world, "the more you learn, the more you earn."  My wife, Cherry, discovered Warren's cartoon series for kids and it's awesome! We don't let our kids watch much TV. It's not the easiest, as we have to then be more active parents, but when we discovered this cartoon series by the Oracle of Omaha, we had to give it a try.

The show is called Warren Buffet's Secret Millionaire Club and it's all free on YouTube or its website. Link: https://www.smckids.com/ The challenge with the website is I can't get it to broadcast from my phone to TV. How lazy does that sound?? I'll plug in my laptop next time, as some of the ads YouTube was showing before a children's cartoon were quite questionable: ads for upcoming horror movies… smh.
In the show, Warren leads a small group of three young people as they figure through business challenges faced by young people. The first episode is about an unsuccessful lemonade stand. Warren runs down a checklist to figure out the problem and, spoiler alert, the lemonade stand is located on a low traffic street. Warren explains why a high traffic street would produce better results.
Each episode is short. We plowed through about seven episodes, and by the time we shut off the TV, my kids were repeating the "more you learn, the more you earn" catch phrase. Most of the time, the youngest mixes it up and says the, "more you earn, the more you learn". 🙂
Quick update from my own investing, my ugly house that I bought without seeing that got Cherry really pissed at me: today the basement is being spray foamed, so we asked the tenants to not come back until after dinner. We also had a delivery of two brand new stainless steel fridges. The delivery folks will take the doors off the fridge, but I didn't have anyone attend the delivery to take the front door off it's hinges. Sigh. It is what it is, so I hired my property manager to take care of the property while it's partly vacant.
He's also the same person leasing out the remainder of the home as a student rental, so fingers crossed we can get it fully rented to cover those steep, B lender mortgage rates! Ironically enough, Warren Buffet is a mortgage share owner of the mortgagee.
My AirBnb is being listed this week. I had two of the coaches on my team provide me what they think I should list for and, not surprisingly, they independently came up with the same number. I'm selling it furnished, which is uncommon, and I am sending in Jacqueline, the same stager who furnished the house, to add some final touches for staging.
Even I learn something new everyday. Even the nicest furnished homes require some staging, Jacqueline tells me she'll add around 12 items: plants and decorations. I put books and plates and cups on my coffee table at home. Most people keep those spaces clear when selling, but when staging, she will decorate working surfaces. I'm such a nerd, I find this stuff fascinating. The path to success is measured in inches, not miles.
Continue to be open minded and willing to learn everyday. Having Jacqueline, my stager, go also saves me a trip :). She has a detailed eye and will let my handman know to take care of anything touch ups necessary.
Update from the stock hacker world: as my wife always tells me, I'm over thinking it. LOL. My trades continue to be good ones as I continue on a positive trend with 6% returns in about five weeks and my cash flow is now $921. I have to be assigned shares as my low risk strategy is working out. Much credit goes to my friends who are experts: Omar, Matthew and Shawn who have all been trading for 12 years. Disclaimer time: I'm not recommending, only sharing what I do. If you want advice, please seek the advice of a licensed professional.
Just yesterday, I was on a guest of a podcast showing officer Dave Knight of the 911 Wealth Network how I do a trade. From my smart phone, I sold a put on Enbridge and was paid $84 to do so. The $84 is deposited to my account, then I put my phone away. It took me less than 15 minutes. I'll check in again in the afternoon but just to see how the market is doing, and put my phone away again.
Needless to say that's the easiest $84 I've ever made in my life, and I can not wait to scale my portfolio up to earn more passive income. As an added benefit, I consulted my Accountant for the tax handling of options income and I'm quite happy with it. Please check with your Accountant. 🙂
For anyone interested in learning more about stock hacking, my expert friends Omar and Mattew and sharing this little known secret on November 9th at the www.wealthhacker.ca conference. As an added bonus, if you use the promo code "stock" we will send you an exclusive video of a private presentation Omar and Matthew did for my members only iWIN group. All you need to do is go to www.wealthhacker.ca and just before selecting what level ticket you want, click on the promo code blue hyperlink and enter "stock".
Or use the direct link in the show notes:
Link: https://wealthhacker.eventbrite.ca?discount=stock
If you don't like stock hacking, well, I was the same. Then my friend Shawn sent me a YouTube video from 2014 of Robert Kiyosaki, author of "Rich Dad, Poor Dad", explaining how every professional investor needs to know how to sell stock options along with investing in real estate.
Here's the link: https://www.youtube.com/watch?v=kfM_wKZ15dI
Selling My AirBnb To Fund My Stock Hacking & the Rent to Own Queen Rachel Oliver
On to this week's show which has been a year in the making!
Rachel Oliver is an award-winning investor and co-host of Mothers of Real Estate TV Show. After 20 years in the corporate world, Rachel retired from the rat race to spend more time with her family and to invest in Rent to Own properties. Today, she is affectionately known as the "cashflow queen" because she helps investors profit with Rent to Own properties — without the headaches of being a landlord. She is also the author of an Amazon best-selling book, Rent to Own Essential Guide for Homebuyers. Together with her husband (Mr. No), Rachel owns and operates Clover Properties, one of the most reputable Rent to Own companies in Ontario. Connect with Rachel at Rachel@RethinkRentals.com
Host notes: pay special attention to husband Mr. NO, Neil Oliver's, role and how Rachel gets her leads, and their qualifying criteria. The Oliver's are extremely good at what they do.
To Listen:

Are you newer to real estate investing or unsure of what to invest in next?
Would you like to know where the best areas to invest are near the GTA for the best return on investment?
Then you've found the right place as we're here to help everyone from new investors to seasoned professionals. We have helped 100's of everyday men and women buy their first investment property to their tenth property. It's easier than you think.
My name is Erwin and you may know me as the host of this podcast and I'm also the owner of the iWIN Real Estate Team, the four time Realtor of the Year to Investors per the Real Estate Investment Network, and Canadian Real Estate Wealth Magazine.
My team of investor coaches are licensed real estate professionals who help everyday, hardworking men and women from the GTA grow their real estate portfolio in the most efficient way possible.  You are welcome to use any professionals and contractors you want but you're welcome to our personal rolodex of professionals, the same people I use to become a successful real estate investor.
If you're too busy, we understand. You have better things to do, have dinner with the family, watch the kids play sports. What we do differently is we will preview properties on your behalf to pre-screen only the ones that are ideal investment properties. Many of our clients features on this podcast will even make an offer conditional on a home inspection so they can both beat the competition and have a chance to view the property before making a final decision during a professional home inspection.
After the purchase, we can refer you to our favourite property manager who is a former police officer with 20 year experience with the local police department. He also happens to be well over six feet tall and 220 pounds with a keen eye for finding you great, worry free tenants so tenants never call you and you can go on enjoying life knowing your investment is taken care of.  As an added bonus of being our client, he only takes referrals from our team. This property manager is the most well reviewed property manager I've ever seen in my city. 
You can't get financing? You're in luck.  My personal mortgage broker is the best I've ever seen in my investing career. You may just be talking to the wrong people about a mortgage whereas my guy has more relationships with various banks and lenders others just don't and often they're less expensive.
For any of the above, go to www.truthaboutrealestateinvesting.ca/contact, fill out the form and one of the coaches I've personally trained will get back to you.
You don't have enough down payment or earn enough income? On my first properties I partnered with my ex in-laws.  If you don't have family to partner with, then I would suggest you learn how to hack stocks like my past podcast guests Omar Khan and Matthew Todman.  They both earn a mid-six figure income in only 30 minutes a day by getting paid to own blue chip stocks at prices they want anyways. It's almost money for nothing and as Robert Kiyosaki says, a must for the professional investor. 
If this interests you, go to www.wealthhacker.ca/stock 
Sponsored by:

TitanInvestmentRealEstate.com – would you like to know how our investors returned 341.8% on positive cash flowing real estate over the last five years? On average, that was 68.4% per year, just imagine what winning in real estate could do for you. If you would like to know how we did it, ask us how by calling 289-288-5019 or email us at admin@mrhamilton.ca. Don't delay, the top markets we focus in are trending upward in price, so you can pay today's price or tomorrow's price.
Till next time, just do it because I believe in you.
Erwin
Hamilton, St. Catharines, Toronto, Land Development, soon to be builder and Real Estate Investor
W: erwinzeto.com
FB: https://www.facebook.com/erwin.szeto
IG: https://www.instagram.com/erwinszeto/

https://www.truthaboutrealestateinvesting.ca/wp-content/uploads/2019/10/Rachel-Oliver.png
630
1200
Erwin Szeto
https://www.truthaboutrealestateinvesting.ca/wp-content/uploads/2017/06/TruthRectangleLogo.png
Erwin Szeto
2019-10-04 19:46:27
2019-10-04 19:46:30
Selling My AirBnb To Fund My Stock Hacking & the Rent to Own Queen Rachel Oliver