Erwin's AirBnb & Stock Update & Wholesaler, Flipper Alex Kourmanis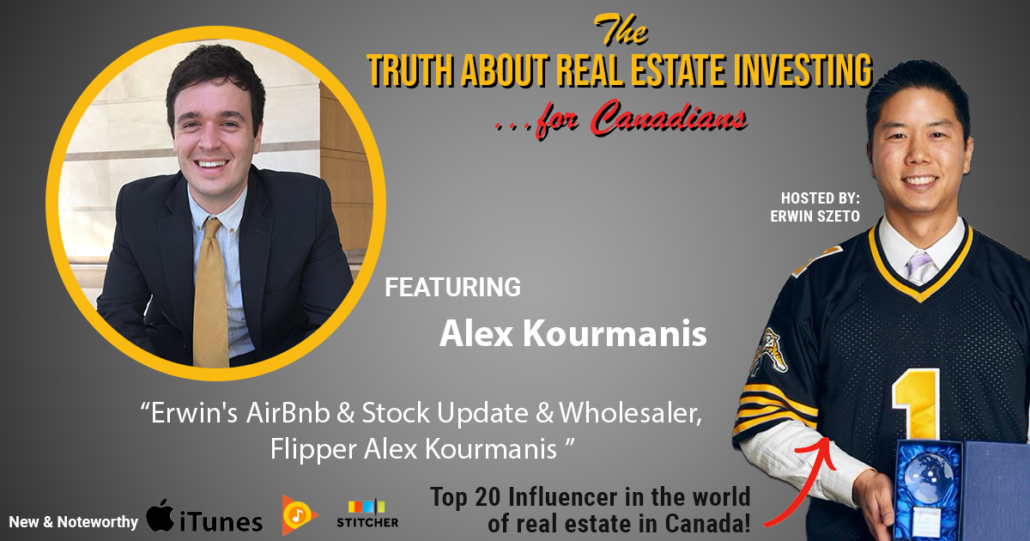 Hello fellow Wealth Hackers!!
Many of you have been following my AirBnb and Stock Investing journey and one has come to a conclusion. I've failed in one while the other is prospering.
I invested roughly $10,000 in each as a test and the results are in.
I'm selling my house that I AirBnb'd while freeing up capital to fund my stock investing account.
Why? Real estate is best, right? Monopoly is won by owning not selling right?
My advice to clients is to not sell unless they have a better opportunity for their capital, and I think I've found mine.
Now that the summer is over, my projected rental income of my short term rental has fallen below that of a single family rental after costs of operating each. With short term rentals, I have many more operating expenses: special insurance, lawn care and snow removal, property management, utilities, internet. The cleaning costs are a wash as the guests pay for that.
In the end, I am very overweight in real estate and am pursuing more cash flow. After reading and being a part of Omar and Matthew's Stock Hacker Academy and trading, seeing how my old real estate friends who do stocks as a side hustle are earning 30-40% year to date, I'm interested in taking stock investing further. 
In my first month as at time of this recording, my return on investment is 4.9% and I've collected 7.6% in cash. That's gross and not annualized. With this virtually unknown strategy, I'm getting paid to own blue chips stocks at prices I want. I get paid up front too. 
My account started with $10,000, if I closed my positions right now, and I can with a click of a button, I would have $493 in my account in just one month. My goal was 2% a month.  
Disclaimer time. The past does not project the future, I'm not an expert, I'm not licensed to give advice, this is not advice. Go get advice from experts which I am not, this is simply me sharing the truth about real estate investing. My personal truth is I'm earning more cash flow as a percentage of my investment than I do on my AirBnb. Cash flow is the original reasons I got into real estate and cash flow will always be your gateway to freedom.
I'm not giving up on real estate. This is just us selling one of our ten houses, specifically the house that provides the least cash flow, with a bunch of capital tied up that I can't access via refinance.
This is a personal decision where my goal is to create an additional stream of income like my friend Adriano the electrician from Toronto.  He is the same electrician who rewired my house to replace the knob and tube wiring in the house I'm selling and check out what he has to say
If you're interested in learning more, Omar and Matthew, the expert stock investors I'm learning from, have their only planned public appearance for the remainder of 2019 at the Nov 9th Wealth Hacker Conference. Many of you are asking for more information since their podcasts came out, so I am giving it to you.
Go to www.wealthhacker.ca, after you click on the green button that says 'Tickets' there is a promo code hyperlink in the top left. Click that and enter the word "Stock" 
With the stock promo code, you save 10% off your ticket price and we will send you an exclusive 1 hour training video that is only available to my private iWIN membership group.  No one outside the group has seen this video.
In it, Adriano the electrician shares his experience. Omar and Matthew share how the strategy works as much as they can in one hour. 
If you are prolific in stocks as in you already have your 10,000 hours of experience and mastered stocks, you will be able to watch, listen and walk away being able to practice the same strategy.
If you're low on stocks and options education and experience like Adriano and myself, you should take a course. Investing in stocks can be risky, everyone knows that, it's why I only invest with blue chip stocks that pay dividends. I like my investments boring and predictable, but I'm honestly very excited to add another six figure income stream in only 30 mins per day, I just wish I started sooner.
Again if you want the exclusive, one hour instructional video, go to www.wealthhacker.ca, promo code "stock", or use the link in the show notes at www.truthaboutrealestateinvesting.ca
Link: https://wealthhacker.eventbrite.ca?discount=stock 
The next LIVE Stock Hacker Academy course will be announced on Nov 9th at the Wealth Hacker Conference. Those in attendance will get first crack at the limited number of tickets at the best prices before we offer them to the public.
If you're interested in the most effective strategies that you can apply right away that will 10X your wealth in stocks, business, and real estate, you want to be here. Nov 9th. Wealthhacker.ca promo code "stock".  Promotion ends Sunday Oct 6th.
Erwin's AirBnb & Stock Update & Wholesaler, Flipper Alex Kourmanis
On to this week's show!
This week's guest is a real estate investor who received media attention east of Toronto.
Alex Kouramanis is real estate investor from Toronto, specializing in the Wholesale and Flipping strategies in markets throughout Ontario. He has been investing for over 6 years, with the last 2 years being full time. In addition to investing, he is an online educator on Udemy and Skillshare, teaching Real Estate Investment, Negotiation and Personal Finance. Alex also co-hosts the monthly meetup TREIA, the Toronto Real Estate Investors Association with his friend and partner Luc Boiron.
To Listen:

To follow Alex:
Instagram: https://www.instagram.com/treetop_residential
Facebook: https://www.facebook.com/alex.kouramanis
Do you have questions on wealth hacking? The shortest path to financial success or questions on investing in: houses, basement suites, coach houses, syndicated mortgages, private equities, public equities, sandwich leases, lease to own, student rentals, AirBnb, wholesaling, off market deals, house construction.  I'll admit when I don't know and will dial a friend for an answer.  
If you have a question, we don't have any fancy means to receive questions, so if you enjoy the show and want to leave a five star review on iTunes, your question will definitely make its way to me and I'll answer your question on a future episode of this podcast.
I'm also grateful for all your positive comments and fans of this show. It is my view that life would be a bit better for everyone if we all could make and save a bit more money at the end of the month and if you make a lot more then your family and community would benefit even more and nothing would make me happier.  Until next time, my name is Erwin and I am a wealth hacker bringing you the truth about real estate investing for Canadians.
Sponsored by:

TitanInvestmentRealEstate.com – would you like to know how our investors returned 341.8% on positive cash flowing real estate over the last five years? On average, that was 68.4% per year, just imagine what winning in real estate could do for you. If you would like to know how we did it, ask us how by calling 289-288-5019 or email us at admin@mrhamilton.ca. Don't delay, the top markets we focus in are trending upward in price, so you can pay today's price or tomorrow's price.
Till next time, just do it because I believe in you.
Erwin
Hamilton, St. Catharines, Toronto, Land Development, soon to be builder and Real Estate Investor
W: erwinzeto.com
FB: https://www.facebook.com/erwin.szeto
IG: https://www.instagram.com/erwinszeto/

https://www.truthaboutrealestateinvesting.ca/wp-content/uploads/2019/09/Alex-Kourmanis.png
630
1200
Erwin Szeto
https://www.truthaboutrealestateinvesting.ca/wp-content/uploads/2017/06/TruthRectangleLogo.png
Erwin Szeto
2019-10-01 18:00:15
2019-10-01 18:00:17
Erwin's AirBnb & Stock Update & Wholesaler, Flipper Alex Kourmanis