Retiring Before 40, 73 Units in 12 Months with Jamie, Leslie & Aaron Collard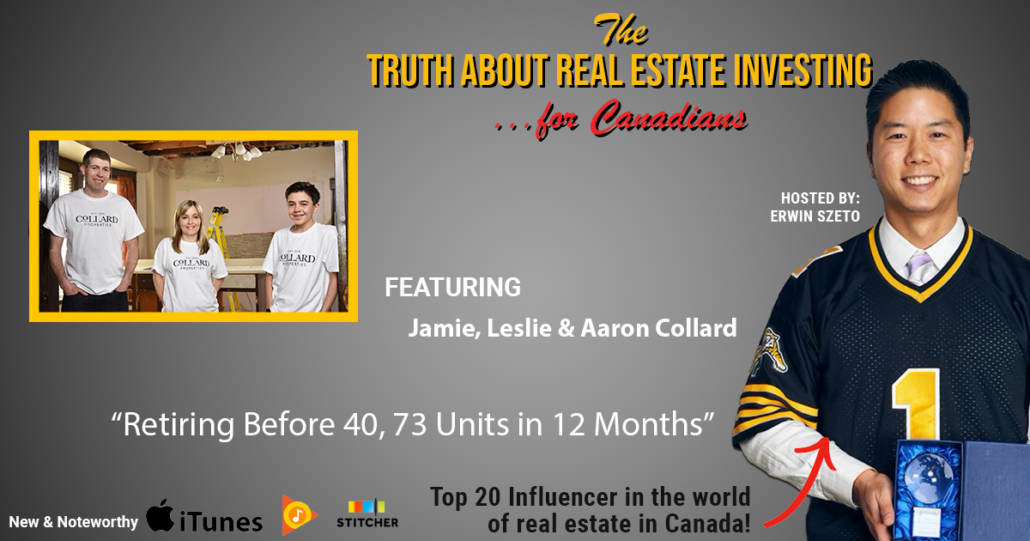 Did anything happen this past week?
Anything of importance affecting life, the economy, real estate?
No? Nothing?
Good, then let's just skip straight to this week's guest. Lol.
At least we will see some cheap gas prices at the pump! I jumped the gun and filled up on regular gas at 93.9 cents/L, an hour later it was below 90 cents.
I haven't seen gas prices like this since pre Hurricane Katrina in 2005. I remember when all the gas stations had to update their signs to accommodate an extra digit as gas prices skyrocketed and never came back down below a dollar. 
Cheap gas is great for more disposable income for the rest of us, but bad news for Canada's energy sector in Alberta and Saskatchewan including delayed investment, job layoffs, more hits to their economy.
I'll make sure to reach out to my Alberta investor friends of this show to get their insights into their local real estate markets. One of them, Edmonton investor Jared Hope shared how he just got a 2.59% mortgage for 5 years and is happy about that!
Some of you may have noticed we missed a podcast episode last week.  Even though my family and I were away for a wedding, my team and I had the episode ready however our guest had to postpone her event she was promoting that included me as a speaker. So sadly, we will have to redo what was an awesome interview when we have new dates to share.
The event was planning to host a few thousand however based on studies of Coronavirus, staying away from large enclosed crowds makes a lot of sense.
The stock market is way down. I actually think it has more to give as we are only learning now how infectious this virus is. 
Long term, I do believe this too will pass but the pain in the next three to six months could be significant as our hospitals are overwhelmed, factories are temporarily closed, and we can't buy goods including prescription drugs.
I did just spend $644 at Costco yesterday on food plus socks for me that were on sale.  No toilet paper though, but we have lots since I buy it whenever it goes on sale. 
View this post on Instagram
Bringing it back to real estate, it doesn't take much to spook the market. There were very few buyers out there immediately following the Housing Fairness Plan.
I remember when I was looking for a property to buy in a great area, great condition, separate side entrance for easy basement suiting for a 2nd rental income. Three months earlier, that open house would have been a zoo, at least six or more offers. At the open house there was no one. Just me and the two listing agents.
I made an offer for under asking price with five business days for both financing and home inspection conditions as I was the only offer. The selling agents were great to deal with as I was their only "customer," so nothing felt rushed. I even got a price reduction for some unforeseen stuff I found during the home inspection. 
Fast forward to today and my team of investor Realtors have told me about 4,6,9, even 21 offers on a single listing. On one of our listings we have 2 offers on a property that was listed exclusively. That one went well over asking too.
My guess is we will see some softness in the real estate market when people are scared to buy a new house or they will be just too busy taking care of their kids due to school closures for Coronavirus.
If we didn't just buy our office, I would be readying our mortgage qualification documents, ready to pounce on opportunity.
No different with stock hacking. I've transferred cash and patiently wait for opportunity. Cherry is opening an account too so we may both learn from this experience and hopefully create significant wealth like Brian Zammit, a past guest of this show who was able to retire his wife and stop working a job in 2011.  You better believe I'm in regular contact with Brian Zammit and my coach.
This show has never been about getting rich quick or no risk or no effort, but rather the truths about investing.  Yes, stock investors are losing money right now and, no, it's not fun. I won't be surprised if real estate prices decline or that we see another recession. 
The other truth is I regret not having the knowledge of how to take advantage of the market correction in 2008 because I didn't understand how it happened at the time.  So I took responsibility that would never happen again. I've gotten myself educated, surrounded myself with the right people to be ready for this moment.
The year 2020 will be one to remember as both a terrible year and one of opportunity. I just hope you all stay safe, wash your hands, stay healthy, and make a massive difference for your financial futures.
Now, on to this week's show!
Retiring Before 40, 73 Units in 12 Months with Jamie, Leslie & Aaron Collard
Jamie and Leslie Collard are a husband and wife team who have spent the last few years building financial freedom through real estate acquisitions.  Their focus in the past year has been on apartment buildings with an acquired 73 units.
They were able to "retire" before turning 40 years of age and now, they have the freedom to spend more time as a family, travel when they choose to and have no worries about their financial future.
Throughout their journey, they have become passionate about sharing with others how they used real estate to build their wealth. Because it was a challenge for them to learn the high level investment strategies in the business, they have created their own education series that will allow others to learn from the experts in the field.
Aaron Collard is their 15 year old son and wait till you hear what he's up to.
Without further ado, Jamie, Leslie and Aaron Collard!
To Listen:
Youtube: https://youtu.be/ZhbOiUrR6eY

To follow the Collards:
Web: https://www.collardproperties.ca/
ADVANCED COMMERCIAL INVESTMENT CONFERENCE:  https://www.collardproperties.ca/seminars
Facebook: https://www.facebook.com/groups/665392684003319/
NO MORE Confusion
After all the Youtube videos, books, and forum posts, you're probably still left with questions. Starting in real estate is a tricky thing.
Frustrated beginners often ask how a legal basement suite conversion actually works. Most of the time we can only give general answers. But now, we get to dive in.
At this in-depth, free class you'll learn how to take your first steps as a real estate investor.
Nothing is held back. Everything from analyzing basement suite conversion deals, to renting out your first property at a profit, and even how to refinance and do it all again!
More secrets you'll uncover are:
Profiting in a HOT market…

Municipal bylaws to watch out for…

Mortgage terms that favour refinancing…

AND one barely used tactic for higher appraisals…
If you're frustrated, unsure of how to get started, this is for you.
 Sign up now for the Invitation List and be one of the first to get an invite to the next class.
Sponsored by:
Infinity Wealth Investment Network – would you like to know how our investors returned 341.8% on positive cash flowing real estate over the last five years? On average, that was 68.4% per year, just imagine what winning in real estate could do for you. If you would like to know how we did it, ask us how by calling 289-288-5019 or email us at meaghan@infinitywealth.ca. Don't delay, the top markets we focus in are trending upward in price, so you can pay today's price or tomorrow's price.
Till next time, just do it because I believe in you.
Erwin
Hamilton, St. Catharines and Toronto Land Development, Real Estate Investor, and soon to be builder.
W: erwinszeto.com
FB: https://www.facebook.com/erwin.szeto
IG: https://www.instagram.com/erwinszeto/

https://www.truthaboutrealestateinvesting.ca/wp-content/uploads/2020/03/Collard.png
630
1200
Erwin Szeto
https://www.truthaboutrealestateinvesting.ca/wp-content/uploads/2017/06/TruthRectangleLogo.png
Erwin Szeto
2020-03-16 07:30:00
2020-03-13 14:56:25
Retiring Before 40, 73 Units in 12 Months with Jamie, Leslie & Aaron Collard