Commercial Investing for 160 Units Locally and in Curaçao. Plus How They Paid For Their Trip Around the World With Leslie and Jamie Collard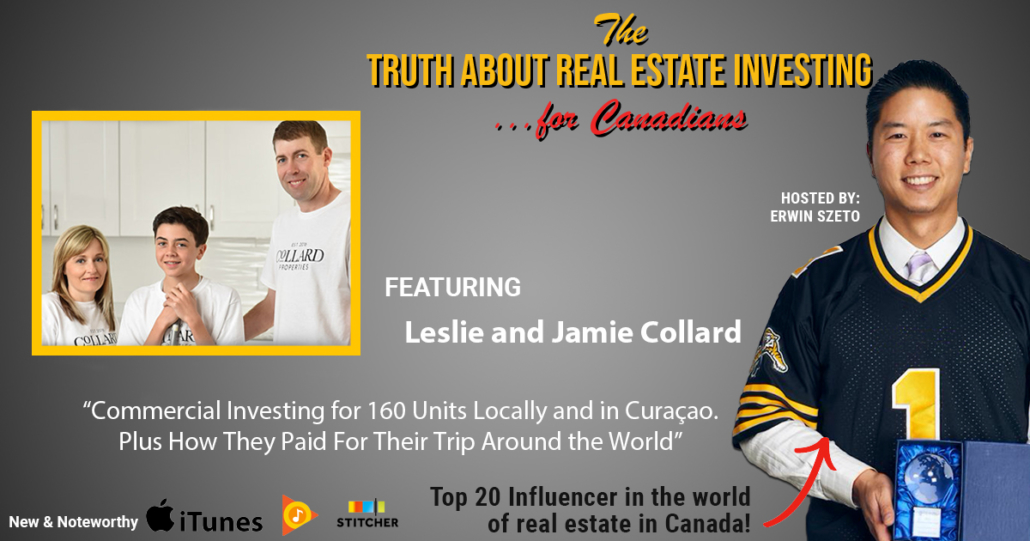 Hello my fellow Wealth Hackers!!
Who turned off the heat? It sure feels like summer is over and we're sort of getting ready to send our kids back to school. 
For us, the start of school was pushed back one week and we're in no hurry to send our kids back to school thanks to our live-in nanny who has been a lifesaver through the pandemic.
Speaking of back to school, we are back to our publicly available iWIN Networking Meetings to be live streamed via Zoom.
The cost to attend is nominal, the presentations will be world class as always and our guest speaker is exactly the speaker we need for these special times. 
He is a Police Constable, a victim of systemic racism, and at last check he holds 21 investment properties.
He is none other than Constable Jules Mackenzie. 
If you enjoy stories of inspiration like I do then you don't want to miss it. Saturday morning, Sept 19th.
Here's the link: https://www.eventbrite.ca/e/iwin-monthly-meeting-19-sept-2020-tickets-115917948705
These are special times however with back to school that usually coincides with back to business after a quiet August but these are special times, the August real estate market was on fire!!
Average prices in Hamilton were up 21.2% year over year for August and day on market were down from 29.6 days to 21.9 days per the Realtors Association of Hamilton-Burlington. 
If you like to know what's going on with your real estate then you don't want to miss our first publicly available meeting in 2020. 
Did you pick up new hobbies during the pandemic?
Because of government regulations, I defaulted to golf as I was dying to socialize with real people outside of my house.
Now here is how I use golf or any hobby as an experiment on learning and wealth hacking. The experiment is to see how quickly I can improve as a beginner. 
This year is the first year I've golfed more than twice in a summer, I believe that qualifies me as a beginner.  Last year I shot a 136 at the Hamilton Golf and Country Club.
Here are some best practices I've picked up in other areas of my work/investing I've applied to golf:
I hired a coach.

A golf professional who's coaching both Cherry and I. Like investing, golf is more fun when done with those you enjoy spending time with

Practice,

I practice at least twice per week

via play or the driving range or a lesson

You are the average of the five people you spend the most time with.

My golf buddies include a couple very successful entrepreneurs, investors, and I'm usually the worst golfer in the group so I usually benefit from the tips from the better golfers

Tiger Woods: I read his biography and now I'm reading his book on how to golf.

I enjoy reading books on ultra successful people and looking for insights into how they were raised plus how they raise their own kids.

Equipment: I bought my clubs on Boxing Day Sale because I'm frugal and they're widely considered to be good quality.  As with many things,

I have more disposable income compared to my talent and skill.

Putting mat: I bought a nine foot putting mat to play with in the living room with Cherry and the kids. My putting has improved immensely

There is no replacement for experience.

As I learn how to play the game, I get better.
This past Friday, I played the same course again but only nine holes instead of 18 as it's under renovation.  Last year I shot 136 over 18 holes, a couple weeks ago I shot 59 over nine holes and this past Friday I played well shooting 52. 
Proof yet again that investing in oneself pays off. 
From my experience, I've practiced similar applications to Crossfit and Brazillian Jiu Jitsu and of course my real estate investing and stock hacking, I have coaches, I read, I invest in education, and I spend a lot of time around both real estate and stock investors hence we offer meetups for both subjects. 
Investing in oneself pays off and this week's guests have invested well into six figures into their education which has kinda worked out into 160 real estate rental units in not a very long time.
They also love this little side hustle that only takes them 15-30 minutes per day that paid for their next vacation around the world. 
That side hustle is what we call Stock Hacking.
If that's something that interests you, learning how everyday Canadians like Leslie and Jamie from small town Ontario make money from their phones, I'm hosting another free demonstration, a more comprehensive demonstration than the one I showed my kid cousin over Thanksgiving dinner that resulted in him cash flowing $1,000 per week then the link is in the show notes.
All this talk about socialism and equality. Here, I'm doing my part in offering a demonstration for free… 
Here's the link to join:
Sept 24: https://us02web.zoom.us/webinar/register/WN_VEx9tUmdTIO3PWMauybnZw
Commercial Investing for 160 Units Locally and in Curaçao. Plus How They Paid For Their Trip Around the World With Leslie and Jamie Collard
This week's guests are none other than Leslie and Jamie Collard of Collard Properties and this is their 2nd interview on the Truth About Real Estate Investing. 
The Collards did start with smaller residential investments and are now focused on apartment buildings and developing vacation properties internationally.
Leslie and Jamie are quite open and sharing about how they find deals as well so make sure to have your pen and paper ready. 
They're even hosting a commercial real estate conference online and you can learn more about that on their website www.collardproperties.ca
To Listen:

To Follow Leslie and Jamie Collard:
Looking to add another stream of income?
On October 3rd & 4th, you can join the next Stock Hacker Academy Live Introductory Course. Learn the foundations that have helped Erwin and Cherry make upwards of $2000 USD a week. Stock Hacker Academy includes:
Live, in person or digital, weekend Course with the Godfather of Stock Options, Lee Lowell.

8 Weekly coaching webinars taught by Lee.

Access to all of the recording for 12 months

And so much more…
If you want to see this in action, click here to register for the next FREE Trading Demonstration.
NO MORE Confusion
After all the Youtube videos, books, and forum posts, you're probably still left with questions. Starting in real estate is a tricky thing.
Frustrated beginners often ask how a legal basement suite conversion actually works. Most of the time we can only give general answers. But now, we get to dive in.
At this in-depth, free class you'll learn how to take your first steps as a real estate investor.
Nothing is held back. Everything from analyzing basement suite conversion deals, to renting out your first property at a profit, and even how to refinance and do it all again!
More secrets you'll uncover are:
Profiting in a HOT market…

Municipal bylaws to watch out for…

Mortgage terms that favour refinancing…

AND one barely used tactic for higher appraisals…
If you're frustrated, unsure of how to get started, this is for you.
 Sign up now for the Invitation List and be one of the first to get an invite to the next class.
Sponsored by:
Infinity Wealth Investment Network – would you like to know how our investors returned 341.8% on positive cash flowing real estate over the last five years? On average, that was 68.4% per year, just imagine what winning in real estate could do for you. If you would like to know how we did it, ask us how by calling 289-288-5019 or email us at meaghan@infinitywealth.ca. Don't delay, the top markets we focus in are trending upward in price, so you can pay today's price or tomorrow's price.
Till next time, just do it because I believe in you.
Erwin
Hamilton, St. Catharines and Toronto Land Development, Real Estate Investor, and soon to be builder.
W: erwinszeto.com
FB: https://www.facebook.com/erwin.szeto
IG: https://www.instagram.com/erwinszeto/

https://www.truthaboutrealestateinvesting.ca/wp-content/uploads/2020/09/Leslie-and-Jamie.jpg
630
1200
Erwin Szeto
https://www.truthaboutrealestateinvesting.ca/wp-content/uploads/2017/06/TruthRectangleLogo.png
Erwin Szeto
2020-09-11 14:26:25
2020-09-11 14:26:27
Commercial Investing for 160 Units Locally and in Curaçao. Plus How They Paid For Their Trip Around the World With Leslie and Jamie Collard