How A Former Technology Executive Automates His Real Estate For Mega Savings and Profits with Christian Szpilfogel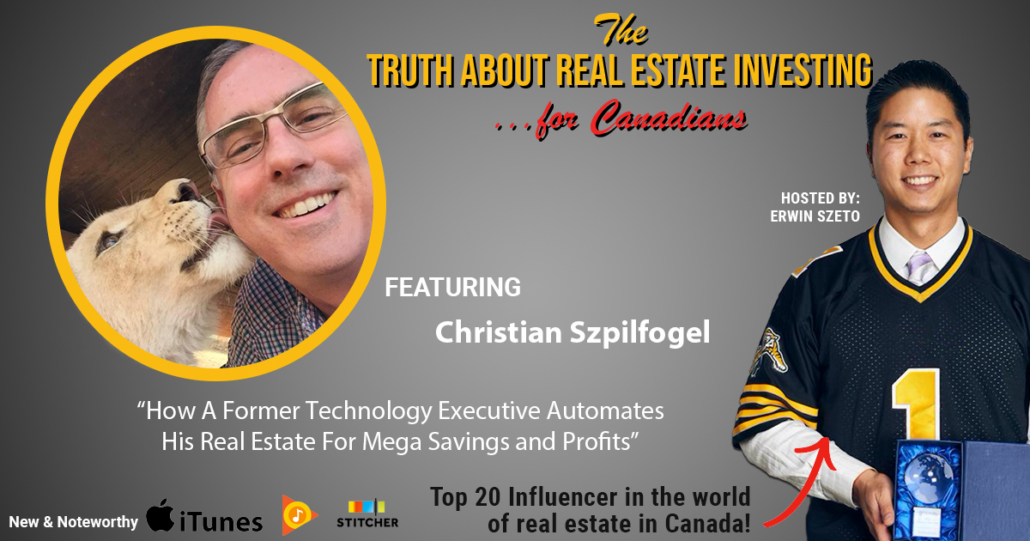 Welcome to the Truth About Real Estate Investing Show where we're here to learn to build wealth together.
Having wealth is great, being part of a community where your friends and family have financial freedom, well that's just a lot more fun to be a part of in my opinion.
How is back to school for everyone?
Our kids' classes start date was delayed which is fine. I can see all the precautions being made and I'm confident in our school and teacher that everything is being done.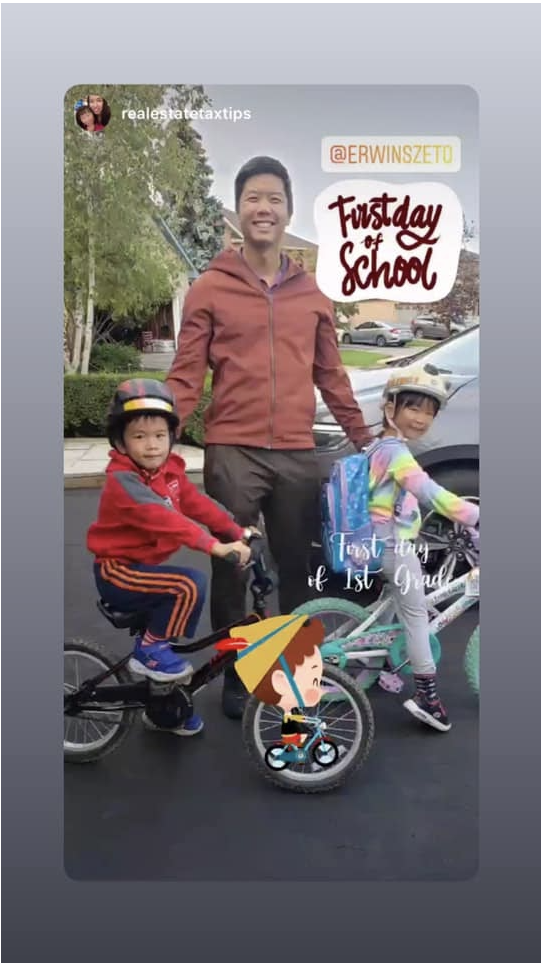 No different than in business or investing or stock hacking, I took an analytical approach to our decision to send the kids back.  Note that we didn't have to send the kids back as we have a full time nanny that the kids love and she loves our kids back the same. 
Science, stats, whatever you want to call it, our school and the neighborhoods that attend our kids' school is in the bottom 10% of covid cases in Ontario.
We don't have any elderly living in our home so no at risk groups will be exposed to greater risk being around my family. Our kids are skipping the school bus and instead bike about 10 mins to school under adult supervision which they are enjoying.  
So far so good. The kids are enjoying seeing their old friends and meeting new ones. 
To show our appreciation, Cherry and I have sent gift cards to the teachers and our Vice Principal.
We received back notes of thanks, one teacher stated how the gift cards will be used to purchase class materials. I've followed up asking both what materials they need. Cherry and I will donate some or all of them. 
To me, it's the least we can do to give back after what has been a very successful six months for our real estate and stock hacking investments.
I mean, the government is pouring money into the schools for all the added expenses of cleaning, technology, personal protection equipment, etc…
As always, I believe we as private citizens need to step up and fill gaps when possible.
Same goes for our charity, the Hamilton Basket Brigade. 
The need is greater than ever, we have more challenges than ever to host an event for these families in need but we are making it happen.
We are hosting an outdoor BBQ in the lower city of Hamilton, shout out to Charles Wah for donating the use of his parking lot and bathrooms. 
The budget will be the same, the love and care will be the same, it will just mean fewer gifts, more gift cards and a lot more hand sanitizer 🙂  As always, we can't wait to be the change we want to see in the world.
There is much to be thankful for after what I saw two weeks ago…
Two weeks ago, I volunteered to help an entrepreneurs' group I'm a part of to check out potential office/event space to rent out. 
Typical me, I show up excited without thinking it through but what did we find? Lots of beautiful space.
But think about it… Who is giving up their office space?  Failed small businesses. 
It was the saddest experience for me, it was like hopping between funeral homes for small businesses and as a real estate investor, I ask the question, why the space became available?  
All these businesses no longer needed office space, some were on life support as their businesses were adversely affected and some simply moved to work from home.
Is it any surprise that August Go Transit ridership is 23% of what it was a year ago. 
As far as I can tell, it's a complete renters market for office space downtown Toronto and I imagine the same for many of the urban centers across Canada.
It was in the news last week how a couple of the biggest companies in Canada including banks are subletting unneeded space in their Toronto offices. 
What a crazy world we live in!
Speaking of crazy or maybe not so crazy as it's becoming a regular occurrence, Cherry beat me again the last two weeks of she trader vs. he trader.
Each week, her aggressiveness paid off, I think she beat me by around $2,000 US for each of the last two weeks. 
The positive feedback on the Stock Hacker Academy 2.0 continues to pour in. We had a client last week choose freedom over continuing at his day job in exchange for being a full time wealth hacker: both real estate investor and stock hacker.
I'll have Joe on the show soon to share his story of how he obtained his freedom.
If you're interested in learning more, I'm giving a demonstration, totally free over Zoom.
This demonstration is in crazy high demand, we've had to upgrade our Zoom account and it's the last one we have planned for 2020.
If you don't know the story, I showed my kid cousin Wil, he's known as "Chubby" to his family.  Anyways, I taught him how to stock hack over Thanksgiving dinner, he's a full time musician and in 15-30 mins per day, he's able to cash flow over $1,000 per week all from his mobile phone. 
September 24th, 8 pm again is the last demo we have planned for the year followed by Stock Hacker Academy 2.0 Featuring "the Godfather of Stock Options" – Best Selling Author of Get Rich With Options Lee Lowell.  Links to register are in the show notes at
www.truthaboutrealestateinvesting.ca
Free Demonstration: https://us02web.zoom.us/webinar/register/WN_VEx9tUmdTIO3PWMauybnZw
Details for Stock Hacker Academy 2.0: www.stockhackeracademy.ca/
How A Former Technology Executive Automates His Real Estate For Mega Savings and Profits w Christian Szpilfogel
Speaking of making money with technology, this week's guest has some crazy awesome advice on how to use technology in his sizeable real estate portfolio to save himself time, money, grief, and it even got rid of a drug dealing tenant who assaulted another tenant out of his property. 
Some of Christians' technology even makes him money. 
Needless to say, this is an excellent interview.  
This is a long episode as Christian was generous with his time, he is a former executive at one of Canada's most well known technology companies in Ottawa, Ontario where he lives.
More recently we became the Vice President of Ottawa Real Estate Investors Group.  Shout out to outgoing President Rich Danby. 
We talk about what makes a good investment club and in the second half Christian lists off a bunch of technologies he has personally implemented in his real estate.
So, do have a pen and paper ready, you're likely going to want everything he's got after he explains the benefits.
To Listen:

To Follow Christian Szpilfogel:
Before you go, a quick announcement, my real estate networking meetings are back and open to the public!
We only have limited seating in person and they sold out fast for the September iWIN Meeting but we have plenty of space online on Zoom.
For those who have been before, the presentations are excellent only exceeded by the quality of the attendees to come out. 
As always, I have several phenomenal guest speakers lined up, you've heard many of them already on this Podcast but with networking meetings, you get to interact and ask them questions. 
As the saying goes, you are the average of the five people you spend the most time with you. 
Personally, I like hanging out with successful, goal driven people or quality character and that's what you'll find at the iWIN Meetings
To be notified of the next iWIN Meeting just sign up for my email list at www.truthaboutrealestateinvesting.ca
Hope to see you there soon!
Looking to add another stream of income?
On October 3rd & 4th, you can join the next Stock Hacker Academy Live Introductory Course. Learn the foundations that have helped Erwin and Cherry make upwards of $2000 USD a week. Stock Hacker Academy includes:
Live, in person or digital, weekend Course with the Godfather of Stock Options, Lee Lowell.

8 Weekly coaching webinars taught by Lee.

Access to all of the recording for 12 months

And so much more…
If you want to see this in action, click here to register for the next FREE Trading Demonstration.
NO MORE Confusion
After all the Youtube videos, books, and forum posts, you're probably still left with questions. Starting in real estate is a tricky thing.
Frustrated beginners often ask how a legal basement suite conversion actually works. Most of the time we can only give general answers. But now, we get to dive in.
At this in-depth, free class you'll learn how to take your first steps as a real estate investor.
Nothing is held back. Everything from analyzing basement suite conversion deals, to renting out your first property at a profit, and even how to refinance and do it all again!
More secrets you'll uncover are:
Profiting in a HOT market…

Municipal bylaws to watch out for…

Mortgage terms that favour refinancing…

AND one barely used tactic for higher appraisals…
If you're frustrated, unsure of how to get started, this is for you.
 Sign up now for the Invitation List and be one of the first to get an invite to the next class.
Sponsored by:
Infinity Wealth Investment Network – would you like to know how our investors returned 341.8% on positive cash flowing real estate over the last five years? On average, that was 68.4% per year, just imagine what winning in real estate could do for you. If you would like to know how we did it, ask us how by calling 289-288-5019 or email us at meaghan@infinitywealth.ca. Don't delay, the top markets we focus in are trending upward in price, so you can pay today's price or tomorrow's price.
Till next time, just do it because I believe in you.
Erwin
Hamilton, St. Catharines and Toronto Land Development, Real Estate Investor, and soon to be builder.
W: erwinszeto.com
FB: https://www.facebook.com/erwin.szeto
IG: https://www.instagram.com/erwinszeto/

https://www.truthaboutrealestateinvesting.ca/wp-content/uploads/2020/09/Christian-Szpilfogel.jpg
630
1200
Erwin Szeto
https://www.truthaboutrealestateinvesting.ca/wp-content/uploads/2017/06/TruthRectangleLogo.png
Erwin Szeto
2020-09-18 15:37:51
2020-09-18 15:37:55
How A Former Technology Executive Automates His Real Estate For Mega Savings and Profits with Christian Szpilfogel