Personal Growth Of A Single Parent From Selling Tupperware To Real Estate To Investing for 50% Returns and Stock Hacking with Lynne Tham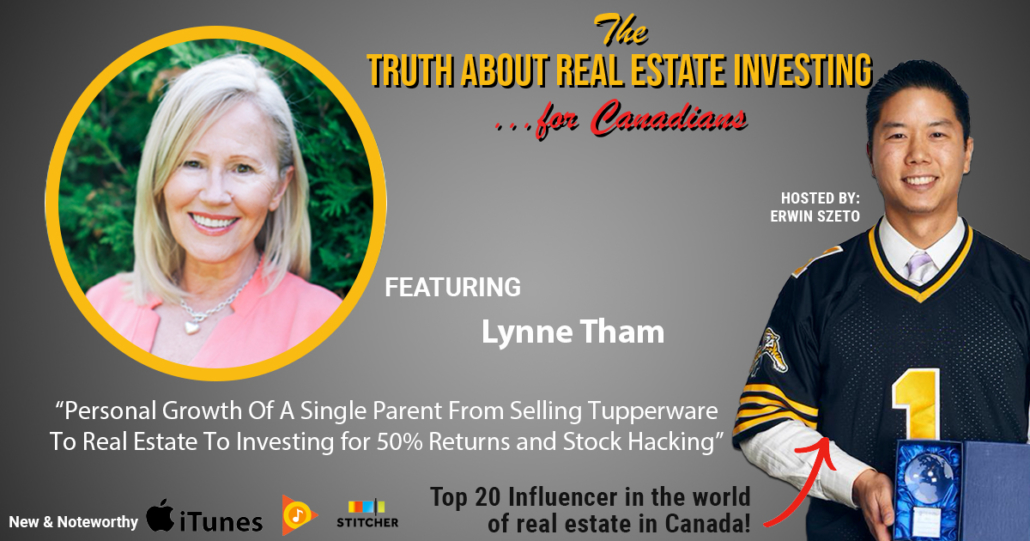 Hello, fellow wealth hackers!
I trust everyone is well!! From people I speak to who are investing in stocks and real estate, the response is overwhelmingly positive with bumps along the way.
Nothing is ever perfect.
In one of our student rentals, we installed an air conditioner in the attic and the students are happy except for one – The student who's bedroom closet has the attic hatch.
Well, they're not happy at all because dust got onto their furniture and they feel they weren't given enough notice even though my property manager emailed them a week in advance of the installation and cleaners were in the house not even five minutes after the AC installer left.
I know because I was there.
The cleaners pulled into the driveway as I was leaving.
We offered to send the cleaners back but the student's mom wants to be present to check if the workers and my handyman are wearing masks.
She asked to hold off on any other renovations so she can work it out in her schedule to be on hand but she didn't want to take responsibility for the delays in letting the other student tenants know the cause of the delays.
Cherry and I are big on customer service hence we already gave a roughly 10% credit for the summer months which the students accepted and to send the cleaners back at our expense or to pay the disgruntled mom to clean herself if she preferred to keep the cleaners from returning.
What does she want? A four-month rent credit?
She also asked that I be present for her to vent her frustrations when my property manager is already present and authorized to represent me.
I'm pretty busy between family and business and investing so that wasn't going to happen. Plus I'm not a fan of confrontation.
We have already offered the student and mom out of the lease as there is no satisfying her and as the saying goes, "How you do anything is how you do everything", we'd like to avoid any future drama.
Such is the importance of having multiple streams of income.
Our portfolio can handle a hit to cash flow to make everyone's lives easier. Life is too short to handle the drama from someone who wants thousands of dollars of compensation for dust on bedroom furniture.
This whole COVID thing is responsible for some special times.
I've seen my brother once since January. He came to my house to pick up a cooler for camping, he didn't touch anything as he's a biologist by education and studied infectious disease at school so he's more cautious than most.
I miss him and my niece who's only three years old but that's what being responsible and respecting other people's wishes is all about. Families, tribes, society, etc… don't get along without well, getting along.
Then I see all the toxicity on social media. It's crazy.
I generally don't engage in it like discussing politics and religion on social media. From anyone who's read How to Win Friends and Influence People by Dale Carnegie, you'll recall no one wins in an argument, there are only losers.
Often both parties walk away angry at each other with neither being convinced to change their views and sometimes strengthening their resolve.
So what's the point? It's a waste of energy in my opinion.
Then there is one of my favourite tips from the super awesome Tim Ferriss, best selling author of the Four Hour Work Week.
In his book Tim gives the example of an upcoming election, how he saves time and energy, he simply asks a couple of people who have similar values on how they will vote and why and makes his decision from there.
In my experience, I'm lucky enough to be the son of a medical doctor and one of my best friends from school basically got perfect all through elementary, high school, university, and medical school.
I ask Dad how to protect his grandkids and he gives his advice. Dave my doctor friend now works in a hospital so I ask him what he does for him and his three kids who are around the same age as mine.
For me, that's good enough for my family and me.
Everyone is entitled to their opinion, it doesn't necessarily mean it's a qualified opinion. No different than when I say the Leafs need to trade for a defenseman. I have no idea who's available or who would be good on our team but yeah, I have an opinion.
You're more than welcome to ignore it but just don't argue with me 😛
We should already know this.
But too often we forget it.
You never know what's going on in somebody's life; what they're dealing with.
Physical health.

Mental health.

Racism.

Financial burdens.

Jobs.

Divorce.

…the list goes on.
So be kind. Be an ally. Be a friend. Be better. Don't have anything nice to say then don't say it at all.
If anyone out there needs help feel free to reach out, I'm not hard to find.
Last week we lost one of Toronto's finest. Nearly a decade with the Toronto Police and just over a decade with the Canadian Armed forces. He was lost to suicide due to depression. Someone who on the outside had it all.
I just wish he had said something and I'm pretty sure we all feel that way when these things happen.
Rest in peace Constable. I hope you're in a better place, you should have seen your funeral, there were so many people there to say goodbye.
Personal Growth Of A Single Parent From Selling Tupperware To Real Estate To Investing for 50% Returns and Stock Hacking with Lynne Tham
On to this week's guest, Lynne Tham.
She was nervous to come on the show which is not uncommon. Public speaking by some surveys ranks higher on the lists of fears above death itself….
Lynne's kids including my friend Simon told her to just do it and she did!
I'll post Lynne's full bio on our website, www.truthaboutrealestateinvesting.ca.
It's a wonderful Canadian success story of a teenager immigrating to Canada, falling in love with the greatest country in the world.
Started a family, stayed at home to raise the kids, picked up a side hustle in multi-level marketing, excelled, became a single parent, became a Realtor, had a wake-up call at age 55 that she needed a retirement plan.
Invested in real estate, de-invested in real estate and now a pretty successful stock hacker.
I know we have several full time professional, uber-successful real estate investors like Ryan Carr and coming up next Leslie and Jamie Collard and their 160 units but for the investor who wants to take it easy and be a bit more passive…. Well, it worked out for Lynne.
Full bio:
Proud mom of two successful adults (Simon and Melanie) who form our family real estate team (we do between 40 – 50 deals per year as a team).
I'm a constant advocate for personal growth in my own life and determined to create my own financial future goals of being able to live, travel and work from anywhere in the world.
My own story – came to Canada by myself as an 18-year-old, without knowing anyone, from the UK, to be a nanny, in 1978. It was supposed to be a one to two-year work stay. Fell in love with the country, got married at 21 and became a Canadian citizen.
Being a stay at home mom I was recruited to sell Tupperware in the '90s and this was the beginning of personal growth for me. I realized that I was a salesperson and loved motivating myself and other people to reach goals.
I was with them for 10 years and ended up owning a distributorship with them in the Toronto area.
After becoming a single parent in the '90s, I had a five-year stint in the car business, being a business manager and selling cars, but long hours and very little personal satisfaction, motivated me to take my real estate license.
I became an agent in 2006 with the desire of being able to have the ability to increase my income and have the flexibility to travel to see my kids, who were both now living in the U.S. (Melanie on a gymnastics scholarship at Iowa State University and Simon modelling in NYC).
After building my business for six years it was a welcome addition to have my Mel join me in the business after she graduated university and then Simon, two years later.
Both of my kids did not have real estate as a career goal but they kind of fell into it after realizing that it was a great way to earn good money and also be able to pursue other passions (not to mention my daughter's teaching degree did little to generate an actual job in teaching and Simon realized that modelling looks don't last forever – but as his mom, I would disagree 🙂 and he's still modelling now)
Five years ago, at age 55, I was staring at my future and realizing that I needed more of a retirement plan – at that time, my net worth was basically the equity in my Mississauga townhouse (at the time, worth around 775k, and I had a mortgage of $300k on it) and I had $200k in RRSP's and that was it.
When I looked into what the Canadian pension was, if I waited until 65 to draw it, it was a wake up call.
This started my journey into how to build a consistent income of at least $10k a month within the next five years.
I had met with an investment guy from a reputable company, regarding what to do with my RRSP's, who told me he could generate me a guaranteed 8 – 10% annually with their various investments.
It sounded a lot better than the 2% than my Scotia funds were generating, but luckily, I was introduced to investing in second mortgages by profunds in Burlington and decided to put my money there (it has now grown by over $100k in four years).
Simon had introduced me to your podcasts and it opened up a new world of exploration.
Around this time, I was invited to an event at my Keller Williams brokerage, put on by two agents who were representing, Brian Pullis's project in Orillia.
They were offering an investment opportunity to purchase a townhouse in an older complex that had been refurbished and all the interiors gutted and renovated.
The homes were offered at $247k, and they were offering a $7k builder incentive and on top of that, my 2.5% real estate commission, so essentially I could buy one of these homes for $235k.
Again, embarrassingly, I hadn't realized that I could take an 80% line of credit against my primary residence to take the down payment for an investment property, and I had always had the mindset that I needed to pay off my mortgage before doing so.
I got the line of credit and purchased my first property.
The type of property fit me well as it was easy to manage, (one-year property management was offered for free), and it cash flowed ($1400/month in rent).
This was a great first experience and it encouraged me to buy a second property in Orillia, which I had realized through listening to one of your podcasts (and Jules McKenzie), was listed in REIN's top 10 cities in Ontario to invest in.
The second property was easy as it was new construction and the builder was only requiring $20k down. I closed on it a year later and after buying it for $345k and putting $20k into it, it attracted good tenants and covered itself.
I sold the first property 3 years later and made around $70k net, and I just sold the second one (closed yesterday) and made $145k in three years.
Last year, I had looked into the possibility of buying another investment property (at the time, I owned only one of the Orillia properties), but it had become so much more difficult to qualify for a mortgage and I was approved to buy at $600k, with B lender financing and it would have to be a legal duplex, generating $3400/$3500 monthly for it to work.
I realized that it was too much for me at this point in my life, to drive to Oshawa (where it seemed like the only opportunities to do this, existed in this price range).
In the summer I attended your IWin meeting where the discussion came up about the upcoming stock hacking course. I was so inspired by Adriano's story and I had been listening to your increasing interest in doing it yourself and was following your progress.
Unfortunately, I was in Portugal in September when the first class was offered but as you know, Simon attended and he seemed to be quite inspired and impressed.
What sealed the deal for me was hearing Habib's podcast with you, in the late fall, and I knew I had to sign up.
Since taking the two day course in December, it has changed my life.
No other words for it.
I started with $150k from my HELOC and then added $40k two months later. Since just before Covid, as of today, I'm up $54k, which is nicely falling into my goal of $10k/month and is opening up my future.
I plan on taking the profits from the sale of my investment property and adding it to my account, with the goal of making $15k to $20k a month consistently.
I am constantly amazed at how options trading is not only something that I could grasp but is so easy, enjoyable, flexible and unlimited.
I now find myself talking real estate clients (especially the ones around my age) out of buying their first investment property and doing options trading instead.
As you always say, there's a place for both and they go hand in hand, but for me personally, and others in my situation, looking at retirement and how to fund it, in my opinion and experience, this is an incredible option.
To Listen:

To Follow Lynne:
Facebook: https://www.facebook.com/lynne.tham/
Looking to add another stream of income?
On October 3rd & 4th, you can join the next Stock Hacker Academy Live Introductory Course. Learn the foundations that have helped Erwin and Cherry make upwards of $2000 USD a week. Stock Hacker Academy includes:
Live, in person or digital, weekend Course with the Godfather of Stock Options, Lee Lowell.

8 Weekly coaching webinars taught by Lee.

Access to all of the recording for 12 months

And so much more…
If you want to see this in action, click here to register for the next FREE Trading Demonstration.
NO MORE Confusion
After all the Youtube videos, books, and forum posts, you're probably still left with questions. Starting in real estate is a tricky thing.
Frustrated beginners often ask how a legal basement suite conversion actually works. Most of the time we can only give general answers. But now, we get to dive in.
At this in-depth, free class you'll learn how to take your first steps as a real estate investor.
Nothing is held back. Everything from analyzing basement suite conversion deals, to renting out your first property at a profit, and even how to refinance and do it all again!
More secrets you'll uncover are:
Profiting in a HOT market…

Municipal bylaws to watch out for…

Mortgage terms that favour refinancing…

AND one barely used tactic for higher appraisals…
If you're frustrated, unsure of how to get started, this is for you.
Sign up now for the Invitation List and be one of the first to get an invite to the next class.
Sponsored by:
Infinity Wealth Investment Network – would you like to know how our investors returned 341.8% on positive cash flowing real estate over the last five years? On average, that was 68.4% per year, just imagine what winning in real estate could do for you. If you would like to know how we did it, ask us how by calling 289-288-5019 or email us at meaghan@infinitywealth.ca. Don't delay, the top markets we focus in are trending upward in price, so you can pay today's price or tomorrow's price.
Till next time, just do it because I believe in you.
Erwin
Hamilton, St. Catharines and Toronto Land Development, Real Estate Investor, and soon to be builder.
W: erwinszeto.com
FB: https://www.facebook.com/erwin.szeto
IG: https://www.instagram.com/erwinszeto/

https://www.truthaboutrealestateinvesting.ca/wp-content/uploads/2020/09/Lynne-Tham.jpg
630
1200
Erwin Szeto
https://www.truthaboutrealestateinvesting.ca/wp-content/uploads/2017/06/TruthRectangleLogo.png
Erwin Szeto
2020-09-04 16:26:23
2020-09-04 17:02:08
Personal Growth Of A Single Parent From Selling Tupperware To Real Estate To Investing for 50% Returns and Stock Hacking with Lynne Tham