How To Maximize Returns via Highest And Best Use Real Estate With Ryan Carr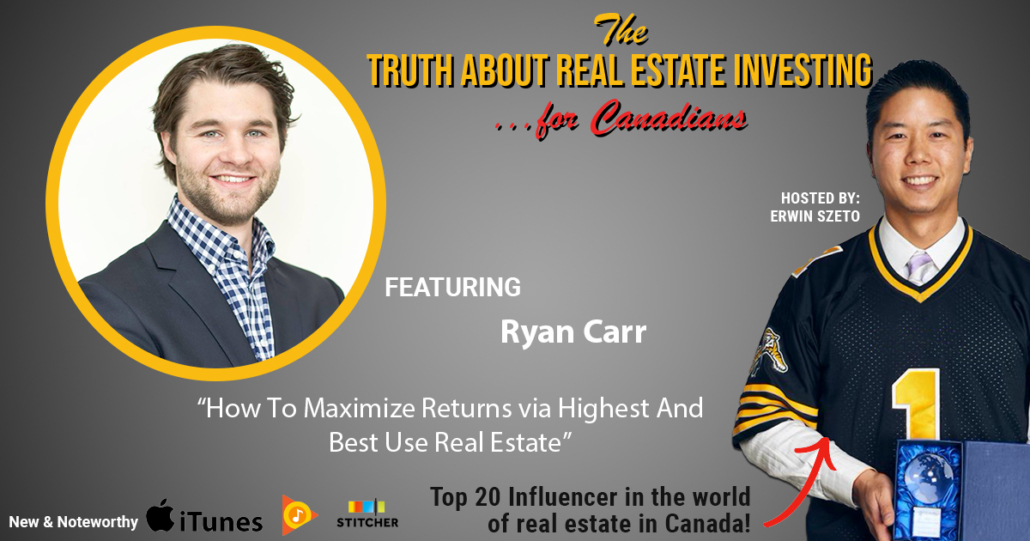 Hello my fellow wealth hackers!
Thank you to everyone for reaching out and asking about my son Bruce.  He seems 100% now as he's finished his eight days of antibiotics. 
His visit to the dentist was fun as his front tooth is now toast, but the dentist said to leave it since it's not bothering him.  The dentist also found a cavity while poking around.  Thank goodness we bought our own benefits plan for our family and a few of our employees to soften the financial blow. 
I know many of you out there who are self employed don't have benefits plans.  We got ours through our local chamber of commerce as I'm a member of the Hamilton Chamber.  Because the benefits plan is spread among the tens of thousands of employees among chamber members, the risk is diversified bringing the cost down which is around $300 per month for us.
We will definitely be getting our money's worth this month between the emergency dentist visit, upcoming cavity repair, private room at the hospital, and now massage therapy as we have been having an RMT come into the office to massage the staff.  Does that sound right?
Hopefully you're all taking care of yourselves and enjoying all the returns you're making from your real estate and stock hacking. Never forget, life is short so do enjoy the fruits of your labour. 
I've spoken to many of you, including yet another newer real estate investor and a good friend of mine yesterday who's real estate is fully tenanted. Everyone is paying rent and he's cash flowing on average $2,000 per week via stock hacking. 
Have a wild guess if he cash flows more from his real estate investments or his stock hacking. 
Yet again, real estate for wealth creation, stock hacking for cash flow.
Speaking of cash flow and stock hacking, here's a quick update on Cherry and I's she trader vs. he trader.
Two weeks ago Cherry beat me by a whopping $40, but a win is a win and last week I won. I believe the score is around 16-6… I'm not sure what the lesson is here, but ladies, you can stock hack just as well or better than men. 
I spoke to a single mom of two this week who has taken the original and as well as the new and improved 2.0 version of Stock Hacker Academy, and her weekly returns average is $2,500.  I hope more single parents out there have the tools to do the same.
The lesson for the men? I don't know. Maybe you can get lucky like me and have your partner out earn you.
I personally have no problem with my wife making more $$ than me.  I'll make Cherry pay for our next round of golf together as she had yet another four figure day today. She had a deep in the money call option on Apple for those who know stock hacking.
If you're interested in learning more about stock hacking, I'll be hosting another demonstration over Zoom. We almost broke the system last time as we had over 500 people register, but capacity is 500.
We will not be making a recording available for privacy reasons so make sure you're there on September 10th, 8pm EST. 
I'll have several friends and family attending as well. I've been asked to give the same demo several times each week but unfortunately these are covid times, I'm really busy and protective of my gym, golf, Raptors and family time. 
The link to Zoom is ridiculously long so go to the website www.truthaboutrealestateinvesting.ca and you'll find the link there.
Link to register for the demo here!!! https://us02web.zoom.us/webinar/register/WN_kOWSraJaQKOmaUDiPn7HRg
Or in my bio on Instagram and Facebook.  This is totally free and it's a much better demo than I gave my kid cousin Chubby who is averaging over $1,000 per week in cash flow or 28% return on investment in 2020. FYI He's a musician by trade.
How To Maximize Returns via Highest And Best Use Real Estate With Ryan Carr
Speaking of cash flow we have Ryan Carr of RW Carr Investments as this week's guest, talking about highest and best use and being creative in real estate. 
How he groups his real estate investments into buy, renovate and hold, short term renos/developments and flips, and longer term projects including a waterfront 14 unit multifamily he renovated that went hundreds of thousands of dollars over budget… how did it work out? You'll have to listen to find out.
Plus for the first time, Ryan talks about the passing of his real estate coach, Stefan Aarnio.
I think most of you should already know Ryan. He's been on this podcast more than anyone else and he's always up to something big whether its writing articles about how to increase cash flow by renting out sheds, vertical splitting of a duplex, tiny homes, etc…
If you don't know Ryan, you will soon, as he's up to big things that I'm sworn to secrecy, but here in the interview is what we can share 🙂
I give you Ryan Carr!
To Listen:

To Follow Ryan Carr:
Book: www.TheHighestAndBestUse.com
Facebook: https://www.facebook.com/profile.php?id=100010830488618, https://www.facebook.com/rwcarrinvestment
Instagram: https://www.instagram.com/rwcarrinvestmentco/?hl=en
Looking to add another stream of income?
On October 3rd & 4th, you can join the next Stock Hacker Academy Live Introductory Course. Learn the foundations that have helped Erwin and Cherry make upwards of $2000 USD a week. Stock Hacker Academy includes:
Live, in person or digital, weekend Course with the Godfather of Stock Options, Lee Lowell.

8 Weekly coaching webinars taught by Lee.

Access to all of the recording for 12 months

And so much more…
If you want to see this in action, click here to register for the next FREE Trading Demonstration.
NO MORE Confusion
After all the Youtube videos, books, and forum posts, you're probably still left with questions. Starting in real estate is a tricky thing.
Frustrated beginners often ask how a legal basement suite conversion actually works. Most of the time we can only give general answers. But now, we get to dive in.
At this in-depth, free class you'll learn how to take your first steps as a real estate investor.
Nothing is held back. Everything from analyzing basement suite conversion deals, to renting out your first property at a profit, and even how to refinance and do it all again!
More secrets you'll uncover are:
Profiting in a HOT market…

Municipal bylaws to watch out for…

Mortgage terms that favour refinancing…

AND one barely used tactic for higher appraisals…
If you're frustrated, unsure of how to get started, this is for you.
 Sign up now for the Invitation List and be one of the first to get an invite to the next class.
Sponsored by:
Infinity Wealth Investment Network – would you like to know how our investors returned 341.8% on positive cash flowing real estate over the last five years? On average, that was 68.4% per year, just imagine what winning in real estate could do for you. If you would like to know how we did it, ask us how by calling 289-288-5019 or email us at meaghan@infinitywealth.ca. Don't delay, the top markets we focus in are trending upward in price, so you can pay today's price or tomorrow's price.
Till next time, just do it because I believe in you.
Erwin
Hamilton, St. Catharines and Toronto Land Development, Real Estate Investor, and soon to be builder.
W: erwinszeto.com
FB: https://www.facebook.com/erwin.szeto
IG: https://www.instagram.com/erwinszeto/

https://www.truthaboutrealestateinvesting.ca/wp-content/uploads/2020/08/Ryan-Carr-updated.jpg
630
1200
Erwin Szeto
https://www.truthaboutrealestateinvesting.ca/wp-content/uploads/2017/06/TruthRectangleLogo.png
Erwin Szeto
2020-08-28 15:04:09
2020-09-04 14:03:12
How To Maximize Returns via Highest And Best Use Real Estate With Ryan Carr