How A Veterinarian Quit His Job By Investing in Real Estate and Stock Hacking with Michael Bugg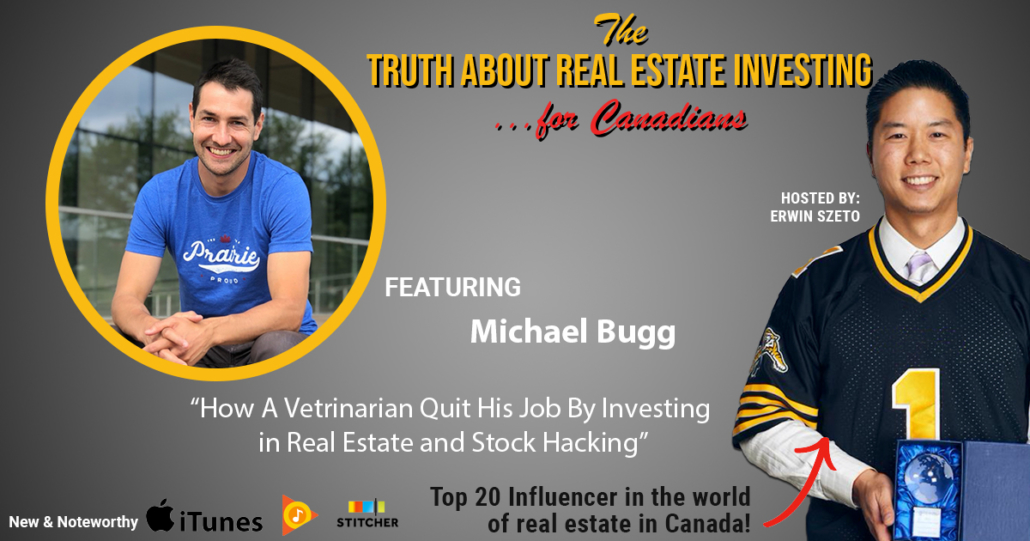 Hello my fellow wealth hackers!
I hope you're all having a wonderful summer! 
My family was having an amazing summer, then we hit a speed bump. My son Bruce was running up the basement stairs and fell on his face cutting his lip. He cried a lot but I figured he'd be fine, no big deal right?
The next morning his upper lip ballooned up. I thought, 'weird, this much swelling this late after the fall.' I sent a picture to a doctor in my family and he said the swelling was from the fall.
Bruce also had a fever so I thought it was just a coincidence, kids have fevers all the time. Saturday morning, the swelling had spread to Bruce's cheek and the fever was still there. So we did what any parent would do, we cancelled our St. Catharines property inspection tour to see a doctor. 
It's what I feared, an infection and Bruce was prescribed antibiotics.  Those were a challenge as Bruce couldn't swallow them and they tasted awful when ground up, even when mixed with honey.

Next day, there's no improvement, so off to Emergency Bruce and Cherry go.  In Covid times, only one parent is allowed in Emergency.  Bruce gets admitted and stays the night at McMaster Children's Hospital. Cherry stays with him and I'm just a ball of stress.
Thankfully McMaster Children's Hospital is just fantastic, including their pharmacy.  They work their magic and we're home on Monday with a plan for 8 more days of an antibiotics cocktail that Bruce likes thanks to the pharmacy. 
Even with the good news, I had a terrible headache. Boo hoo, I know, when compared to all those parents with kids who spend extended periods in hospital.  I've said it before and I'll say it again, investing in real estate and stock hacking is waaaaay easier than being a parent.  I'd gladly trade all my houses for the health of my kids.
Thankfully, this will only cost Bruce two weeks in the summer and the lesson as I've reminded him before, no socks in the house if he's running.
For you wealth hackers, I'm hearing from many of you that this has been an extremely profitable summer both in your real estate and for Stock Hackers. 
The Toronto Real Estate Board reported a record number of transactions in July and average prices are up 16.9% from July of last year. Hopefully those of you trying to time the market got in March or April.  The markets where we operate, west of Toronto, we're seeing multiple offers everywhere and outside of student rentals and condos, our clients are not reporting any significant vacancies.
For those who own real estate, you're doing great!
For Stock Hackers, I'm receiving regular feedback from students who are achieving four figures per month and some four figures per week in cash flow, which is super awesome! 
It's why we provided the courses taught by best selling author, Lee Lowell. Our very own VP of Coaching, James Maggs is averaging between $2,500 to 8,000 per month on $120,000 and only investing about four hours per week.  Not bad! It's more than CERB and that's more cash flow than a piece of real estate that requires an equivalent investment of $120,000.
But just ask any Stock Hacker how they funded their bankroll, almost everyone did with real estate profits or home equity lines.  Real estate to build wealth, Stock Hacking for cash flow.
Last Tuesday I delivered a demonstration via Zoom, a bit more of a polished demonstration vs. the one I gave my kid cousin over Thanksgiving last year.  He's a musician by trade and he too is cash flowing over $1,000 per week. Anyways, over 500 registered for the demo which is pretty awesome.  Hopefully the nearly 500 who attended can reproduce the same results as my cousin, Chubby.
In case you missed the demo, sorry you couldn't make it. If you'd like to be informed of the next one and receive notification of when these podcasts come up, simply sign up for my email newsletter, go to www.truthaboutrealestateinvesting.ca and type in your name and email and that's it.
This is summer and we're trying to enjoy what's left of it, so no more demos till September and no, we're not sharing the recording.  If these were not covid times, I'd invite you into the office for a live in person demo. Then you could all look over my shoulder and see how I trade on my phone, but we're in a different normal.
On to this week's show featuring another successful wealth hacker!
How A Veterinarian Quit His Job By Investing in Real Estate and Stock Hacking with Michael Bugg
Meet Michael Bugg, he's a young father, husband and just recently a full time real estate investor out of Saskatoon, Saskatchewan.  He began buying properties in 2010, specifically new construction, and his investing has evolved into small apartment buildings.
In July 2018, Michael hung up the stethoscope and quit his job as a veterinarian.
On this episode, Michael shares his journey to owning a couple apartment buildings and how he lost money stock hacking during the covid crash and the shocking returns he's achieved since then.
I give you Michael Bugg!
To Listen:

To Follow Michael:
Personal: 

Facebook/LinkedIn:  Michael Bugg

Instagram: @michaelbugg.dvm

 Real Estate:

 Facebook: YXE Real Estate Group

Veterinary Project Podcast:

On all the usual platforms and YouTube

Facebook/LinkedIn: The Veterinary Project

Instagram: @theveterinaryproject
Looking to add another stream of income?
On October 3rd & 4th, you can join the next Stock Hacker Academy Live Introductory Course. Learn the foundations that have helped Erwin and Cherry make upwards of $2000 USD a week. Stock Hacker Academy includes:
Live, in person or digital, weekend Course with the Godfather of Stock Options, Lee Lowell.

8 Weekly coaching webinars taught by Lee.

Access to all of the recording for 12 months

And so much more…
If you want to see this in action, click here to register for the next FREE Trading Demonstration.
NO MORE Confusion
After all the Youtube videos, books, and forum posts, you're probably still left with questions. Starting in real estate is a tricky thing.
Frustrated beginners often ask how a legal basement suite conversion actually works. Most of the time we can only give general answers. But now, we get to dive in.
At this in-depth, free class you'll learn how to take your first steps as a real estate investor.
Nothing is held back. Everything from analyzing basement suite conversion deals, to renting out your first property at a profit, and even how to refinance and do it all again!
More secrets you'll uncover are:
Profiting in a HOT market…

Municipal bylaws to watch out for…

Mortgage terms that favour refinancing…

AND one barely used tactic for higher appraisals…
If you're frustrated, unsure of how to get started, this is for you.
 Sign up now for the Invitation List and be one of the first to get an invite to the next class.
Sponsored by:
Infinity Wealth Investment Network – would you like to know how our investors returned 341.8% on positive cash flowing real estate over the last five years? On average, that was 68.4% per year, just imagine what winning in real estate could do for you. If you would like to know how we did it, ask us how by calling 289-288-5019 or email us at meaghan@infinitywealth.ca. Don't delay, the top markets we focus in are trending upward in price, so you can pay today's price or tomorrow's price.
Till next time, just do it because I believe in you.
Erwin
Hamilton, St. Catharines and Toronto Land Development, Real Estate Investor, and soon to be builder.
W: erwinszeto.com
FB: https://www.facebook.com/erwin.szeto
IG: https://www.instagram.com/erwinszeto/

https://www.truthaboutrealestateinvesting.ca/wp-content/uploads/2020/08/Michael-Bugg.jpg
630
1200
Erwin Szeto
https://www.truthaboutrealestateinvesting.ca/wp-content/uploads/2017/06/TruthRectangleLogo.png
Erwin Szeto
2020-08-24 13:54:43
2020-08-24 15:52:07
How A Veterinarian Quit His Job By Investing in Real Estate and Stock Hacking with Michael Bugg