Raising Capital On Social Media, Flipping, Sourcing Flips, Flip Math, Private Lending With The Fruitful Investor Mat Piche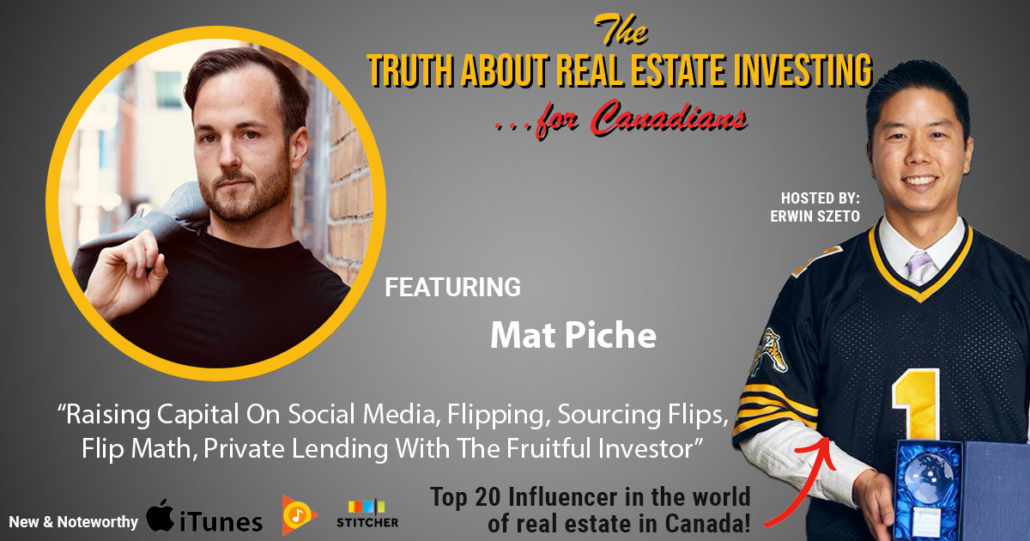 Hello, My Fellow Wealth Hackers!
A quick share on something that's always served me well.
I have an open mind, it's something my dad taught me as he comes from a science background, to be inquisitive, but not naive. 
It's served me well as an investopreneur as there are naturally tons of ways to lose money.
I've lost lots of money on poor investments, bad contractors, bad employees, bad Marketing and social media services.
I've had dentists try to sell me expensive work I didn't need (my dad's old business partner is a dentist. He's very out of the way for me but I'll make the trip for a second opinion not once but twice).
I've had a Realtor tell me a sixplex needed $70,000 to increase the property value by $200,000 yet the property had been listed for two months already and was being sold by a well-known slumlord.
He didn't know who I was nor my buddy who is a Fireman as we stared in amazement at the wood fire escape that looked ready to fall off the building and didn't even have steps that made it to the ground by about 10 feet.
View this post on Instagram
Anyway, one of my mentors is investing heavily into Bitcoin which has been on a tear. 
Personally, I'll wait for a pullback before getting in but I did purchase some Ethereum and I'm up around 60% ROI in just a week. 
I also own some gold and gold miner stocks. 
When smart people who have an extensive track record of making money share advice with me, I listen, research and take action.
Saying no is also action…
I say no way more than I say yes plus I have Cherry to vet my ideas since she sees hundreds of tax returns. She knows where people make and lose money. It's that simple.  And by track record, I mean at least ten years.  With great references… And not because they have a youtube channel or a podcast.
This week we're going to the mailbag to answer some questions.
"Hey, Erwin! Love the real estate podcast but I'm also interested in the stock hacking side as well. Just curious on average what amount of money is invested for these kinds of returns?"
A: No different than real estate, returns vary between real estate investors. 
For example, this week's guest Mat Piche makes more money on his investments than I do. Our appreciation might be the same but he has his own construction crews, own home staging, etc…
From what guests have shared on this podcast, Joel Arndt who works for me is averaging 4% per month since June and just did a 7% cash return in November. 
Ron Esteban, a school teacher who will be returning to the show is averaging a couple thousand dollars per week.
Kris Lewis is averaging 1-2% per week since April I think. 
Michael Bugg, a veterinarian was averaging just over $3,000 per week. 
Of course, the past does not predict the future.
My real estate client Andrew is an outlier as he's shared with me he's returned 200% as he correctly invested in mostly electric vehicles manufacturers and some stay at home stocks.
I honestly don't even want to share these grand slam returns my friends are getting because it's crazy but it's the truth.
Myself, it's been a great month, I'm up 20% in November. I realized $4,200 US today.
Follow on question: "have about 5k at the moment I'm willing to invest, do you think it's better spent on education or learning what I can now and taking action? I understand you have multiple stock hacker courses at different levels. Where would you recommend I start?"
Answer: The answer depends.
When I was younger my focus was first on maximizing my job income so I can save more and get more credit for mortgages hence I invested in my own training.
I have consumed a lot of Brian Tracy's books and programs including Psychology of Success and Psychology of Sales. I soon after switched roles in my company from Operations to Product Management and received a 40% pay increase as I was taking more responsibility. 
A few years later, I became a successful Realtor very fast. I started in the summer of 2010 and in 2011 I earned six figures in commissions. 
Both the increased salary and career in real estate allowed me to become a much better real estate investor and qualify for more credit"
I don't mind answering questions from listeners, just please don't ask me to mentor you, I have kids and team members and clients I'm responsible for.
On to this week's guest in Mat Piche…
I invited Mat to come hang out, record a podcast, I showed Mat and his excellent videographer Tyler how to Stock Hack. 
We went to Virtual Galaxies to shoot zombies in virtual reality where we walk around with game controllers shaped like guns, a headset and headphones, and a battery pack in an empty room but the game is displayed on our headsets.
It's super cool.
We were joined by fellow investors Seth Ferguson, Andrew Hines, Ron Esteban, Charles Wah and Kevin Huynh – All six and seven-figure real estate investors and professionals.
Needless to say, we had a blast, a lot of laughs, I may have made a comment about how visible minorities never make it out alive in horror movies so our fair skin friends would lead the way, get between us and the zombies. It worked out as Ron and I got the top scores. 
We went for dinner afterwards where the conversation of course covered real estate, private lending, flipping, and stock hacking. 
There are few things I enjoy better than hanging out with like-minded, successful people.  You never know what you'll learn. 
If safe to do so, I recommend you all do the same.
Our collective mental health has suffered during this pandemic. I hope you're all taking care of yourselves.  Grab some friends, go for dinner, go for a hike, preferably with like-minded success seeking people. 
Not sure where to find such people, our iWIN meetings are publicly available. In-person is for clients only.  Online is available to anyone.
The January 23rd meeting will feature a market update, what we are seeing on the streets of investment properties and a feature presentation on infinite banking by our guest and Cherry Chan. 
We'll have Hussein my lawyer on hand as well so attendees have a comprehensive understanding of this secret of the rich.
A personal friend of mine was magically able to obtain 3-4 more mortgages after running into a wall. 
If you're on my email newsletter, you'll have the links to register.  Go to www.truthaboutrealetateinvesting.ca, enter your name and email address on the right and you'll receive updates on the podcast, the show notes and event happenings including Stock Hacker Academy.
Quick stock hacking update:
I'm up 20% return in the month of November and last week I cash flowed $3,000 US. Today $4,200 US.  This is my new normal.
Growing my real estate businesses and four figures of cash flow per week as a side hustle with plans to golf a lot more next year.
www.stockhackeracademy.com for anyone interested in purchasing the course.  If you buy today, you get all the resources, recordings and can attend the next live-streamed course in March. 
Personally, I would want to learn this asap, maybe even over the holiday because if you follow US politics at all, the new President promised a whole bunch of stimulus. 
I'm not a particularly smart person but I've done a job of getting in front of monetary trends. www.stockhackeracademy.com
Raising Capital On Social Media, Flipping, Sourcing Flips, Flip Math, Private Lending With The Fruitful Investor Mat Piche
Mat Piche is a normal guy, a third-generation carpenter. 
He used to have a job renovating houses, then he started his own business renovating investment properties for investors. Investors ask Mat if he knew any great investment specialist realtors, he didn't so he became it. 
Mat started sharing on YouTube back when fire was invented in 2012 and the rest is history. 
If you didn't already know Mat, he's very successful and he's here today sharing a ton of tips, tricks, market updates, so have those pens ready. 
Mat is an open book and he's dropping gold. 
I give you Mat Piche.
To Listen:

HELP US OUT!
Help us reach new listeners on iTunes by leaving us a rating and review!
To Follow Mat: 
Youtube: www.youtube.com/thefruitfulinvestor
Instagram: https://www.instagram.com/matpiche
Before you go, if you're interested in being a successful real estate investor like those who have been featured on this podcast and our hundreds of successful clients please let us know.
It is our honour to give back and educate others on how we build cash flowing real estate portfolios using all the best practices shared on this podcast, from the lessons of our hundreds of clients and of course our own experience in owning investment real estate.
If you didn't know already, we pride ourselves at being the best of the best real estate coaches, having the best property managers, contractors, handy people, cleaners, lawyers, accountants, everyone you need on your power team and we're happy to share them with our clients to ensure your success. 
New investor or seasoned veteran investor, we can help anyone by providing our award winning coaching services and this isn't all talk.
We have been awarded Realtor of the Year to Investors in 2015 by the Real Estate Investment Network, 2016 by the Canadian Real Estate Wealth Magazine and again in 2017 because no one told the judges no one is supposed to win the award twice but on merit, our peers deemed us as the best.  In 2018, we again won the same award by the Real Estate Investment Network.
Hopefully being the most decorated team of Realtors in Ontario will make you consider us for your first or next real estate investment.  Even if you don't invest in our areas, there's a good chance I know who would be ideal for you. 
I've been around for a while, some Realtors are talented at servicing investors there are many with great ethics.  The intersection of the two, talent and ethics is limited to a handful in each city or town.
Only work with the best is what my father always taught me.  If you're interested, drop us an email at iwin@infinitywealth.ca.
I hope to meet you at one of our meetups soon.
Again that's iwin@infinitywealth.ca
Looking to add another stream of income?
We just completed the long anticipated Stock Hacker Academy Live Introductory Course and it was awesome!
Stock Hacker Academy is the foundation that has helped Erwin, Cherry and many other Stock Hackers make thousands of $$ weekly and now they never have to worry about money again!
If you desire the same for yourself, click here to register now
NO MORE Confusion
After all the Youtube videos, books, and forum posts, you're probably still left with questions. Starting in real estate is a tricky thing.
Frustrated beginners often ask how a legal basement suite conversion actually works. Most of the time we can only give general answers. But now, we get to dive in.
At this in-depth, free class you'll learn how to take your first steps as a real estate investor.
Nothing is held back. Everything from analyzing basement suite conversion deals, to renting out your first property at a profit, and even how to refinance and do it all again!
More secrets you'll uncover are:
Profiting in a HOT market…
Municipal bylaws to watch out for…
Mortgage terms that favour refinancing…
AND one barely used tactic for higher appraisals…
If you're frustrated, unsure of how to get started, this is for you.
 Sign up now for the Invitation List and be one of the first to get an invite to the next class.
Sponsored by:
Infinity Wealth Investment Network – would you like to know how our investors returned 341.8% on positive cash flowing real estate over the last five years? On average, that was 68.4% per year.
Just imagine what winning in real estate could do for you.
If you would like to know how we did it, ask us how by calling 289-288-5019 or email us at meaghan@infinitywealth.ca.
Don't delay, the top markets we focus in are trending upward in price, so you can pay today's price or tomorrow's price.
Till next time, just do it because I believe in you.
Erwin
Hamilton, St. Catharines and Toronto Land Development, Real Estate Investor, and soon to be builder.
W: erwinszeto.com
FB: https://www.facebook.com/erwin.szeto
IG: https://www.instagram.com/erwinszeto/

https://www.truthaboutrealestateinvesting.ca/wp-content/uploads/2020/11/Mat-Piche.jpg
630
1200
Erwin Szeto
https://www.truthaboutrealestateinvesting.ca/wp-content/uploads/2017/06/TruthRectangleLogo.png
Erwin Szeto
2020-11-27 19:32:49
2020-11-27 19:34:12
Raising Capital On Social Media, Flipping, Sourcing Flips, Flip Math, Private Lending With The Fruitful Investor Mat Piche