Replacing Teacher Income With MLM and Real Estate and $200,000 On A Duplex Conversion with Pascale Brisson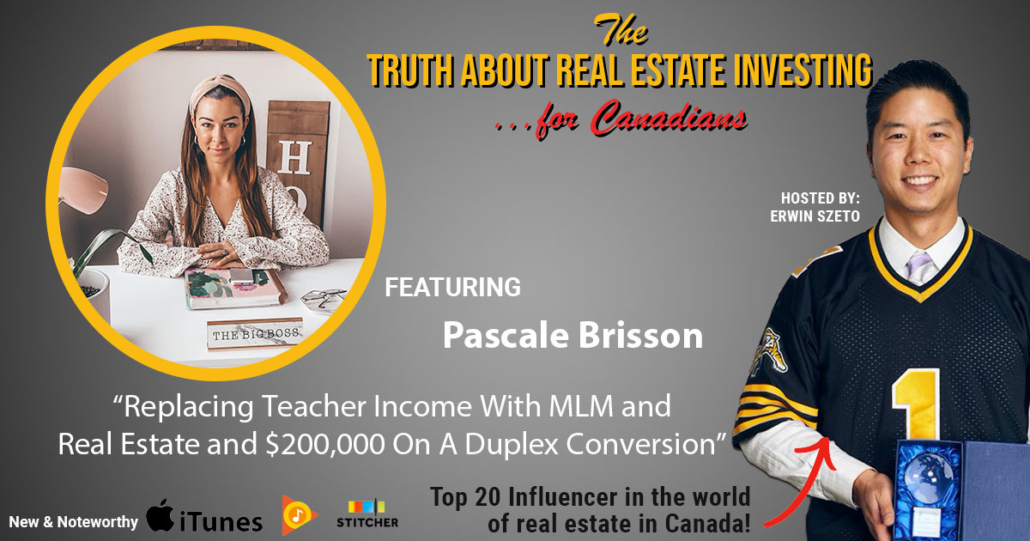 Welcome, Real Estate Investors!
I hope you're all staying awesome, happy, and healthy out there.
2020 has been a terrible year for many and it's an odd feeling, guilty almost for us Wealth Hackers to celebrate so much success this year.
Among our community of investors, after a record year for returns in both real estate and stock hacking, the conversation has shifted to infinite banking – It's one of the secrets of the rich.
It will be the main topic we cover at the iWIN Meeting this coming January.
It's why I avoided drinking for a month before my blood and urine test for the insurance company. This better be good, as my investment is significant but my wife Cherry, who is an Accountant is spearheading this for our family.
View this post on Instagram

Speaking of presentations, at my mastermind with fellow 7 seven-figure entrepreneurs, I was asked to give a presentation on how I've learnt to build a mindset of positivity, optimism and gratitude to a group of entrepreneurs…
I'll be sharing the same presentation to a group of investors at the upcoming Nov 28th iWIN meeting. I'm not always happy though, I just make sure I'm working and investing smart and my gratitude outshines the dark moments.
If you're on our email newsletter then you'll read about our upcoming meetings.
Our upcoming Nov 28th meeting includes guest talks from Jay Gabrani who decided to not grow his online business and instead focus on having more free time, personal real estate development investments, and stock hacking.
Jay will be sharing how he came to this decision and how he's developing his investment properties and Stock Hacking.
We also have Anna Scott who will be sharing her stories and experiences being on all sides of real estate deals: as the silent money and credit pattern, as the real estate expert, as a private money lender, borrower and now brokering private money deals as a Mortgage Agent.
Our iWIN meetings are publicly available again…
For non clients, the cost is nominal and all proceeds go to charity.
Anyone who subscribes to my email newsletter will be notified when we host events both real estate and stock hacking.
To get on my newsletter which comes with being notified of new episodes of this podcast with show notes, go to www.truthaboutrealestateinvesting.ca. Enter your name and email address on the right side and that's it!
Quick update from the stock hacking competition between Cherry and I.
Because our stock hacking is going so well and with our plans to upgrade our home, we are closing the personal account and consolidating to trade in only the corporate account.
I'll manage the trading going forward as Cherry will focus more on growing her business and my businesses.
Between the two accounts, we are averaging a 42% return and well into six figures.
Not bad for a beginner, after a market crash, and a bagillion mistakes eh?
I've learnt a lot this year and the future for our stock hacking couldn't be brighter.
With the holidays approaching, I'm receiving all these requests for my office address for hate mail and Christmas cards and to be honest, from people wanting to express their appreciation for what this podcast or real estate or Stock Hacking has meant to them.
I appreciate all the kind words and what I really enjoy is reading positive reviews on iTunes. Reviews also help new listeners decide on what podcasts they listen to and I would like to help them like we've hopefully helped you.
So if real estate, Stock Hacking or this podcast has helped you, kindly leave a review, by simply googling "iTunes truth about real estate investing", go to reviews, 5 stars, of course, is preferred and let me know how this show has helped.
Replacing Teacher Income With MLM and Real Estate and $200,000 On A Duplex Conversion with Pascale Brisson
Pascale is a mom and wife living in Ottawa, Ontario.
As a young mom and school teacher, the pandemic hit her pretty hard with the decision to keep teaching in a changing environment and sending her young son back to daycare.
Pascale decided to pivot this past summer to work online in multi-level marketing. I've invited Pascale on this show because multi-level marketing is a common thread among many investors.
Jules Mckenzie has done it. Lynne Tham was a dynamo for Tupperware and I have other friends who've been successful in MLM as well who later go on to massive success in real estate.
She's a successful real estate investor and she shares her number on her current project.
To Listen:

HELP US OUT!
Help us reach new listeners on iTunes by leaving us a rating and review!
To Follow Pascale:
Instagram: https://www.instagram.com/pascalinabrisson
Facebook: https://www.facebook.com/pascalina.brisson
Before you go, if you're interested in being a successful real estate investor like those who have been featured on this podcast and our hundreds of successful clients please let us know.
It is our honour to give back and educate others on how we build cash flowing real estate portfolios using all the best practices shared on this podcast, from the lessons of our hundreds of clients and of course our own experience in owning investment real estate.
If you didn't know already, we pride ourselves at being the best of the best real estate coaches, having the best property managers, contractors, handy people, cleaners, lawyers, accountants, everyone you need on your power team and we're happy to share them with our clients to ensure your success.
New investor or seasoned veteran investor, we can help anyone by providing our award winning coaching services and this isn't all talk.
We have been awarded Realtor of the Year to Investors in 2015 by the Real Estate Investment Network, 2016 by the Canadian Real Estate Wealth Magazine and again in 2017 because no one told the judges no one is supposed to win the award twice but on merit, our peers deemed us as the best. In 2018, we again won the same award by the Real Estate Investment Network.
Hopefully being the most decorated team of Realtors in Ontario will make you consider us for your first or next real estate investment. Even if you don't invest in our areas, there's a good chance I know who would be ideal for you.
I've been around for a while, some Realtors are talented at servicing investors there are many with great ethics. The intersection of the two, talent and ethics is limited to a handful in each city or town.
Only work with the best is what my father always taught me. If you're interested, drop us an email at iwin@infinitywealth.ca.
I hope to meet you at one of our meetups soon.
Again that's iwin@infinitywealth.ca
Looking to add another stream of income?
We just completed the long anticipated Stock Hacker Academy Live Introductory Course and it was awesome!
Stock Hacker Academy is the foundation that has helped Erwin, Cherry and many other Stock Hackers make thousands of $$ weekly and now they never have to worry about money again!
If you desire the same for yourself, click here to register now
NO MORE Confusion
After all the Youtube videos, books, and forum posts, you're probably still left with questions. Starting in real estate is a tricky thing.
Frustrated beginners often ask how a legal basement suite conversion actually works. Most of the time we can only give general answers. But now, we get to dive in.
At this in-depth, free class you'll learn how to take your first steps as a real estate investor.
Nothing is held back. Everything from analyzing basement suite conversion deals, to renting out your first property at a profit, and even how to refinance and do it all again!
More secrets you'll uncover are:
Profiting in a HOT market…
Municipal bylaws to watch out for…
Mortgage terms that favour refinancing…
AND one barely used tactic for higher appraisals…
If you're frustrated, unsure of how to get started, this is for you.
Sign up now for the Invitation List and be one of the first to get an invite to the next class.
Sponsored by:
Infinity Wealth Investment Network – would you like to know how our investors returned 341.8% on positive cash flowing real estate over the last five years? On average, that was 68.4% per year.
Just imagine what winning in real estate could do for you.
If you would like to know how we did it, ask us how by calling 289-288-5019 or email us at meaghan@infinitywealth.ca.
Don't delay, the top markets we focus in are trending upward in price, so you can pay today's price or tomorrow's price.
Till next time, just do it because I believe in you.
Erwin
Hamilton, St. Catharines and Toronto Land Development, Real Estate Investor, and soon to be builder.
W: erwinszeto.com
FB: https://www.facebook.com/erwin.szeto
IG: https://www.instagram.com/erwinszeto/

https://www.truthaboutrealestateinvesting.ca/wp-content/uploads/2020/11/Pascale-Brisson.jpg
630
1200
Erwin Szeto
https://www.truthaboutrealestateinvesting.ca/wp-content/uploads/2017/06/TruthRectangleLogo.png
Erwin Szeto
2020-11-20 20:22:50
2020-11-20 20:22:53
Replacing Teacher Income With MLM and Real Estate and $200,000 On A Duplex Conversion with Pascale Brisson