What's Working, Not Working In 2023 With Elizabeth Kelly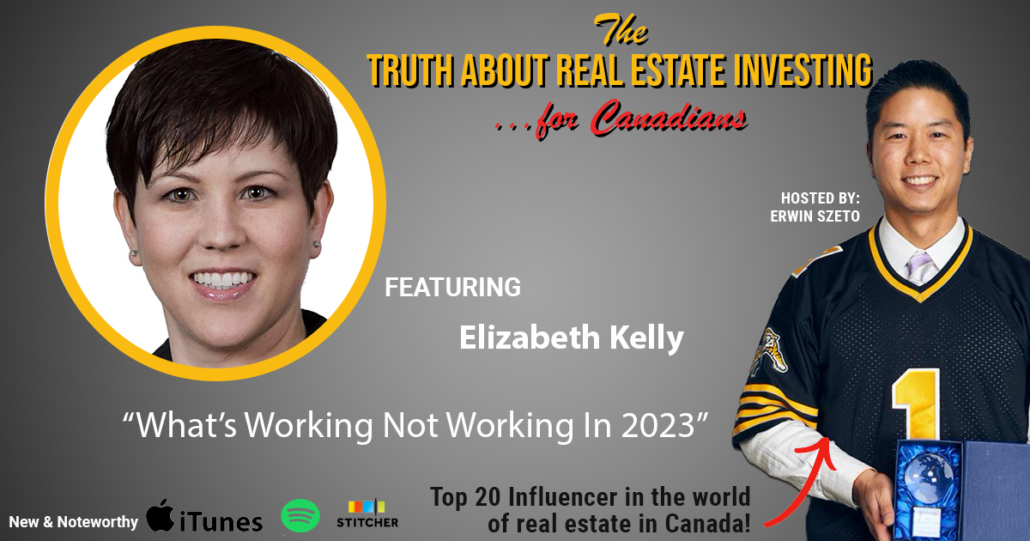 Welcome to another episode of the Truth About Real Estate show, the #81 Business podcast per iTunes, where we focus on bringing you true experts and masters of their craft!
We have a great guest for you today, real estate coach and educator Elizabeth Kelly.
The term coach is used lightly these days… I see even folks with 1-2 properties as side hustles call themselves coaches, but Elizabeth Kelly has a bit more to her resume than that. 
Her own property management company manages hundreds of doors. Also, she was a full-time real estate investing educator at Rich Dad Canada, having personally taught a couple thousand investors, including many of the influencers and coaches you see today on social media. 
Today we touch on a couple of subjects, such as investment in real estate education and some of the different options out there as there are more than ever, but some offer better value than others.
Elizabeth shares about her career and investor journey to arrive at where she is today. Her strategies when she started out investing in 2008 are very different from how she invests today. 
My intention for you, my 17 listeners, is to see for yourself how a professional investor invests at different stages and learn lessons to help you avoid mistakes and make more money.
Then we will offend many when discussing what's working and not working in 2023. This may shock you, but many of the fad investments getting a lot of hype won't work in 2023. Make sure to listen before investing in any coaching, courses, or property.
2023 will be a fascinating year, and here at iWIN real estate, we will be arming our community with the best information possible. 
Starting with our free webinar on how to sell a tenanted property for maximum return on January 17th… 
Followed by our iWIN in-person networking meeting on Saturday morning Jan, 28th, where my team and I will share our bold predictions for 2023 for our target investment markets.
We will also have a REIT in the house, Lawrence Raponi of Equiton, with a brand new presentation to explain how professionals buy apartment buildings, from finding deals to the numbers they need before even looking further into.
Learn how the professionals invest or at least how investing in a REIT works, including how to cash flow from day one. 
If you're on my email newsletter, you know how to register. If you are not well, that's just silly. 
Go to www.truthaboutrealestateinvesting.ca, enter your name and email, and you will receive an email when we have events, and new episodes of this show are available. 
New to 2023, we will produce many more free educational videos and podcasts. Please let us know if you have suggestions for topics you would like covered.
I'm pleased to introduce my friend, Elizabeth Kelly.
Please enjoy the show!
This episode is brought to you by me! We don't have sponsors for this show. I only share with you services owned by my wife Cherry and me.  Real estate investing is a staple in my life and allowed me to build wealth and, more importantly, achieve financial peace about the future, knowing our retirement is taken care of and my kids will be able to afford a home when they grow up.  If you, too, are interested in my systematic strategy to implement the #1 investment strategy, the same one pretty much all my guests are doing themselves, then go visit www.infinitywealth.ca/events and register for our next FREE Online Training Class.  We will be back in person once legally allowed to do so, but for now, we are 100% virtual.
No need for you to reinvent the wheel; we have our system down pat. Again that's  www.infinitywealth.ca/events and register for the FREE Online Training Class.
To Listen:
Audio Transcript
**Transcripts are auto-generated.
Erwin  
Hello and welcome to another episode of the investing show. My name is Erwin Seto the fourth time winning agent to investors hosted the podcast, which is this one, the number 81 podcast for iTunes and all business are focused on bringing you true experts masters of their craft. And we have a great guest for you today in real estate coach and educator Elizabeth Kelly. The term coach has been used very lightly these days. I see folks with one two properties, a 12 months experience. Some even with like longer experience, but they have like one property as a side hustle, and they call themselves coaches. Kelly has a bit more to her resume than that her own property management company manage hundreds of doors. Her own portfolio is very significant. She was a full time real estate investing educator every state Canada Having personally taught a couple 1000 investors including many of the influencers and coaches you see today on social media. Many of them offer products that they learn. For example, rental rental was a hot topic and rich, rich dad. You see today, several wholesalers and rent to own experts that Lizabeth personally taught today we touch on a couple subjects such as investment in real estate education, and some of the different options that are out there. And there's more than ever. Some do offer better value than others. So we talk about that Elizabeth shares about her career as an investor journey to arrive at where he is today. His strategies when she started out back in 2008, very different than how she invests today. Her goals are different the markets different. I think it's something that's really important to investors today. As always, my intention for you my 17 listeners is for you to see how a professional investor investor is at different stages of their life lessons that you may learn so you may avoid mistakes and hopefully make even more money and we will offend many when we discuss what's working and what's not working. This may shock you many sad investments getting a lot of hype that will not work in 2023. Make sure you have listened before investing in any coaching or courses or even buying property. 2023 is going to be a fascinating year and here at Iowa State. We will be arming our community with the best information possible. We will be doing sharing the free webinar. We have one coming up soon how to sell a tenanted property for maximum return on January 8 17, followed by our Iowan in person networking meeting on Saturday morning, January 28. Tonight, Saturday morning, I think it's 29th 28th written whichever it is the last Saturday of January. My team and I share our bold predictions for 2023 For our target investment markets. And we have a real estate investment trust in the house. Whereas propone of Equitana will be giving you a brand new presentation to explain how professionals buy apartment buildings, how they screen them, how they find them the numbers they need before even looking further into information. I know there's a lot of courses and coaching that's being offered out there. So here we're giving it away for a very nominal fee from a very serious professional that yeah, and the second time they are a real estate investment trusts as in they are they're also regulated on their Ontario Securities Commission. So these guys are legit. So learn how professional invest or at least learn how investing in a REIT works, including clash cash flowing from day one. If you're on my email newsletter, then you already know how to register. If you don't go silly. Join the 10,000 Plus hardworking Canadians already on our newsletter, you can go to www dot Koozai real estate investing.ca. Again, that's www dot truth about real estate investing dossier. Enter your name and email and you will receive an email when we have events and new episodes of the show available. New to 2023 we will be producing a lot more free educational videos and podcasts. So if you have any suggestions or topics you'd like to see covered, please let us know. You'll see again on our email newsletter, we'll let you know we have new pieces of educational content available. We're doing a lot more YouTube. Our YouTube channels also call it truth about real estate investing. So without further ado, it's my pleasure to introduce you to you my friend was with Kelly. Hi Elizabeth. What's keeping you busy these days?
Elizabeth  
Not too much. had a fantastic holidays. Lots of time quality time with the family enjoying the weather. How about you what's going on with you?
Erwin  
Anymore holiday I'm actually we're actually going on holiday next week. I think you know that right?
Elizabeth  
No, but tell me where are you going?
Erwin  
Just cruise. My daughter was sick before the holidays, so we weren't able to fly. Gotcha. So we had to rebook everything for this coming week. Gotcha. Yeah, so I haven't really completely decompressed yet from 2022.
Elizabeth  
Yeah, you had a crazy busy year, that wealth hacker conference was awesome. Thank you. I really enjoyed that.
Erwin  
Appreciate it. Yeah, we'll do something similar. I mean, that we'll talk about at lunch. Yeah, that's some brainstorm ideas. Sounds good. Yeah. Our vision for 2023 is a bit more balance.
Elizabeth  
That's a great vision to have. And I think there's a lot of people who are in that same situation. I think, you know, the way we started 2022 In the beginning with you know, it was so hard to find properties and everybody was kind of buying, buying buying and then you know, the the steep decline started a couple of months in and I think people got to the end of the year. I think people are kind of worn out right now. And people are maybe a little uncertain about what's coming and, you know, rethinking things. And it takes a lot, I think to admit that you know, the strategies or the things that you were doing or the way that you were thinking before, they're not serving you anymore. So what does that new game plan look like? And I love that you're, you know, one of the front runners in terms of, hey, we need to revisit what we're doing because it's not working for us.
Erwin  
Because for example, we're going to talk about it is like, where your career like day job career, I don't know what the term is, like your day job career, talk about admins, as well. And then just even what we're seeing, I don't think anyone expected the recession to come this quickly. And just like you're saying in how the real estate market behaved, you know, like, beginning of the year, like no one can hire anyone. Yep. And now we're seeing what was it Salesforce isn't just announced 10%, layoffs and Amazon? Yeah, Amazon is 18% I believe it is. And having dinner with someone who works in a mid level pharma company, they're gonna lose 30%. So jobs are one like we haven't had jobs at this much risk. Since 2008, I think,
Elizabeth  
yeah. Here's the interesting thing that when I was driving here this morning, I was listening to the radio, which I don't do very often, because I'm not a big kind of listener of, you know, that kind of stuff. But what they said was that the number of jobs that were created in the last little while was much higher than they anticipated. So now they're saying that's probably going to lead to a larger interest rate hike, because obviously, inflation is not as much of a problem because of all these jobs that have been created. So it's almost like this crazy, you know, on one side, we're hearing all these companies and you know, layoffs and everything else. And then they're like, Oh, what the actual stats, say this? And you kind of go like, where's the balance? How do you know what to believe? And then at the end of the day, what you're left with is, hey, these next interest rate hikes are going to be bigger.
Erwin  
I'm fascinated by this stuff. Yes. My thought is that like, how much job losses is enough? Because like, the US Fed notes were just released yesterday. And so people were poring through them. I'm not that detail oriented. So as read the news on them. And that was what this was what the meeting notes with Jerome Powell, and all the other staff, the US Federal Reserve, was that jobs are still too high. There hasn't been enough losses yet. Oh, so they're going to either have more raises or hold rates longer than they expect. Yeah. Right. Like, I can't, I can't believe that someone's job, well above our pay grades to decide how many job losses is enough.
Elizabeth  
And at the end of the day, those are really people there's a families that we're talking about. And that to me really speaks to why I could never be an employee again. You know why I could never I mean, it's one of the many reasons why I'd never want to be an employee again. But literally, I could be doing an outstanding job, I could be amazing at what I do. And my livelihood is still dependent on somebody else's decision, somebody else's whim or what the numbers say,
Erwin  
I have this friend who's a C level executive, for a big company. So they have like board meetings and stuff, whatnot. So I'm trying to plan vacation around their schedule is really difficult. Right? For example, we looked at cruising for a certain date. So to have a cruise that worked for their schedule, cost 50%, more than the week after. Wow. As a group, we're like, I don't think any of us are willing to pay an extra $2,000. We love
Elizabeth  
you on all but we'd love you just to have your company. The rest of us are paying for it. Yeah, exactly.
Erwin  
So same thing why lofts investors are investors is to be free of these sorts of whatever on our time, like loss of control of our time. Yeah, I have a family member who's in government, federal government in Ottawa. And they were just recently announced they're required to be back in the office two to three days a week. It was actually funny conversation because she was like, Aki believe it. And like, so my question was, what was it before the pandemic? Oh, we just mean the office five days a week. Like, oh, so you went from five days a week, two to three days a week? That's pretty good. Yeah. The world does not last, at the end of the world.
Elizabeth  
No, but I mean, I suspect you and I were talking earlier, you know, the idea of going back and working for someone else and having to be sitting, you know, at your desk in the office for 9am Every day. For a lot of us as real estate investors. That's not something that we value or that we want to write.
Erwin  
Right. Something I want to cover was you and I are real estate investors. But we also both have day jobs. Is that the right term? would you what would you call it?
Elizabeth  
See I don't think as a coach, I don't do it because it's a job I do it because I love it.
Erwin  
Okay, you have a career
Elizabeth  
it's my like, passion project. It's something that I never get as much fulfilment from achieving my own goals and doing my own things as I do from helping other people achieve theirs and to know that that ripple effect of you know someone doing their first deal or someone that You know, securing a property that's going to provide good cash flow and get them one step closer to leave their to leaving their job. That makes me way more excited than anything I could do for myself.
Erwin  
Do you want to preface that by saying, not everyone can do that? I don't know you're in a special position. Yeah.
Elizabeth  
I don't know that. I would say not everyone could do it. I think theoretically,
Erwin  
specific, specific to what you do. Oh, yes.
Elizabeth  
Okay. Yeah, that that makes sense. Because one
Erwin  
thing I don't like, and you and I both agree on this policy is putting putting words in your mouth is like, what that's being sold out there. Like all these marketing things, like quit your job. Pursue your passion. You never know, working on a day in your life type thing. Yeah, right. Okay. So then the example I often give is like restaurants and gym owners, they may love it. Those are the two businesses that banks don't lend to. for a reason. Yeah, she's at the highest default rate. Yeah, or the highest failure rate. So yes, you can work in your passion, you may not ever be able to stop working your passion. Yeah, you can work stop working your passion, because you have your portfolio. Yeah. But
Elizabeth  
honestly, my portfolio gave me the ability to follow my passion. It's not like I follow my passion because of like, Do you know what I mean? Like, my passion is what makes me really happy. My portfolio was like my fallback. And no matter what I was doing real estate helped me build my net worth to the point where I did have the freedom to choose what you know how and what I wanted to do. And I had some health challenges in 2022, they were unexpected. And my passion gave me the ability to be flexible, so that, you know, there were times where I was, you know, spending more time in bed than I had thought or I was, you know, I had a couple of surgeries that I was recovering from, and none of this was expected or planned. It wasn't like I started the year and said, I'm gonna go on a health journey. But it also gave me the money to hire the professionals to help me recover quickly. And it gave me the ability to hire people to support you know, a positive mindset and all those other pieces that go into it. It's not just your physical recovery, it's your mental recovery, because you go through life, and you just kind of assume that your body is going to be there for you and your mind is going to be there for you. And then you reach this point in kind of middle age where you go, you know, this stuff isn't forever.
Erwin  
Aren't you younger than me?
Elizabeth  
I don't know how old you are. We won't get into it. Middle Age, like the 40s middle age, because most of us are gonna live to be 80 to 90 No, we're
Erwin  
living to 105 Okay, tofu for lunch, fantastic genetics,
Elizabeth  
and you take good care of yourself. That's awesome. The general population what is the average age like 84? Something like that? Is the average lifespan.
Erwin  
We is midlife crisis, like now, which for us that?
Elizabeth  
Well, I wouldn't say I'm in a midlife crisis. I say that.
Erwin  
You said midlife. But yeah, no. But like so then like if we're going to have a crisis would be nourished? Yeah.
Elizabeth  
I mean, we're going we're a long way from real estate now. But I think it's very common for people in their 40s to, you know, you wake up in the morning, and you don't jump out of bed anymore. Like, you know, your knee hurts or your back hurts, or this hurts, you know, and you don't have the same energy that you did. So I think it's very common for us to start thinking about what is the next half of my life look like? You know, because when I was younger, I didn't know what I didn't know. But now, and I'm assuming, you know, you have ageing parents as well. So, you know, we're sort of confronted with this idea that, you know, this is what my parents are going through this is what they're dealing with. This is the mortality, how am I going to plan and prepare so that I'm not living that? Because my husband and I, we don't have kids? So we can't say okay, well, our kids are going to take care of us. Because they're not, we don't have any. So we need to make sure we plan and prepare better so that we don't, you know, end up dumped in a home somewhere. With no assets and no one to care for us. You
Erwin  
bring up a good point. Because when I speak to when I speak to an investor for the first time, often they they're very novice, and they haven't planned. Right. So now they're looking for how to get to some sort of form of financial security, financial freedom, financial peace, product, unfinished piece versus me, I have been constantly planning.
Elizabeth  
But you're you You always say that, you know, you're a worrier, right and you have anxiety, so that planning piece goes with it. But there's other people who are worriers and have anxiety, and they do what I call the ostrich manoeuvre, which is where they just stick their head in the sand and hope that everything's going to work out. Government will take care of them. Yeah, but I think we all pretty much have a good idea at this point that we have to take care of ourselves. And quite honestly, I love that I have the power to do that. That the locus of control is within me and I don't need to rely on anyone else. Okay,
Erwin  
so let's get into the journey. How you got there? Yeah. What did you do for a living for real estate?
Elizabeth  
So I had a few different careers. I have a degree. I have a science degree in kinesiology. And then I don't think I knew that. Well. I do very little with it unless somebody gets sick, and then I take a lot of attention. And then I have a post grad certificate in sport administration. So For a long time I did I worked for not for profits, and I did fundraising ran charity events, I worked for United Way and for the MS Society and that kind of stuff. And then I moved into I got my insurance licences and I worked for State Farm at the time. And I did home auto and life insurance. And then we had my husband and I built a portfolio. And he was finding it to be too much managing the properties we had and working full time. So we made the decision that that I left my job and I started managing the properties full time and grew the business. And then he left his job in, I think it was 2014 2012, or 2014. I can't even remember at this point. But he left his job. And then we were both working full time in our property management company. I also got my mortgage licence. And I was working with investors to help them secure funding and private mortgages. And then my husband got sick in 2017. So I had to give up my mortgage licence and get right back into full time property management, then I was teaching for Rich Dad for eight years as well, because you started for teaching for Rich Dad, yeah, 2012, I taught three courses for them. And I loved it, I absolutely loved the opportunity to get out and meet with new investors and talk about their journey and help them plan their future. And then I saw how much a year later, two years later, the same students would come back and connect with me or they messaged me on Facebook. And they were struggling. And they sometimes they hadn't even done one deal. They didn't know where to begin, there was all this theoretical knowledge out there. And they didn't know how to take the points or the parts that were most relevant to them, and work that into a plan that was going to help them achieve their goals. Always the gap between theory and application. Absolutely. And I think that's one of the biggest challenges for new investors is that there's so much information now,
Erwin  
like you could argue too much. Yeah. It's really terrible.
Elizabeth  
And when you're starting out, you don't know what's good advice. And what's bad advice, right? Same as you don't know, like, who can you trust? Or who should you put on your Power team? Because you learn some of those lessons the hard way.
Erwin  
And also just different, like your portfolio is extremely different than mine. Like it's everyone's values, goals, resources is totally different. Yeah. Right. And that's one very specific and very custom I think everyone's playing it should be very customed. To them.
Elizabeth  
Yes. And that's one of the things I was talking to one of my clients on Wednesday about it actually was that because there's so many opportunities, and there's so much flexibility in real estate, that everybody's journey is going to look different, but it makes it look the same. But that makes it that much harder to figure out, what should my journey look like. And when you don't know what you don't know, it's really hard to sit down and say, Okay, I'm not making a decision on this property. Because I'm missing, you know, these pieces of information. So all I need to do is get these pieces of information, and then I'm going to be confident in making a decision to move forward. So you get some people who make decisions, because they just get so frustrated that they're like, I just have to do something, you know, I set these goals, I have these numbers, and I just better do something because otherwise I'm a failure. And then you get these other people who are like, I'm so afraid of making a mistake and being a failure, that I just can't make myself do something. That'd be like every day. But I don't think that is you. I think that that's maybe the way you see yourself, but I look at you and I don't see that. But I see a lot of decisions made to get to where
Erwin  
you are, that's mostly cherry.
Elizabeth  
But you have to agree, right? You guys are a team. And this is another challenge that a lot of investors have a lot of my investors that I coach our couples, because it's very challenging to go from, you know, I have a job and you have a job. And we spend eight to 10 hours a day apart. And we need to come to a consensus on like, how to manage our household. And then all of a sudden to be like, Hey, we're business partners. Now we need to have consensus on how we run our business and how our finances interact. And that's a very different journey than Hey, I'm doing this by myself. And I'm the only one who I need to, to make happy,
Erwin  
short answer. It's complicated. It's always
Elizabeth  
complicated. Life is complicated. But it's good. It's beautiful.
Erwin  
So where did you start putting in real estate? Like, did you just start investing on your own? Or did you or in combination with taking courses or
Elizabeth  
so I met Emma in 2005. And he already had a couple of investment properties with his business partner. And the more we kind of talked and the more I saw what they're doing, the more I wanted to be part of it. So I bought a couple of condos as my sort of first investment properties. And we were doing I mean, this was a long time ago, we were doing duplex conversions in new markets and, you know, buying single family homes and you know, doing rent to owns and those kinds of things. So in 2008 we started taking courses with Rich Dad, and yeah, it was actually because then we turned around and bought a whole bunch of buildings really quickly. And it was amazing, like some of the people that you know, we took our courses with and we connected with like Denise and Stuart McPherson. I mean, we're still friends with them 15 years later and we met them at Rich Dad, you know, so yeah, some of the the networks that you build and the people that you meet are tremendously beneficial years in the future, even Michelle And might go check. I mean, I had some challenging days building a property management company, and Michelle was my go to phone call, like these people that you place in your network, these people that you continue to build relationships with, they can be absolutely essential to your growth.
Erwin  
That's hilarious. I didn't know. That's how I knew Stewart and Denise because I met them through rain. Here from the other part, Rich Dad. Yeah, not that it matters.
Elizabeth  
No, it doesn't matter. And, and quite frankly, I think that, you know, that's part of one of the challenges for newer investors is like, where do you put your time and your money? How do you choose to educate yourself? How do you learn what you need to learn in order to, you know, be confident to make those decisions moving forward? You know, what kind of strategy do you want? You know, are you focusing on cash flow? Are you focusing on network, you know, all these critical decisions you need to make at the beginning? It's like, I don't know, it's like, I would imagine the high school kids feel right now, you know, they're, they're a year younger than we were, they're 17. And they have this tremendous weight on their shoulders, and they feel like they need to, you know, make this decision about what they're going to do for the rest of their life. Like,
Erwin  
what did you go to school for business? Okay,
Elizabeth  
so you're kind of doing what you thought, but clearly, I'm not doing anything in terms of my degree. And I was actually talking to my god daughter on New Year's Eve. And I said to her, don't be so afraid that you're going to do something that you're going to make a decision, and you're going to end up not wanting to do it. Because sometimes doing something and figuring out the answer is no. gets you closer to Yes.
Erwin  
It's often your best education. Absolutely. No, I must have been finished university. Yeah. All right. Michael Delvin. finish university.
Elizabeth  
Yeah, I mean, unless you're something like an engineer, like my husband, or you know, you're an accountant, like cherry, like, a lot of us who take these more general degrees don't end up doing very much with them. Or we end up in a very specialised branch, where that's when the experience comes in. And it's way more useful than anything we did in university. I mean, I wrote a lot of psychology exams, I can't remember most of what I learned
Erwin  
was like more options for education than ever, everywhere, formal post secondary courses being offered by real estate people. There's never been this many options. Now, when I started out, I think there's really only two, I didn't know that Rich Dad was available for courses back then I joined rain. And like, really, they were like the really the only ones. And they weren't even not based in Ontario,
Elizabeth  
I don't see rain as sort of being in the same category as some of the other ones. Like you look at Rich Dad, and key spire and some of the other big ones. I mean, they're, they're all different. They're all different. But a lot of the formulas are the same, like the process is the same, and the end goal is the same. So really, I think what you need to focus on is what is the quality of the information that's delivered? You know, our need? Yeah. And if you're someone who's looking to really gain information, then your focus should be on who's going to provide the greatest quality content, who's going to teach me the most and less about, you know, are Is this a place to network? And I think that that's one of the things is that there's so much competing information coming at people now. It's how do you make a decision about what's the right thing for you,
Erwin  
is thinking about my own journey, and I'm cheap. So let's start with that
Elizabeth  
frugal, the words frugal, and we'll use both.
Erwin  
So I don't poopoo on a certain organisation. I'll use a timeshare sales thing and with the lever as an analogy, I remember cheering I sign up for this presentation. Yeah, I forget what we got for free. I think we got a free night or to it like up in Collingwood. Oh, I
Elizabeth  
think I went to the same one. Yeah.
Erwin  
So we saw the dog and pony the required pitch that you had to go through. And it all sounded wonderful. The salesperson who wasn't really a salesperson. Yeah, but she was a she was a timeshare owner. She's really just sharing her experience. Yeah. Lovely Lady, lovely lady. You never would have. She was a professional salesperson. Wonderful pitch. It all sounded wonderful. But cheering I went in with a plan. We're not buying anything. Right. And like, wow, I was so tempted. Yeah. Because I want to do my due diligence afterwards. So then the other pitch, I said, no, they brought in the closer. I still said no, he got mad at me. Whatever. And we said we're not buying anything today. Yeah. And then my first thing I did when we left the room got on my phone. I did GG I wanted to do gene check. Can I buy this timeshare from someone else secondhand? Yeah, and I quickly found out I could buy the exact same thing that they're selling me for 10 at 20 cents on the dollar. Wow. Because their senior people who no longer wanted it. Yeah. So I get pie for pennies on the dollar privately and get the exact same thing. Yep. But then you think about all the people who signed on the spot? Yeah. Was it doing the basic due diligence? Yep. And I see the same with these courses and networks and memberships. Right? The analogy I give is often you know, it's talking to someone. Some of these membership groups are like $30,000 And like, Okay, do some comparison shopping. What do I get for $30,000? Versus I can hire a one on one coach for usually a third the cost somewhere around a third? Yeah. 30 to 40% of like 30 to 40 cents on the dollar I can get Hmm, I really quality coach one on one?
Elizabeth  
Yeah, I think it's about knowing, knowing who else is out there, like fully researching all of your options. And some people, you know, it is I mean, we were in, I think we sat in probably a similar room to you. And we had the same thing, my husband and I said, we're not buying anything. And we had just taken our negotiations course with Rich Dad. So we literally sit and picked apart all the different negotiation tactics in there, we're keeping notes, and then we went out afterwards for lunch. And we compared notes about what strategies did they use? But what are they good, they were relatively decent. They definitely weren't professional sort of salespeople, but certainly they were, they were probably my estimation, they are probably realtors, something, you know, starting newer realtors, so they would make the commission on that that was my estimation. But I think it's really hard for people who are starting out to have that critical thinking, it's much more likely that we become emotional. And I think sometimes that's where some of the bad decisions get made. You know, whether it's looking at a deal, whether it's looking at a partner, whether it's looking at investment opportunity, is people get emotional. And I don't want to in any way disparage I mean, if I hadn't spent my time with Rich Dad and I invested double what you had quoted for my education at rich dad. But the way my husband and I looked at it was he hasn't had an engineering degree, I had a science degree, we both invested money and time in this, if we were going to invest in our real estate education, then we just needed to make sure that we took action and made it happen, which we did. The challenge is when you invest that kind of money, and then you still don't have the pieces that you need to move forward. And my husband is the personality type where he is supremely confident that no matter what happens, we'll be able to figure it out. That is not to say that every deal we did made money that we never made a mistake that everything was roses and sunshine, it definitely wasn't we learned some hard lessons. And we learned some expensive lessons. So you just need to be prepared for that. And recognise that, you know, sometimes you're going to pay more if you go to a dealership than if you bought a car privately, because there's overhead to pay for and there's advertising to pay for. And there's all those other things. So there could be other options out there that are not as as expensive, or that might be a better fit for you. But there is a I believe there's a time and place for you know, group collaborations, group education, those kinds of things. Just do your research and know what you want and need.
Erwin  
Just exactly to your point. There's so many options, and people need to know what's right for them. Yes. So a lot of these programmes a lot of the more expensive programmes are meant for people who are going to go full time. Yes. All right. I think they all know, maybe 3% of the people that go through will be truly successful full time, maybe 3%. So then knowing that, it's like when I went to, like when we're having our first child cheering I went to these breathing classes at the hospital for like,
Elizabeth  
do you mean like Lamaze? Yeah, and no. birthing classes?
Erwin  
The objective was so that you could go through delivering the child? Yeah. Without taking pain medication.
Elizabeth  
Right. Okay.
Erwin  
So my first question was, how many people take the epidural? Yeah, impossible nurse at 80%. Like, okay, we're gonna do this, we'll just do that.
Elizabeth  
And then you look at it now, when fully a third of births are C sections. So I mean, it's not even as much of a factor at that point, like you don't have a choice in the matter.
Erwin  
My point is, if you go in knowing you have a 97% chance of not leaving everything that you're never going to teach there. Maybe it's not for you.
Elizabeth  
Yeah, that's an interesting point. I hadn't thought of it like that.
Erwin  
Because generally, my clientele is all side hustlers. Right? They're looking to build like a portfolio of like, one to 10 properties, and keep their job. They like their job. And so do they need all of that? I don't think so. Personally, the challenge
Elizabeth  
I have, with some of the sort of bigger education programmes is it almost feels like you come up with kind of just enough to be dangerous. So you have, you have, you know, a lot of theoretical information. But again, it takes us back to where we started today, which is, how do you take all that theoretical information and shape it into a plan that makes sense for you, that's going to enable you to achieve your goals in the shortest amount of time possible. And it still doesn't give you all the people that you need to know and all the information that you need to have in order to make decisions and those kinds of things. So I mean, I'm a little biassed, I've had coaches most of my life, and I fully believe in the value of coaching. And I think that that's kind of the niche that coaches fulfil, is that it helps people when they have that knowledge, it helps them figure out their individual journey.
Erwin  
I've had a course. I've had coach for almost 10 years, same coach.
Elizabeth  
It's Marianne Gillespie. She's amazing. Yeah, she's super inspired something special. Yeah, she is.
Erwin  
She's so humble.
Elizabeth  
She's pretty amazing lady.
Erwin  
Okay, so what I find more recently, the last five years, last couple of years, I don't know within within 10. So we haven't had a bear cycle within the last 10 years, which is also the same time some of these groups were created. Yes. So then what I find his missing is experience, which is why we have you on this show.
Elizabeth  
I appreciate that. Now, let's
Erwin  
talk to your investor journey because your investor journey has changed. Yeah, like your original goal is very different than what your goal is today. Yeah. And that's why I want to discuss it because people's goals change. Yes, people change. People situation change, and gamble, just so we talked the beginning, everyone's investor journey will be different. Everyone's goal is different. And that's why I kind of one minute talk to your journey so people can can see what they like about your journey. Maybe they were like, oh, I want to do that. Oh, I like that. That makes sense. To me. That's where I am in my life. I want that. Yeah. Right. So you're all over the map.
Elizabeth  
The first thing I think that people have to get comfortable with is the idea that, and this was part of my journey was I thought, you know, everybody talks about buying real estate and buying real estate and buying real estate. And unless it's a strategy, like flipping, very few people talk about selling. So I'm like, if I want to sell my portfolio, I must be a failure, I must be a bad investor. And it took a while for me to come to terms with the idea that I want things in my life that serve me. And at around the same time, when I started thinking about wanting things to be different, I hired my high performance coach. And what he helped me understand is that high performance is not about never making a bad decision or never changing your mind. It's about your ability to recognise where you are, where you want to be course correct or pivot as fast as possible, so that you are minimising the amount of time you are doing stuff that doesn't serve you. So as soon as I learned that piece of information, it was like a light bulb went off. And I was like, I don't want to do this. I have bought myself freedom from my job. But I don't have the time freedom that I want it. And so I started having conversations with Emmet. And Emmett was struggling with the same thing where he was like, no, like, we worked so hard to you know, buy these properties and build our portfolio and blah, blah, blah, I'm like, but we've we've increased our net worth. Now we want to buy our time back. So if we sell our properties, then we have this pool of funds. And we can move into different things, we can move into land development, we can move into new construction, we can sit back and do a bunch of private lending for a while until we find you know exactly what we want to do. And as we started to make those decisions, all of a sudden, it was like the stars kind of aligned for us. And you know, things kind of became clear. And it was at that time, when we started selling the properties that my health started becoming an issue. And it was almost like the universe. And at first I was very upset. And I was struggling and disappointed. And I was like I'm still yelling, and why am I struggling with health issues. And I realised it was basically the universe going, this is the time for you, you made the right decision. You've given yourself time freedom. Now you can choose how you want to spend your time. And that made me so excited. Because now I get to choose. And this is one of the great things about being an entrepreneur, I get to choose my clients. Just because I do a discovery call with someone doesn't mean that I'm automatically going to take them on as a client, if I don't feel that they're, you know, coachable and open to feedback, or if I don't feel that I have the right skill set or the right experience to serve them fully, then I'm probably going to refer them to somebody else, somebody like Christian who is, you know, an amazing coach and super skilled and experienced in his own areas, he might be a better fit for someone. I don't have to take every
Erwin  
geography because His specialty is within a certain small radius. Yes,
Elizabeth  
yeah, exactly. So I don't have to take on every client the same as every client doesn't have to choose, you know, a specific like, each coach, just because you talk to a coach doesn't mean you have to work with them. Just because you talk to a realtor doesn't mean you have to hire
Erwin  
them. Just because you like it or Instagram doesn't mean you have to work with them. Exactly.
Elizabeth  
Exactly. So, you know, the ability going back to what we were talking about the ability to recognise that what's going on right now in my life isn't serving me, what does it look like if it does? And asking those kind of bigger questions because I think a lot of what we spend time doing as real estate investors is doing, we're doo doo doo doo doo doo, I find a job or find a property run numbers, you know, look for Power team, like we spend a lot of time doing sometimes we don't spend enough time sitting back and going, what do I want? What is the life that I want to create here, I have a couple of new clients who started with me recently, they don't want to leave their jobs. They just want to make you know, $20,000 a year because they want to, they want to have a really good travel, trip plan, whatever it is, you know, whether it's two trips a year, whatever it is, they just want to travel and they want something that's going to fund their travel, they work for the government or they you know, work in Department of Defence or whatever. And you know, so they're going to have a good pension, they're gonna have, you know, a relatively easy job. They just want to improve the quality of their life and that's okay too. But they're being required
Erwin  
to go back to the office.
Elizabeth  
I wouldn't want to go back to the office myself, so I can't really judge on that but
Erwin  
I just have to give up that kind of income though.
Elizabeth  
It is Yes, it is an for me it is pretend that when Emmett left his job, that everything was roses and sunshine would absolutely be disingenuous, because it was tough. You know, we didn't do a great job at the time of saying, Okay, how much is the income that needs to be replaced? And, you know, what does this look like? So he went from six figures as an engineer with, you know, full benefits and everything else, we went down to literally zero income. So then all of a sudden, the money that we were churning and continuing to put into our portfolio into renovations, repairs, upgrades, and growing, all of a sudden, we couldn't put that same money, and we had to take the money out to support the household, and neither one of us had business degrees. But a lot of people when they become real estate investors, you don't realise now you're a business owner. So you need to know about it. And you need to know about marketing and social media, and you need to know about budgeting and financial planning and cashflow analysis and some legal stuff, do some legal stuff, like, you need to know all of that all of a sudden, and there's not very many people, you can call for help with that.
Erwin  
So that's why you need a coach, if you're going to be certainly serious. Yeah. And there's,
Elizabeth  
again, you need to know what you need. So if you are someone, no, but then you have to do your research. But so for a lot of people, they choose a coach who just helps them in one strategy, which is fantastic. But then it takes them back to they don't have the business foundation they need. They don't have you know, the corporate structure setup, or they don't, you know, have their financing piece in place, or, you know, they're missing pieces on how to like analyse markets and run numbers. So they know a strategy, which is great. But there's other pieces that are missing.
Erwin  
And then I'll add to that the piece I think that's missing often is experience to know what a deal looks like.
Elizabeth  
Yes. And you know, what, honestly, people's ideas of what deals have looked like in the last two years, there has not been the number of deals that there used to be, I mean, with with the amount that people are paying for properties, and the bidding wars and the inability to put in, you know, conditions, a lot of what people were buying as deals were not deal. So we need to get reacquainted with what is the deal look like. And the fundamental is we need to be buying under market value. That is a fundamental that has always been true in real estate. And it is more so true. Now, as the market is continuing to decline. Because I don't for a second think that, you know, as of next week, the market will start to recover. I think we're probably looking at two years, before we really truly hit the bottom because now we're about to go through a phase where all those people who were qualifying for mortgages at the stress test, were above the stress test, all those mortgages are coming up for renewal. And there's people who are not going to be able to afford to be able to pay 7% interest,
Erwin  
there's probably gonna be some inventory, some distressed sellers coming on the market.
Elizabeth  
Absolutely. Absolutely. So that presents opportunities for people who have done their homework and who have educated themselves. And they're working with a good mortgage broker and they have access to capital, they will have the opportunity to buy under market value.
Erwin  
Here's the other challenge that was that. I find some novices are depending on inexperienced coaches for to to help them to qualify what a deal is. I spoke to an investor just two weeks ago, horrific deal that her coach that her coach checked off on both her realtor and her coach past it. I said, if you were my client, I wouldn't even have shown you this property, let alone let you write an offer on it. Yeah, right. I knew right away, this was the no go. It's possible. The coaches just simply experience. If they just believe what they saw on a spreadsheet, it looks like a good deal. Right? The realtor, they're at a market. They're under market realtor. They could have the best intentions. They just didn't know any better. And then let them the investor definitely did not know any better. Yeah. All right. So again, we say do your homework, it means a lot of things to different people.
Elizabeth  
It does. And so many of the fundamentals that have been taught since 2008 have been very much applicable to a growing market. And there's not a lot of people around who have seen how to function in a market like this. And I'll be honest, I'm not buying right now. I am not buying right now. Because next week, next month, next year, it's going to be worth less than when I buy four. So I would prefer to buy when prices are lower, because it's gonna make my cash flow more appealing. Even if the interest rate is 1% more.
Erwin  
I'm okay with that. Because again, because you've done like everything. I'm sure there's lessons for most everything
Elizabeth  
you think and where you want to go now.
Erwin  
I don't have the time for it. Here's one question you want to ask? Because if I recall correctly, you used to do a lot of small town investing? Yes. Yeah. Would you do that today?
Elizabeth  
I'm not right now. So again, this is part of knowing and understanding the fundamentals of different strategies, how to match them to your market and how to then coincide with your goals. So let
Erwin  
me pause you there. Yeah. I think the better way to frame this question is and I think a lot of listeners will pretend appreciate this as if they're on someone's list. For example, someone who puts together rental owns. My experience has been that 10 times when I get the email. I've never heard of the city before. town or city? Where's located before? Yeah, and it's in Ontario even. Right? I grew up here. I don't know the name of the city. And to me, that's a red flag. Okay, what do you think about that?
Elizabeth  
Well, I don't think that's necessarily a red flag. So I bought in smaller towns, because I bought for cash flow. So typically, you're going to be paying less money, and you should be generating a decent cash flow. If you're buying in a small town and there's no cash flow, you're not going to see appreciation either, because appreciation comes from the larger markets. So I mean, you'll you might see a couple of percent a year, but you're certainly not seeing what you would see in Toronto or Vancouver. Oh, but there's in between, though, yeah. So at but then there's in between, there should be a bit of a balance between cash flow and appreciation. And you should see a little bit of cash flow. And you should see slightly more appreciation than in what I call tertiary or smaller markets. Whereas when you buy in tertiary or smaller markets, you're primarily buying for cash flow and appreciation. I mean, we should always consider appreciation is gravy. Obviously, in a market like this, there's not a lot of appreciation, but the cash flow was my primary concern. So if you're looking for cash flow, and you have done your analysis, and you you know, the economic fundamentals of a smaller market are good. I don't have an issue with that. What I do have an issue with is when people are trying to have everything in one deal, the likelihood that you're going to get cash flow and appreciation to build your wealth in one deal is is highly unlikely, especially with the prices in Canada, you can get that more in the US to be honest, I've been looking at deals in the US lately. And it's definitely because your prices are just lower. They're so what I go back on buying in smaller towns, no, because it gave me the cash flow and the ability to be able to create the wealth that I needed to then sell, reposition myself and go with strategies that give me time freedom.
Erwin  
Just try quantify for the listeners benefit the Calvert, for example. I think their threshold is they don't invest anything on any. They won't land on any property in that town less than 50,000. Somewhere, right? Yeah. 1000 for you. Yep. So
Elizabeth  
well, no, my town. I mean, Kirkland Lake is 10,000. Right?
Erwin  
Imaginary, your expert was a little bit different.
Elizabeth  
I wasn't always I didn't start out an area expert, I kind of became one because of spending so much time there. And being so active in the market. I think that's another challenge that new investors do is they try to become an expert on everything at once. It's important for disaster. It's important to pick your niche, you know, choose your market, choose a strategy, become an expert, and then grow from there. Don't try and know everything about everything all at once.
Erwin  
No one will ever pull the wool over your eyes. If you are an expert in that subject area in that neighbourhood 100% in that property strategy.
Elizabeth  
Yep. And I love it. You know, I get people calling me for property management. And they're going, Oh, my realtor told me I could rent the unit for this. And I'm like, no, no, you can't you can't rent it for that. That number doesn't even make sense. So
Erwin  
it's important work. If you offered your lease, go on Kijiji Facebook marketplace, check with rents were before the festival festival, your Realtors telling you?
Elizabeth  
Yep. And putting the right people on your team. You know, do you know the right questions to ask to make sure that you know your accountant and your lawyer and your mortgage broker and your realtor that they're the right people for you? Because let's face it, how many realtors are there in Canada? Right. And there's a very, very small percentage of them that I'd actually want to work with.
Erwin  
Yeah, just being in the same room with Yeah. Long works.
Elizabeth  
I like most people, so I'd probably be in the room with them. But, you know, as investors, we're looking for a very specific skill set, especially when we're starting out and we don't know what we don't know yet. So until we are the experts, we need to have high integrity, high quality people around us who are the experts, and can share that knowledge and information to make sure we're making good decisions, and not just making a decision because they need to pay for their BMW next month.
Erwin  
It's funny because people I find, I find generally people have a healthy distrust of large corporations. And surprise, they don't have the healthy mistrust of people selling them stuff.
Elizabeth  
That's a good point.
Erwin  
Here's an example. I often give people like one of the one of our big banks was investigated, and they were found guilty of pushing products on their customers that they did not need, particularly targeting seniors. Right. And I remember them interviewing people at the branch level. Insane. Like why did you do this? Because my job counted on
Elizabeth  
Yeah, I had a quota I had to meet I remember that.
Erwin  
Yeah. Two things. The institution was doing things I shouldn't be doing. Yep. And human beings at the frontline. Were doing it because it meant that meant that they can make a living.
Elizabeth  
Yep. And that was probably the primary one of the primary reasons why I left. My job was because I didn't want anybody else's ethics and integrity to dictate how I how I conducted my business.
Erwin  
So where's the same mistrust for all these other influencers out there? And I mentioned I say that because my predictions for this year as we'll see a couple of them go bankrupt.
Elizabeth  
Yeah, I could see that. I could see that. I think we still have the idea that what we see on social media and we go Oh, it's on the internet or it's on social media and we know we tell ourselves, that's not reality. But we see these people living these lives and we're like, I want that life. And that emotional tie to wanting that life overrides any sort of intellectual thought about is this really the life that they're living?
Erwin  
That's how marketing designed to work. Yeah, influencer.
Elizabeth  
Marketing is designed to make everything look like roses and sunshine,
Erwin  
which is funny, because the way I designed my marketing is, well, I do a lot of the same stuff. But I invite people to come meet my clients as well. So you can ask them yourself, what their life is like.
Elizabeth  
Yeah, and I think I mean, I'm not a big one for posting, you know, deals that I'm doing and stuff that I'm where I'm not a big one for posting that all over social media. And I actually
Erwin  
just see on the right side of the Ontario Securities Commission.
Elizabeth  
But I was talking to a marketing consultant yesterday, and she's like, you need to do more videos. She's like you, you need to share more about your life. And I'm like, Do people really want to know about my life? I don't know, I guess, but to me, it's not second nature to be like, hey, like, here's what my house looks like. And here's, you know, what's going on with my dogs. And
Erwin  
like, that's just Ricardo knows. Yeah.
Elizabeth  
I don't know. Maybe I was just maybe I'm old. And I was just raised differently. But it doesn't. I don't know. It doesn't
Erwin  
depend on your goals. If you want to influence in game and grow whatever you're growing, because just just like it just the hustlers. How he promotes himself versus grant. Yeah, very different. Yeah. Net worth is very different to Yes. Right. Like grant literally did flying in his private jet to wealth. Conference, right. Early. Right. brought the whole family versus Jesse flew American Airlines. fly business class. Probably. Yeah. But he's so rich. Yeah. But he doesn't have a private jet. No. But he's,
Elizabeth  
I mean, he just showed up. He's richer than grant. Yeah. He just showed up. And he's wearing like, his his like casual clothes, and he looked like a surf bum,
Erwin  
you would then know you've no idea how you'd have no idea how successful he was, was just looking at him. No, all right, very different, very different, how they present themselves in the media and their social media. Right. But it depends what your goals are, though. Like grants trying to raise funds for his fund fully cool. Yeah. Right. And for selling his courses, whatnot, Jesse's just like, doesn't really care.
Elizabeth  
I think that's important to going back to what you said, in terms of doing your due diligence, I think it's important to look at people's motivation for doing things.
Erwin  
To try to sell you something, you should raise your level of due diligence.
Elizabeth  
Yeah. And I think, you know, like, for someone like you, your goal is literally to educate people to share knowledge and information. My goal is to make my clients rich. Well, that's one of your goals. But but the reason why you do so for example, the podcast, I mean, you don't do the podcast, in order to make your clients rich, you do the podcast, because it gives you a platform and an ability to be able to pull these high quality individuals in and be able to pick their brains and ask them all kinds of questions, and then share that information and give back to the community.
Erwin  
What are some teen listeners were likely to get richer for this?
Elizabeth  
I think you're at 18. Now 18? Yeah.
Erwin  
You told your mother about the show.
Elizabeth  
Thanks to one of my clients, BB. BB is with us now your 18th listener, she's thrilled
Erwin  
about it, appreciate it. But that is the desired outcome for the show. Because if you don't want to work with me, totally cool. Even like, I want to work with you. Yeah, I'll bet you any money that our 17 listeners, their net worth is higher than the average Canadian. I'll gladly bet money on it.
Elizabeth  
Yeah. But I think it takes a certain type of person who listens to podcast to I think, in general, those people are people who are thirsty for knowledge and information, and who are coachable and open to new ideas and feedback. I think if if you believe that you're right, I mean, I've seen people hire coaches, because they just want affirmation that the decisions they're making are right. And when you when you tell them that they're wrong, they don't like that. Yeah, they suddenly get mad at you. And they tell you, you don't know what you're talking about, or that you're disrespectful or you're not listening.
Erwin  
And trying to save you money. You're being disrespectful. don't appreciate
Elizabeth  
this. This doesn't look like a real deal. To me. There's too many risks associated. You don't know what you're talking. Okay. Yeah, absolutely. I mean, it happens, right? Not everything is a fit for everyone.
Erwin  
That's why sometimes I'll put them up and sometimes my mortgage person or a lawyer and they'll kill the deal for me. Funny, well, it's it's part of business. Let someone else be the bearer of bad news. Why should it be my job? It's their job to be the bearer of bad news. You're not getting financing on this, this deal sucks. I mean, I'm speaking as if I'm the mortgage person. And then they're not mad at me. So one of my questions I have prepared for you. I have thought about a lot well in advance.
Elizabeth  
least five minutes before we started.
Erwin  
What's not going to work in 2023 in terms of real estate strategy, and what will work though, so let's start with what's not gonna work.
Elizabeth  
What is not going to work I believe, unless you're buying at a really steep discount is short term stuff, things like flips where you know your return is dependent And Tom being able to sell for a certain price, you know, we're always one interest rate hike away from another big significant drop in pricing. I don't believe buying at fair market value is something that's going to work. So I always believe things that will work will be things that add value, adding units to existing properties is one of my favourite go twos. Why do it a lot with my clients were
Erwin  
getting to working with what's not working first positive
Elizabeth  
more than negative, what else won't work, it's gonna get harder and harder to use private money for stuff. Because the interest rate is the interest rates as well as the borrower or the interest rates are just continuing to rise as it costs more for people to borrow against their HELOC or wherever whatever the source of their money is, unless it's cash. Another thing that's not going to work,
Erwin  
anything specific to a strategy like Java, like short term rentals, midterm rentals,
Elizabeth  
what I'm seeing with my clients is that, in general, short and midterm rentals are really struggling. Because there's just less disposable income out there. And people are less willing to take vacations, it's costing them more. I mean, you think about all the people in the pandemic with money at 1.5% people were doing renovations people were I mean, they, they couldn't travel outside of the country, but they were you know, renting cottages and doing all kinds of stuff. And that was working really well. But now people are like, okay, it's costing me, you know, eight, nine 10% to borrow my money, I'm not going to take a vacation and then put it on a line of credit at that rate. People are quite honestly worried about their jobs, you know, there's less hours available, there's less money available. So those kind of strategies are struggling a bit right now. And especially like even think about it, you know, the ski hills? How many people have, you know, bought vacation rental properties in markets that have skills? And I don't know about you, but I don't see. No, no, exactly. And
Erwin  
Blue Mountain only had one chairlift working last week. And we're we're early January right now. Yeah, that's insane.
Elizabeth  
It is. It's a crazy year and years like this happened. But it is challenging for people who are counting on people coming to go skiing, that just isn't happening right now. So the ski this ski hills, unfortunately, are a couple of years of COVID restrictions, and then and then no snow. So definitely some of those strategies are are not as popular right now. What's working well,
Erwin  
before we get there, because I asked you this question before, offline. of my personal people. I know you have more New Brunswick experience than anyone I know. But I asked you how many people have asked you about New Brunswick? From the from listening to the show, for example, I've had one person recently contact or just recently though, the show was a while ago. Yeah, yeah, no. And I bring it up because I see all these bills running to New Brunswick is still I hear from mostly multipart Milton buyers, which totally shocked me why no one asked you. Yeah, because I don't know. Like, like, for example, what I often do is like, pause for 30 minutes brainstorm, who I know who invest in New Brunswick. Eventually, I suppose people should get to you. Yep. Right. You're not selling me anything. Elizabeth Kelly, what's your opinion on New Brunswick?
Elizabeth  
I haven't had a great experience there. I'll be honest, the market was very flat for a long time. So there was no appreciation. So you didn't have the opportunity to refinance and pull out equity. I found the tenant profile quite challenging. So I was constantly putting money into units, which would chew through the cash flow that was generated. So basically, St. John, New Brunswick, in my experience, should have been a secondary market based on the population. But it functioned more like a tertiary market because you were buying for cash flow, but in you weren't but you weren't seeing appreciation. And the whole maritimes was like that. I mean, I bought in 2010 there in 2011 2012. I did rent to owns there I had multi unit apartment buildings there. So my rentals did okay. But I had one that was a spectacular went down in flames. And it basically wiped it everything for the other ones,
Erwin  
either pretty substantial portfolio, you know, beginner novice, New Brunswick investor,
Elizabeth  
no, but these were, you know, some of my some of our initial purchases when we were just coming off the the rich dad courses and the education. So we had a lot of theory, but we didn't know how to apply all of it. So every market is different. Every market is different. And you know, we chose a realtor who had turned out didn't have the best integrity and ethics. It was long distance management and our first property manager. Our first couple of property managers ended up having some challenges with, you know, ethics and theft and some of that stuff. So it just every time we turned around our cash flow was getting killed. So yeah, that was probably part of the reason we started our own management company in Kirkland like
Erwin  
any reason you see the rush for people to go buying in New Brunswick,
Elizabeth  
they're buying based on price per unit. Again, they're it's the same thing that we did, you know, we ran the numbers and the numbers look good. What we didn't understand was the reality behind those numbers,
Erwin  
vacancy and maintenance and renovations will be higher than expected. Yes, because you have
Elizabeth  
I mean, not everywhere in New Brunswick. Obviously, there's people with higher incomes and that kind of thing. When you're buying at, you know, I don't know 75,000 A unit, you're not attracting the a plus plus tenants. And you need to know that's one of our biggest challenges was we didn't understand the different neighbourhoods. So we bought in lower end neighbourhoods than we believed we were buying at a
Erwin  
friend do the same thing in Hamilton. He was the Waterloo in Toronto party manager for large, large corporations. So when he started investing on his own, he continued to invest in Waterloo, but he also bought some buildings in Hamilton. And he had it he gave it to him. Yeah, worse tenants.
Elizabeth  
Yeah, it's a real challenge. I mean, you need to if you're buying in, you know, one of the worst neighbourhoods of the city, you need to make sure you're running your numbers and you understand you're going to have higher vacancy rates, you're going to have higher repairs and maintenance, you're going to have higher debt, higher garbage, and you're going to have greater damages. So the rents that you do that you are able to collect need to be high enough to offset that. And people were buying in New Brunswick, quite honestly, because it was so easy to evict tenants and be able to you know, do the rentals and turn the building over. But you can't do that now. Because they they change that. So that makes New Brunswick a different animal. Now,
Erwin  
I want to ask as well, what about multifamily in general? Because I keep asking people like Cory sprawl, like, I have friends all over the country who do buy apartment buildings all over the country. Yeah. Right. And they all keep telling me, there's too many offers on them. Yet I see all these courses. I like y'all multifamily, but doesn't seem like that's what the value play is. What are you seeing?
Elizabeth  
I'm someone who's on multifamily buildings for for 12 years, 13 years. I don't love them. I never really have,
Erwin  
oh, I'm banned by a lot of people. I know.
Elizabeth  
I know. But I, I just, I just don't love them. I never have my husband has loved them. He's bought so many of them. And I just I think i It's because I'm, I prefer to stay in something that I know is easy to sell, I prefer to stay a little more liquid. So I would rather stay with smaller buildings, I would rather stay with, you know, for plexes, that there's always going to be lots of buyers for it. And you know, if someone has a multi unit building, there's not always a guarantee that they're going to be able to sell it at top dollar or within a reasonable amount of time. And I know that that's exit strategy, but the reality and there are some people who are buying you intend to never sell buildings, but the reality is life changes changes, things happen, you get married, you get divorced people, you know people are born people die like that is the reality of life,
Erwin  
midlife crisis, you wanna start travelling full time, whenever you need the money for
Elizabeth  
exactly like I look at, you know, my my husband's best friend, he passed away unexpectedly at 36, he left behind a stay at home mom with two kids who are one and a half and three years old. Like she never in a million years would have anticipated that. And it took a while they had a couple of big buildings. And it took a while and she was stuck trying to figure out her finances and look after the kids and deal with all of the estate and all that kind of stuff, as she's still trying to figure out what to do with these buildings. And they sat for a while before they sold versus a four Plex will move pretty quickly. Whereas a four Plex, I mean, she could have even, you know, gone to a JV partner or whatever. And again, it's this is a relatively new phenomenon, this demand for multi units. It wasn't like this. Five years ago,
Erwin  
there was demand, but it's gone way up. Exactly. And that makes
Elizabeth  
me think that it is not sustainable. Right, which was the same feeling that I had for the exponential increase in valuations in New Brunswick during COVID is that it's not sustainable.
Erwin  
Same thing with the job market. Same thing with the stock market. It feels it feels like the lesson from the last year has really been anything that's on fire is going to come down. Yes. Good luck. I'm now flaming.
Elizabeth  
And I think people think that they're buying apartment buildings for cash flow, and they're not their wealth building strategies, correct. Because every time you refinance and pull out capital, you're wiping out your cash flow again,
Erwin  
Quinton Sousa was quite upfront about it when last time he was on the show. Like his cap, I think you've seen his caps, like four and a half percent. Yeah, there's no cash flow.
Elizabeth  
No. I mean, he knows his numbers and and he knows what he's doing. Quinton is a very smart man. But people I think, again, it's part of setting up the expectations and knowing the reality behind the theory. The reality behind the theory is I bought in a bad area in New Brunswick, and I ended up with a less than ideal tenant profile. If I had known then what I know now I probably wouldn't have bought all of the buildings I bought in my mind about some of them, but I probably wouldn't have bought all of them. And it's the same thing I think with multifamily where people are like, Oh, I'm gonna get you know, $250 per door and at 10 units, that's 2500 a month I've replaced my income now I can leave my job. And the reality of it, at least in the first five years is you're not going to see cashflow.
Erwin  
Do you like your time profile income Looking like, for example, or any of your apartment buildings? Carson? So I'll just preface that by saying, I've never done multiple buildings, because that's not my target target tenant profile, right? I'm way too soft skin for that market. Right? Tougher than I used to be. You have to be you have to be yes. Right. Versus I knew I wasn't. Yeah. So I wasn't, that wasn't gonna be part of my strategy. Right? Okay, I believe Life's too short. As much as I love money. That wasn't gonna be for me. Right? Right. So that's why I stay small, much. I'm gonna guess that my Tinder profile makes a lot more money than it just makes sense. Yes, I live in a house duplex whatever, by rent is higher than any apartment building.
Elizabeth  
Not only that, but you typically have people who are employed and who actively take steps to protect their credit, void. And who care about their credit, you actively take steps to protect their credit, because they're the people who could conceivably in the future become homeowners. So as part
Erwin  
of my criteria, tenor criteria, works as chairs with a credit.
Elizabeth  
So what we did in Kirkland lake was we intentionally bought a mix. So we had some more entry level kind of lower end type buildings. But we also when we did renovations, we made some really high end units. And that I found was a much more successful strategy, I did a better job of reading the market and what the needs were in the market, and then finishing units like that. So our higher end units were fantastic, they were much, much better, we got a higher calibre of tenant, they took better care of the property. And they were just more enjoyable to deal with. But that was part of the reason why I loved rent to own so much to was because, again, you get a higher calibre of tenant, you get people who want to be homeowners, people who, you know, they're willing to cut the lawn, and they're willing to shovel the snow and they're willing to look after the maintenance needs of a property because they have a vested interest, this is going to be there. And that was why probably one of the major reasons why I loved rent to own so much
Erwin  
we didn't cover rent to own versus working versus not working. So rent
Elizabeth  
to owns right now are a better strategy, because we're not in the crazy bidding war. So people who are trying to do rent to owns early in 2022, we're just getting priced right out, the numbers weren't working, it wasn't making sense. The biggest obstacle right now for people who want to do rent to owns is trying to put a future valuation on the property. And the majority of the return in a rent to own comes from the the lift and value from purchase price to future purchase price. So that's the biggest challenge right now with rent to owns. But if you you know, you're willing to be somewhat flexible, you're willing to, you know, give people a one year extension, or, you know, if let's say you price it at a $40,000 increase, and it only goes up 30, if you're willing to come down that 10. I mean, you can create scenarios that makes sense, rent to owns is probably one of the best strategies right now for cash flow to
Erwin  
what else is working, you're gonna be working in 2023.
Elizabeth  
I love private lending right now, that's kind of my go to, is I just enjoy, you know, seeing what people are up to looking at different deals, looking at different markets, I know how to do my due diligence. That's one of the biggest challenges for new investors who go, oh, private lending, this should be easy, I'll do this, and they don't know how to screen and vet, you know, what the deals are, who they're lending to what the market is, and what the security or the protection is for them. Prom notes are not a way that I would go right now, as valued
Erwin  
by more listeners, as you as you speak, I'm sorry, multifaith, poopoo, mouth, New Brunswick, poopoo, multimode, fibre promissory notes.
Elizabeth  
And to be fair, this is me. And this is going back to what we talked about. Everyone's different, everyone's different and people's risk tolerance is different. And people's goals and objectives are different. So I'm speaking now as someone who's been investing for almost 20 years, and what works for me, I know that management of apartment buildings is much, much more intensive than it is for managing smaller properties. My smaller properties I virtually never hear from anybody. My larger buildings, there's always issues, people complaining about temperature about their tenants next door about someone leaving stuff in the hallways like constant issues, and duplexes. I mean, I you could go a year without hearing from your tenants in a duplex.
Erwin  
Oh, private lending. To teach my kids. So my kids lent out they each lent a stuffy Yeah. To to a friend. Oh, right. Yes. And they asked me. Oh, do you remind them to bring them back? And when we next playdate we had together and they didn't they forgot. And then this was the learning moment. I said, you don't learn things like that. If you do, don't expect them to come back. I think you almost have to do the same with some of the private lending. Yes. Yeah. The expectation someone's not coming back. Yes. All right. I don't know if everyone does that. Now
Elizabeth  
most people don't and Christian Spiroflow go and I talked about this a while ago on his strategy, I think is I think you said for every four deals that he does, or three deals that he does, he anticipates one of them isn't coming back. So the returns from the other ones need to be high enough to cover that.
Erwin  
Right. So that'd be smart. Right? But that's part of your depth. are hard enough rates. And the risk has to be low enough that they come back
Elizabeth  
exactly. But that's part of your due diligence process. So I don't lend money on properties that I'm not willing to own myself. So I look at the property, I looked at the loan to value, I make sure there's enough money to cover my money if I have to take the property back over plus legal fees, and all the other things. So I better want to own that property if I'm going to because again, I don't like prom notes. So will you lend on someone's home? No, way too emotional, way too emotional. And it just everything gets cloudy with that, you know, an investment property, I quite frankly, don't want to own a bunch of single family homes with people living in it that I then have to evict and all the other things. So I would rather own someone's investment property and manage it a tenant from the beginning. And I have no issues with property management. I've been doing it since 2005. But it's very different having done rent to owns with homeowners, it's very different to work directly with a homeowner. And there's a lot more concessions expected to, you know, if you're lending someone money for their house, it's usually like personal debts, they're paying off its credit cards and those kinds of things. And if they're coming to you, as a private lender, it means that, you know, they're not able to get a line of credit from a bank. So there's already some credits and some different issues there. And now you're coming in and bailing them out on their home. But I feel that there's sometimes a bit of a feeling of entitlement, like you're going to take my home away from me, and you're painted as the bad guy. Whereas if it's an if it's an investment property, it's much more likely to be business. I don't want to be the bad guy for anybody. I mean, I will, but I prefer not to set myself up in that scenario.
Erwin  
What kind of terms are you looking for, if you're gonna live on someone's income property,
Elizabeth  
um, it depends. I'm willing to go to 80. Right now I'm looking less than 80% loan to value because I anticipate the market declining by another 10 to 15%. So I want to make sure that I'm protected. And then there's still money for a realtor if needed. The interest rates I'm looking at right now, probably 12. It just, it's costing what six and a half 7%, to borrow money from HELOCs. So 12, to me is kind of where you're starting, you know, typically, I'm looking six months to a year when you're doing private lending, it's usually shorter term stuff.
Erwin  
And then like, how would you structure the payments, so you'd want the monthly payments? Are you going balloon,
Elizabeth  
I don't like balloon payments at the end, we could do a balloon at the beginning. But I really prefer seeing that someone can manage their cash flow. And I prefer to receive I obviously take my lender fee up front. So I usually charge a one one to 2% lender fee. And then I prefer to get monthly payments. So they know that they're managing their financial situation. Typically, for most people, when they're struggling financially, the non payment is the first sign that they're in trouble. So if they're not having to make monthly payments to you, you don't get that sign that they're in trouble until it's too far gone for you to help
Erwin  
you steal your mortgage business. No, no, I gave it up. It also is gonna be working in 2023. Mentioned cash investing, if you're investing cash, you
Elizabeth  
have a lot more you yeah, oh yeah, you have a tonne more flexibility. In terms of other stuff that's working, I think land development, I think there will be people who will be who were land banking, who might be in financial situations where they would need to dump land. So I think land development might be a great thing. We still regardless of whatever's going on the economy. I mean, we still I saw Andy trans email that came out a while ago talking about how we're 880,000 People came into Canada and 2022, we didn't have enough housing for the people who are here already. So anything that involves adding units, I think would be beneficial. Anything that involves converting unused office space to residential, I think is going to be huge.
Erwin  
I would love to be able to rezone my office to be residential.
Elizabeth  
Well, you have such a beautiful office, I mean, this is a great little place. But anything that basically adds units, anything take existing properties, I think that the coach houses, you know, third suites, those kinds of things are going to be hugely successful as well, you may not be able to refi and pull 100% of your money out. But the boost in cash flow is going to make a big difference. And I think there's going to be demand for units like that.
Erwin  
Just to elaborate on the 800,000 number. It's, it's new immigrants like new Canadians, and then you add a lot of the work visas and student visas. But they're all here, they all need a place to live to
Elizabeth  
doesn't matter what piece of paper they're here on,
Erwin  
somewhere to live, but don't wanna stay in a hotel.
Elizabeth  
And it's not like rent rents have gone down. And it's super competitive right now. It's super competitive. So I think that there's always going to be demand and basically anywhere where you can, you know, buy you know, a single family house, add a couple of units, you know, you buy a piece of land and you build something on it. Those strategies, I think are going to be promising. The offsetting will be as inflation continues the cost of materials and labour, right. So you have to make sure you run your numbers and you know what you're doing ahead of time.
Erwin  
Just to add to that, where these immigrants are going If Rockstar produced a really lovely infographic, this sounds crazy, when yesterday when you see it, you see a picture of the map of Canada. 50% of Canadians live below our largest US Canada border. Really basically, like, b2b Beyond the Golden Horseshoe of Ontario. But yeah, 50% of Canada lives there. Wow. That's insane. That is insane.
Elizabeth  
Not to see that graphic. So it's
Erwin  
not crazy. That's why people will always be like, Oh, I'll go invest here government, New Brunswick and Alberta whatever, like 50% and up around the Golden Horseshoe.
Elizabeth  
Well, that's it. And I think part of the reason for the growth in New Brunswick in some of the Maritime Provinces is because Alberta was doing terribly. So everybody who was working in the oil fields all went back home to New Brunswick, and Newfoundland and all those provinces. And now that Alberta is doing better, everybody's going back again. So the population has actually dropped. So your tenant pool has actually dropped when you're investing in the Maritimes right now. It's just like, internal migration, right. A lot of
Erwin  
a lot. Of course, instructors are not gonna like you, Elizabeth Kelly. Okay,
Elizabeth  
I just do my own thing.
Erwin  
That's your own thing. Are you taking more coaching clients on? I do have a couple of openings? Yeah. Just a couple. Just a couple. And where do people where can people find out more?
Elizabeth  
You can? I'm really hard to find not. You can find me on Instagram. You can find me on Facebook. I do have a website, EK consulting.ca. You can find me lots of places and obviously always at wealth hacker, and I'll be at multifamily as well.
Erwin  
Only the primary tickets. Sorry.
Elizabeth  
And then. And then we are having another summit coming up as well. We have not announced the date yet. But we had we hosted my friend Cory Sperling and I hosted a summit which you were part of thank you for that. In October, people that actually still grab recordings resilient summit.ca. And it went so well. And the feedback was so positive that we're really excited to host another one
Erwin  
announcing time yet
Elizabeth  
not announcing it. Yeah, it was a three day event last time, it was a three day I think people found that a little overwhelming, they didn't sleep. So we're gonna look
Erwin  
at going to the consumer on their own schedule. They don't, they don't just sit there for three days. And that's
Elizabeth  
one of the best things about the recordings like Cory and I were really surprised. But you know, we go in and look, and there's still people here in January watching recordings from presentations that were in October, like, the information is so evergreen, and it was we've covered such a range of topics about how to be resilient in tough times that people are still watching them and learning so
Erwin  
much the way it should be like if it's a especially if it's an evergreen topic, for example, like apartment buildings, like probably the consumer a couple times for the stick. Yeah, absolutely nothing to do it.
Elizabeth  
Yeah. And you know, you talk to people like Cory and he loves apartment buildings, and that says life and that's great. It works for him.
Erwin  
I'm sure he doesn't like all the competition out there. No.
Elizabeth  
But that's the importance of knowing what you being the architect of your future, and designing the life that you want to live. And knowing what you want. Please leave it there.
Erwin  
Thank you, Elizabeth.
Elizabeth  
Thank you so much. It's always a pleasure.
Erwin  
Before you go if you're interested in learning more about an alternative means of cash flowing by hundreds of other real estate investors have already then sign up for my newsletter and you'll learn of the next free demonstration webinar I'll be delivering on the subject of stock hacking. It's much improved demonstration over the one that I gave to my cousin chubby at Thanksgiving dinner in 2019. He now averages 1% cash flow per week, and he's a musician by trade. As a real estate investor myself, I got into real estate for the cash flow but with the rising costs to operate a rental business, it's just not the same as it was five to 10 years ago when I started there are forget the cash flow reduces your risk. The more you have, the more lumps you can absorb. And if you have none, or limited cash flow, you're going to be paying out of your pocket like I did on a recent basement flood at my student rental in St. Catharines. Ontario. If you're interested in learning more and register for free for my newsletter at www dot truth about real estate investing.ca. Enter your name and email address on the right side. We'll include in the newsletter when we announce our next free stock hacker demonstration. Find out for yourself what so many real estate investors are doing to diversify and increase our cash flow. And if you can't tell I love teaching and sharing this stuff.

To Follow Elizabeth:
LinkedIn: https://www.linkedin.com/in/elizabeth-kelly-consulting
FB: https://m.facebook.com/EKConsulting.ca/
IG: https://instagram.com/elizabethkellyconsulting?igshid=MWI4MTIyMDE=
Real Estate Resilience Summit: https://realestateresilience.ca/sumreal-estate-resilience-summit-ek
HELP US OUT!
Please help us reach new listeners on iTunes by leaving us a rating and review!
UPCOMING EVENTS
You are the average of the five people you spend the most time with! Build connections with empire builders and trailblazers at our iWIN events.
BEFORE YOU GO…
If you're interested in being a successful real estate investor like those who have been featured on this podcast and our hundreds of successful clients please let us know.
It is our honour to give back and educate others on how we build cash flowing real estate portfolios using all the best practices shared on this podcast, from the lessons of our hundreds of clients and of course our own experience in owning investment real estate.
If you didn't know already, we pride ourselves on being the best of the best real estate coaches, having the best property managers, contractors, handy people, cleaners, lawyers, accountants, everyone you need on your power team and we're happy to share them with our clients to ensure your success. 
New investor or seasoned veteran investor, we can help anyone by providing our award winning coaching services and this isn't all talk.
We have been awarded Realtor of the Year to Investors in 2015 by the Real Estate Investment Network, 2016 by the Canadian Real Estate Wealth Magazine and again in 2017 because no one told the judges no one is supposed to win the award twice but on merit, our peers deemed us as the best.  In 2018, we again won the same award by the Real Estate Investment Network.
Hopefully being the most decorated team of Realtors in Ontario will make you consider us for your first or next real estate investment.  Even if you don't invest in our areas, there's a good chance I know who would be ideal for you. 
I've been around for a while, some Realtors are talented at servicing investors there are many with great ethics.  The intersection of the two, talent and ethics is limited to a handful in each city or town.
Only work with the best is what my father always taught me.  If you're interested, drop us an email at iwin@infinitywealth.ca.
I hope to meet you at one of our meetups soon.
Again that's iwin@infinitywealth.ca
Sponsored by:
Infinity Wealth Investment Network – would you like to know how our investors returned 341.8% on positive cash flowing real estate over the last five years? On average, that was 68.4% per year.
Just imagine what winning in real estate could do for you.
If you would like to know how we did it, ask us how by calling 289-288-5019 or email us at iwin@infinitywealth.ca.
Don't delay, the top markets we focus in are trending upward in price, so you can pay today's price or tomorrow's price.
Till next time, just do it because I believe in you.
Erwin
Hamilton, St. Catharines and Toronto Land Development, Real Estate Investor, and soon to be builder.
W: erwinszeto.com
FB: https://www.facebook.com/erwin.szeto
IG: https://www.instagram.com/erwinszeto/
https://www.truthaboutrealestateinvesting.ca/wp-content/uploads/2023/01/Elizabeth-Kelly.jpg
630
1200
Erwin Szeto
https://www.truthaboutrealestateinvesting.ca/wp-content/uploads/2017/06/TruthRectangleLogo.png
Erwin Szeto
2023-01-16 18:18:39
2023-04-03 17:13:51
What's Working, Not Working In 2023 With Elizabeth Kelly