Getting Creative With Investing In Alberta With Russell Westcott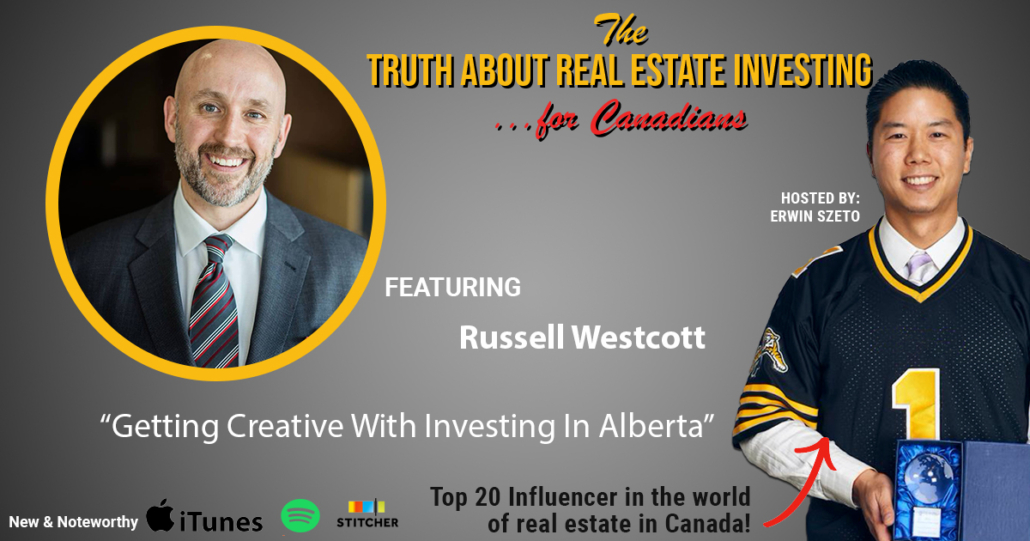 As the Warren Buffet quote goes,
"A rising tide floats all boats… only when the tide goes out do you discover who's been swimming naked."
The real estate market in Ontario has been fantastic and has steadily gone up a lot since the recovery from the 1989 crash. 
I know lots of people who've built intergenerational wealth. 
Many of you and your neighbours did as well simply by buying a house five or more years ago.  Those who bought several houses five or more years ago benefited multiple times. 
This week, I hosted a mastermind dinner with many of our student rental investors, as the timing is ideal. We enter student rental marketing season as University students begin looking for a place to rent in December and January for a May 1st move-in.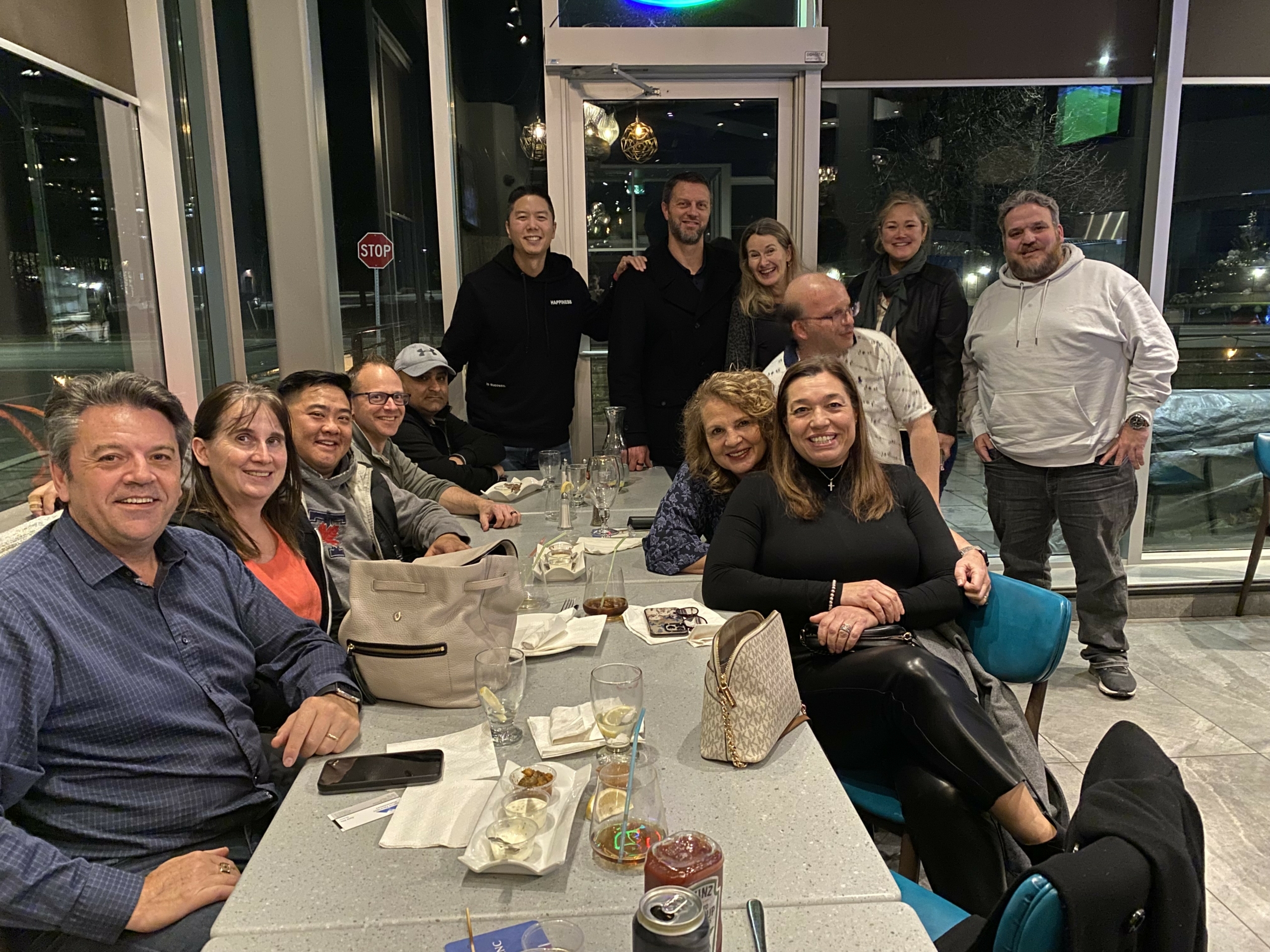 After a crappy pandemic where some students bailed on their leases and went home, market rents went down for the first time in forever. 
The pendulum has now swung hard in the other direction in favour of the investor as there is reduced supply of student rental houses. Demand is up slightly; hence rents are through the roof. 
A client of mine just texted me she signed new tenants at rents 30% higher than the previous tenants. As a result, she now cash flows over $3,000 per month on just one house.
Over dinner, we masterminded how to communicate with tenants if they're staying or going, what rents we'll test starting next week and shared old war stories. 
My old friend Ron Esteban even started a discord group for everyone in attendance and named it "Erwin's Student Rental Army" for us to stay in touch, which I find hilarious.
Ron also spoiled my fun, being the youngest in the mastermind. 
I was the 2nd youngest in the room, and when I looked around, I was so proud of our clients. They're all doing great; some have retired, some can retire, some are working on contract at expensive rates, and several have helped adult children buy their first home. 
They all have significant financial peace. 
Everyone has great investment properties they're happy to own, some for a decade already and not one of them is a full-time real estate investor.
That's what real estate investing done right looks like.
Done wrong however… an update on Alex Solga of the now bankrupt Clydesdale Capital Group Inc, previously owned in partnership with Fayaz Gulamani, aka Mark Smith, that owes just over $8 million to creditors. 
Details are in the preliminary report below.
Preliminary Report: https://mnpdebt.ca/-/media/files/mnpdebt/corporate/corporate-engagements/bankruptcy/clydesdale-capital-group-inc-bankruptcy/preliminary-report-of-trustee.pdf
From the advice of Alex's lawyers, he can't come on this podcast which I totally understand. 
I did share with Alex that I've seen this before I shared what I think happened.
I've been attending investor meetings and networking events since 2008. I personally know folks and interviewed them on this podcast, investors with 50-100+ properties, mostly in Alberta, sharing on stages how they did it.
Those in attendance, myself included, couldn't wrap our heads around how they did it. 
We thought they were gods of investing, and we were crap with our tiny portfolios in Hamilton and whatnot…
Until the market turned, their portfolios were underwater while everyone in Ontario and BC did just fine. More than fine.
What saved them was their properties were at least rented out, so money was coming in to cover the expenses. 
This was largely in Alberta, and I knew one gentleman in Hamilton who lost everything; 50+ JV properties were all sold off by the banks at a discount. He lost his home, wife, family, and reputation.  
This was also back in 2008 during the oil crash and financial crisis.
Fast forward to the present, a new wave of real estate education groups, local groups too and not ones from BC and Alberta or the USA, new influencers, networks and coaches with limited experience emerge, and the cycle restarts. 
Many who fail to learn from history are doomed to repeat it. 
Red flags were ignored, greed was unchecked, private lending became popular mostly among regular, everyday folks, and double-digit interest rates in exchange for passive investing on high-risk projects.  
We saw this before with the bankrupt Paramount and Fortress.
Still, brokers broker and lenders lend. 
Investors raise OPM because their vision and mindset of abundance overshadows the fact that managing trades, renovations, and construction is not easy in my experience, made harder in an environment where labour is in shortage, wages are skyrocketing and material shortages are ongoing.
Long-term, boring cash flow investing wasn't profitable fast enough to quit day jobs and retire, so some scaled up too fast, doing fast flips and BRRRRs without the operational know-how.  
Resources were spread too thin.  Properties are vacant, so no money is coming in to cover the mortgages.
In reviewing Clydesdale's holdings, their properties were located hours apart. Two are in towns in Ontario I've never heard of; Hamilton to the West, as far as North Bay to the North, and Peterborough in the East, plus a property in Belize.
Alex and Fayaz, aka "Mark Smith," live in London, Ontario. 
For me personally, too much risk. 
I've never seen anyone pull off that much scale covering that much geography. I prefer boring stuff I can control with a one-hour drive from home. 
I do BRRRR and have been doing so since 2005; most of our 500 clients have since 2010. We just do one at a time with only the best of the best team on my project using A and, on occasion, B lenders.
If you, too, would like boring investing that cash flows, we operate East and West of the GTA because that's where investors can actually find cash flowing, boring, best ROI I can find with every best practice I can find. 
Then let us know. Reach out to iwin@infinitywealth.ca, and one of my coaches will be happy to get on a call with you.
We are always recruiting those who want to be self-made, millionaire real estate investors in boring, repeatable, systematic ways that cash flow.
Getting Creative With Investing In Alberta With Russell Westcott
On to this week's show!!
We have an old friend of the show, Russell Westcott, who was in town all the way from Vancouver to Toronto for the Wealth Hacker Conference.
Russell has owned 100+ properties and has the battle scars and lessons on how to invest better in Edmonton, Alberta.  
Russell is a smart guy and is here to share how his coaching clients are navigating this high-interest rate environment with creative, above-board financing and a couple of different investment strategies for the highest and best use to create more housing units and, of course, generate higher rents on properties that other investors simply don't see.
As always, it's a treat to have the JV Jedi on the show, someone who's always thinking outside the box on how to maximize returns for his coaching clients and on their properties.
I give you best-selling co-author Russell Westcott!
This episode is brought to you by me! We don't have sponsors for this show. I only share with you services owned by my wife Cherry and me.  Real estate investing is a staple in my life and allowed me to build wealth and, more importantly, achieve financial peace about the future, knowing our retirement is taken care of and my kids will be able to afford a home when they grow up.  If you, too, are interested in my systematic strategy to implement the #1 investment strategy, the same one pretty much all my guests are doing themselves, then go visit www.infinitywealth.ca/events and register for our next FREE Online Training Class.  We will be back in person once legally allowed to do so, but for now, we are 100% virtual.
No need for you to reinvent the wheel; we have our system down pat. Again that's  www.infinitywealth.ca/events and register for the FREE Online Training Class.
This episode is also brought to you by www.stockhackeracademy.ca, where everyday real estate investors learn the best practices in stock investing to earn cash flow in about 15-30 mins per day from their mobile phones. After real estate, Stock Hacking is the next best hustle, as you've heard from many past guests on this show. Among our students last year, 31 trades were shared with them. 30 were profitable for an over 96% success rate and 12% return on capital. I will be giving free demonstrations online, very similar to the one I gave my kid cousin, a full-time musician who just made a 50% return in 2021.  Past, of course, does not predict the future, but if you'd like a free demonstration, go to www.stockhackeracademy.ca in the top right and click FREE Demo.  At the demonstration, I'll have special bonuses. We do not advertise publicly for all my favourite listeners, and I only have two more demos to give in the next few weeks.
Don't delay www.stockhackeracademy.ca, what I consider the future of side hustles with real estate so unaffordable for many.
To Listen:
Audio Transcript
**Transcripts are auto-generated.
Erwin  
Oh and welcome to another episode The truth about real estate investing show. So I can't believe it. This is the number 81 podcasts in the business category and all of iTunes. I think something broken Apple, probably Elon must spell anyways, as the Warren Buffett quote goes, a rising tide lifts all boats. Only when the tide goes out, do you discover who's been swimming naked? Well, the rising tide, the real estate market and Ontario has been awesome. And still it caught up since the recovery of the 1989 crash. I know lots of people who've built intergenerational wealth between now and then. And if you and your neighbors did very well, simply by buying your house five or more years ago, even if you bought in 2019 You're likely still positive. So once you did something, right, please hopefully did something right. For those who bought several houses five or more years ago, they benefit multiple times. This past week, I hosted a mastermind dinner with many of our student rental investors clients as the timing is ideal. As we enter the rental marketing season, as university students begin to look for a place in December in January for a march 1 Move in. Honestly, the truth about real estate investing is we had a crappy pandemic for student rental investors, where students failed on their leases and some of them went home. Some of the universities closed for in person hence there's less need for students to be local market rates went down for the first time I've ever known. And in my experience, now, the pendulum has swung hard the other way in the other direction in favor of the investor, the student rental landlord, as there is reduced supply of student rental homes. Demand is up slightly based on statistics and rents are through the roof. A client of mine just texted me about an hour ago, she just signed a group of tenants at rents 30% higher than her previous tenants. She now cash flows over $3,000 per month on just one house. If you've a better investment than that, please let me know. Again $3,000 per month, over $3,000 per month on just one house. If you do better than that, please let me know how how you do so in a repeatable low risk form over dinner we masterminded how to communicate with tenants if they're staying or going, what rents will be testing next week.
Erwin  
We have an idea now what's what's working through shared old board short stories of course, my old friend Ron Esteban even started a discord group for everyone in attendance and named it Irwin's student rental army. And I like acronyms. So that's Ezra are short for all of us to stay in touch. And I'm on hold, and I find it hilarious. Thank you, Ron. Appreciate the joke, everyone. Ron also spoiled my fun of being the being the youngest than the mastermind and attendance. So I was the second youngest in the room. And when I looked around, I felt like a proud parent. Looking at my clients at a roomful of my clients, they're all doing great. Some have retired, some can retire. Some are working on very expensive contract contract rates at their choice, because cash flow is great. They can't help but help themselves to the money. Several have already helped out their adult children by their first property. Almost all of them have more than one kid. So they've helped multiple adult children by their first property. They all have significant financial peace in their lives. Everyone has great investment properties that they're happy to own some of them for a decade already. And not one of them is a full time real estate investor. Again, it's my position that real estate investing for most people, most of the time is best as a side hustle. And that's, you know, from my experience, this is how real estate investing is done right? done wrong. However, it can be done wrong. I will never fit about that there are wrong ways many ways to lose money in real estate. For example, an update on Alex Soulja, who was booked to come on the show. Alex is the one of the owners of the now bankrupt Clydesdale Capital Group previously owned in partnership with buyers who will Imani aka Mark Smith, that they owe currently, just over $8 million to creditors details I've included a link to the preliminary report as filed by MMP who are the trustees of the bankruptcy. So I don't want to get into details if you want to get the details go there. I don't want to get sued either. So from the advice of Alex's lawyers, he can't come on this podcast, which I completely understand. I did, however, share with Alex that I've seen this all before. And this will all happen again. I shared with him what I thought happened. So I've been attending investor meetings and networking events since 2008. I personally know folks and interviewed them on this podcast investors with 50 100 properties 100 Plus doors, whatever. Massive, massive portfolios built over a very short period of time. Most of these were in Alberta at the time. I'm talking about like, you know, to the back into, like 2008 ish in the lead up to that that time. I saw them sharing on stages, how they did it, having raised capital, how they find deals, how they find what they call deals, how they found real estate properties. Those in attendance, including myself, couldn't wrap our heads around how they did it. We thought they were gods of investing. And we were just, you know, just messing around, we were not significant with our tiny portfolios. I don't being in Hamilton, my clients as well, whoever anyone else that was in the room. So the market turned, and their portfolios were underwater, especially though all those that were in Alberta, they were underwater. Well, everyone who invested in Ontario and BC did just fine, honestly more than fine, as long as they didn't over leverage, but save them was that their properties were at least rented out at the time that most people wouldn't bankruptcy because again, they focused on cash flow at least, even though the property values recovered from crashing down, they can at least cover their expenses. Again, this is largely Alberta, though I did know one gentleman in Hamilton who lost everything he had him and his wife had over 5050 joint venture properties, they were all sold off by the banks at a discount, he lost his home, his wife, his family, his reputation. So again, from being around a long time, I understand the worst case scenario. And the worst case scenario is unacceptable to me and my family. Therefore, we, we have a lot more less risk in our portfolio, much more slower controlled, boring growth. So this is back in 2008. During the oil crash, and combined with the financial credit crisis of the financial market, melting down, stock markets melting down, fast forward to present a new wave of real estate education groups have popped up local groups to so less local ones as in like, I'm talking about Ontario. So these are not groups from BC and Alberta, or the USA, there's new at all these new influencers, and these new networks and coaches with limited experience. And they've emerged and the new cycle starts a new cycle of FOMO starts and from what I'm seeing, not everyone but like a number of people fail to learn from history and so there are sadly doomed repeated, red flags are were ignored. Greed is unchecked private lending for the first time just last few years becomes extremely popular compared to the past. It's become popular compared to five years ago. private lending becomes popular among everyday folks, as they're promised double digit interest rates in exchange for deciding paper money money over on what I deem high risk projects. And we've seen this before with the bankruptcy of Paramount equity or like fortress, financial, but still brokers broker and lenders land investors raise OPM other people's money because their vision and mindset of abundance overshadows the fact that managing trades renovation projects and construction is not easy in my experience, made much harder in this environment where labor is in shortage, wages are skyrocketing. In Nigeria, material shortages are ongoing, long term boring cashflow, investing and wasn't profitable enough for generally isn't profitable or fast enough for anyone to quit their day jobs in the short term. So some scaled up in order to do fast flips and bursts. In order to, you know, a business of real estate investing, it's not really real estate investing to me, it's really more like a business without the operational know how resources were spread too thin. Properties are vacant when you're a flipper when you're exclusively flipping, so no money is coming in to cover those mortgages. So back to Clydesdale, their holdings, their properties were located. So again, I have the there's I've linked to the attachment and document from the trustee lays out all the properties that they own, that are involved with the bankruptcy. Anyways, just looking at them, are they looking at what cities these properties are in? They're located hours apart? There's two two properties in towns in Ontario I've never heard of the towns have had never heard of, they're spread out to the West, there's Hamilton properties to the north something as far as North Bay, to the east. Yep, Peterborough, and even have a property in Belize. Right? The owners live in London from my understanding. So for me personally, it's this is way too much risk. I've never seen anyone pull off this much scale covering this much geography and my career. Personally, I prefer boring stuff I can control within a one hour drive from my home. I do burr investing, because in my experience, renovating is such a pain in the bum. I don't want to sell these properties after I renovate them. I prefer to keep them rent them out, keep rent them out, keep them refinance them all sorts of good things. And I've been doing so since 2005. And same with the majority of our 500 clients since 2010. Personally, I only do one property. At times we've had two properties vacant. And that's because I only want the best general contractors working on my projects. And also I prefer cheap financing. So almost always are we're using a lender financing. And on occasion we're using D lender. So if you too would like to learn how to do boring cash flow investing. We do in real estate team we operate in the east and the west of the GTA because generally that's where investors can find cash flowing, boring properties. And honestly that's the best ROI I can find. Then let us know reach out to I win at infinity wealth and one of my coaches will be happy to get back get back to you and get on a call with you. We are always recruiting for those who want to be also want to be self made. Millionaire Real Estate investors in a boring, repeatable, systematic way that cash flows nice boring and safe. Hopefully you agree that's the best way to get rich. onto this week's show. We have an old friend of mine, Russ Westcott, who is was in town all the way from Vancouver to Toronto for the wealth hacker conference, Russell has owned over 100 properties, and has the battle scars and the lessons on how to invest better than he did. In an event in Alberta. Russell is a smart guy, and he's here to share about how his coaching clients are navigating this high interest rate environment with creative aboveboard financing, and a couple different investment strategies for highest and best use to create more housing units. And of course, generate higher rents for the investor on properties that invest that most investors generally don't see. Again, I've been around for a bit, I'm pretty impressed with what Russell's clients are doing. So you want to check this out. And also they're in today's interview with Russell, we talked about properties in Saskatoon and Edmonton and Niagara region of Ontario. To me this clay treat I personally love to learn about real estate investing, as always, other than learning about real estate investing. So always a treat to have the JV Jedi on the show, someone who's always thinking outside the box on how to maximize returns for its coaching clients and on his own on in on their properties. I give you best selling co author, Russell Wescott. Hi, Russell, what's keeping you busy these days
Russell  
are when, first and foremost, hang on a sec, let me move your hand over here. Let me touch you. You're real, you're like in person, like you're talking. It's not a it's not a little computer monitor. And we're talking zoom here. You're, you're like a real human being. And we're in the same the same space at the same time and warms my heart to see you my friend. Well, thanks for coming along this way. Oh, I came out just for this.
Erwin  
I got some messages after the conference. And also people were just asking about buying the recordings for the conference. And I had some people that missed, for example, client mine, their nanny was sick. So no one would take care of the kids at the Miss bass recording like you're my client, of course gonna take care of you. But I was thinking, Could you imagine like, for example, like Jessie, it's his presentation? Yeah. Could you imagine watching it on a screen versus what we experienced? It was?
Russell  
Do you mind if I have asked you a few questions? I know you're the interviewer. And there's your show. I would I had some questions I would ask you. But riff off that for a second. That was one of the best presentations I've seen in a long time. It was very engaging, very dynamic. He had a DJ on stage. And it's just, it was just, you know, people were were moved by it. And the stories and people felt something at it. And it just reminded me of why we have those conferences, why we deliver presents like this. But this week, his presentation was phenomenal. It wasn't anything brand new that nobody hasn't heard before. It was just presented in a zoo is different. It was one presented in a different way, with a different message by a different presenter that just really engaged an audience into into a masterful story. And people were just moved by like that one fellow that was trying to ask that question at the end, and he just couldn't even get it out. Because he was so emotional insert. So for clumped from, from everything. It was just that's what a good presentation from a stage has to do is it has to move an audience. And that's what it did. And I love I love the conference and just watching people and watching the presenters. And I told you in one of the breaks, you were like the don't take this the wrong way. But you are the most improved that I've seen. But the good news is, that's not easy. In the end for you, you'd be the first to say is it's very difficult and very fearful for you. And I give you props for doing something extremely fearful and just leaning in and doing it anyways. That to me, I find that more inspiring than somebody who has been doing it for 20 years and as a polished professional than doing 1000 times. But that one person that scared in their boots, and is fearful of doing it doesn't anyways is to me is more powerful than the professional that gets paid for fly around the world to go do something. Right. So you put on a hell of an event you guys did you in terrible. Thank
Erwin  
you. Thank you.
Russell  
How are you feeling?
Erwin  
Tired? Yeah, it's now Wednesday. So it's only a few days. So post event hangover probably still in it right now. But there's work to be done so here I am has worked yesterday to be Yeah, we got Jesse because we knew he kill we knew he killed from our experience now like Grant was a bigger draw. Yep. But I thought Jesse killed it. Yeah. And that is consistent feedback. We got
Russell  
he just told her he told her a message that told them more of a message from the heart as opposed to in the wallet. If you think about like grants, you know, God bless grant love them. He's, you know, let's go Money, money, money money. Jesse was all about that. But it was also about you know, he loved the way he did the pointing at the hand. He was just grounding the audience to you know, the money you make versus the lifestyle you live in. It just it's just brilliant. Like if you just watched a master of just the way he commanded the room, and I thought the DJ was
Erwin  
a cool thing to do. It was pretty good. It's pretty happy with everything.
Russell  
So you took what? When did you have the idea to bring this out to get new so let's back it up. I'm taking over a different show here for this is the truth about real estate investing, featuring Russell Wescott integrate Erwin Zito today. So you you did the event in 2019, which was the last time I was on an airplane was the company three years ago. And you guys had a commitment to do one in 2020 Wasn't that you made a commitment right away at that time?
Erwin  
Not right away. It was it was like a few weeks after a few weeks after.
Russell  
So you were committed to do 2020. And then something happens.
Erwin  
Yeah, I don't know what happened. We just got lazy
Russell  
person that you had planned at that time. Do you know or do you know who you had?
Erwin  
I actually had offers on some other folks. Okay. And didn't work. We had Jesse picked as well. Yeah. Because we seen him speak. Check his program. I loved his books. Yeah. So pretty quickly. We had we had Jesse signed. Yeah. So thank God, we signed him back then. Yes. Cuz his price tag went up a lot. Has it gone up? So you've made grants price tag is as multiplied. Oh, really? Yeah.
Russell  
So then you you pivoted and said, Okay, we have to postpone this. And then we're going to just kind of wait, you're going to wait until 2021? Or when did you finally commit that? We're going to okay, we're doing this in 2022?
Erwin  
I think at the beginning of this year, we set the date for November. And then you even What did you say from stage? Did
Russell  
you guys have bought, we bought insurance bought insurance, cancellation insurance,
Erwin  
because she knows what's going to happen. And we're talking about mass mandates here now. And then you
Russell  
essentially had to, you know, the whole cycle of putting on an event of that size or marketing everything you had to probably Park businesses for a while. And I think was it you were I heard something that you'd said that maybe you even sold somebody, oh, you pulled some money out of the stock market out of some out of some funds that you had to earmark it over to this event, because it's all front loaded. These events are typically you pay upfront for a lot of this. And you don't get any of the revenue started coming in until some tickets start coming in. And it's more of the last minute than then even if you have an offer or two or things like that it usually doesn't come in until post event. Because so you don't know what the results are going to be for probably another six months
Erwin  
accurate. So anyone who is looking to do an event, like understand that, that is the truth about running an event. Chair and I don't get paid. Yeah, like we're just working for free to put on the event. We have all the staff that we have allocated towards running the conference, which is like a business. Yeah. Right. So it's very expensive. It is very expensive to run an event. And then for someone to fire the cars in the parking lot afterwards, and not speak to us and not contribute anything towards the conference. And also what their firing was competing directly with the sponsors that are inside the room. Yeah, right. That's bad taste. Yeah. Right. They didn't put any money up. Right. My sponsors did I agree. You learn a lot. Don't you learn a lot about people in general, whenever we're doing business.
Russell  
So now we're 48 hours post event kind of thing. After every event, how are you feeling about it?
Erwin  
Like always, could have done better? It's tough. It's a tough hand that we've been dealt, though. We're in the middle of the recession now. Maybe not technically, but I feel it. I see it. I see with our real estate clients, for example. Anyone? Look can look at the markets. Yep, stock crypto, whatever. Everything's down. Yep. All right. So people are definitely not comfortable with where things are.
Russell  
Yeah. And then there was a little crypto announcement this past week have something to do. I've just I just sit there and go anybody who's in that space. I go, please try to explain it to me. Now remember, I'm just a simple farm boy from Saskatchewan. And it's just crazy. Some of the
Erwin  
same. This is like our our Enron Is it the Enron of our generation? Yeah. But it's just it's just ridiculous. Thankfully, the log cabins are insulated though, because it was only available to Americans. Okay. To be on that exchange.
Russell  
Wasn't there something about the Ontario teachers pension that had something in there?
Erwin  
Yeah, they're gonna have some explaining to do. Like how, how they chose that as an investment. Right. And that's actually a good lesson for anybody. I think. I'm seeing it myself, like what we're talking about here with with the volunteer teachers making like the product like I think they lost like 90 million. That's what I'm seeing right now. But how did you choose that investment, but I'm seeing the same amount of small investors who are losing money going bankrupt. And like I look at the deals that they do, I begin to them, like I've reviewed two that were specifically in Hamilton of a company that went bankrupt. And like I would never have touched these deals,
Russell  
even during the biggest run up at the same time. It's just so I was I found it quite funny now. Now it makes sense why Tom Brady has gone back to work I guess.
Erwin  
We saw a recent interview. He mentioned he wants to play in the CFL when he's retired from the NFL, and one day he won't be good enough for the NFL. But what's next right if you need to work what's next for football player? Actually no, he could have lots of careers he can work in sports casting, whatever it may be coaching, but he mentioned he liked to play the CFL.
Russell  
What is he like 40 to 43 years and even older, something like like he's still performing on an incredible
Erwin  
I know. But if he can't go forever, he won't be hit by linebacker in the CFL. Yeah, I know. It's not an NFL linebacker, but I'm pretty sure they hit pretty hard in Canada too.
Russell  
Well, so it was interesting on one of their presenters, Derek Foster, I really had a really good conversation with Derek I've met him He's a good dude. Like, he's just salt. He's Canadian. Yeah, he just salt of the earth, kind of a Canadian kind of guy. Overly humble. It was crazy, like comes out in a plaid shirt and khakis. And it's just like, it
Erwin  
just means the raccoon hat.
Russell  
Just needs Tim Hortons just is. So we had a wonderful conversation. And we were just saying, you know, like, you know, we're kind of in the world of, it's called the advice world in some respect, content, greater investment, whether it's real estate or stock, or, you know, things like that. And he said, whether, you know, if we were professional sports players it goes, our careers would have been probably done, you know, your shelf life isn't till you're 28, maybe 30, maybe 32, maybe mid 30s. He goes, what other profession then investing? Do you have more value the older you get. More he said the the analogy is, was that Warren Buffett's What 92. And he's probably a better investor now than he was when he was in his 50s. And the more experience you have, you can just draw upon that experience. When you're doing your investment, or also draw upon that experience, when you're giving your advice to people that you're coaching or sharing or creating content for. I just find, as I get older in this business, I just see more patterns, repeating and coming around. And that pattern that you told me about deals on paper looks terrible. I've seen that I honestly I saw all those kinds of things happen in 2006 2007 2008. On the prairies, I saw those kinds of things. And at the time, I'm not pointing any fingers at anybody that they did a bad job, I did the same thing. I one of the biggest mistakes I made in my investing was during a peak of a market. And now I can only use hindsight to tell me it was a peak. But the signs were they're no different than the signs were coming here in Ontario, it needed a correction, the signs were there that I doubled down. As a matter of fact, I probably bought another 40 or 60 places at a peak of a marketplace in Alberta, as opposed to what I should have been doing is I should have been pulling the chips off the table in Alberta, and moving that money into British Columbia again and an Ontario again, as opposed to doubling down at a peak. So then fast forward to what I started seeing happening and 2020 2021 and 2021, February 20 actually have the post that I have, and I've now released it to the public, but to my inner circle coaching clients, my inner circle, members, I put a post out and I said guys, I'm starting to get a little nervous and I'm getting my spidey senses are tingling about Ontario and British Columbia, the prices are starting to go faster than the fundamentals. It's outstripping the fundamentals, I put it on everybody on on awareness, be aware. And then as it continued going, and it got even worse, I especially with my personal coaching clients, I advise them very strongly now they do what they I can only lead them to my insight, my answer to what I believe is happening, they have to take their own actions, I don't ever mandate to anybody, because I always want part of my style is you need to come up with your own decision, you need to kind of take accountability and ownership to your own decision. And whatever you once you decide I'll support you on your decision. And I will tell you if I think you're going down the wrong path, but you still have to make your own decisions. I'll never tell somebody that you need to do this. It's something they have to do on their own. But I strongly encourage a lot of my coaching clients, British Columbia, Ontario, start selling your dog properties, take the 8020 rule, the 20% of your properties that causes the eight most 80% of your most of your problems, divest, sell it get into cash and take a look at Alberta again. And many of my clients did that. And then some of them kept a few, some of them still doubled down and bought a few more flips and things like that. But I started warning people in February 2021 to start pulling out of a few frothy markets to go into the next up and coming market. And the only reason I could tell people to do that, because I lived through it by doing it by doing the opposite and making the mistake in 2006, seven and eight. And that's just experience and being in the game long enough and being able to survive long enough to be able to pass that information on to the next the next investors like this A lot of people that we just chatted about this before us, lots of people out there right now that have only been in one market, straight up and 0% interest, and it costs don't get me wrong, I'm extremely happy that a lot of people made a lot of money in a very short period of time. But now they're starting to see the other side of it a little bit, too. And some people are getting worried and some people got over leveraged and, and there's the old saying out there is, um, what is it, I may get it wrong, but, you know, timing the market versus time in the market. I 100%. Agree. And also, sometimes memes are like bikini bathing suits. Right? What they reveal is exciting, but what they cover up as vitals. And here's what I mean. It's an old an old economics joke. But here's what I mean. If you ask somebody if timing the market is important, if somebody bought a place in February of 2022, in Eastern Canada, and they're now sitting here at late 2022, out here in Eastern Canada, do you think that the time that they bought the property was of interest to them? Absolutely. So I believe those two things don't need to be mutually exclusive 100% time in the market, play the long game, be in it for a long term. But if you bought that asset, today, the same place that you bought in February of 2022, and you bought it November of 2022, you arguably could have got it a couple $100,000 cheaper now. And that's that's a big difference in that short period of time. And if it made sense at that time, at that price, it would make even more sense now. So timing does, it does matter. Now, you'll never get it perfect. And it's a fool's game. But it certainly does make a difference. If buying during a peak versus bottom to market.
Erwin  
They were buying for like 30% off what it was in February now.
Russell  
And I had some conversations with people and they're going well, is it going to keep going down? And I said, you know, I don't know, maybe? And I'm gonna get more. And we'll get into and we'll get in. We can talk more about that. But But then here's the conversation I said with them, I said the following is, what do you believe it's going to do? And they go, I don't know, that's what I'm asking you I go really what do you think it's going to do? And some people come back that was probably gonna drop another 20 or 30%. And I said, Okay, so here's what I would suggest you do, factor that in to an offer you're going to make on your place, and let the seller tell you if the if the market is going to come down or not. Most times, they'll probably tell you to pound sand, they probably won't sell it for that most times, you might get one but at the end of the day is if you believe it's going down, factor that into your purchase prices. And but don't be surprised if you don't buy a lot too because because what we're seeing it's been no we're talking mainly Ontario here is um, and you know, the numbers better than I do, but I pay attention is we're seeing an awful lot of people sit there they listed their place. Oh, not gonna get it contracts have expired. They just pull it off the market? Well, we just won't sell it. We'll just wait for new thing. And listings are at an all time low right now. They're as low as they were like in 2008, or something ridiculous.
Erwin  
Because if you're not motivated, why would sell in this market?
Russell  
So people are sitting there go on and buy all these cheap properties. There's not really anything on the market to sell.
Erwin  
And what we are seeing the market, it's a state sale, or renovation gone bad. Yep. And then typically, estate sales is just tired property. So someone's got to come ready to do significant renovations.
Russell  
So that's one of the things that I'm looking for in this market. So I have I have cautious optimism for this market for this market. So the way I describe it to people they asked me if you guys are asking me is I look at it in three phase, there's a short term, medium term and long term. So short term right now it's not pretty, it is ugly. Cash flow has evaporated interest rates have gone up to try to fix it. It is there's a lot of fear because a lot of people have never haven't seen this in there. So it's a lot of people are sitting there going I have no idea certainty is a very powerful human motivator. And nobody is really certain about what's going on right now. So when people are not certain or they're not feeling comfortable, what do they do nothing. And when you have a lot of people doing nothing, we're seeing exactly what's happening in the marketplace right now. Realtors businesses are getting pulverized many mortgage brokers are not getting any business come in throngs are way off. Exactly. So short term. I'm concerned. I'm very concerned, batten down the hatches do what you got to do to get through this if you have some alligators, either, you know, get really clear on what's a cost versus an investment and get really clear on those numbers. Right? And if you have to, if you have to get rid of a property, you are Disney plus get rid of it, right? Yes. Thank you. Chrystia Freeland, I'd much rather I'd much rather they defund CBC and save us billions of dollars, and let the CBC tried to make it on their own as its own viable business as opposed to having every Canadian cancel their Disney plus, as you could probably tell my leanings towards five political
Erwin  
views, they turn into another clickbait outlet. So just be off vomit.
Russell  
So short term concern, and gotta do what you got to do. However, some people are just chomping at the bit right now I had a couple conversations with people who are just rubbing their hands right there out there aggressively writing aggressive offers to try to pick up some property. Some people that had left the market in Ontario, are now starting to come back and take a look. But they're the ones that started implementing a strategy about 18 months ago, and they probably got into cash quite a while ago. Right now, what I'm helping out a lot of my clients out in this marketplace, is we sit there and we'll analyze the property. And we'll take a look at it as Okay, line by line property by property, you have a place does this property have like an big piece of land attached to it that you maybe down the road when all the new density laws come in? That you can put a garden suite add two or three more units? Okay, there's some huge upside value to it. Is it at market now? Or is it below market? If it's below market? You know, you can't raise the rents? One client came to mind? Was there $600 under rented on their place? It's on a property all my places. Yes. And they can't get the rent up. You know, the Go figure 2% per year doesn't make up to $600? Is it 2%? This year? What was it out here? Yes. Two, I think two and a half.
Erwin  
There was there was low twos. Yeah, you're in Ontario. But I don't
Russell  
understand. Wasn't it supposed to be for inflation? But isn't inflation running? Like seven 8%
Erwin  
is supposed to be based on CPI, but it's nowhere close.
Russell  
I guess it's not I guess it's based upon votes, I guess. So anyways, we come back and we took a look at the property. They it was kind of like a townhome, he kind of a co op, they didn't have the land, they couldn't add anything more to it. They were under rented. And there's already highest and best use. Already. It was already maximized. And they did very well with it, to be honest, over the last four years and went up significantly in value
Erwin  
more than doubled. The bottom 2018 they did pretty well. Yeah, they more than doubled. Right. So when sorry, their their investment of their property. Investment Property. Oh, sorry, their they doubled.
Russell  
doubled in that doing okay? Yes, very well. Now, six months ago, they could have probably done a little better. But so we decided that the time was so let's just play this like a game like a game of chess of game of cashflow is they've put it on the market to sell, they had to reprice it a couple times, and based upon what they're going to get for it, and they'll stay now have two offers. And I think the accepted one, they're closing very soon, they're going to take the cash from that they're going to pay off their principal residence, free and clear. So let's say their mortgage payment was 2000 bucks a month, they now have an after tax savings of $2,000 cash flow per month. And the main thing I made sure this fine note is if you're paying off that mortgage, let's make sure we do it tax efficiently in contact cherry and and I think they did just make sure they're doing it correctly. But make sure you have access to that money being RE Advanced in a line of credit, then what they're doing is they've taken that line of credit, but they now have let's upwards of four to $600,000 to then go to another market that's at the bottom of a cycle that has a greater chance of cash. And that's what they're doing. And if they are really concerned that they need to have cash flow, I said, What do you guys have enough line of credit, you can come in all cash and your line of credit, just buy it outright, and then wait a year or two, when interest rates potentially, hopefully will come down again, we'll talk about that if you'd like to, and then you can refinance it at that time and put a mortgage in place and bring it back into the line of credit. So you just have an interest only payments for the next year or two. Right? And that
Erwin  
helps your cash flow because it's interest only. Yeah. Which is what I'm doing myself several rock mortgages.
Russell  
Yeah, so it's just playing the game smartly. Great. So that's example for most people. If you're sitting here and if you've owned a property in this marketplace, for better part of three, four years, you're probably legitimately up three $400,000 Depending on the property, obviously, you've done very well. Now it was better and it's gone down. If you do need to sell a place you probably have done okay, now we're in where it gets to be a challenge and this is the challenge that I faced at the time is so let's say you bought said property went up $400,000 And you just kept sucking every dollar of equity out there refi till you die program and you just kept buying more and more and more at at the peak at the peak at the peak at the peak and you took out all that equity sucked out all that equity you bought at a peak now there's there's some problems there. And how do I know that I did that? That's what we were doing is our Alberta marketplace in 2006, seven and eight. The analogy I use it went to Vegas, and it went on a bender and it was growing 74% appreciations and it was just going ridiculous amount don't have numbers. And what everybody was doing was just sucking every dollar of equity gain that was coming out of it, borrowing it boring it all and then putting it into another property at the peak. And all it did was the market took was just to take a little bit of a turn. And there was an awful lot of people that, you know, the music game of musical chairs that stopped and there was no chair to sit down on.
Erwin  
So there's no more capital left to raise. It all dried up kind of feels like right now.
Russell  
100 said, No, I'm not trying to put the fear of panic into anybody. And I have a feeling as I was probably telling those mistakes that I made. I'm not making anybody wrong, if that's what you did, because I did it. And I coach people and I told people and I tell people to do that. But I've learned those lessons. That was 15 years ago or so now I'm just a little more measured on the Cavalier nature of using too much leverage the same time. Like, I'll give you an example, old current coach versus previous coach, previous coach Ross was let's just go forward full on full bore, you know, let's no matter what happens, we'll figure it out. The market will take care of you. Alright, so I'm working with this young fellow out of Calgary. And he's doing he's on a second transaction. His second deal is a he wants to do a flip. And I said, I strongly encourage that, let's do this. So he found a wholesaler. He's getting the property from the wholesaler. He analyzed the numbers, I analyze them with him. He had the private lender, Kelvin home mortgages, analyze the numbers as even a third party outsider analyze numbers look good for a flip project. I said, Okay, do me two more safety factors. If this property doesn't sell for what you can get, what's your bottom line? And let's say it goes into a loss situation. You can't sell this for what you would like to get. Are you able to refinance it with a tier one a lender rented out and hang on to it? And would it cashflow? So he did the analysis, he found out that his his fiancee would then be able to get a mortgage and they would be able to rent it out. And it would cashflow. Okay, check. Even I said, Let's do one more risk mitigation. If you couldn't refinance it, your girlfriend couldn't get a mortgage, would you or your girlfriend be willing to move into it? Put your current lease at separate places put one of your places up on the rental market have that cash flow? And would you move into it and live in there? And he said, Absolutely, we would. So I said, now you have my blessing to go forward with this with this transaction.
Erwin  
So for those for those listening, wrestled that the the blessing, a blessing.
Russell  
And the reason why I gave my blessing fully is because he has three, three plans in place. And I'm a firm believer in the more you have mitigation and the more training you do, the less you will probably have to do it. What does the old saying it's like sweat more in training, bleed Less and More. I guess that's maybe a butchered than old stoic philosophy saying but but the more you've done your homework and the have all these extra strategies, the less you will probably need that. So lo and behold, he puts the house up for sale after a four week renovation. In the first two days, they had an open house and I think they had an offer within a week and tomorrow, the condition should be removed, and he's getting $5,000 less than his outrageous price that he was forecasting to get. Wow. So he's able to and that's in Calgary, just as an FYI. So you can still make good money in Calgary. And what he did at the same time, when he was analyzing all the numbers, he looked at it and he's, you know, doing his financing it himself through his fiancee, and he's paying her the lender fee. He did a lot of his own general contracting because he's a project manager. Like I use the term I hope we can swear on your on your show here. Remember the movie The Martian? When there's that old saying Matt Damon is gonna have to science the shit out of this. That's what he did is he literally He's like, he's like the best GAAP charter I've ever seen. Like, he's a project manager by trade. That's what he does. And he just literally have this thing line by line who's doing what it's doing. So he GC does own project, and he saved a lot of money there and just sub different areas and scripts and construction. Nope, sorry. He has experienced in some building project management, but he's never ever done any construction. Okay, okay. And then he did a few things himself, you know, just to do part of it. And he's gonna do it very well. I bet after it's all said and done, he'll net out and anywhere between 20 and 30 grand. Fantastic. Yeah. And in a four week plus for 810 weeks. Right. So so the point I was trying to get to was current older coach Russell made sure that we had a lot of risk mitigation in place before really pulling the trigger. Coach 15 years ago would have just said, you know, hell bent on election let's just do it and figure it out. And and, you know, sometimes it'll work out but at the same time, it can be, it can be a lot less painful,
Erwin  
right? Because for example, actually Have a DM one, one gentleman who paid 12,000 for coaching, he lost 200 grand between three flips? Because he did not. I asked what happened. He said, I didn't properly plan my exits. I'm like, didn't you review that with your coach? No.
Russell  
Well, on two hands on, it always takes two to dance. So you know, I'm not ever blame anybody. But at the same time, if you are paying for a service, and you're not getting the service, you have to be very adamant to make sure you're getting what you paid for her and on one hand, and but at the same time as as a coach, I know it's a little black guy in the coaching industry, if you're not able to give advice to that's your job as a coach is to be that sounding board for the enthusiasm. Because a lot of this people just put this way, when somebody enters into a coaching relationship as they're being coached. They're a high performer already, right? They usually don't need motivation, they're already motivated, what they just need is they need the guidance, and they need to be pointed in the right direction. And they need to know if they're going to be stepping on a landmine in advance. And that's really what the coach needs to do is they need to really help them not step on those landmines. I'll give you an example. Someone we both know very well, Mr. Joe Costanza, and on your podcast many times, he and I have worked together for a couple years now. And I've been a sounding board for him many, many times. And some of the times he comes, he goes Ross, he goes I'm, I'm a little nervous. Okay, well, let's talk talk me through it. Walk me through it. He's having a conversation. How do I handle the conversation with Mom and Dad, it's going down. And I was just out of this project out in Hamilton, which you're very well aware of Tammy I think was helped instrument that too. And we just walked through the numbers, and it's a rock solid deal, even though a year ago, the cash flow would have been $1,000. And now it'd be 400 or 604.
Erwin  
was Joe,
Russell  
exactly like but still isn't that isn't that much better than starting at 400? Now it's negative. Right? So it's just having that sounding board of somebody who's been in the trenches, and that's there with you. And one of the hardest jobs I have as a coach is to take somebody who's operating at a high level already, and even get more out of them. Like that's, that's difficult to do. And you know what it's like you have lots of coaches in many respects. And Marianne, is she she's still a coach, to get you who operate at a high performing level already to get even more out of you is a lot of it's
Erwin  
hard work. Right? Pirates is trying to work smarter versus harder. This district, right? Yeah, I'm gonna work hard no matter what my as well, where should we work hard? Correct. Right. So that's, that's where we're, you know, again, that's what we're trying to do for next year.
Russell  
And what happened over the last three years, is what I would call the rise of the people that did stuff turn coaching, many of the coaches that are probably out there, don't get me wrong, I'm probably taken lots of action. And they've taken lots of, and they bought lots of properties. And maybe their intention was a little differently because I've, I've talked to a few of them, their intentions were to take lots of action, put a group of people together, become their coach, and then sell properties to that to that group. Like that, that coaching that model is as old as time itself. Right? I've done it myself from time to time I have stopped doing that probably.
Erwin  
Russell, to me, that has to be the model. Sorry, not has to be I actually was someone I know it was a cousin of a good friend of mine was raising capital directly to their phone on Instagram. Right so the you know, Instagram Live, whatever, whatever recorded video, I'm looking to raise capital for this project. I got going. I messaged DM Tim and said, Dude, please run that by your lawyer. Yeah, yeah, he's directly raising capital from Instagram. Yeah, social media publicly. Right? Please run that through your to your lawyer. Here's what I do wrong. He's like, Well, ask your lawyer. Then he says, What should I do different? I said, offer coaching instead. That's what everyone else is doing. They offer coaching, which is not a security. Yeah. So you're not fighting the Securities Commission violating securities law when you sell them on raising capital. Yeah. Because all that's why everyone's selling coaching and like, yes, exactly.
Russell  
So So I believe that intention has gotten a little off. Like, if you're going to be a coach, coach and be there for that person, don't don't coach somebody to have a group of people to sell them properties of your investments.
Erwin  
But that's the reality of things right. Yeah, lots of lots of not all of them, but a lot of them they are
Russell  
coaches is a in service for the client to help get the best out of them not to sell them more stuff. That's my personal philosophy. As a matter of fact, I've actually taken the opposite approach. And here's the opposite I've taken with it is if I've done a good job of coaching, and how I measure if I've done a good job of coaching is their accomplishments will far outweigh anything I've ever done. And as matter Fact, they're probably a better real estate investor than I am. And I want to add, one of the things I'm weak at is the operations of a business. I'm not I'm not good at I'm good at ideas, vision, promotion, inspirations, capitalization and raising capital. I'm good at that. I'm not that great on I don't have a cherry. That's the really the operator of the business.
Erwin  
So there's a big difference between like Tim Cook and Steve Jobs. Correct, right? Yep. In my opinion, dapple would not be as successful as it is without without Steve Wozniak, for example. Do you need someone that can execute? Yes, right? You need someone who can sell as well? Yep. Right. So everybody's got
Russell  
their role on the team, right. And so I've identified that and then so what I what I'm then identify with the people that I'm coaching, and if I've done a really good job of coaching them, and they're fantastic business, I want to identify the amazing business operators. And when I identify the amazing people that have these wonderful projects, probably better my projects in some cases. And then when I'm going to do is I'm going to as I'm going to bring capital in invest in their project, like Case in point on, when I was going to I'm going down into the states, just dipping my toe into the Texas market a little bit. So I've aligned with somebody who I coached a long time ago, trained him, not one on one, but through when the days and rain and he just saw what he's done. He's just doing phenomenal. He's got a brilliant business model. And he's just doing phenomenally sold a good portion of his portfolio out of out of British Columbia. He's moved his family down into Texas, and he walked me through Austin Austin,
Erwin  
is funny. If it's a Canadian, Texas, it's usually Austin.
Russell  
Well, maybe the Americans would call it I call it the Alberta of the US. Americans will probably call Alberta as Texas. But I call it it's almost identical, like honest to goodness with what's going on, same thing, low taxes, no land transfer taxes, money flowing in people making good money, you know, lots of infrastructure being spent corporations actually hiring people, lots of stuff. So what I've done is, I've identified those projects. And what I'm doing is I'm bringing capital to invest into those projects. So I'm as the coach investing into their projects, right. So I think that's the way it should be, as opposed to the other way around. And don't get me wrong. Like I said, I haven't had a coaching client, I haven't offered up one of my projects or coaching client for probably about four or five years at least. And but I did before that, and it was the model. And I probably taught the model to be honest, and probably people would just learn that type thing. And and is a very good model. But it always does come down to the intention of that. If your intention is to just make sure you put good people together with good projects and do whatever it takes to make sure it works out. It doesn't always that's unfortunately, sometimes things go sideways. Yeah,
Erwin  
we're seeing that now with the market can save a lot of these projects that are being sold by coaches. In this reality of things, you know, then that's what market corrections do. They'll flush out the weak properties, the weak deals the weak hands. Yeah. So that's capitalism. Yep. Right. So unfortunate. So awesome. Love to hear more about the Austin deal. Something we were talking about before we started recording was two things. Two things before we forget. I want to get to this Saskatchewan success to to Saskatoon rent to own for small businesses. We'll get there. But before that, I asked you for an update on what you're doing in Edmonton. Because last time you were here, you talked about you weren't doing duplexes before. But then you've usually had since pivoted to townhouses, and how scheef You've actually improved upon the model even further.
Russell  
Well, so the model is still the same with its new construction. Yeah, and we can get into there's a long reason why and the reason why I came to that conclusion as I bought older, deferred maintenance properties and bad areas with bad tenants commonly use as well. And I just, I took that in the shorts for many, many years. Once I pivoted over to a brand new construction model, it was like a breath of fresh air, you get a completely different tenant profile and your maintenance bills, you get no phone calls, rents come in, they cashflow very nicely set it and forget it model.
Erwin  
Warranties stuff is warranty, new home warranty,
Russell  
you know, if you get a phone call, and it's still under warranty, if the furnace went out, it's under warranty, it costs you maybe $250 for the service call because you can't write it off. But if there's something that was wrong with it, they fix it for free. Right, all kinds of things like that. So what we've pivoted from a little bit is because here's what's happening in Edmonton is Edmonton is now densifying a lot more. It's it's taking older houses and you potentially can knock down an old house on a large lot and build three side by side townhomes with suites. So where there was one, there's now six, and so you're seeing lots of those kinds Add things and I'll give you an example. Yeah. With some numbers and I might not get all the numbers correct. This is just one of my clients and we just shot a video out on sites I'm doing this so he bought a house in Edmonton inner city, like right off of the gold train is going to be like, you know, within 1000 1000 meters then a plumber or not the GO train that's out here. There's the Edmonton transportations, new stations coming in. Bought a house for three and change. Okay, for a house with
Erwin  
a large lot like how large like on 75 foot wide?
Russell  
Yes. Okay enough to put three townhomes on it. Right with a detached garages in the back. So Wow. So big. So knocking down the house. And he's building three townhomes side by each with suites, detached garages in the back and actually has approvals to put garden suites above the garage as if he wanted to, he literally could have nine units where there was once one house chose not to put the garage suites up yet because there was not enough he felt there was not enough parking. Sometimes you if you can do something doesn't mean you should. And it'd be just too many people in that footprint, but he can do it and you can potentially do it down the road. So build cost, and that's about 1.2 million and change, he'll be into a for let's call it 155. It's appraised for one seven and change as a fully finished done, then he's going to during that process, he's going to do the MLA select program, and finance up to 95%. loan to value 50 year amortizations. So into it for one five for six units, brand new, and those will rent 33 per stack. So what are we talking just shy of 910 grand a month. That's awesome. And that's that today's rental numbers in a year when the construction is done, I guarantee that will be close to probably 11 to 12 grand, the way the rents are going right now. So let's call it let's just for conservative, let's say getting 10 grand per month and rental on a $1.5 million build the values that 175 And if he gets that 95% loan to value 50 year amortization, the cash flow is going to be great. And he could pull out every dollar plus. That's fantastic. Yeah. So those are the kinds of things that do that. And so with my best business relationship in Edmonton, and I call my partner because he's my partner in crime is business partner, Jason, he finds those places all those kinds of deals all over the place. Love it. And I love a repeatable business that or give me another example. Client out of Saskatchewan, busy veterinarian, he found we found him a eight unit townhome project four in the front, four on the back for 300,000 each. So eight 3.2 million. For a brand new townhome, he owns the entire project, he doesn't have to put condo fees into it right? At 300 Each, or they rent for about 2200 each 2200 times eight, what does that 16 Let's call it 1718 grand, you're close to 18. Right. So he now controls the whole eight units. And then over time, the advice I gave him when I was talking to him originally is I if I were you, what I would do is I'd hang on to that and just rent it out for seven years. And then from year seven to 10, I would start the process of selling them off individually one at a time. And the out of it by year 10. Before the maintenance before maintenance has to start kicking in. And before you have to then start doing it have to probably set up a strata after you've sold 50% of them. Once you don't have 50% ownership of something, you have to set up a strata.
Erwin  
That's what you pay CO for coaching, right?
Russell  
So so who's the advice so he's just gonna He's closed on it. He's only it's gotten rented fantastic tenant profile, it's all 100% manage, he's still operating his vet practice. And he's just going to wait for seven to 10 years. And then he's going to sell them off by by the by by the yard sell by the foot. And with that one transaction buyer wholesale sell retail and that one transaction, just that one deal. So at 3.2 million, what is that they're into it for 400,000. Give or take three Yeah. What is that? So what's 20% of 3 million would be 600 600 right there into for 600. So with that one transaction gone through right to the end, that could be their family's pension plan with just one deal. Right, and he potentially doesn't have to buy any more if he doesn't want to, and he's just gonna pay it down and then sell it off in a marketplace that in my opinion is just Starting as next growth cycle, or Badminton, badminton, yeah. And so there's lots of just different opportunities like that like, and then, you know, talking with Jason, one of the things we were always trying to just remove barriers for people, right, remove barriers for people to get into properties. One of the biggest barrier right now is, you know, it's I'm always honest with people and I tell look, a year ago, these places that I'm going to that I show you would be anywhere between, say, four to $600, cash flow and perform and now they're like 100 to negative 200. And especially then if you financing your down payment, they're negative, they're negative cash flow, right? If you're using your HELOC for infusion, your HELOC for down your down payment. Yes. So I'm just honest about that. So So Jason and I are gonna go well, how do we? How do we solve problems? So one of the problems that we're looking to solve and it's still early in the phase, like, we're just testing it out, right now we've got all the approvals, and he's got his brokerage on board. But doing this, and how to do it the proper way, like with all everything 100% documented, is we're looking to build property management fees for two years into the into the purchase contract. So essentially, you prepay your property management for two years at closing, that money would be distributed to the property manager, you get a little bit of a discount, because you're prepaying. But you now have no property management for two years. So that's one thing, the second thing you're looking to do is to potentially go to the builders and say, Look, if they have inventory, if they want to sell something, if they're motivated, instead of maybe given a giant discount of $20,000 off the price, would you pay property taxes for the next two years. And they would do it as a whole back where they put in the account, property taxes for the place for two years in the lawyer's trust account, which would be distributed. So if you had no property management and no property taxes for two years on that property, that property is now cash flowing for the next two years, during this high interest rate environment. In two years, the interest rates are going to hopefully drop which I think they will but they might not but let's bank and they will every forecast I'm saying and you know, 18 months to two years will probably be lower. But also you have two years for rents to get up. Right. And the way I've seen rents are going in Edmonton right now. Rents are, in my personal opinion, are significantly under rent and even though they've gone up, and here's the example I would use out here in Hamilton, you guys call them duplexes, we call them houses with suites. I was just out there. So in Hamilton for a house with a suite of nicely appointed it's, you know, it's not brand new, it's you know, the typical 1950s Pittsburgh been renovated, you're getting anywhere between 38 to $4,000. For those kinds of places now, right? And more for its renovated recently. Yes, so let's let's call anywhere 38 to 42 for the whole house, between the the lower suite and the upper suite in Edmonton, my brand new properties are now just pushing 30 to 3300. So in my personal plan and your house with a sweet house with a switcher. So between the upper and the lower, it's brand new, yes, brand new, are getting like 32 and change. Okay, now I'm gonna probably either defend Edmonton or or Hamilton but But I look at those two markets very similar Edmonton and Hamilton and very, and nobody can convince me that Hamilton should be an $800 premium to Edmonton in rents. I can't see it. I just don't see it. Right. The one thing I do see is that there's rent controls and rent controls every rank, the top market is always higher priced in rents. Without question, you will see that so I believe that Edmonton is just starting its rental increase run too. So if you buy in now you have two years of property management paid and you have two years of property taxes prepaid in two years your rents are up you then take over the property management plus the property taxes plus with a lower interest rate and a higher rent you're now cash flowing again and it's been maintained during this transition time. And you got all the mortgage pay down you got all the appreciate now, buttons as part
Erwin  
of their wrestle this first I've heard this, I love it. I love the creativity I love and you're already getting this done. As long as the property appraises.
Russell  
The biggest thing is to make sure that the property has to appraise. Right, right, right. But what we're just doing and here's just some of the numbers we do if you're buying a new property many times the builder will give you until recently, the builders were offering like discounts like they would offer you know 1020 30 Depends on how many like how motivated they were to sell. Those discounts went away. Just recently because everybody
Erwin  
the market was hot. The market population is going in Alberta,
Russell  
and absolutely just had the last quarter we just had they added 42,000 People have told her interprovincial migrants that wasn't out of country or birth so that was just interprovincial right. So I was driving in from Sudbury today and I drove through Innisfail which is 37,000 on the side. That would be like adding Innisfail Innisfil as well. Innisfil that'd be like adding Innisfil to Alberta in the last quarter. Yeah, that's been four quarters in a row. Right. So it's probably been,
Erwin  
the trend is likely gonna stay that like that busy. Is it not?
Russell  
It hasn't been slowing down. Right. And you know Edmonton say Edmonton is slowed, the sales have slowed a little bit but but holy moly yum. Could just be Calgary. It's Calgary has been like the darling of the country Calgary is up 9%. Year over year sales are up, everything's up and and I always use
Erwin  
and they've been they've had a really tough go. Yes. Well, I always use
Russell  
Calgary as what's going to happen to into Edmonton six to 12 months from now. So I'm seeing all this growth. I'm seeing this happen. They just announced a couple days ago of a half a billion dollar, world's largest hydrogen plant that's going in just outside of Edmonton. And that's coming. And the other thing is, it's funny, I thought, everybody, I thought everybody always knows everything about Alberta, but they just had a $14 billion dollar budget surplus on their budget surplus, 14 billion. So what the provincial government did
Erwin  
is then transfer payments to Ontario.
Russell  
That's after transfer payments Ontario. They still have. So what they've done is they've re indexed all the income tax levels in Alberta. So what does that mean? It's fancy talk, meaning that people in Alberta will have more cash in their pocket. They'll pay less in provincial sales and provincial income tax. Couple that with no PST. They're paying less than a buck 40 A liter for gas. They're buying housing for the price path. In many respects.
Erwin  
What's the average price of the house Calgary?
Russell  
in Calgary? It's a little bit more, but in Edmonton
Erwin  
100,000 What is what's averaging? And
Russell  
Calgary you're probably for you're probably five or 560 600,000
Erwin  
Yep, that's fantastic. Yes.
Russell  
And, you know, I'll give you an example. It's really I have a property right now I'm selling one of my joint venture partners is wanting out turned 82 just said Russ enough's enough. I'm out I don't want any do any worse. No problem. So we put up we put up our half we have half duplex. And on the side by side common wall between nice property. semis. Yeah, you call them semis. Yeah, it's 20 years old that needs some paint. It's got the old go figure mushroom basket brown in there that because then painted years old floor it needs paint and flooring, right? But it's it's it's actually a really nice property. It's $209,000 $210,000 for semi for sale. Yeah, right. And my partner's going Well, geez, well, we get somebody I go, you know, it's called Joe. I said, Joe, I go, it's $210,000. Like, it's like, we're not asking, you know, something like that, where I live in Vancouver and area. 800,000. So you're getting, you could buy four of them the same price. Right. And a good friend of mine. Like there's so many people that are just too quick stories. Edmonton has been known as I think they call it a zoom town a little bit because you can actually do your work from on Zoom nowadays. So you just go out and one of my clients goes out there and they've, they've bought a property with a garage suite. They lived in the garage suite. They work in tech, they can work anywhere in the world, because most of their contracts are with large companies and they just do their work out there. They bought the garage suite, they live in the garage suite, they rent the house. They do that for a year, they do it into then they move into another one. They've done it twice. And they're gonna do it three times over the course of three to four years, where they will just move into the next property. They'll get, you know, residential financing. They everything's 100%, aboveboard. They move into it, they live in it as a resident they fully declare it. And by the time they're done in Edmonton in four years, they'll have six, six rental unit portfolio that they just moved in three houses. Fantastic one or another one mortgage broker. He was looking around and he was sitting there going, he goes, What can I buy around this area? I can do my mortgage brokering business anywhere. He moved out just outside of Edmonton as a five acre lot for less money than he would have been paying for one house in a subdivision with no land no lot, no nothing. And he lives on this beautiful acreage. Right? So there's that kind of stuff that's happening all day long.
Erwin  
What's driving the cycle? Now in Alberta, right
Russell  
now, um, main thing is energy. It's commodities, very bullish on commodities. And I'm very careful to say energy because that's what it is, is it's not oil and gas but but by and large that's the bulk Have it is oil and gas. However Alberta is so quickly pivoting to renewables to technology to different things. Like I said that that hydrogen plants can be the world's largest hydrogen facility to power vehicles. I believe that's what it is. I think I'm not fully up on that. But if you look it up, I think there's a lot of people very big on hydrogen right now versus natural gases and oils and stuff like that, I believe. Down south Lethbridge area. I have some clients down there that are just crushing it with Airbnb executive rentals. Quick story is when they buy a house was sweet. They tried they did a long term lease rental with a an Airbnb, then they did very well. The next one they bought, they tried the opposite. They Airbnb, the upstairs and straight, ran through the basement. Doing very well the next one they bought after that they did the whole thing on Airbnb, and then they go Jesus just doing so well. So So meaning down there, lots of solar and wind is also going in at the same time. So those things are still small, but they're growing. And not only are they crazy
Erwin  
that they were weather efficient, yes, they're worth the capital investment well, because it's not working so well for Europe
Russell  
for another debate.
Erwin  
Europe's are experiment, we all can live without energy. Oil and gas
Russell  
that I tell people is in order to create those technologies, you need energy. And that's what Alberta has. They have a safe, reliable, affordable energy source to be able to develop new energy sources. That's exactly what Norway is doing. Right? So it's going very well, you know, I'm always optimistic with things. But I've I've seen the cycle and I've seen it being flat there for for better part of over a decade now. And I'm it's just starting to trend in the right direction. And I think the last time I was on your podcast, I think I shared my thesis about why Canada is a should be a world superpower. It has the seven things we need, right? We have food, fuel, fertilizer, forestry, freshwater, future tech friendly family values, right? And it here's the analogy I use, which, and I think I shared this on another podcast recently and your hockey foundry sort of, right? Canada needs to just pick what we're good at. We're good at hockey. And we're good. We have resources and we have commodities. Let's just let's not sugarcoat it, but that's what we have. We have to offer to the world. We have resources and we have commodities. Okay, so let's use the hockey versus economy analogy. So it'd be like saying, Okay, well, Canada, we want to be really good at basketball. But we're not good at it. We're not good at basketball. But no, we're going to become good basketball team. Or we can sit there and go Well, why don't we just be the best hockey team in the world? Let's get Canada together. Let's win. We want to win as a team. Right? And so if I was the coach of Team Canada, what would I do? I would sit there and I go I look around my team and in the in the dress room and I'd sit down and go you know what? We got good. Stay at home defenseman, we got grinders in the corner. We got scores. We got good wingers. We got backups for that in case people have and but we got a superstar. We got Connor McDavid on our team, Connor McDavid is just using them in some player. He was actually he played up in Sudbury to just I was just up there, and they were telling this I go, do you guys know Connor? And they go? Well, yeah, he played here. His girlfriend's from here, right? I go, well, then you definitely know. But you have the superstar. And I'm sitting there gone. If I was the coach, I could coach this team one of two directions. I could coach this team and say, Look, Connor, you're a superstar. I want you to play as hard as you can. I want you to be the best you can. I'm going to support you with everything around you, for you to be the best. And I want you to elevate everybody's game around you up to the next level to be world class. That's one way to coach the team. Or the other way to coach a team would be to go to concerts at Connor. You know, you're playing a little too good lately. You know, you're austin Matthews. You know, he's not he's in a slump right now. You're, you know, you're making him look bad. Could you just slow down a little bit? Right now he has don't don't score too many goals, Connor, right. So if we want to win as a team, where we really playing to our strengths, and why aren't we supporting our superstars to shine? Because the more our superstars shine, it lifts everybody up and then there's other players like, why isn't Ontario and they could very well be why isn't Ontario developing world class nuclear energy? They have lots of room you have lots of the water to do all this kind of stuff. There's we have all the uranium in the prairies to do that. Why aren't they becoming a world class? Or even just if it's not that you don't like nuclear? Why don't they do More hydro projects,
Erwin  
hydroelectric,
Russell  
I don't know why they're, I don't know, like, pick what we're good at. And let's just do it. Let's let's satisfy our own needs. And it just as a good capitalist, Canadian, caring Canadian capitalist, it just breaks my heart. When I see like countries like Germany coming over and say to Canada, can you please give us a little natural gas to put in our furnaces? would put in some furnaces your for the next for the winter? And then we just sit there? No, but But look, we have some windmills over here and some solar panels by the way, we're not going to sell you any natural gas, then you have to go to Russia to buy some resources to help heat your furnaces.
Erwin  
And now the Middle East. Yeah, that to like, those are very friendly people.
Russell  
It hurts my feelings to know that just we have something for sale and we are embarrassed to sell it.
Erwin  
NIMBYs have a different type of things. Anyone wants to look it up to go look, go Wikipedia, look at the eastern energy pipeline.
Russell  
You want to know something interesting. Now this is just pure really early. Alberta, Saskatchewan and Manitoba are getting together to talk about and this is early negotiations. They're saying if there's not going to be a pipeline that's going to go all the way out to eastern Canada, if there's going to be blockades in Quebec or whatever. Ontario is guilty to be both if they're if they're going to put up roadblocks and not gonna do it. Between Alberta, Saskatchewan and Manitoba. They're actually proposing putting pipeline to Churchill and piping it to Churchill and then sending it out through northern Manitoba. Interesting. Yeah. So there's just lots of things that they'll find a way. And mentors, they're they're very entrepreneur in that case.
Erwin  
And then the agreement has to be then the East doesn't get any money or money.
Russell  
I don't know. Well, I believe now, just way above my paygrade to be brutally honest. But I think all that jurisdiction, a lot of that stuff falls federally anyways. So there's going to be some pretty big, pretty big lawsuits and things that they have to do anyways, but but here's the thing, this whole thing is, because think about this for a second. You guys just had some fairly serious negotiations about teacher salaries and things out here in Ontario, and there's been a lot of health care, care everything, if you want to pay your doctors more. And if you want to pay your teachers more if you have to which we have to let's let's let Connor McDavid score more goals. And let's get more. And I don't think the I don't think as Canadians we would be upset if we, as a country reaped the benefits in one area. And we paid and helped bring get better world class health care, world class education, affordable housing and affordable food and affordable energy. I don't think anybody would complain about that in Canada. But you have to pay that that money has to come from somewhere.
Erwin  
I don't think the average voter is educated enough, just like oil bad does not do it. Pay the teachers more pay the nurses more. And but
Russell  
who's this I would be very interested to find out who's that who the people that are the ones that are saying oil, bad if it's not maybe the lobbyists and people that for many, many years, were paid an awful lot of money to make Canadian oil sands and Canadian energy to be the very bad thing out there. And if you actually really, if you really dive into it, it's some of the most environmentally sound sensitive things. And I would stack up what Canada's doing for energy exploration and production against any jurisdiction in this world. And I would be very confident in saying that were some of the most environmentally sensitive things out there. There's someone who I follow up quite regularly. Eric Knodel. And,
Erwin  
oh, yeah, he's legit. stuff on Twitter, like, just cautious if he's legit or not.
Russell  
He's good. And he he's very clear. And he says that he does a lot of ironic sarcasm posts every once in a while. I'm talking about how they had to, they were doing this energy exploration for this pipeline, and they had to move the moss because it had a certain type of frog on it, that they had to relocate all this moss and all the frogs that were in it to another area. And they spent all these millions of dollars just to relocate these horned Toad type of frogs that were very just native to that area. And that's the kind of things that we do like in many jurisdictions, they don't care like honest to goodness, they just sit there and they just bulldoze everything down and away we go right
Erwin  
Europe's gonna burn wood and coal to heat their homes. Yeah, we worry about frogs they
Russell  
send over they send over old wood pellets and chips to over there to burn it to heat and then they call it environmentally sensitive
Erwin  
focusing they make the decision Yeah. For sure we off track Yes.
Russell  
I just that's what I love about these conversations you were very interesting guy or when
Erwin  
I you know for them for example, there's an article yesterday in health spectator about those people who are upset about the high heap restrictions being removed on 30 Storey, right. For the first time, first time ever, I saw the term vertical sprawl. Spit, I know
Russell  
we have that problem all
Erwin  
vertical sprawl and I think what people need to understand is we either sprawl somewhere within an urban boundary, or we spread outside the urban boundary which includes green space, right Greenbelt, right. So you make a decision, where do you grow, right? You I grew up, I grow into into these areas that are environmentally sensitive.
Russell  
I was I've been on here for the week, and I forgot like, it's been three years since I've been here. I always I always forget, everybody always thinks this, this whole area is just just wall to wall people. It's just big city everywhere. There's everything is so spread out. And there's just lots of green space. And there's lots of things like I work with one of my clients down in the Niagara area, and some wonderful opportunities out in that area, we were may get the names wrong, Port Coburn, and crystal beach, and fun little project, they took a commercial old grocery store that had been vacant since the 50s. And they're turning it into a four Plex next phase. And once they're all done, everything's done over the phases. There'll be into it for about a million bucks total. And it'll rent for give or take, I think was just about 75 to 1000 bucks a month. Fantastic. Yeah, so that's a good yield and stuff
Erwin  
and then converting existing space that's not being used in the house.
Russell  
And they were very, like, the city was like, Really, you want to take that building? Pool? And I was I was joking. I called it. I said, his name's John. I said, John, you gotta give this project a name. He goes, Well, we just call it Davie Street. Like, come on, you gotta have a better name than that. And when he took me through, he showed me the old meat lockers and all because it was an old grocery store. And I said, this is the meat locker. Right, that says you got to call this one. It's the meat locker. The unit is the whole project, a meat locker. Sometimes you have to give projects a name because it's fun turtle name. Welcome to the meat locks are when we can't have fun here, by the way.
Erwin  
Oh, nice. Isn't I'm a marketing guy. So I don't know how you mark it. I read this book called the meat locker.
Russell  
I was senior when just I failed to mention and I had a Mitch near there's like sitting around with all this hardware in your office here. And these award gets on them. To me, these are the very hallowed ground that we're on here to I'm very, I'm very honored to be able to have a friend like you. I'm very honored to, for you to trust me enough with your 17 listeners to to let me in. I'll just have a place to share what's going on. And I just I just wanted to thank you. All right. And, and I've said this, I think I said this on Saturday that if there was you know more people like you and sharing this world, there'd be a lot fewer problems like you guys are good people. That's an old saying from Saskatchewan use good people. And you guys are about as good as it gets. So I just wanted to just like you.
Erwin  
Thank you, Russell. Thank you, Russell. And thanks for coming on and sharing and sharing what we'll talk. Yeah, we'll talk yeah, because there's a lot of mutual talk that's missing out there.
Russell  
Yeah, well, the only thing I can do is share the real talk.
Erwin  
Thank you Russell, get on Thanks, brother.
Erwin  
Before you go if you're interested in learning more about an alternative means of cash flowing like hundreds of other real estate investors have already, then sign up for my newsletter and you'll learn of the next free demonstration webinar I'll be delivering on the subject of stock hacking. It's much improved demonstration over the one that I gave to my cousin chubby at Thanksgiving dinner in 2019. He now averages 1% cash flow per week, and he's a musician by trade. As a real estate investor myself, I got into real estate for the cash flow but with the rising costs to operate a rental business, it's just not the same as it was five to 10 years ago when I started there are forget the cash flow reduces your risk. The more you have, the more lumps you can absorb. And if you have none, or limited cash flow, you're going to be paying out of your pocket like it did on a recent basement flood at my student rental in St. Catharines. Ontario. If you're interested in learning more and register for free for my newsletter at www dot truth about real estate investing.ca. Enter your name and email address on the right side. We'll include in the newsletter when we announce our next free stock hacker demonstration. Find out for yourself but so many real estate investors are doing to diversify and increase our cash flow. And if you can't tell I love teaching and sharing this stuff.

To Connect with Coach Russell:
Website: www.russellwestcott.com
Instagram: @russellwestcott
Facebook: russellwestcott10
HELP US OUT!
Please help us reach new listeners on iTunes by leaving us a rating and review!
UPCOMING EVENTS
You are the average of the five people you spend the most time with! Build connections with empire builders and trailblazers at our iWIN events.
BEFORE YOU GO…
If you're interested in being a successful real estate investor like those who have been featured on this podcast and our hundreds of successful clients please let us know.
It is our honour to give back and educate others on how we build cash flowing real estate portfolios using all the best practices shared on this podcast, from the lessons of our hundreds of clients and of course our own experience in owning investment real estate.
If you didn't know already, we pride ourselves on being the best of the best real estate coaches, having the best property managers, contractors, handy people, cleaners, lawyers, accountants, everyone you need on your power team and we're happy to share them with our clients to ensure your success. 
New investor or seasoned veteran investor, we can help anyone by providing our award winning coaching services and this isn't all talk.
We have been awarded Realtor of the Year to Investors in 2015 by the Real Estate Investment Network, 2016 by the Canadian Real Estate Wealth Magazine and again in 2017 because no one told the judges no one is supposed to win the award twice but on merit, our peers deemed us as the best.  In 2018, we again won the same award by the Real Estate Investment Network.
Hopefully being the most decorated team of Realtors in Ontario will make you consider us for your first or next real estate investment.  Even if you don't invest in our areas, there's a good chance I know who would be ideal for you. 
I've been around for a while, some Realtors are talented at servicing investors there are many with great ethics.  The intersection of the two, talent and ethics is limited to a handful in each city or town.
Only work with the best is what my father always taught me.  If you're interested, drop us an email at iwin@infinitywealth.ca.
I hope to meet you at one of our meetups soon.
Again that's iwin@infinitywealth.ca
Sponsored by:
Infinity Wealth Investment Network – would you like to know how our investors returned 341.8% on positive cash flowing real estate over the last five years? On average, that was 68.4% per year.
Just imagine what winning in real estate could do for you.
If you would like to know how we did it, ask us how by calling 289-288-5019 or email us at iwin@infinitywealth.ca.
Don't delay, the top markets we focus in are trending upward in price, so you can pay today's price or tomorrow's price.
Till next time, just do it because I believe in you.
Erwin
Hamilton, St. Catharines and Toronto Land Development, Real Estate Investor, and soon to be builder.
W: erwinszeto.com
FB: https://www.facebook.com/erwin.szeto
IG: https://www.instagram.com/erwinszeto/
https://www.truthaboutrealestateinvesting.ca/wp-content/uploads/2022/12/Russell-Westcott.jpg
630
1200
Erwin Szeto
https://www.truthaboutrealestateinvesting.ca/wp-content/uploads/2017/06/TruthRectangleLogo.png
Erwin Szeto
2022-12-06 21:28:09
2022-12-06 21:28:12
Getting Creative With Investing In Alberta With Russell Westcott