3 Side Hustles For Multiple Streams of Income: Real Estate Syndication, Hedge Fund, and Realtor with David Sun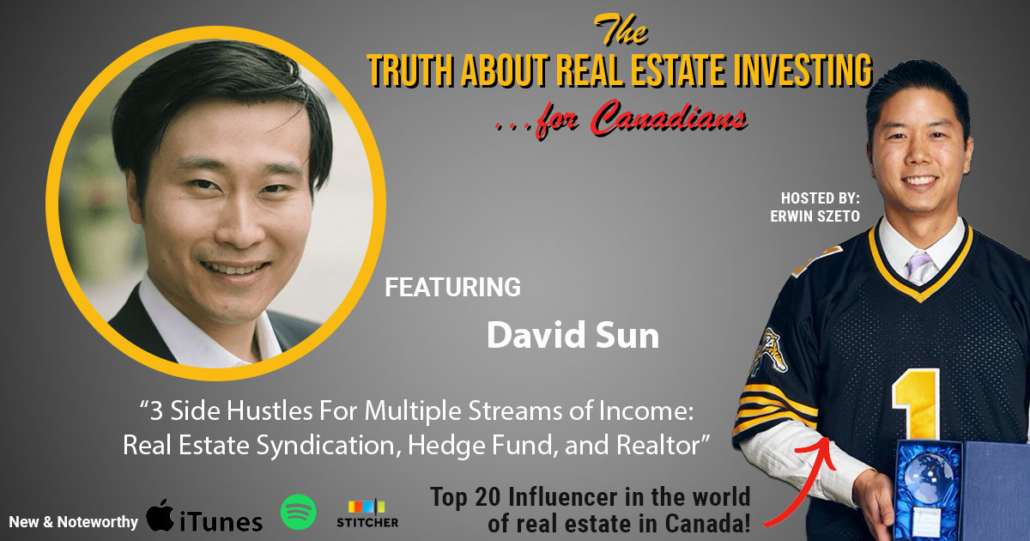 Hello, my fellow wealth hackers!!
For anyone new to the show, I consider a wealth hacker one who invests in real estate, stock options, private equities, and maybe a bit of infinite banking. 
These, plus a business that produces income, are the assets of the rich. 
If you don't believe me, simply google "Tiger 21", a network of individuals with 10 million or more of investable assets and have a look at the member surveys of their asset mix.
View this post on Instagram
In my experience, learning from the rich is a great way to become one of them….
If you're on my email I've included a link to a CNBC article: https://www.cnbc.com/2019/12/19/heres-where-the-wealthiest-investors-are-finding-opportunities.html
Spoiler alert: The top three weightings in order are, real estate, public equities (aka stocks and stock options hence we stock hack) and private equities. 
Personally, I'm way more real estate heavy but otherwise, I'm inline because of my stock hacking and the private equities I invest in for real estate developments and apartment buildings for more diversification within real estate and within Ontario.
LOL I know that sounds kind of funny.
I'm pretty sure any real financial planner would not call that diversification.  However, in my experience, the returns are tough to beat.
If you want to email us for a referral of where I personally invest for real estate developments and apartment buildings please feel free to.
For those looking for something to read, one of my mentors recommended that I read "Who Not How" by Dan Sullivan, the famous coach to entrepreneurs.
I listened to the audiobook at 1.5X on my commute to work. It's not a heavy technical read so I found the audiobook easy to consume.
I now find myself saying who not how a couple times each day to team members, my kids, Cherry, etc…
The book is about how we as investopreneurs often focus too much on trying to learn how to do something versus who already has the skills, experience and know-how…
I mean that's how we built iWIN real estate.
Our clients are mainly from the GTA, regular Canadians with have busy careers, kids and family. They don't have 10,000 hours to master real estate investing and build a team like we have. Hence we are their who.
They leverage us as their who to help them hack their wealth vs the folks who read 50 books and watch or listen to thousands of hours of YouTube and podcasts. Their focus is on the how.
In my experience, I've had a lot of success hiring experts to either teach me or do the job for me. Like my golf coach who shot +1 when we played 9 holes together on the weekend. I've locked him up for the next two months for coaching. 
The cool part is less than one day of my stock hacking returns paid for it.  Just like my last week's returns will pay for next year's golf membership. 
That is what I've learnt from the rich when the cash flow from your investments pays for your expenses.
So whatever part of wealth hacking you're interested in, feel free to sign up for my newsletter and see what we have going on.
For Example, January 23rd is our next iWIN meeting, the cost is $20 and it all goes to charity.  Clients attend for free.
Cherry and our insurance guy will be presenting on the subject of infinite banking, a common practice by my rich friends. 
My lawyer Hussein will also be in attendance to give any legal perspectives and I've sent him a bunch of screen captures I've taken from social media from people trying to raise capital. 
I've asked my lawyer Hussein to comment from a securities law perspective so we raise capital safely without massive investigations and fines.
If you are interested in getting more information, go to www.truthaboutrealestateinvesting.ca, enter your name and email to subscribe and you'll be informed about all our upcoming events and how to get in touch with my team that's taken me well over 10,000 to assemble. 
It is our goal to be the who for generations of future wealth hackers, owners of multiple six-figure side hustles.
3 Side Hustles For Multiple Streams of Income: Real Estate Syndication, Hedge Fund, and Realtor with David Sun
Speaking of side hustles, our guest this week is David Sun, who is a Princeton graduate.
Yes, he's American, an engineer who does engineering-type stuff for his day job and he has three serious side hustles, four if you count that he owns a single rental property… I guess that counts. Four side hustles.
David is a general partner in an investment real estate syndicate, a structure required for multiple investors and large projects such as a student rental residence with hundreds of bedrooms.
David is a part time Realtor and he has his own hedge fund, an alternative investment of pooled funds where he employs stock option strategies to actively increase returns for his investors.
David is also a husband and dad to young kids.
I suddenly feel lazy.
I present to you David Sun.
To Listen:

HELP US OUT!
Help us reach new listeners on iTunes by leaving us a rating and review!
To Follow David: 
Before you go, if you're interested in being a successful real estate investor like those who have been featured on this podcast and our hundreds of successful clients please let us know.
It is our honour to give back and educate others on how we build cash flowing real estate portfolios using all the best practices shared on this podcast, from the lessons of our hundreds of clients and of course our own experience in owning investment real estate.
If you didn't know already, we pride ourselves at being the best of the best real estate coaches, having the best property managers, contractors, handy people, cleaners, lawyers, accountants, everyone you need on your power team and we're happy to share them with our clients to ensure your success. 
New investor or seasoned veteran investor, we can help anyone by providing our award winning coaching services and this isn't all talk.
We have been awarded Realtor of the Year to Investors in 2015 by the Real Estate Investment Network, 2016 by the Canadian Real Estate Wealth Magazine and again in 2017 because no one told the judges no one is supposed to win the award twice but on merit, our peers deemed us as the best.  In 2018, we again won the same award by the Real Estate Investment Network.
Hopefully being the most decorated team of Realtors in Ontario will make you consider us for your first or next real estate investment.  Even if you don't invest in our areas, there's a good chance I know who would be ideal for you. 
I've been around for a while, some Realtors are talented at servicing investors there are many with great ethics.  The intersection of the two, talent and ethics is limited to a handful in each city or town.
Only work with the best is what my father always taught me.  If you're interested, drop us an email at iwin@infinitywealth.ca.
I hope to meet you at one of our meetups soon.
Again that's iwin@infinitywealth.ca
Looking to add another stream of income?
We just completed the long anticipated Stock Hacker Academy Live Introductory Course and it was awesome!
Stock Hacker Academy is the foundation that has helped Erwin, Cherry and many other Stock Hackers make thousands of $$ weekly and now they never have to worry about money again!
If you desire the same for yourself, click here to register now
NO MORE Confusion
After all the Youtube videos, books, and forum posts, you're probably still left with questions. Starting in real estate is a tricky thing.
Frustrated beginners often ask how a legal basement suite conversion actually works. Most of the time we can only give general answers. But now, we get to dive in.
At this in-depth, free class you'll learn how to take your first steps as a real estate investor.
Nothing is held back. Everything from analyzing basement suite conversion deals, to renting out your first property at a profit, and even how to refinance and do it all again!
More secrets you'll uncover are:
Profiting in a HOT market…
Municipal bylaws to watch out for…
Mortgage terms that favour refinancing…
AND one barely used tactic for higher appraisals…
If you're frustrated, unsure of how to get started, this is for you.
 Sign up now for the Invitation List and be one of the first to get an invite to the next class.
Sponsored by:
Infinity Wealth Investment Network – would you like to know how our investors returned 341.8% on positive cash flowing real estate over the last five years? On average, that was 68.4% per year.
Just imagine what winning in real estate could do for you.
If you would like to know how we did it, ask us how by calling 289-288-5019 or email us at meaghan@infinitywealth.ca.
Don't delay, the top markets we focus in are trending upward in price, so you can pay today's price or tomorrow's price.
Till next time, just do it because I believe in you.
Erwin
Hamilton, St. Catharines and Toronto Land Development, Real Estate Investor, and soon to be builder.
W: erwinszeto.com
FB: https://www.facebook.com/erwin.szeto
IG: https://www.instagram.com/erwinszeto/

https://www.truthaboutrealestateinvesting.ca/wp-content/uploads/2020/12/David-Sun.jpg
630
1200
Erwin Szeto
https://www.truthaboutrealestateinvesting.ca/wp-content/uploads/2017/06/TruthRectangleLogo.png
Erwin Szeto
2020-12-04 18:11:18
2020-12-04 18:11:21
3 Side Hustles For Multiple Streams of Income: Real Estate Syndication, Hedge Fund, and Realtor with David Sun