How Dave Knight Got Started in Real Estate, Graduated to Wholesaling and Flipping, and Giving Back to the First Responder Community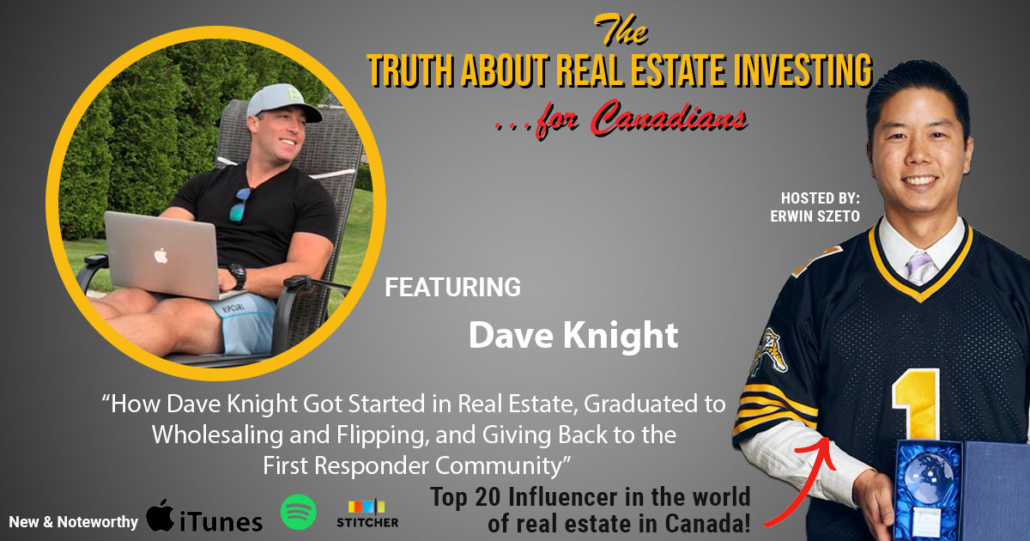 Oh, where to begin!
We bought a house so we are moving to be closer to our office so our kids can be closer to us.
The new house checks many boxes for what we were looking for… It has a pool, backs onto a pond, a walkout basement, an inlaw suite, fully renovated, great schools in walking distance.
It's kind of funny to see my handyman working at my house more than ever. Normally, all our investment properties get all the investment. We never even painted our house when we moved in. It's now finally getting painted seven years later!
View this post on Instagram
It's a funny thing to move homes!
My kids were born here and my vision was to leave this house to our kids for when they want to settle down but plans change. I look forward to the challenge of maximizing the sale price of our home to minimize the size of the new mortgage.
Because I don't practice being a realtor on a regular basis, I will enjoy the opportunity to practice my sales skills like I did when I listed our investment property and sold it for over asking, firm last month.
As a concerned parent, I've asked some friends about kids moving schools including super apartment building investor Brian Pulis of Pulis Investments. A REIT of apartment buildings.
Anyways, one of the silver linings of the pandemic is my kids can't play with the neighbour's kids and only half the students of their class actually attend in-person classes as my kids do.
Now, the new house has a pool, the parks are bigger and closer to home, and the rear pond freezes in the winter for pond skating so we'll have lots of fun things to do at the new house.
As the year 2020 is winding down, I've done a lot of reflecting with Cherry and my team on how this year went by fast and at the same time, I think we aged at least three years.
I'm looking forward to slowing down in December to recharge as it's been quite a sprint.
Even without doing a conference this year, we still did a bunch more than we had planned to do. We delivered a series of emergency webinars with tenant management experts, Cherry a government subsidy expert, Diane Digiandomenico my super property manager friend.
Thankfully the government stepped in with CERB and rental income started coming in.
We talked several investor clients off ledges.
I had one client tell me his mentor sold all his investment properties and he was asking me why I wasn't doing the same… in hindsight, we got lucky and we had our best year for price appreciation.
Stock Hacker Academy in partnership with Lee Lowell was a massive success. We have one more proven method to help hard-working Canadians create a six-figure side hustle aside from investment real estate.
We actually had feedback that Cherry and I's big hairy audacious goal of helping 10,000 folks create six-figure hustles for themselves was too low. LOL.
The website is www.stockhackeracademy.ca.
I know many of you are skeptical which is totally cool. I was too and just like real estate, the most common regret among stock hackers is why didn't they start sooner.
It's not the worst thing to wait, our last course was the best we've delivered to date and our next will be the best as well as we roll out additional education modules to ensure the success of our students.
2021 will be a big year for our wealth hacker community and I hope you'll be a part of it.
Fingers crossed we can deliver a live and in-person conference late 2021 and if not then, early 2022. I'm already working on another major keynote speaker and stupid excited about it.
How Dave Knight Got Started in Real Estate, Graduated to Wholesaling and Flipping, and Giving Back to the First Responder Community
Dave Knight is a full-time Police Officer who outside the workplace has been able to grow a multi-million dollar rental income portfolio…
He has since written a book, audiobook and created a course intended for first responders to expose the many possibilities to invest in real estate.
Full disclosure, Dave is a past client of ours, a friend and like all my friends I'm teaching him stock hacking so he may share that with his community as well.
After all, everyday heroes need six-figure side hustles too and thank you to all first responders for your service.
To Listen:

HELP US OUT!
Help us reach new listeners on iTunes by leaving us a rating and review!
To Follow Dave:
https://www.facebook.com/dave.knight.5815
https://www.instagram.com/daveknighter/?hl=en
Before you go, if you're interested in being a successful real estate investor like those who have been featured on this podcast and our hundreds of successful clients please let us know.
It is our honour to give back and educate others on how we build cash flowing real estate portfolios using all the best practices shared on this podcast, from the lessons of our hundreds of clients and of course our own experience in owning investment real estate.
If you didn't know already, we pride ourselves at being the best of the best real estate coaches, having the best property managers, contractors, handy people, cleaners, lawyers, accountants, everyone you need on your power team and we're happy to share them with our clients to ensure your success.
New investor or seasoned veteran investor, we can help anyone by providing our award winning coaching services and this isn't all talk.
We have been awarded Realtor of the Year to Investors in 2015 by the Real Estate Investment Network, 2016 by the Canadian Real Estate Wealth Magazine and again in 2017 because no one told the judges no one is supposed to win the award twice but on merit, our peers deemed us as the best. In 2018, we again won the same award by the Real Estate Investment Network.
Hopefully being the most decorated team of Realtors in Ontario will make you consider us for your first or next real estate investment. Even if you don't invest in our areas, there's a good chance I know who would be ideal for you.
I've been around for a while, some Realtors are talented at servicing investors there are many with great ethics. The intersection of the two, talent and ethics is limited to a handful in each city or town.
Only work with the best is what my father always taught me. If you're interested, drop us an email at iwin@infinitywealth.ca.
I hope to meet you at one of our meetups soon.
Again that's iwin@infinitywealth.ca
Looking to add another stream of income?
We just completed the long anticipated Stock Hacker Academy Live Introductory Course and it was awesome!
Stock Hacker Academy is the foundation that has helped Erwin, Cherry and many other Stock Hackers make thousands of $$ weekly and now they never have to worry about money again!
If you desire the same for yourself, click here to register now
NO MORE Confusion
After all the Youtube videos, books, and forum posts, you're probably still left with questions. Starting in real estate is a tricky thing.
Frustrated beginners often ask how a legal basement suite conversion actually works. Most of the time we can only give general answers. But now, we get to dive in.
At this in-depth, free class you'll learn how to take your first steps as a real estate investor.
Nothing is held back. Everything from analyzing basement suite conversion deals, to renting out your first property at a profit, and even how to refinance and do it all again!
More secrets you'll uncover are:
Profiting in a HOT market…
Municipal bylaws to watch out for…
Mortgage terms that favour refinancing…
AND one barely used tactic for higher appraisals…
If you're frustrated, unsure of how to get started, this is for you.
Sign up now for the Invitation List and be one of the first to get an invite to the next class.
Sponsored by:
Infinity Wealth Investment Network – would you like to know how our investors returned 341.8% on positive cash flowing real estate over the last five years? On average, that was 68.4% per year.
Just imagine what winning in real estate could do for you.
If you would like to know how we did it, ask us how by calling 289-288-5019 or email us at meaghan@infinitywealth.ca.
Don't delay, the top markets we focus in are trending upward in price, so you can pay today's price or tomorrow's price.
Till next time, just do it because I believe in you.
Erwin
Hamilton, St. Catharines and Toronto Land Development, Real Estate Investor, and soon to be builder.
W: erwinszeto.com
FB: https://www.facebook.com/erwin.szeto
IG: https://www.instagram.com/erwinszeto/

https://www.truthaboutrealestateinvesting.ca/wp-content/uploads/2020/12/Dave-Knight.jpg
630
1200
Erwin Szeto
https://www.truthaboutrealestateinvesting.ca/wp-content/uploads/2017/06/TruthRectangleLogo.png
Erwin Szeto
2020-12-11 17:19:37
2020-12-11 17:19:40
How Dave Knight Got Started in Real Estate, Graduated to Wholesaling and Flipping, and Giving Back to the First Responder Community