How A Former Teacher, Now A Contractor Buys Off Market Houses to Duplexes And His New Found Six Figure Side Hustle With Rene Masse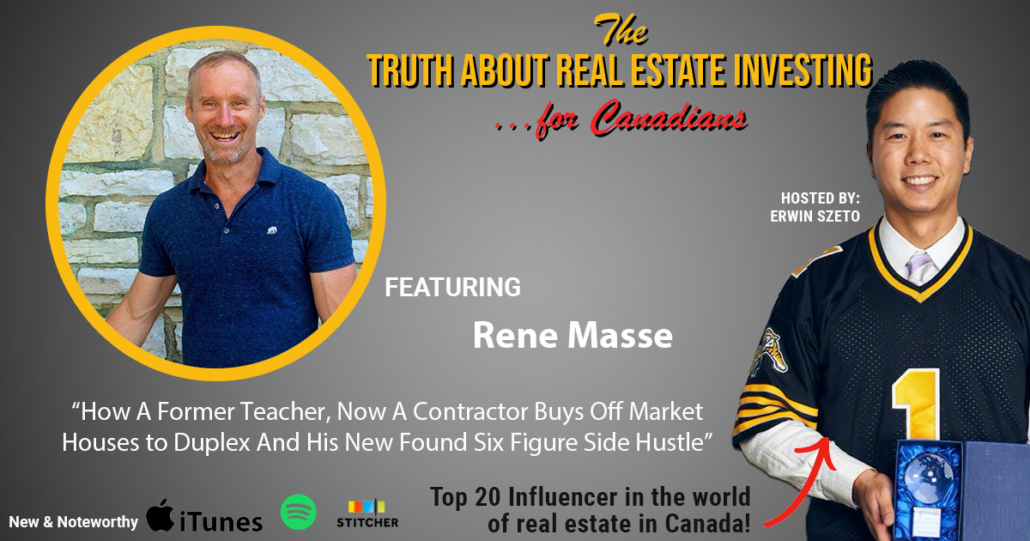 What you didn't know about Cherry.
I have a lot of people asking me about my relationship with Cherry as we work so well together in building a couple successful businesses, a real estate portfolio, a stock hacking portfolio and our registered charity the Hamilton Basket Brigade.
On top of that, we have two happy and healthy young kids.
View this post on Instagram
How do we get on the same page?
It starts with Cherry being just as driven as I, She's quite bright.
Cherry was honour roll at Waterloo University, top 60 in Canada in the UFE exam (exit exam for all Accounting students) and the first honour rollee in the history of the firm she worked at. 
Cherry is also ambitious. I'd argue some days she is more ambitious than me in pushing even me for higher levels.
It was her idea to register the charity so we could level up both our legitimacy and increase our fundraising by providing charitable receipts.
It was my crazy idea to host a conference with Grant Cardone as the headliner but Cherry shocked even me when she was on board at the hop.
We support one another and have regular mastermind meetings on business, investment and personal. 
We rarely say no to one another. For example, Cherry wanted to move our home closer to work to cut down our commute so we could spend more time with the kids.
That comes with a big price tag and bigger mortgage payments, something that's against my core values but when I saw the house and Cherry reminded me it was her dream to have a view of water, something switched inside me, all bets were off and I was negotiating the offer to win.
Losing was not an option.  
We weren't even actively looking as we are switching over a bunch of our investment properties out of our personal names to a corporation so we can get more mortgages for more properties.  Crazy eh?
That brings me to a learning lesson I'd like to share.
Be cautious of who you accept investment advice from. 
A mortgage agent advised a real estate investor we know that Accountants just want to sell corporations to make money.  The flip side however is some mortgage agents can't offer you a mortgage in a corporation. 
It's a tricky situation as corporations do come with costs but you know what? All the rich people I know personally invest in real estate and stock hack in a corporation.
This is hardly advice, I'm just sharing my opinions and observation of my rich friends.
How A Former Teacher, Now A Contractor Buys Off Market Houses to Duplexes And His New Found Six Figure Side Hustle With Rene Masse
Speaking of rich friends, this week our guest is Rene Masse.
His parents were school teachers. Rene went to school to become a teacher, didn't last a week and became a full-time contractor and real estate investor.  His focus was largely student rentals and no more on converting single-family homes into two-family homes.
Rene is also a successful graduate of www.stockhackeracademy.ca where he's achieved over $100,000 in returns this year, his rookie year as a stock hacker.
For anyone interested in learning more about how to create a six-figure life skill, I will be hosting demos again in the new year… To register go to https://www.stockhackeracademy.ca/demo
I present to you Rene Masse
To Listen:

HELP US OUT!
Help us reach new listeners on iTunes by leaving us a rating and review!
To Follow Rene: 
Facebook: https://www.facebook.com/renepaulmasse/
Facebook work: https://www.facebook.com/getbetterreturns.ca
Web: https://www.getbetterreturns.ca/
Before you go, if you're interested in being a successful real estate investor like those who have been featured on this podcast and our hundreds of successful clients please let us know.
It is our honour to give back and educate others on how we build cash flowing real estate portfolios using all the best practices shared on this podcast, from the lessons of our hundreds of clients and of course our own experience in owning investment real estate.
If you didn't know already, we pride ourselves at being the best of the best real estate coaches, having the best property managers, contractors, handy people, cleaners, lawyers, accountants, everyone you need on your power team and we're happy to share them with our clients to ensure your success. 
New investor or seasoned veteran investor, we can help anyone by providing our award winning coaching services and this isn't all talk.
We have been awarded Realtor of the Year to Investors in 2015 by the Real Estate Investment Network, 2016 by the Canadian Real Estate Wealth Magazine and again in 2017 because no one told the judges no one is supposed to win the award twice but on merit, our peers deemed us as the best.  In 2018, we again won the same award by the Real Estate Investment Network.
Hopefully being the most decorated team of Realtors in Ontario will make you consider us for your first or next real estate investment.  Even if you don't invest in our areas, there's a good chance I know who would be ideal for you. 
I've been around for a while, some Realtors are talented at servicing investors there are many with great ethics.  The intersection of the two, talent and ethics is limited to a handful in each city or town.
Only work with the best is what my father always taught me.  If you're interested, drop us an email at iwin@infinitywealth.ca.
I hope to meet you at one of our meetups soon.
Again that's iwin@infinitywealth.ca
Looking to add another stream of income?
We just completed the long anticipated Stock Hacker Academy Live Introductory Course and it was awesome!
Stock Hacker Academy is the foundation that has helped Erwin, Cherry and many other Stock Hackers make thousands of $$ weekly and now they never have to worry about money again!
If you desire the same for yourself, click here to register now
NO MORE Confusion
After all the Youtube videos, books, and forum posts, you're probably still left with questions. Starting in real estate is a tricky thing.
Frustrated beginners often ask how a legal basement suite conversion actually works. Most of the time we can only give general answers. But now, we get to dive in.
At this in-depth, free class you'll learn how to take your first steps as a real estate investor.
Nothing is held back. Everything from analyzing basement suite conversion deals, to renting out your first property at a profit, and even how to refinance and do it all again!
More secrets you'll uncover are:
Profiting in a HOT market…
Municipal bylaws to watch out for…
Mortgage terms that favour refinancing…
AND one barely used tactic for higher appraisals…
If you're frustrated, unsure of how to get started, this is for you.
 Sign up now for the Invitation List and be one of the first to get an invite to the next class.
Sponsored by:
Infinity Wealth Investment Network – would you like to know how our investors returned 341.8% on positive cash flowing real estate over the last five years? On average, that was 68.4% per year.
Just imagine what winning in real estate could do for you.
If you would like to know how we did it, ask us how by calling 289-288-5019 or email us at meaghan@infinitywealth.ca.
Don't delay, the top markets we focus in are trending upward in price, so you can pay today's price or tomorrow's price.
Till next time, just do it because I believe in you.
Erwin
Hamilton, St. Catharines and Toronto Land Development, Real Estate Investor, and soon to be builder.
W: erwinszeto.com
FB: https://www.facebook.com/erwin.szeto
IG: https://www.instagram.com/erwinszeto/

https://www.truthaboutrealestateinvesting.ca/wp-content/uploads/2020/12/Rene-Masse.jpg
630
1200
Erwin Szeto
https://www.truthaboutrealestateinvesting.ca/wp-content/uploads/2017/06/TruthRectangleLogo.png
Erwin Szeto
2020-12-21 17:05:14
2020-12-21 17:05:17
How A Former Teacher, Now A Contractor Buys Off Market Houses to Duplexes And His New Found Six Figure Side Hustle With Rene Masse