Hello Real Estate Investors!!
Along with all you do-gooders and entrepreneurs; parents who are hustling hard for a brighter future for your families!!!
Last week was a great week because of how my less conventional diet changes have worked out.
About 2.5 months ago, I started intermittent fasting and time restricted eating: basically instead of breakfast, I have half a cup of coffee with a tablespoon each of grass fed butter and organic coconut oil. That's it until I eat a bit before my noon time workouts: usually a banana and protein shake with a bunch of amino acids. Lunch and dinner are bigger meals and I do my best to eat healthy, I rarely drink but I'm hardly perfect. I just ate a slice of birthday cake while writing this post. 🙂
Note that I've done this all under the watchful eye of my doctor, so don't try this at home, but I did try this twice before, suggesting to my doctor we try this out more regularly.
Admittedly, I don't know the science but again, my doctor recommended intermittent fasting and time restricted eating after I learned UFC world champion Georges St. Pierre was doing the same to treat his colitis. We're not on the same level, but I'm naturally high stress and I train a bit: 4 times per week (twice Crossfit and two or more Brazilian Jiu Jitsu).
Knowing the science or not, last week was test week at our Crossfit gym, we tested: front squat, push press, strict hand stand pushups and strict pull ups.  I set personal all time bests in each movement.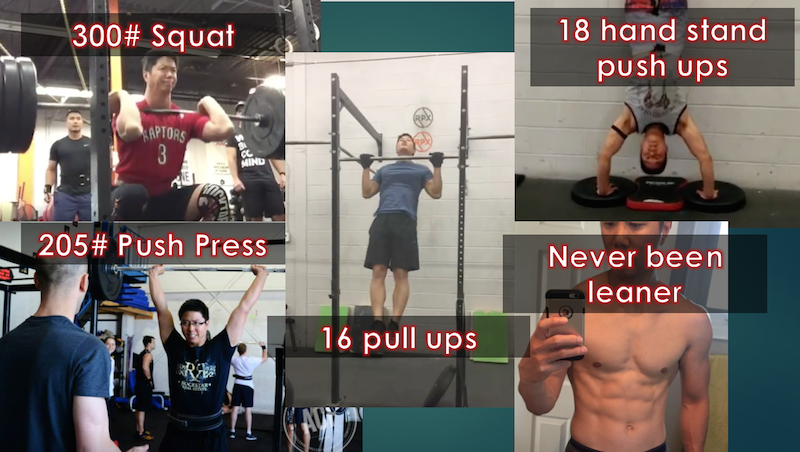 My previous best front squat was 265 pounds, test results = 300 pounds. Hand stand push ups, five weeks ago I did 13, last week 18 (one lower than the gym record and tying gym owner, Dan, who is one of the best athletes I've ever met), push press 205 pounds and 16 strict pull ups. Also I had some great sessions at Brazillian Jiu Jitsu, I still lose (quite badly) to the better practitioners, but I scored two submissions.
Overall, I am the strongest I've ever been while only doing Crossfit twice per week, I'm only one pound heavier and I appear to have less fat. I may not understand the science, but I'm more than happy with the results.
At my next appointment with my doctor, I'll be asking if we can increase the fasting periods, as the schedule I currently follow is considered one of the easiest.
---
Starting an Amazon Business
Does is seem like Amazon is everywhere? They sure seem to be creating jobs in the thousands each time they are in the news: 3,000 jobs in Vancouver and, more recently, announced another 1,000 in Ottawa.
I'm fasting on Amazon, along with breakfast, but I can't help but buy lots of books on my kindle, as I love reading it to fall asleep each night. But our household still buys tons off Amazon: phone cases, organic coconut milk, belts, hard drives, nail clippers, web cam, microphones (I simply look around my desk and sadly see hundreds of dollars spent buying off Amazon! LOL).
The Amazon marketplace is often the first place I look to shop, for convenience and home delivery. That's where this week's episode comes in as my friend and client, Kensen Wah, took the deep plunge to leave his successful career at a big bank to start his Amazon business and he's here on the show to share how he started and his progress.
To Listen:

Show Notes:
Amazon Store: https://www.amazon.com/s?ie=UTF8&me=A383GP6YI87PZY&page=1
Instagram: https://www.instagram.com/thenduranceclub/
Facebook: https://www.facebook.com/TheEnduranceClub/
Kensen on Linkedin: https://www.linkedin.com/in/kensen-wah-5736b619/?locale=de_DE
Sponsored by:
TitanInvestmentRealEstate.com – would you like to know how our investors returned 341.8% on positive cash flowing real estate over the last five years? On average, that was 68.4% per year, just imagine what winning in real estate could do for you. If you would like to know how we did it, ask us how by calling 289-288-5019 or email us at admin@mrhamilton.ca. Don't delay, the top markets we focus in are trending upward in price, so you can pay today's price or tomorrow's price.
HaltonREI.ca – This episode is brought to you by my networking group, the Halton REI. We meet in Oakville (part of the Halton Region), but mainly invest in the top investment towns west of Halton: Brantford, Hamilton, Niagara Region.
We regularly feature the top speakers from our industry. The vast majority of our attendees are seasoned investors, so you will want to spend more time around these folks, as you are the average of the five people you spend the most time with. Your net worth is your network, so choose how you spend your time wisely.
Knowledge is power. Every meeting we share the latest in market rents, prices in the top neighbourhoods, and strategies for investment. We share the best property available as our Best Buy Property of the Month. We share the best tips and tricks for you to implement immediately to your investment businesses to fast track YOU on your journey to financial freedom. It's up to you if you'd like to be on said journey.
To get on the invite list please register at https://www.truthaboutrealestateinvesting.ca/meeting/ and you will receive an invite to the next Halton REI meeting once announced.
But don't listen to me, here's what members of our community are saying about the Halton REI!!
Till next time, Just do it, I believe in you.
Erwin
https://www.truthaboutrealestateinvesting.ca/wp-content/uploads/2018/05/Screen-Shot-2018-05-29-at-4.17.15-PM-1.png
596
800
Erwin Szeto
https://www.truthaboutrealestateinvesting.ca/wp-content/uploads/2017/06/TruthRectangleLogo.png
Erwin Szeto
2018-05-29 20:33:43
2018-05-30 13:58:16
Starting an Amazon Business