The Path To $1M Per Year with Corrie George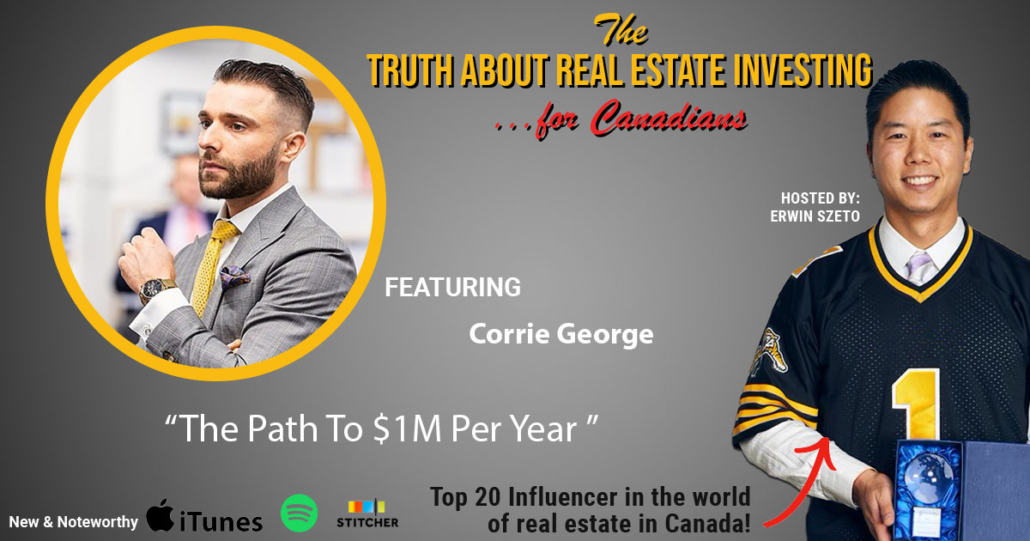 Greetings, Wealth Hackers!
I hear the lockdown in Ontario has been extended by two weeks.
But, great news because the government announced that outdoor recreational activities like golf and tennis courts would be allowed to re-open over the weekend.
Life is slowly getting back to pre-covid normal 😊
Personally, I can't wait to go golfing again plus I already had my first AstraZeneca shot three weeks ago.
I want to thank the folks sharing their experience of actually having the virus, fever, aches, pain, headaches, hospitalization for two weeks, continued issues months after recovering from the initial severe symptoms.  
 

 

View this post on Instagram

 
I have no regrets about taking the AZ shot as I know I'll never have to experience these severe symptoms, let alone be responsible for passing it onto someone else.
In my line of work, I still need to meet with clients.  One lives with his elderly parents; another just had a baby six months ago.  I'd be very upset if I were the one to ever cause them hardship.
Some may disagree with me, and that's cool. No one agrees on everything with everyone. My kids don't even agree with me on who their favourite parent is. 😀
Here's another example… Some took the last 12 months off during the pandemic.  No doubt, life, online school for the kids, health and work all got harder. 
I recall even seeing Facebook posts that one doesn't need to learn a new skill or side hustle while we are on lockdown.
In my experience, the path to success is not letting things happen to you; it's making things happen.
As we approach the end of the pandemic, and it will end… places like Israel, several US States, the UK, a mixture of places that either locked down or have high vaccination rates or both have limited restrictions within their borders. 
We're not that much further away here in Canada but imagine this… Imagine a newspaper, a newspaper all about YOU. 
On the day the pandemic is over, you open the door to your house, the newspaper has been delivered and is waiting for you on your front step.
You open the paper and look at the front page. What does the headline say? 
Does it say you logged 10,000 hours on Netflix, or does it say you came out of the pandemic as your best you?
For all you real estate investors, you're likely the wealthiest you've ever been. No, it hasn't been easy; I'm there with you. I've never had so much vacancy in my student rentals, but all rents have been paid on our regular rentals. 
Even for stock folks, several markets are at or near all-time highs.
On the personal side, I got to spend a lot of quality time with Cherry and the kids.
Just last night on our family after dinner walk, we came across a beaver chewing on a branch.  I've only ever seen one other beaver in the wild, so to me, this moment was precious. 
Thanks to my Peloton bike, I'm in great shape between virtual spin classes and strength training. 
Yeah, my golf game stinks not being able to play as it's too dangerous in covid times, but one day…
Personally, I hope your newspaper headline reads you smashed it!
Totally ok if you needed a couple weeks or months to acclimate to this new environment, but then you went on and crushed it!
If your investing hasn't been crushing, then hopefully, you'll connect with us at our multitude of events. We offer free training, free tours, networking events.
If you're a licensed Realtor on the west side of the GTA, we are hiring full-time agents to work with our real estate investor clients investing in KWC, Hamilton, Niagara Region, etc. 
Go to www.infinitywealth.ca and reach out. If you already receive our email newsletter, reach out if you're interested.
FYI, our clients are crushing it. 
If you follow the real estate market at all, you'll know what I'm talking about.
With the federal government committing over a billion dollars to fund the light rail transit system in Hamilton, prices will find another level. 
Hopefully, you'll let us help you in your journey to a successful side hustle.
The Path To $1M Per Year with Corrie George
This week, we have my controversial friend Corrie George Elieff.
Just a heads up, Corrie has invested in real estate, done a flip and plans to invest in apartment buildings, but that's not why he's here today, so we barely talk about real estate.
Why Corrie is here is because the truth about real estate is… The majority of real estate investors have great paying day jobs and that's how they can convince the bank to lend them hundreds of thousands of dollars. 
But first, having a six-figure income helps, and Corrie has a track record of developing those who are young at heart into successful sales professionals.
Corrie is here and to share his crazy ass story of building his $8 million businesses by the time he was 30 years old. How he met his idol at 26, completely blew it and was laughed at Grant Cardone's staff meeting of 50 people, heavy drug use as a teenager, quitting cold turkey to move out west and live in a warehouse for eight months…
Almost dying from organ failure, getting stem cells from Columbia, losing $1 million last year, how he's bouncing back in 2021 and most importantly, how his company competes with post-secondary schools for higher education, giving young people quality sales training.
My apologies in advance if you're offended by anything Corrie says; if you offend easily, please don't listen. 
Corrie and I don't agree on everything, and we don't have to because, in the end, it's the results that matter and I'd like to say we both help people.
Please enjoy the show!

HELP US OUT!
Please help us reach new listeners on iTunes by leaving us a rating and review!
UPCOMING EVENTS
You are the average of the five people you spend the most time with! Build connections with empire builders and trailblazers at our iWIN events.
BEFORE YOU GO…
If you're interested in being a successful real estate investor like those who have been featured on this podcast and our hundreds of successful clients please let us know.
It is our honour to give back and educate others on how we build cash flowing real estate portfolios using all the best practices shared on this podcast, from the lessons of our hundreds of clients and of course our own experience in owning investment real estate.
If you didn't know already, we pride ourselves on being the best of the best real estate coaches, having the best property managers, contractors, handy people, cleaners, lawyers, accountants, everyone you need on your power team and we're happy to share them with our clients to ensure your success. 
New investor or seasoned veteran investor, we can help anyone by providing our award winning coaching services and this isn't all talk.
We have been awarded Realtor of the Year to Investors in 2015 by the Real Estate Investment Network, 2016 by the Canadian Real Estate Wealth Magazine and again in 2017 because no one told the judges no one is supposed to win the award twice but on merit, our peers deemed us as the best.  In 2018, we again won the same award by the Real Estate Investment Network.
Hopefully being the most decorated team of Realtors in Ontario will make you consider us for your first or next real estate investment.  Even if you don't invest in our areas, there's a good chance I know who would be ideal for you. 
I've been around for a while, some Realtors are talented at servicing investors there are many with great ethics.  The intersection of the two, talent and ethics is limited to a handful in each city or town.
Only work with the best is what my father always taught me.  If you're interested, drop us an email at iwin@infinitywealth.ca.
I hope to meet you at one of our meetups soon.
Again that's iwin@infinitywealth.ca
NO MORE Confusion
After all the Youtube videos, books, and forum posts, you're probably still left with questions. Starting in real estate is a tricky thing.
Frustrated beginners often ask how a legal basement suite conversion actually works. Most of the time we can only give general answers. But now, we get to dive in.
At this in-depth, free class you'll learn how to take your first steps as a real estate investor.
Nothing is held back. Everything from analyzing basement suite conversion deals, to renting out your first property at a profit, and even how to refinance and do it all again!
More secrets you'll uncover are:
Profiting in a HOT market…
Municipal bylaws to watch out for…
Mortgage terms that favour refinancing…
AND one barely used tactic for higher appraisals…
If you're frustrated, unsure of how to get started, this is for you.
 Sign up now for the Invitation List and be one of the first to get an invite to the next class.
Sponsored by:
Infinity Wealth Investment Network – would you like to know how our investors returned 341.8% on positive cash flowing real estate over the last five years? On average, that was 68.4% per year.
Just imagine what winning in real estate could do for you.
If you would like to know how we did it, ask us how by calling 289-288-5019 or email us at meaghan@infinitywealth.ca.
Don't delay, the top markets we focus in are trending upward in price, so you can pay today's price or tomorrow's price.
Till next time, just do it because I believe in you.
Erwin
Hamilton, St. Catharines and Toronto Land Development, Real Estate Investor, and soon to be builder.
W: erwinszeto.com
FB: https://www.facebook.com/erwin.szeto
IG: https://www.instagram.com/erwinszeto/
https://www.truthaboutrealestateinvesting.ca/wp-content/uploads/2021/05/Corrie-George.jpg
630
1200
Erwin Szeto
https://www.truthaboutrealestateinvesting.ca/wp-content/uploads/2017/06/TruthRectangleLogo.png
Erwin Szeto
2021-05-21 13:18:04
2021-05-21 21:33:44
The Path To $1M Per Year with Corrie George