How To Small Scale Develop A Property Using Free Land With the Infill Boys: Andy, Charles & Steve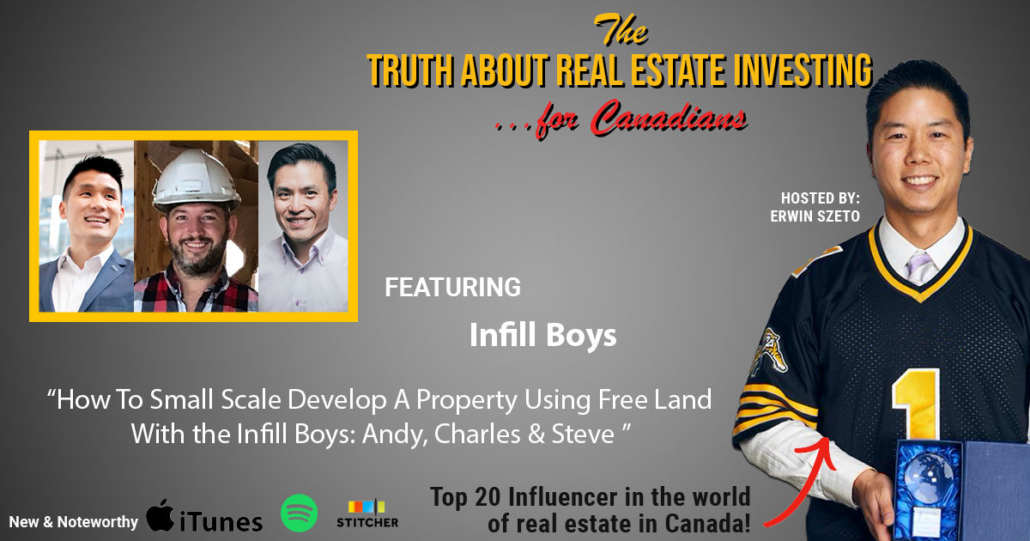 Have you heard of Covid 15? That's the 15 pounds you gain during the pandemic, lol!
Now that it's shorts weather, like a true Canadian, if the temperature is above 20 degrees celsius (68 degrees Fahrenheit to you Americans listening), I throw on shorts.
But, small problem, my 33-inch waist shorts are a bit snug.
View this post on Instagram
I was all excited when I bought these 33" shorts because 32" is too tight, 34" and I need a belt. 33" was just right till I gained these extra pounds over the winter.
So what would you do? Make lifestyle changes or buy new shorts?
Personally, I'm cheap, so I'm going with dieting. Fasting is more the proper term. What's worked for me in the past is to only consume few healthy fats in the morning with my coffee, specifically about a tablespoon each of grass-fed butter and organic coconut oil, then I won't eat until lunchtime.
At lunch, I'll eat a pretty big meal and avoid bread, which tends to make me bloated.
When I get home, I'll ride my indoor Peloton bike for 20-30 mins. My goal is to burn 500 calories a day, clean up, then have dinner with the family.
This is what works for me; I've done it before under the guidance of my naturopath, Dr. Cowan.
I've already dropped five pounds and am looking to drop another five pounds before the lockdown ends to lose the dad bod. Only then will we invite guests to visit and hang by our pool at the new house 🙂
How To Small Scale Develop A Property Using Free Land With the Infill Boys: Andy, Charles & Steve
On to this week's show!
Before I introduce the guys, we are quickly approaching our two hundredth episode, and I want to thank all 16-17 of you listeners for being a part of this journey with us.
This all started as a weekly blog in 2010 (and it's still going), then we started this podcast in 2016 to discuss the realities and learning lessons of real estate investing.
Including how not to lose money, which is a great segway into next month's iWIN Meeting on Saturday morning, June 12th.
Our team will be sharing what to look for from a wholesale deal and the top 5 questions to ask a wholesaler. We too receive emails from wholesalers, and as this is an unregulated market… well… some of these wholesalers are pitching what they consider "deals" while wearing rose-coloured glasses.
Don't be a sucker and overpay for a lemon. Join our iWIN meeting and stay for the 2nd presentation on building a backyard suite in Brantford, one of the more affordable and newest markets to allow the backyard suite strategy. Friend of iWIN, Andy Tran, will be in the house to share the latest on his own investment property.
Speaking of Andy, he's one of three real estate experts on the show: Andy Tran, Charles Wah, and Steve Ford. What a special treat!!
We discussed where to find ideal properties, financing, construction financing, who you need on your team, soft costs, how developing property unlocks hidden equity, whether to hire a general contractor or not. We cover tons of tips and pitfalls to avoid.
It's a pretty awesome episode, if I say so myself.
I've done a considerable amount of business with Andy, Charles and Steve and can safely say they're good people.
Please enjoy the show!

HELP US OUT!
Please help us reach new listeners on iTunes by leaving us a rating and review!
UPCOMING EVENTS
You are the average of the five people you spend the most time with! Build connections with empire builders and trailblazers at our iWIN events.
BEFORE YOU GO…
If you're interested in being a successful real estate investor like those who have been featured on this podcast and our hundreds of successful clients please let us know.
It is our honour to give back and educate others on how we build cash flowing real estate portfolios using all the best practices shared on this podcast, from the lessons of our hundreds of clients and of course our own experience in owning investment real estate.
If you didn't know already, we pride ourselves on being the best of the best real estate coaches, having the best property managers, contractors, handy people, cleaners, lawyers, accountants, everyone you need on your power team and we're happy to share them with our clients to ensure your success.
New investor or seasoned veteran investor, we can help anyone by providing our award winning coaching services and this isn't all talk.
We have been awarded Realtor of the Year to Investors in 2015 by the Real Estate Investment Network, 2016 by the Canadian Real Estate Wealth Magazine and again in 2017 because no one told the judges no one is supposed to win the award twice but on merit, our peers deemed us as the best. In 2018, we again won the same award by the Real Estate Investment Network.
Hopefully being the most decorated team of Realtors in Ontario will make you consider us for your first or next real estate investment. Even if you don't invest in our areas, there's a good chance I know who would be ideal for you.
I've been around for a while, some Realtors are talented at servicing investors there are many with great ethics. The intersection of the two, talent and ethics is limited to a handful in each city or town.
Only work with the best is what my father always taught me. If you're interested, drop us an email at iwin@infinitywealth.ca.
I hope to meet you at one of our meetups soon.
Again that's iwin@infinitywealth.ca
NO MORE Confusion
After all the Youtube videos, books, and forum posts, you're probably still left with questions. Starting in real estate is a tricky thing.
Frustrated beginners often ask how a legal basement suite conversion actually works. Most of the time we can only give general answers. But now, we get to dive in.
At this in-depth, free class you'll learn how to take your first steps as a real estate investor.
Nothing is held back. Everything from analyzing basement suite conversion deals, to renting out your first property at a profit, and even how to refinance and do it all again!
More secrets you'll uncover are:
Profiting in a HOT market…
Municipal bylaws to watch out for…
Mortgage terms that favour refinancing…
AND one barely used tactic for higher appraisals…
If you're frustrated, unsure of how to get started, this is for you.
Sign up now for the Invitation List and be one of the first to get an invite to the next class.
Sponsored by:
Infinity Wealth Investment Network – would you like to know how our investors returned 341.8% on positive cash flowing real estate over the last five years? On average, that was 68.4% per year.
Just imagine what winning in real estate could do for you.
If you would like to know how we did it, ask us how by calling 289-288-5019 or email us at meaghan@infinitywealth.ca.
Don't delay, the top markets we focus in are trending upward in price, so you can pay today's price or tomorrow's price.
Till next time, just do it because I believe in you.
Erwin
Hamilton, St. Catharines and Toronto Land Development, Real Estate Investor, and soon to be builder.
W: erwinszeto.com
FB: https://www.facebook.com/erwin.szeto
IG: https://www.instagram.com/erwinszeto/
https://www.truthaboutrealestateinvesting.ca/wp-content/uploads/2021/05/INFILL-BOYS.jpg
630
1200
Erwin Szeto
https://www.truthaboutrealestateinvesting.ca/wp-content/uploads/2017/06/TruthRectangleLogo.png
Erwin Szeto
2021-05-28 15:09:10
2021-05-28 15:09:19
How To Small Scale Develop A Property Using Free Land With the Infill Boys: Andy, Charles & Steve