Oh the lengths we will go for our kids….
On Sunday, my wife Cherry planned a half day event for us and cousins to ride Thomas the Train.  No idea what I'm talking about? That's OK. He's a crazy popular cartoon character who is a train and for $25, you can ride in the train that he pulls.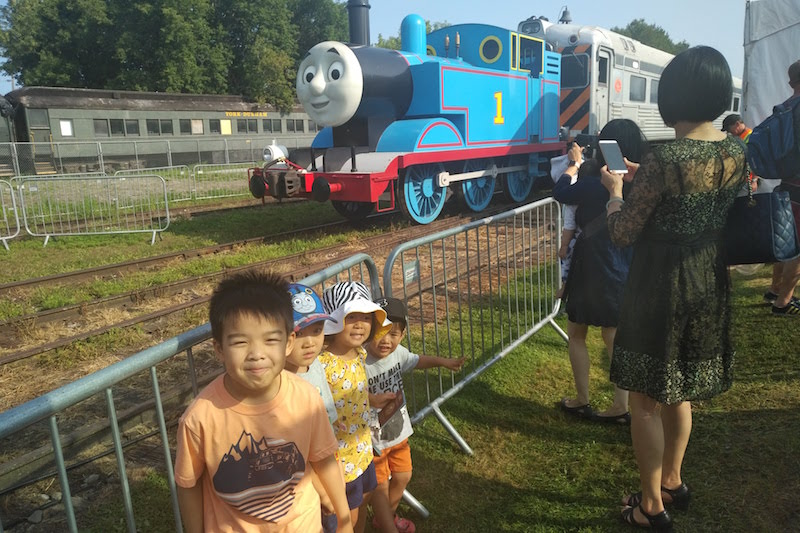 The price is fine, it's the distance, 122 kilometres from home in Uxbridge, ON that was my problem. We did it, me driving without my license as I brilliantly left my wallet at home 😛. I thought Uxbridge was far when I lived in Markham!
The event was really good, we boarded the train on time, there was plenty of free parking close by, tons of stuff for the kids to do included: bouncy castle, colouring, a mini train to ride, a travelling zoo, and face painting. The kids and their cousins all had a blast. Kudos to my wife for planning the event!
What won't we do for our kids…
The answer escapes but ah, I remember, I'll invest in real estate for them but I'm not signing them up for hockey. 😛 Indoor court sports (basketball, volleyball, anything excluding ice) for this family. They'll learn to skate as skating is an important life skill all Canadians should have, like swimming, but no thank you to 6am practices on the ice. 😛
Growing Up Discriminated Against and In Poverty to 21 Hold Forever Properties with Jules Mckenzie Part II
Our guest this week is a returning guest in Jules Mckenzie. He was previously featured on our show titled From $140,000 in credit card debt to 34 properties. If you haven't listened to it yet, I suggest you go back and do so before listening to this week's interview. The tips and tricks around investing are there, including joint venturing. This episode is to further dig into Jules' life before his beginnings as an investor.
Jules has come a long way in his investment journey, from near ruin both in life and investing to 55 properties in 2005 to today's portfolio of 21 properties after shedding poor performers and paying a lot of joint venture partners.
What Jules has been holding back is the deeper hole he's had to dig himself out of growing up an indigenous Canadian on a reserve with limited opportunity, resources, and an early life of alcohol and drug abuse.
If you know Jules, he's a big guy with a bigger heart and warmer smile. What he hasn't shared until today is what he's had to overcome and how he's done it, but he shares it today.
For you new real estate investors, know that anything is possible. Even when life deals you a pretty bad hand. If Jules can build a portfolio of 21 "hold forever" properties than you can too.
To Reach Out to Jules:
Twitter @mckenziejules
Instagram @mrjulesmckenzie
# 705 330 1879
Sponsored by:
TitanInvestmentRealEstate.com – would you like to know how our investors returned 341.8% on positive cash flowing real estate over the last five years? On average, that was 68.4% per year, just imagine what winning in real estate could do for you. If you would like to know how we did it, ask us how by calling 289-288-5019 or email us at admin@mrhamilton.ca. Don't delay, the top markets we focus in are trending upward in price, so you can pay today's price or tomorrow's price.

HaltonREI.ca – This episode is brought to you by my networking group, the Halton REI. We meet in Oakville (part of the Halton Region), but mainly invest in the top investment towns west of Halton: Brantford, Hamilton, Niagara Region, Kitchener-Waterloo-Cambridge.

We regularly feature the top speakers from our industry. The vast majority of our attendees are seasoned investors, so you will want to spend more time around these folks, as you are the average of the five people you spend the most time with. Your net worth is your network, so choose how you spend your time wisely.

Knowledge is power. Every meeting we share the latest in market rents, prices in the top neighbourhoods, and strategies for investment. We share the best property available as our Best Buy Property of the Month. We share the best tips and tricks for you to implement immediately to your investment businesses to fast track YOU on your journey to financial freedom. It's up to you if you'd like to be on said journey.

To get on the invite list please register at https://www.truthaboutrealestateinvesting.ca/meeting/ and you will receive an invite to the next Halton REI meeting once announced.

But don't listen to me, here's what members of our community are saying about the Halton REI!!


Till next time, Just do it because I believe in you.
Erwin
Hamilton, St. Catharines, Toronto, Land Development, soon to be builder and Real Estate Investor
FB: https://www.facebook.com/erwin.szeto
IG: https://www.instagram.com/erwinszeto/
https://www.truthaboutrealestateinvesting.ca/wp-content/uploads/2018/08/Jules.jpg
960
640
Erwin Szeto
https://www.truthaboutrealestateinvesting.ca/wp-content/uploads/2017/06/TruthRectangleLogo.png
Erwin Szeto
2018-08-17 15:10:39
2018-08-17 15:48:33
Growing Up Discriminated In Poverty to 21 Hold Forever Properties with Jules Mckenzie Part II