$600,000 in 6 Years Part Time with John Roumanis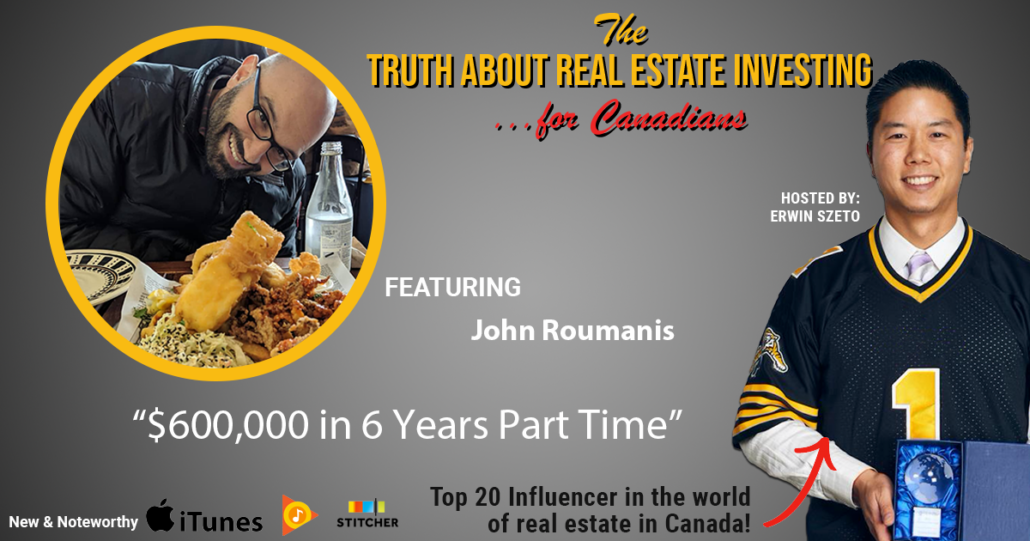 Happy New Year Wealth Hackers!!
We are back after a well deserved vacation and holidays!!  In early December we took a trip down to New Orleans, Louisiana for a day before hopping on a nine day cruise in the Carribean.  Yet another amazing trip, we went to Jamaica, Belize, Grand Cayman, Mexico, and Honduras not in that order. Some of the highlights were visiting an animal rescue with monkeys, Scarlet Macaw's, hugging a sloth, feeding iguanas and ocean carp, relaxing on beautiful beaches, visiting a turtle farm and getting into a wading pool with the kids to pet sea turtles.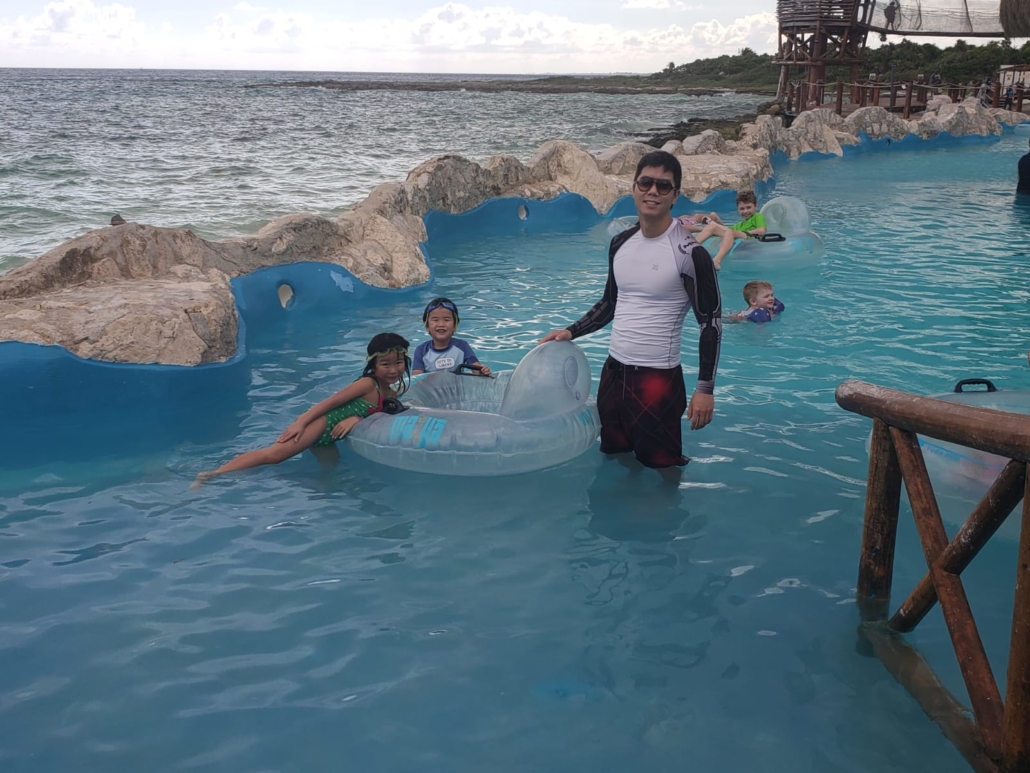 In true frugal nature, we booked all these excursions privately as in not through the cruise ship.  With cell phone roaming being so much cheaper than the old days, I was able to research the top touristy things to do and we took taxis or public transit to keep costs down.  But cost money everything did.
I have been doing a lot of thinking about the psychology of money lately.  What is it people think about money for example those old sayings: "the best things in life are free" or "money can't buy happiness."
What is the truth about these statements?  I believe both are partially true and there is a spectrum of how true each statement is to each of us.  Lots of great things are free like sunshine and public beaches. What isn't free is the car and gas it took to get to the beach. Then the picnic you packed, it's less expensive but hardly free.  Then if you're a hard core parent and buying everything organic the costs go up.
It's true that money can not buy happiness BUT, big but, once you progress from being broke, to getting by, to financial security, to independent, to financially free where you no longer care about prices on the menu at a nice restaurant.  That would make me happy.
Our cruise trip was hardly free and we could not possibly replicated fun in the sun here in snowy cold Canada.
Speaking of money, while on the trip, whenever in port and my data roaming was available, I would stock hack.  For the week and a half that I was away, I earned just over $1000 in a week in a half with a $60,000 bankroll. It's still a small bankroll while I wait for my corporate account to be opened to stock hack even more as I pursue earning six figures in 2020 in only 30 minutes per day. I personally really enjoy stock hacking as I find it fun like playing a game but I'm getting paid.  Also reading on economics and business helps with my real estate as I follow the geopolitical stuffs going on in the world and how it ultimately affects our Canadian real estate. For example, conflict in the middle east is a risk to oil supplies causing the price of oil to go up. Canada has a lot of oil that we export. More exports is good for our economy. The better our economy, the more incomes go up and as incomes go up, rents and real estate prices go up. I'm over simplifying and we need to see significant increases to oil prices but I hope you get the point.
I wake up each morning excited to see what's going on in the markets and can't wait to try to get this income stream anywhere close to my real estate investments.
Real estate does indeed offer a higher return with more effort however I truly find stock hacking and real estate go wonderfully together.  If you're interested in learning more, keep an eye out for the next beginners program which is delivered live and in person. The online program will be launched in Q1 however in person is always best for learning in my opinion as you're attention will be undivided and you'll meet and network with other like minded investors.  At the last event, a friend of mine, a real estate investor connected with a doctor also in attendance with significant funds and wanted to JV in r8eal estate. They booked a meeting. These opportunities only come live and in person, not online.
Speaking of real estate, my last acquisition, a house in Hamilton near McMaster University is now leased for the May to April 2021 school year.  I'm super excited as we set some new market highs in rents getting $650 per room above grade and $550 for basement rooms. I was proud to walk the students and parents through the house pointing out all the renovations, brand new electrical, the renovation permit, where we went above and beyond to cancel noise and create fire separation.  Plus an egress window in the basement which is not required as we don't have a kitchen in the basement. The feedback was excellent, questions and objections were limited and that's what happens when you put in 110% into a property and can be proud of the work.
Thank to you Manny and Matt Cabral for the renovations.
If you're looking to earn more active income in real estate in 2020, we at the iWIN Real Estate team are growing.  From the success of the Wealth Hacker Conference and our membership group, we could use more help servicing our real estate clients.  If you are looking to be more involved in investment real estate, have your Realtor license, you have a great attitude, already own some investment property, highly motivated and live west of Toronto, let me know you are interested.  DM me, call me, email me your resume at iwin@infinitywealth.ca and let's talk about how we can help even more people be successful investing in real estate.  Making a difference in peoples' lives.  
If you're a real estate investor looking to learn from the #1 investment strategy in real estate, the same strategy I've repeatedly done for the last few years the produces the highest return on investment, keep an eye out on your inbox for our new Free Training Classes.  If you're not already getting my podcast to your email and show notes to your inbox letting you know when new episodes of this show are out that's just silly. Go to www.truthaboutrealestateinvesting.ca/ , enter your name and email on the right to be notified of our free training event where we teach the #1 strategy that has been discussed on this podcast by professional, full time investors almost every week.
$600,000 in 6 Years Part Time with John Roumanis
This week's guest knows all about maximizing return on investment and just as important return on time.  John is an old friend, a very successful part time investor in Hamilton and the Niagara Region as he has a full time job in Toronto that he loves.  This recording was originally done in 2017 and is the #1 downloaded episode of all time for this show. For those who want real estate as a side hustle, that's totally fine. So without further ado, I give you John Roumanis. 
To Listen:

Are you newer to real estate investing or unsure of what to invest in next?
Would you like to know where the best areas to invest are near the GTA for the best return on investment?
Then you've found the right place as we're here to help everyone from new investors to seasoned professionals. We have helped 100's of everyday men and women buy their first investment property to their tenth property. It's easier than you think.
My name is Erwin and you may know me as the host of this podcast and I'm also the owner of the iWIN Real Estate Team, the four time Realtor of the Year to Investors per the Real Estate Investment Network, and Canadian Real Estate Wealth Magazine.
My team of investor coaches are licensed real estate professionals who help everyday, hardworking men and women from the GTA grow their real estate portfolio in the most efficient way possible.  You are welcome to use any professionals and contractors you want but you're welcome to our personal rolodex of professionals, the same people I use to become a successful real estate investor.
If you're too busy, we understand. You have better things to do, have dinner with the family, watch the kids play sports. What we do differently is we will preview properties on your behalf to pre-screen only the ones that are ideal investment properties. Many of our clients features on this podcast will even make an offer conditional on a home inspection so they can both beat the competition and have a chance to view the property before making a final decision during a professional home inspection.
After the purchase, we can refer you to our favourite property manager who is a former police officer with 20 year experience with the local police department. He also happens to be well over six feet tall and 220 pounds with a keen eye for finding you great, worry free tenants so tenants never call you and you can go on enjoying life knowing your investment is taken care of.  As an added bonus of being our client, he only takes referrals from our team. This property manager is the most well reviewed property manager I've ever seen in my city.
You can't get financing? You're in luck.  My personal mortgage broker is the best I've ever seen in my investing career. You may just be talking to the wrong people about a mortgage whereas my guy has more relationships with various banks and lenders others just don't and often they're less expensive.
For any of the above, go to www.truthaboutrealestateinvesting.ca/contact, fill out the form and one of the coaches I've personally trained will get back to you.
You don't have enough down payment or earn enough income? On my first properties I partnered with my ex in-laws.  If you don't have family to partner with, then I would suggest you learn how to hack stocks like my past podcast guests Omar Khan and Matthew Todman.  They both earn a mid-six figure income in only 30 minutes a day by getting paid to own blue chip stocks at prices they want anyways. It's almost money for nothing and as Robert Kiyosaki says, a must for the professional investor.
If this interests you, go to www.wealthhacker.ca/stock
Sponsored by:
TitanInvestmentRealEstate.com – would you like to know how our investors returned 341.8% on positive cash flowing real estate over the last five years? On average, that was 68.4% per year, just imagine what winning in real estate could do for you. If you would like to know how we did it, ask us how by calling 289-288-5019 or email us at admin@mrhamilton.ca. Don't delay, the top markets we focus in are trending upward in price, so you can pay today's price or tomorrow's price.
Till next time, just do it because I believe in you.
Erwin
Hamilton, St. Catharines, Toronto, Land Development, soon to be builder and Real Estate Investor
W: erwinzeto.com
FB: https://www.facebook.com/erwin.szeto
IG: https://www.instagram.com/erwinszeto/

https://www.truthaboutrealestateinvesting.ca/wp-content/uploads/2020/01/John-Roumanis.png
630
1200
Erwin Szeto
https://www.truthaboutrealestateinvesting.ca/wp-content/uploads/2017/06/TruthRectangleLogo.png
Erwin Szeto
2020-01-10 18:00:00
2020-01-10 23:19:35
$600,000 in 6 Years Part Time with John Roumanis