Collecting a Million in Rent, Starting at Age 26 With Evelyn Lamarsh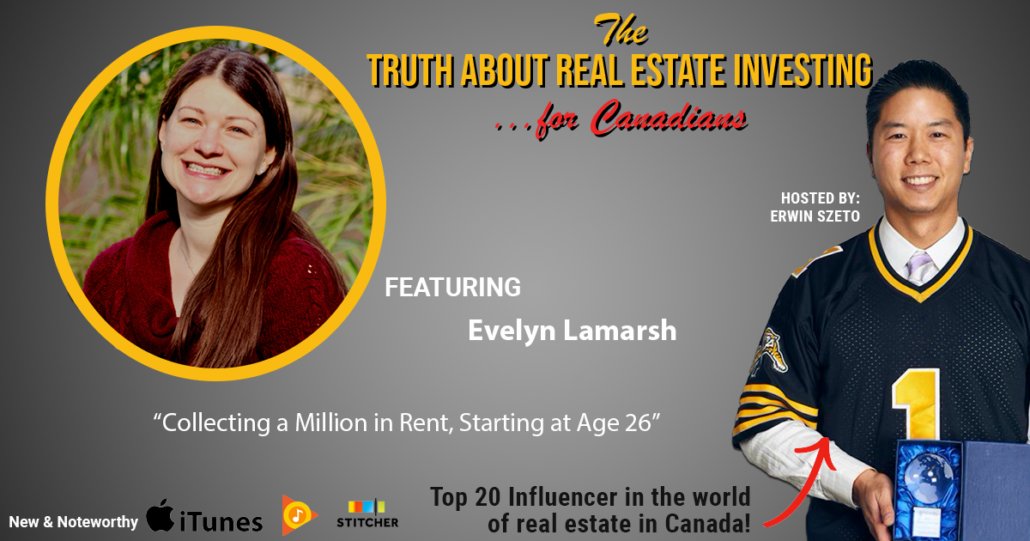 Yes!! I finally bought myself something I've wanted for ages!! A Sony PlayStation 4. It's been on my Amazon wish list for a few years and I finally pulled the trigger and now giving it away.
View this post on Instagram
As the holiday approach, we at the Hamilton Basket Brigade are into full swing to answer the wishes of 30 in need families in Hamilton. How do we find the families? We go to the public and catholic elementary school boards and ask them to give us their families who have it worse than anyone else. We've had a long working relationship with both wonderful, very supportive school boards, administration and teachers.
As much flack as the teachers and schools get in the media… in our experience, they go above and beyond to help us help those in need.

As the saying goes, it's better to give than receive, and a family of six that just lost their dad will enjoy this more than I will. Hopefully they can at least enjoy a mental escape for a few hours.

I know how much getting a Nintendo from my parents meant to my brother and I when we were just kids, and for me to gift the PS4 to someone else in need means more to me than enjoying playing games myself. Plus video games will kill my already terrible productivity. 🤣

Anyway, the Leonard family (not their real name) just lost the man of the family, the sole income provider, leaving behind mom and six kids (including 2 under the age of 2).
As the President of the Hamilton Basket Brigade, as tradition, my team assigns me a special case for whom the budget needs to be broken for and we did just that to the tune of 3X. Cherry and I will donate the 2X so the charity stays on budget.

As usual, I didn't tell Cherry about my spending spree until after and, to compensate, I explained the PS4 is something I always wanted, it's for me, the only Xmas present I want, and it's my preference to give it away.

Call me nuts but whatever, I've always preferred to give than receive.

Other stuff for the Leonard family: laptop, hover board for the only daughter, clothes for the whole family. Toilet paper (it was on sale at Costco so why not).
For anyone who still thinks money is the root of all evil… well, I don't know how else these gifts get in the hands of those who need it most. Get your mindset right on money. If you're a good person, get more of it to give away.
As always, actions speak louder than words, so I'm not bragging but rather stating facts. On behalf of the Wealth Hacker Conference, Cherry and I have donated $10,000 to the Hamilton Basket Brigade and will make a 2nd installment of $20,000, for a total of $30,000. We are now 75% of our annual operating budget and we proudly retake our position as the number 1 donor of the Hamilton Basket Brigade. It was no easy feat as our friends Matt Green and Scott Dillingham are extremely generous individuals. One a successful entrepreneur, the latter an ultra successful mortgage professional and real estate investor. Only those with wealth are able to make such sizeable donations. Special thanks as well to James "MBM" Maggs VP of iWIN who firmly holds 4th place on the all time donations list.

As Mahatma Gandhi said, #bethechangeyouwanttoseeintheworld 
If you're looking to earn more active income in real estate like a James MBM Maggs, the iWIN Real Estate is growing.  From the success of the Wealth Hacker Conference and our membership group, we could use more help servicing our real estate clients. If you are looking to be more involved in investment real estate, have your Realtor license or looking to get one, you have a great attitude, already own some investment property, highly motivated and live west of Toronto, let me know you are interested. DM me, call me, email iwin@infinitywealth.ca with your resume and let's talk about how we can help even more people get into investing in real estate.  Making a difference in peoples' lives.  
Collecting a Million in Rent, Starting at Age 26 With Evelyn Lamarsh
On to this week's show!! We have a special guest in Evelyn Lamarsh. 
Evelyn, who was on stage in front of almost 1,600 at the Wealth Hacker Conference and is one of my first clients, emailed me this morning: "Hey Erwin, Just for fun I keep track of my total rents paid over the years. As of this year, tenants have happily paid me over one million dollars in gross rents! 🙂"
Whenever I hear people tell me their reasons they can't or don't invest, I think of this 26 year old, single woman will a small amount of life savings who pushed herself out of her comfort zone and bought a century home with a spotty roof, leaky basement, knob and tube wiring, in a historically rough area, and a street that shared the same address as many of the steel mills in Hamilton.
Evelyn had the courage to push through all the reasons in her head why she shouldn't buy this house. I'm sure many non investors told her she was crazy and she did it anyways.  For those who invest in the West Harbour of Hamilton know how history went, that same house has nearly tripled in value and this is Evelyn's story via flash back to this episode we recorded in 2016.  She's since acquired more houses for a total of ten, with plans for more in 2020. More importantly, husband Mike was able to retire from his job as car mechanic to work a 15 hour work week to maintain the properties and spend lots of time with their two young kids.
This is the truth about real estate: a 26 year old woman, on her own, can go onto accumulate a portfolio of ten cash flowing properties. I proudly present to you, our super star client, Evelyn Lamarsh.
To Listen:

Show Notes:
Website: www.thewindrosegroup.ca
Email Address: investor@windrosegroup.ca
Facebook: https://www.facebook.com/TheWindroseGroup/
LinkedIn: https://www.linkedin.com/company/the-windrose-group-a-mortgage-alliance-team/?originalSubdomain=ca
Twitter: https://twitter.com/windrosegroup
Are you newer to real estate investing or unsure of what to invest in next?
Would you like to know where the best areas to invest are near the GTA for the best return on investment?
Then you've found the right place as we're here to help everyone from new investors to seasoned professionals. We have helped 100's of everyday men and women buy their first investment property to their tenth property. It's easier than you think.
My name is Erwin and you may know me as the host of this podcast and I'm also the owner of the iWIN Real Estate Team, the four time Realtor of the Year to Investors per the Real Estate Investment Network, and Canadian Real Estate Wealth Magazine.
My team of investor coaches are licensed real estate professionals who help everyday, hardworking men and women from the GTA grow their real estate portfolio in the most efficient way possible.  You are welcome to use any professionals and contractors you want but you're welcome to our personal rolodex of professionals, the same people I use to become a successful real estate investor.
If you're too busy, we understand. You have better things to do, have dinner with the family, watch the kids play sports. What we do differently is we will preview properties on your behalf to pre-screen only the ones that are ideal investment properties. Many of our clients features on this podcast will even make an offer conditional on a home inspection so they can both beat the competition and have a chance to view the property before making a final decision during a professional home inspection.
After the purchase, we can refer you to our favourite property manager who is a former police officer with 20 year experience with the local police department. He also happens to be well over six feet tall and 220 pounds with a keen eye for finding you great, worry free tenants so tenants never call you and you can go on enjoying life knowing your investment is taken care of.  As an added bonus of being our client, he only takes referrals from our team. This property manager is the most well reviewed property manager I've ever seen in my city.
You can't get financing? You're in luck.  My personal mortgage broker is the best I've ever seen in my investing career. You may just be talking to the wrong people about a mortgage whereas my guy has more relationships with various banks and lenders others just don't and often they're less expensive.
For any of the above, go to www.truthaboutrealestateinvesting.ca/contact, fill out the form and one of the coaches I've personally trained will get back to you.
You don't have enough down payment or earn enough income? On my first properties I partnered with my ex in-laws.  If you don't have family to partner with, then I would suggest you learn how to hack stocks like my past podcast guests Omar Khan and Matthew Todman.  They both earn a mid-six figure income in only 30 minutes a day by getting paid to own blue chip stocks at prices they want anyways. It's almost money for nothing and as Robert Kiyosaki says, a must for the professional investor.
If this interests you, go to www.wealthhacker.ca/stock
Sponsored by:
TitanInvestmentRealEstate.com – would you like to know how our investors returned 341.8% on positive cash flowing real estate over the last five years? On average, that was 68.4% per year, just imagine what winning in real estate could do for you. If you would like to know how we did it, ask us how by calling 289-288-5019 or email us at admin@mrhamilton.ca. Don't delay, the top markets we focus in are trending upward in price, so you can pay today's price or tomorrow's price.
Till next time, just do it because I believe in you.
Erwin
Hamilton, St. Catharines, Toronto, Land Development, soon to be builder and Real Estate Investor
W: erwinzeto.com
FB: https://www.facebook.com/erwin.szeto
IG: https://www.instagram.com/erwinszeto/

https://www.truthaboutrealestateinvesting.ca/wp-content/uploads/2019/12/Evelyn.png
630
1200
Erwin Szeto
https://www.truthaboutrealestateinvesting.ca/wp-content/uploads/2017/06/TruthRectangleLogo.png
Erwin Szeto
2019-12-15 23:05:30
2019-12-15 23:05:30
Collecting a Million in Rent, Starting at Age 26 With Evelyn Lamarsh