Flipping, Developing, Building, Podcasting, BRRR's, High End Student Rentals at Barely 30 Years Old With Andrew Hines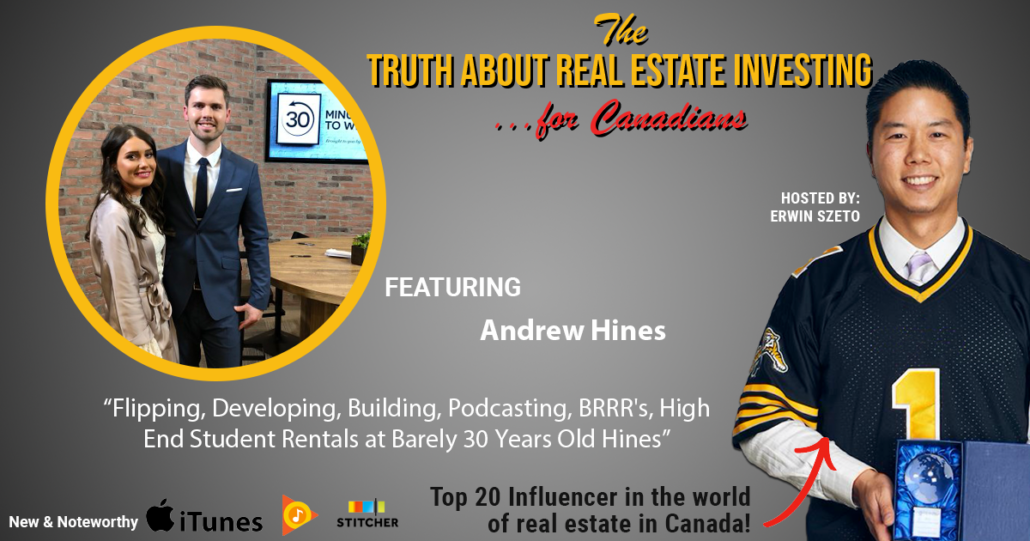 Hello fellow Wealth Hackers!
For those of you who attended the Wealth Hacker Conference, thank you again for the outpouring of positive feedback. It's been quite overwhelming.  The performance of this podcast in downloads is quite humbling as well as we are now 50% above our 2019 monthly average. We will have announcements soon regarding the Wealth Hacker Conference of 2020 as we are engaged with certain elite level Wealth Hackers to keynote our next conference in the fall of 2020. We are definitely looking to 10X from an already 10X'd 2019, so stay tuned, subscribe to this podcast where ever you listen to podcasts, or better yet subscribe to our email newsletter at www.truthaboutrealestateinvesting.ca so you can receive the latest episodes of this podcast and have all the show notes and links so you don't have to scramble and take notes while you're listening.
One of the biggest lessons for me in 2019 was because of the quantity of time Cherry and I spent working and investing, we had to make a concerted effort to at least improve the quality of our time together as a family.  I'm a bit of a workaholic and on my phone way too much at times, so one game we started was if the kids catch mom or dad on their phones at the table during meal time, they would get a sticker. 5 stickers earned them a present, so both parties were highly motivated to police the no phone at the table rule and I'm very frugal and don't want to spoil my kids more than they already are.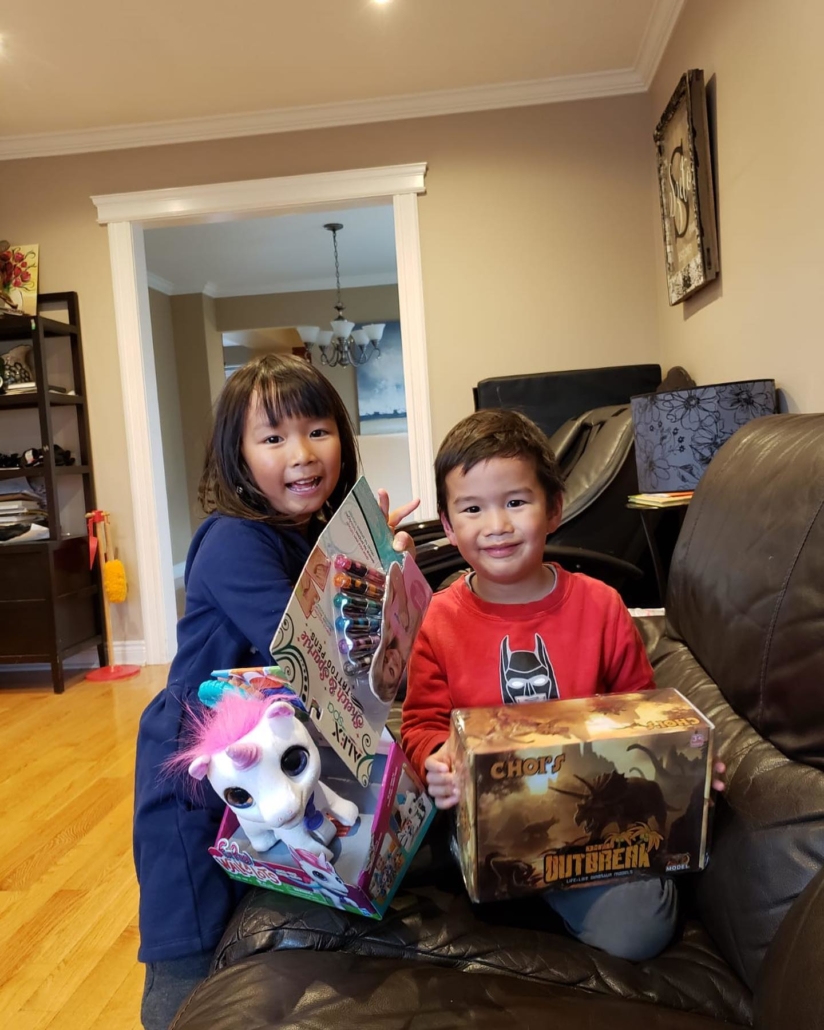 The kids also get a sticker each time they finish one of their workbooks as homework. Again, five stickers equals a present of their choice. As usual, I have no idea what I'm doing, and I'm trying to incent the kids to do work so they understand work equals rewards.
Funny enough, my daughter keeps asking if we're doing another conference… imagine that. A five year old's context is to put on a major event each year and to speak to thousands. Will be interesting to see where this goes.
This week's guest is my friend Andrew Hines, and this is a great episode. We talk about developing real estate and where the development market is going, high end student rentals, how Andrew didn't have to invest in disaster properties to receive great price appreciation, the importance of having a great mentor, and borrowing private money to invest with. Again, a great episode.  
Andrew Hines is a real estate investor from Burlington, Ontario and he's primarily invested in London, Ontario. As of the time of publishing this interview, Andrew has a approximately $4,000,000 in real estate holdings and is the host of The Andrew Hines Real Estate Investing Podcast.
Andrew advocates the use of the BRRRR method to achieve financial independence, and he has become quite proficient in construction management, building, and development due to his value-add approach to real estate investing.
Andrew owns several companies, including a construction general contractor, and has built out multiple investment property units in Southwestern Ontario Canada.
To Listen:

Show Notes:
Podcast: https://podcasts.apple.com/ca/podcast/the-andrew-hines-real-estate-investing-podcast/id1453461753
Profunds: https://www.profunds.ca/
Instagram: https://www.instagram.com/theandrewhines/
Are you newer to real estate investing or unsure of what to invest in next?
Would you like to know where the best areas to invest are near the GTA for the best return on investment?
Then you've found the right place as we're here to help everyone from new investors to seasoned professionals. We have helped 100's of everyday men and women buy their first investment property to their tenth property. It's easier than you think.
My name is Erwin and you may know me as the host of this podcast and I'm also the owner of the iWIN Real Estate Team, the four time Realtor of the Year to Investors per the Real Estate Investment Network, and Canadian Real Estate Wealth Magazine.
My team of investor coaches are licensed real estate professionals who help everyday, hardworking men and women from the GTA grow their real estate portfolio in the most efficient way possible.  You are welcome to use any professionals and contractors you want but you're welcome to our personal rolodex of professionals, the same people I use to become a successful real estate investor.
If you're too busy, we understand. You have better things to do, have dinner with the family, watch the kids play sports. What we do differently is we will preview properties on your behalf to pre-screen only the ones that are ideal investment properties. Many of our clients features on this podcast will even make an offer conditional on a home inspection so they can both beat the competition and have a chance to view the property before making a final decision during a professional home inspection.
After the purchase, we can refer you to our favourite property manager who is a former police officer with 20 year experience with the local police department. He also happens to be well over six feet tall and 220 pounds with a keen eye for finding you great, worry free tenants so tenants never call you and you can go on enjoying life knowing your investment is taken care of.  As an added bonus of being our client, he only takes referrals from our team. This property manager is the most well reviewed property manager I've ever seen in my city.
You can't get financing? You're in luck.  My personal mortgage broker is the best I've ever seen in my investing career. You may just be talking to the wrong people about a mortgage whereas my guy has more relationships with various banks and lenders others just don't and often they're less expensive.
For any of the above, go to www.truthaboutrealestateinvesting.ca/contact, fill out the form and one of the coaches I've personally trained will get back to you.
You don't have enough down payment or earn enough income? On my first properties I partnered with my ex in-laws.  If you don't have family to partner with, then I would suggest you learn how to hack stocks like my past podcast guests Omar Khan and Matthew Todman.  They both earn a mid-six figure income in only 30 minutes a day by getting paid to own blue chip stocks at prices they want anyways. It's almost money for nothing and as Robert Kiyosaki says, a must for the professional investor.
If this interests you, go to www.wealthhacker.ca/stock
Sponsored by:
TitanInvestmentRealEstate.com – would you like to know how our investors returned 341.8% on positive cash flowing real estate over the last five years? On average, that was 68.4% per year, just imagine what winning in real estate could do for you. If you would like to know how we did it, ask us how by calling 289-288-5019 or email us at admin@mrhamilton.ca. Don't delay, the top markets we focus in are trending upward in price, so you can pay today's price or tomorrow's price.
Till next time, just do it because I believe in you.
Erwin
Hamilton, St. Catharines, Toronto, Land Development, soon to be builder and Real Estate Investor
W: erwinzeto.com
FB: https://www.facebook.com/erwin.szeto
IG: https://www.instagram.com/erwinszeto/

https://www.truthaboutrealestateinvesting.ca/wp-content/uploads/2019/11/Andrew-Hines.png
630
1200
Erwin Szeto
https://www.truthaboutrealestateinvesting.ca/wp-content/uploads/2017/06/TruthRectangleLogo.png
Erwin Szeto
2019-12-03 01:05:21
2019-12-03 20:28:54
Flipping, Developing, Building, Podcasting, BRRR's, High End Student Rentals at Barely 30 Years Old With Andrew Hines