Cash Flow In Toronto, Executive Condos, Triplex Conversions with Ming Lim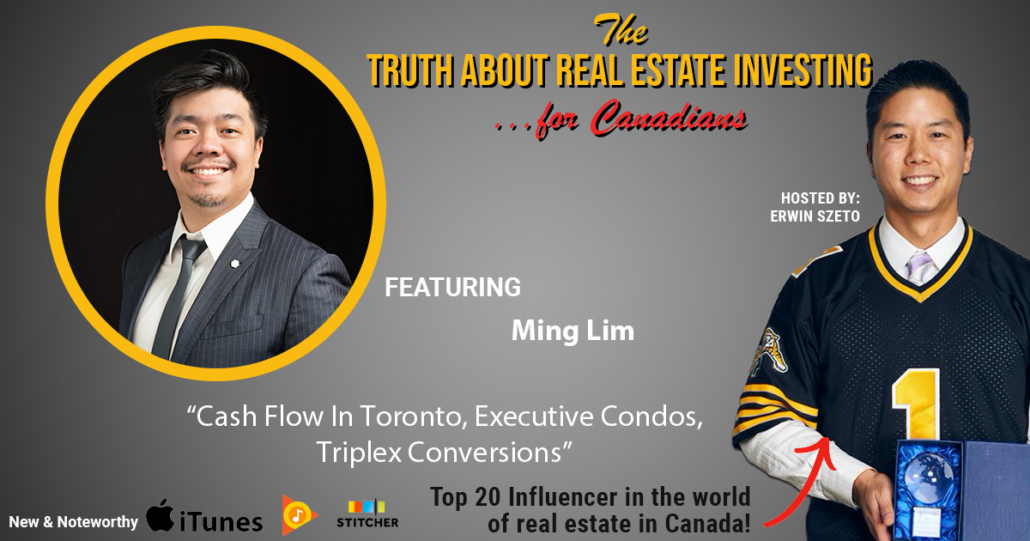 Hello fellow Wealth Hackers!
We have exciting news relating to the Wealth Hacker Conference coming soon! We are about to sign our super amazing keynote speaker and venue, we'll release details and early bird priced tickets soon.
The feedback was off the hook, we received over 300 comments, emails, DM's on how it was one of the best conferences they'd ever been too. Even from veterans of real estate conferences who had been to dozens of them.  If you ever doubt yourself, that the David within you can't beat Goliath, just look to the Wealth Hacker Conference
Cherry's an immigrant to Canada at 16, her parents literally made all their money with their hands, hard work and hustle to put her through school.  I'm a child to immigrants, a mediocre student in school, and this was our first conference on a whim. The biggest investment of time, money and grief in our lifetime. I still question why we want to do this again! 😛
Anyways, Cherry and I have a goal to eat even healthier and cleaner. My picky ass wants better tasting food too so I'll eat more (I was under-eating for quite some time by not taking the time to prepare more food and by not sitting an eating properly).
As with anything, if you don't like reality then change your reality. We hired a personal chef to cook our meals for us for the week, choosing only fresh and natural ingredients with quality products and cooking oils. Poor quality anything equals trouble for my weak stomach.
Needless to say, this is the best lunch and dinner I've had at home for some time. The food lasted us a full week, as we still do eat out time to time.
Well worth the investment! Added bonus is Chef Roxy is a Red Seal Chef who is a dynamite shopper who gets all the best price matches.
We pay an hourly rate, this took Roxy 4.5 hours and cleaned up after herself. This would have taken me 9 hours and the kitchen would still be a mess! LOL. The pictures and videos are on my Instagram and I recommend you do not look if you are on an empty stomach!
View this post on Instagram
Cash Flow In Toronto, Executive Condos, Triplex Conversions with Ming Lim
On to this week's guest. He's an old friend from REIN and his name is Ming Lim.  He's a real estate developer, investor in Waterloo and Toronto, Realtor, smart guy who just left his full time job to be in real estate full time.  I know a lot of you out there are looking for a path out of your full time job and Ming is here to share his along with how he's able to cash flow in Toronto.
Ming and his friends are also hosting a conference that's coming up really soon, February 1st. He's here to share about that too. Details are (below) in the show notes so go check them out. Website is www.volitionprop.com/quickstart
To Listen:

Contact Information:
Email Address: ming@volitionprop.com 
Web: www.volitionprop.com 
Instagram: @investorming
Volition Properties' Quick Start Conference:

For full details go here: http://www.volitionprop.com/quickstart/
Discount code to make it $99: early51
Date And Time
Saturday, February 1, 2020
9:00 AM – 5:00 PM EST
Location
Ryerson University
245 Church Street
Where Should I Invest?
Are you newer to real estate investing or unsure of what to invest in next?
Would you like to know where the best areas to invest are near the GTA for the best return on investment?
Then you've found the right place. We're here to help everyone from new investors to seasoned professionals. We have helped 100's of everyday men and women buy their first investment property to their tenth property. It's easier than you think.
My name is Erwin and you may know me as the host of this podcast. I'm also the owner of the iWIN Real Estate Team, the four time Realtor of the Year to Investors from the Real Estate Investment Network and Canadian Real Estate Wealth Magazine.
My team of investor coaches are licensed real estate professionals who help everyday, hardworking men and women from the GTA grow their real estate portfolio in the most efficient way possible.  You are welcome to use any professionals and contractors you want, but you're welcome to our personal rolodex of professionals, the same people I use to become a successful real estate investor.
If you're too busy, we understand. You have better things to do, have dinner with the family, watch the kids play sports. What we do differently is we will preview properties on your behalf to pre-screen only the ones that are ideal investment properties. Many of our clients featured on this podcast will even make an offer conditional on a home inspection so they can beat the competition and have a chance to view the property before making a final decision.
After the purchase, we can refer you to our favourite property manager who is a former police officer with 20 year experience with the local police department. He also happens to be well over six feet tall and 220 pounds with a keen eye for finding you great, worry free tenants who never call you. You can go on enjoying life knowing your investment is taken care of.  As an added bonus of being our client, he only takes referrals from our team. This property manager is the most well reviewed property manager I've ever seen in my city.
You can't get financing? You're in luck.  My personal mortgage broker is the best I've ever seen in my investing career. You may just be talking to the wrong people about a mortgage whereas my guy has more relationships with various banks and lenders others just don't and often they're less expensive.
For any of the above, go to www.truthaboutrealestateinvesting.ca/contact, fill out the form and one of the coaches I've personally trained will get back to you.
You don't have enough down payment or earn enough income? On my first properties I partnered with my ex in-laws.  If you don't have family to partner with, then I would suggest you learn how to hack stocks like my past podcast guests, Omar Khan and Matthew Todman.  They both earn a mid-six figure income in only 30 minutes a day by getting paid to own blue chip stocks at prices they want anyways. It's almost money for nothing and as Robert Kiyosaki says, a must for the professional investor.
If this interests you, go to www.wealthhacker.ca/stock
Sponsored by:
infinitywealth.ca – would you like to know how our investors returned 341.8% on positive cash flowing real estate over the last five years? On average, that was 68.4% per year, just imagine what winning in real estate could do for you. If you would like to know how we did it, ask us how by calling 289-288-5019 or email us at meaghan@infinitywealth.ca. Don't delay, the top markets we focus in are trending upward in price, so you can pay today's price or tomorrow's price.
Till next time, just do it because I believe in you.
Erwin
Hamilton, St. Catharines and Toronto Land Development, Real Estate Investor, and soon to be builder.
W: erwinzeto.com
FB: https://www.facebook.com/erwin.szeto
IG: https://www.instagram.com/erwinszeto/

https://www.truthaboutrealestateinvesting.ca/wp-content/uploads/2020/01/Ming-Lim.png
630
1200
Erwin Szeto
https://www.truthaboutrealestateinvesting.ca/wp-content/uploads/2017/06/TruthRectangleLogo.png
Erwin Szeto
2020-01-20 07:30:00
2020-01-17 20:00:55
Cash Flow In Toronto, Executive Condos, Triplex Conversions with Ming Lim