Lessons From 8 Years of Teaching Real Estate with Elizabeth Kelly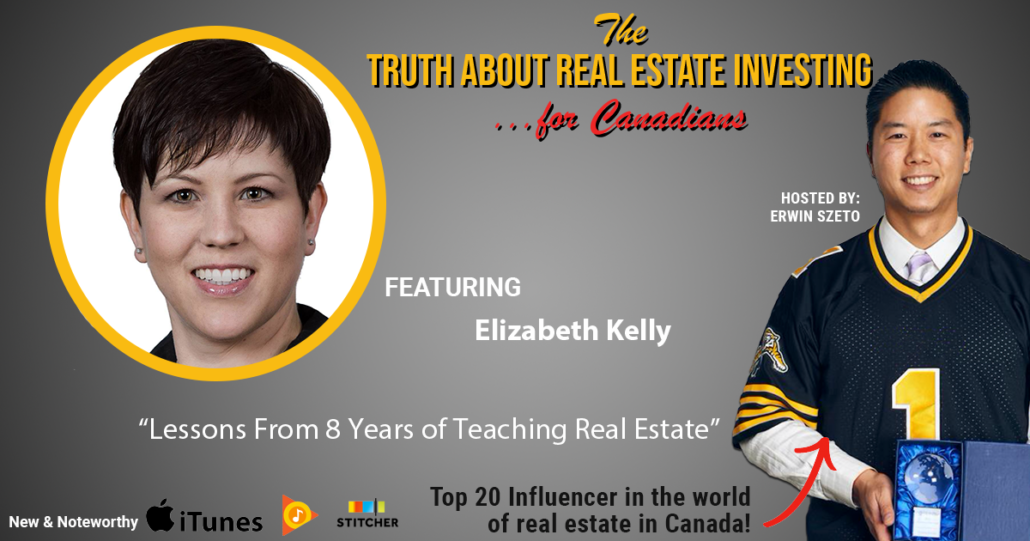 Hello Wealth Hackers!
Getting motivated is like showering, you have to do it regularly for it to be effective.  I'm paraphrasing what my friend Russell Westcott shared with me so I thought I would share this quote that meant a lot to me after reading on social media how humble it is to NOT broadcast one's charity efforts…
"Your playing small does not serve the world. There is nothing enlightened about shrinking so that other people will not feel insecure around you. We are all meant to shine, as children do. It is not just in some of us; it is in everyone, and as we let our light shine, we unconsciously give others permission to do the same. As we are liberated from our fear, our presence automatically liberates others."
— Marianne Williamson
For you wealth hackers who are scaling up, you can't possibly do so without getting attention. You need attention from potential joint venture partners, private money lenders, for hiring team members, or finding buyers for your wholesale deals.  If you plan on scaling up, you need to put yourself out there, including your charity work. 
To each their own. If they want to share publicly what they do with their charity efforts, that's OK. Making anonymous donations is totally fun, too. If you've never done it, try it. It's not hard to scroll through social media to find a worthy cause.  A friend of a friend told me once how their gym friend is a single mom who has a great daughter. As all parents do, they want their kids to have opportunity, this young lady loved hockey. Hockey is expensive, so what did this friend of a friend do?  They offered mom gift certificates to pay for hockey equipment. She declined. The donor then reached out to the hockey coach and mailed him the gift certificates under the agreement he would remain anonymous to the child.  
Here's a note from the single mom, "Her first game going into the arena was such an awesome moment for both of us and her last game (which turned into 2) was so awesome! She showed such bravery but wanting to try goalie again and for another team of people she did not know! It was a very proud momma moment and one which I know will continue to build her character in all the important ways. Thank you so much for the role you played in this, it really means a lot to us (she still doesn't know it was you)."
Needless to say, this friend of a friend was happy to play a small part.
If you ever want to lead, leading by example is one of the best methods.  And if you ever post anything on the socials with you doing something awesome, know that you inspire me.
No idea where I was going with that but let's talk about kids.
My daughter received a small digital camera for Christmas. She loved it.  Loved as in past tense because I took it and hid it from her when she wasn't looking.  The camera comes with some retro, basic games including a snake. If you owned a cell phone from around the year 2000 you know what I'm taking about where you control a snake to eat food while avoiding walls and your own tail.
Anyways, my daughter was obsessed with the camera and when she didn't have it, she wanted it.  She's like her dad in that I'm addicted to my smart phone and social media. I'm not happy with my own issues nor do I want my kids to be addicted to screen time like their old man. So I hid the camera and my daughter's attitude and emotional control immediately improved.  We found the same to be true when we got home from the cruise ship eating a diet free of regular ice cream.
See problem, fix it. My kids get very little screen time each week. Almost none during school days which is why my son was able to sit with Cherry and I while having lunch with Greg Habstritt for two hours last week.  He had his toy monster truck and sat quietly taking in his new environment.
Now, I have no idea what I'm doing as a parent. I'm hardly well read in this area, but one of my neighbours is a Psychiatrist at our school board. ADD and related drugs prescriptions are on the rise, so Cherry and I will do what we can to raise healthy kids.  Including leasing a minivan without the tv package the car sales person told us was a must.
Like anything else us wealth hackers are faced with, see problem, create solution.  Don't want to work forever or retire broke, hustle today to invest for the future, however you know to best invest.  Including investing in coaching which leads us to this week's guest Elizabeth Kelly.
Lessons From 8 Years of Teaching Real Estate with Elizabeth Kelly
Elizabeth is a friend, Real estate investor for 15 years, specializing in Buy, Rent and Hold, Rent to Own and Flipping strategies.  Legacy Trainer for 8 years, Investment Coach for 4 years, Founder of Sandstone Property Management (Kirkland Lake), Member of the Executive Advisory Council for Ontario Landlords Watch. I give you, Elizabeth Kelly.
To Listen:

NO MORE Confusion
After all the Youtube videos, books, and forum posts, you're probably still left with questions. Starting in real estate is a tricky thing.
Frustrated beginners often ask how a legal basement suite conversion actually works. Most of the time we can only give general answers. But now, we get to go deep.
 At this in-depth, free class you'll learn how to take your first steps as a real estate investor.
 Nothing is held back. Everything from analyzing basement suite conversion deals, to renting out your first property at a profit, and even how to refinance and do it all again!
More secrets you'll uncover are:
Profiting in a HOT market…

Municipal bylaws to watch out for…

Mortgage terms that favour refinancing…

One barely used tactic for higher appraisals…

If you're frustrated, unsure of how to get started, this is for you.
 Sign up now for the Invitation List and be one of the first to get an invite to the next class.
Sponsored by:
infinitywealth.ca – would you like to know how our investors returned 341.8% on positive cash flowing real estate over the last five years? On average, that was 68.4% per year, just imagine what winning in real estate could do for you. If you would like to know how we did it, ask us how by calling 289-288-5019 or email us at meaghan@infinitywealth.ca. Don't delay, the top markets we focus in are trending upward in price, so you can pay today's price or tomorrow's price.
Till next time, just do it because I believe in you.
Erwin
Hamilton, St. Catharines and Toronto Land Development, Real Estate Investor, and soon to be builder.
W: erwinszeto.com
FB: https://www.facebook.com/erwin.szeto
IG: https://www.instagram.com/erwinszeto/

https://www.truthaboutrealestateinvesting.ca/wp-content/uploads/2020/01/Elizabeth-Kelly.png
630
1200
Erwin Szeto
https://www.truthaboutrealestateinvesting.ca/wp-content/uploads/2017/06/TruthRectangleLogo.png
Erwin Szeto
2020-01-27 07:59:00
2020-01-24 20:12:41
Lessons From 8 Years of Teaching Real Estate with Elizabeth Kelly