7 Years Part Time and $800K in Returns
Thank you real estate investors, readers, listeners and clients for your kind words and nominations!!
This past week, the Real Estate Investment Network bestowed upon myself and my team at Titan Investment Real Estate, the winners of 2018's Realtor of the Year. We are now two-time winners. We last won in 2015, along with our wins as Agent of the Year by Canadian Real Estate Wealth Magazine's in 2016 and 2017.
Our efforts are proof that the good people doing good things in Business and in the community can excel in the investment real estate industry. Thank you to the Real Estate Investment Network for this award. To be honest, I didn't think we would win considering the very steep competition. All four finalists had all previously won the award and are doing wonderful things for their own respective clients and communities.
I'd like to thank our clients for believing in us to follow our advice in their pursuit of financial freedom and security for themselves and their families. I'd like to thank the OG's of REIN – original gangsters Don R Campbell, Russell Westcott, and Melanie Tenant-Reuter, plus the current leadership team Patrick, Richard, and Jennifer.
Thank you again to my team: Tammy, Meaghan, James, Han, Koukun, Maria, John, Charles, and Tim. Thank you to my broker owners and mentors in Tom and Nick Karadza. Thank you coach Mary-Anne Gillespie.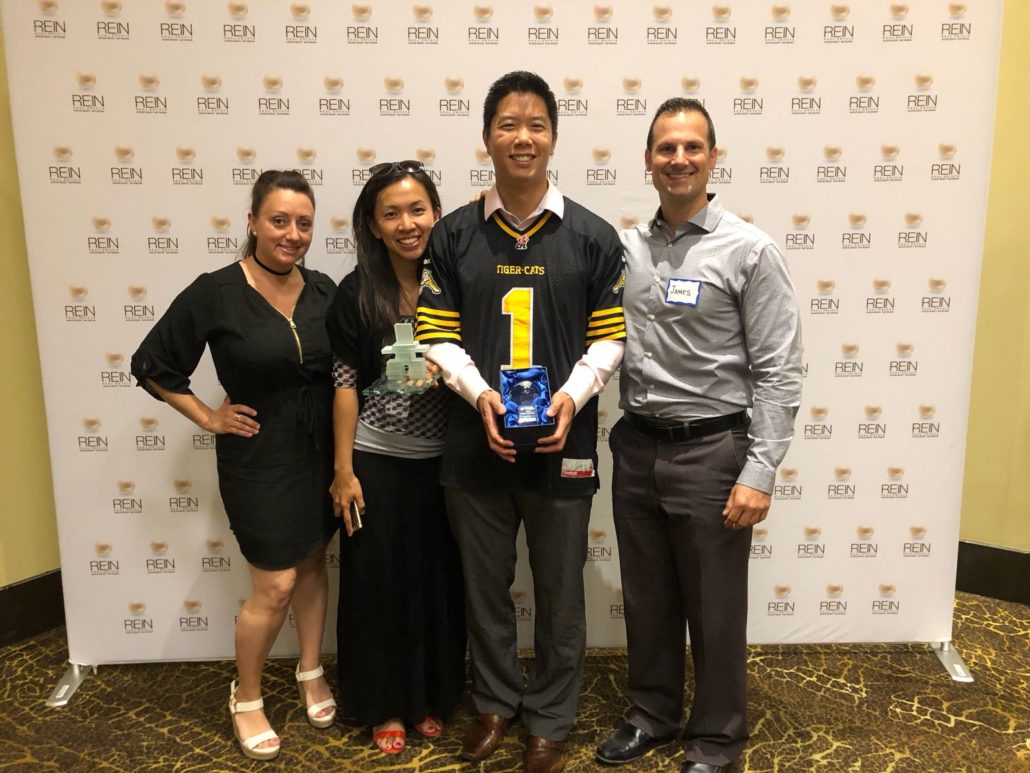 I'd like to thank my wife and kids for putting up with my attempts at a work/life balance, without their support and inspiration, this would not be possible.
Finally I would like to thank my parents for uprooting their lives to move half way around the world for a better opportunity for themselves and their children and grandchildren.
Thanks listeners and readers for being part of my community and this is only the beginning, we have big and better things planned for our clients and the Hamilton Basket Brigade in 2018.
Stay awesome everyone and just do it because I believe in you!
And if you wonder why we won the award? Just have a listen to this week's guest, the legendary John Roumanis, my friend and client who is doing quite well with his real estate investments.
7 Years Part Time and $800K in Returns
John Roumanis is back again and upon his insistence we opened a 2009 Italian bottle of Chianti (I can't help but think of Hannibal Lector's line how he ate liver and kidney beans with a nice Chianti…) and chatted about real estate, mindset for success, challenges and successes, stock investing and so much more.  I know it's a long episode, but do listen to the end to hear what motivates John. It wasn't what I expected.
John is my friend and client, he holds a CPA, MBA, and he's a part time instructor at Sheridan College to round out his busy life as an executive at a major coffee company and new father.
To follow or contact John:
on Instagram: https://www.instagram.com/john_roumanis/
on LinkedIn: https://www.linkedin.com/in/johnroumanis/
Sponsored by:
TitanInvestmentRealEstate.com – would you like to know how our investors returned 341.8% on positive cash flowing real estate over the last five years? On average, that was 68.4% per year, just imagine what winning in real estate could do for you. If you would like to know how we did it, ask us how by calling 289-288-5019 or email us at admin@mrhamilton.ca. Don't delay, the top markets we focus in are trending upward in price, so you can pay today's price or tomorrow's price.
HaltonREI.ca – This episode is brought to you by my networking group, the Halton REI. We meet in Oakville (part of the Halton Region), but mainly invest in the top investment towns west of Halton: Brantford, Hamilton, Niagara Region.
We regularly feature the top speakers from our industry. The vast majority of our attendees are seasoned investors, so you will want to spend more time around these folks, as you are the average of the five people you spend the most time with. Your net worth is your network, so choose how you spend your time wisely.
Knowledge is power. Every meeting we share the latest in market rents, prices in the top neighbourhoods, and strategies for investment. We share the best property available as our Best Buy Property of the Month. We share the best tips and tricks for you to implement immediately to your investment businesses to fast track YOU on your journey to financial freedom. It's up to you if you'd like to be on said journey.
To get on the invite list please register at https://www.truthaboutrealestateinvesting.ca/meeting/ and you will receive an invite to the next Halton REI meeting once announced.
But don't listen to me, here's what members of our community are saying about the Halton REI!!
Till next time, Just do it, I believe in you.
Erwin
https://www.truthaboutrealestateinvesting.ca/wp-content/uploads/2018/06/Screen-Shot-2018-06-12-at-10.47.01-AM.png
593
594
Erwin Szeto
https://www.truthaboutrealestateinvesting.ca/wp-content/uploads/2017/06/TruthRectangleLogo.png
Erwin Szeto
2018-06-14 13:19:17
2018-06-14 14:01:19
7 Years Part Time and $800K in Returns