How to Claim Thousands of Dollars of in Home Energy Rebates with Nick Crosby
Once you have faced all your fears, what else is there left to fear?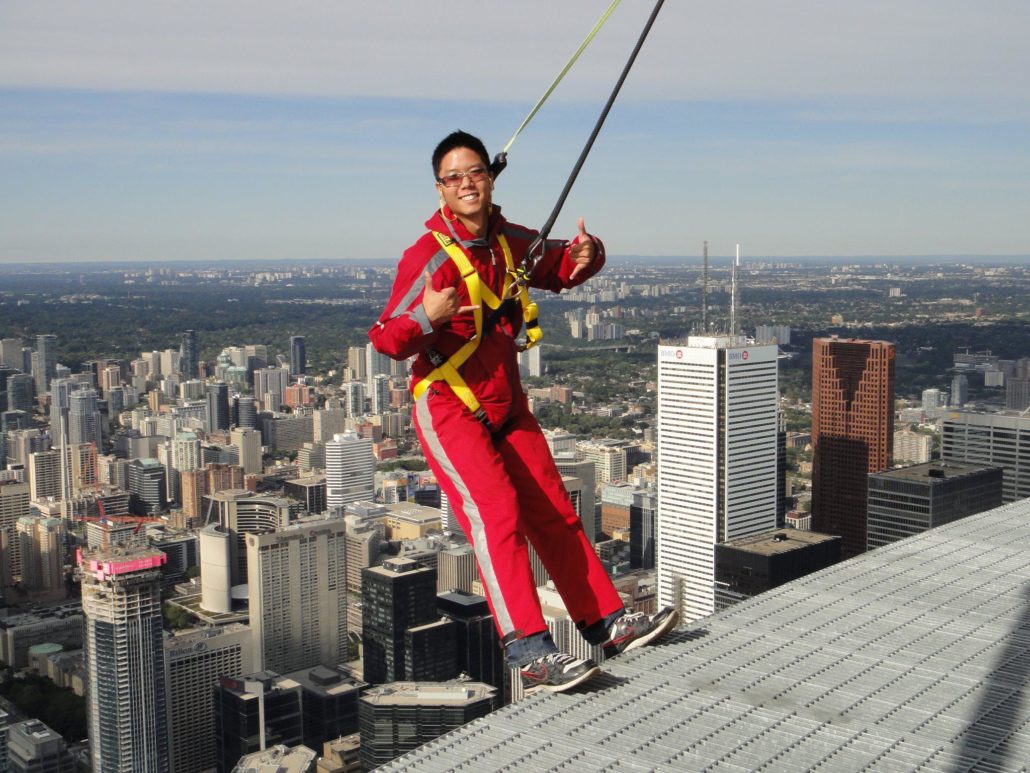 This is the question I posed my Titan Investment Real Estate team when I challenged them to face their fears at CN Tower's Edge Walk.  Participants walk around the circumference of the roof and lean out over the edge. Why? For fun!
Scary, right? It is to folks with acrophobia, such as myself, who don't even like to step onto the glass floor of the CN Tower. However, the more often you face your fears and accept challenges, the easier it gets!
This venture is my 2nd go at the Edgewalk. Cherry and I first did Edgewalk in 2011 and from a fear of heights perspective, this is the scariest thing I've ever done.  Edgewalk is scarier because it's a 30 minute walk where you are actively participating.  In tandem skydiving, you are pulled/pushed out of the plane. Ziplining/hangliding, leaving the ramp takes seconds.  Edgewalk, no one holds your hands, you legs feel like jello and you are gripping the a cable I call your lifeline! :p
The team did great! I'm very proud of them. No one bailed, they each accepted the
challenges of leaning out both forwards and backwards. It's just unfortunate that our safety was actually at risk as lightening struck a few km away from the CN Tower, so our walk was cut short after about 3/4 of the adventure so no pictures and video this time, but we get a rain check good for 12 months.
Investing in real estate is no different. It is common knowledge among veteran investors that the first investment property is always the toughest and every property from there gets easier.  But unlike the CN Tower Edgewalk, the coaches at Titan Investment Real Estate are there to hold your hand to make it less scary than Toronto's tallest adventure.
How to Claim Thousands of Dollars of in Home Energy Rebates with Nick Crosby
"I wish I knew you before I did my renovations" is what everyone tells Nick "the Rebate Guy" Crosby upon meeting him.
It is exactly what I said too. For years, I have not been able to locate a home energy auditor since many of the last sets of rebate programs went away and the majority were only for your principle residence and NOT rental properties.
No more!! Friend of the show and our client, Kaush Nanubhai, recommend Nick to us after he hired Nick to inspect his property. Kaush is netting a cool thousand dollars in rebates for renovation work he was planning on doing anyway.
I personally could have netted several thousand for my AC and window replacements in the last two years. It's too late now, but I'll be having Nick inspect for sure before I have my ancient, mid-efficiency furnace replace!
Show Notes:
The gas program links, depending on where you live, are below…
https://www.uniongas.com/homereno OR
Home Energy Conservation – Enbridge Smart Savings
CMHC — Energy-efficient Housing Made More Affordable with Mortgage Loan Insurance | CMHC
Genworth has a program too: http://genworth.ca/en/index.aspx
How to get in touch with Nick Crosby: https://www.homeenergyadvice.ca/
Sponsored by:
TitanInvestmentRealEstate.com – would you like to know how our investors returned 341.8% on positive cash flowing real estate over the last five years? On average, that was 68.4% per year, just imagine what winning in real estate could do for you. If you would like to know how we did it, ask us how by calling 289-288-5019 or email us at admin@mrhamilton.ca. Don't delay, the top markets we focus in are trending upward in price, so you can pay today's price or tomorrow's price.
HaltonREI.ca – This episode is brought to you by my networking group, the Halton REI. We meet in Oakville (part of the Halton Region), but mainly invest in the top investment towns west of Halton: Brantford, Hamilton, Niagara Region.
We regularly feature the top speakers from our industry. The vast majority of our attendees are seasoned investors, so you will want to spend more time around these folks, as you are the average of the five people you spend the most time with. Your net worth is your network, so choose how you spend your time wisely.
Knowledge is power. Every meeting we share the latest in market rents, prices in the top neighbourhoods, and strategies for investment. We share the best property available as our Best Buy Property of the Month. We share the best tips and tricks for you to implement immediately to your investment businesses to fast track YOU on your journey to financial freedom. It's up to you if you'd like to be on said journey.
To get on the invite list please register at https://www.truthaboutrealestateinvesting.ca/meeting/ and you will receive an invite to the next Halton REI meeting once announced.
But don't listen to me, here's what members of our community are saying about the Halton REI!!
Till next time, Just do it, I believe in you.
Erwin
https://www.truthaboutrealestateinvesting.ca/wp-content/uploads/2018/06/Screen-Shot-2018-06-19-at-9.36.53-AM-2.png
451
800
Erwin Szeto
https://www.truthaboutrealestateinvesting.ca/wp-content/uploads/2017/06/TruthRectangleLogo.png
Erwin Szeto
2018-06-19 14:38:12
2018-06-19 15:30:53
How to Claim Thousands of Dollars of in Home Energy Rebates with Nick Crosby