Proving The Husband Wrong, Investing in Cottages, Developments, Retail Commercial, and Stock Hacking for Six Figures with Monica Lee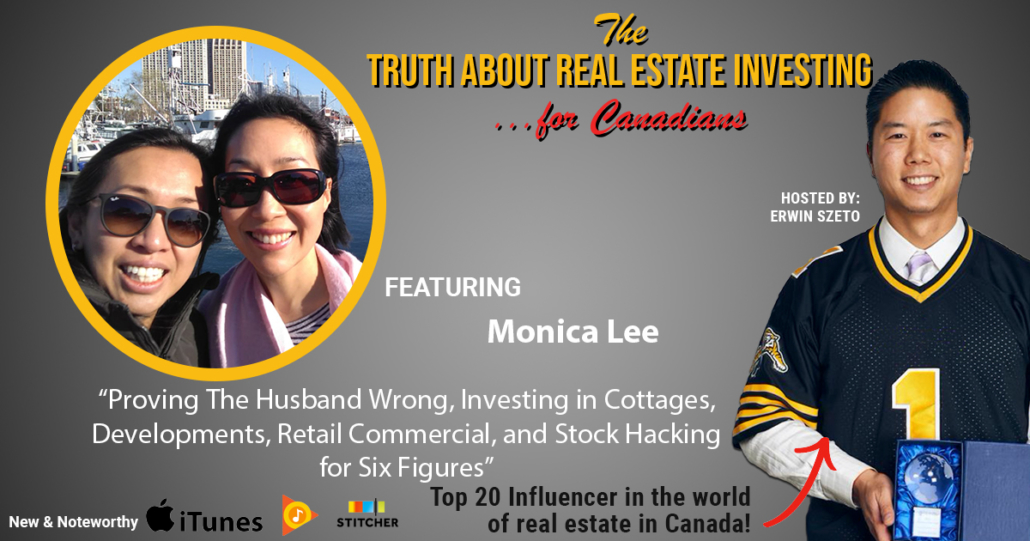 Hello iWINNERs!!
I hope you are having a great week and enjoying the summer!
You may have noticed we didn't release an episode last week as I was tied up with Cherry's birthday week and golfing three times including taking a lesson.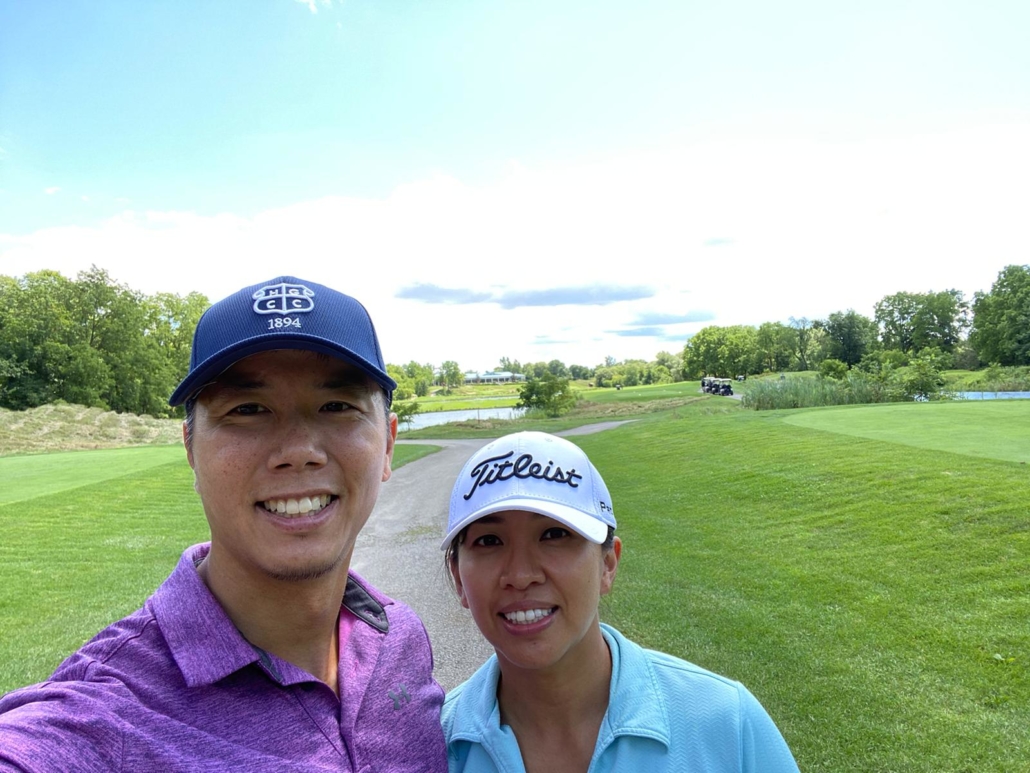 Do you know the saying "you can't have your cake and eat it too?" as in you cannot have two incompatible things or you can't have the best of both worlds?
Well I've never been much to conform to rules so other than Cherry being my wife and mom to our kids, we invest together in both real estate and stock hacking, we own several businesses together and we golf together. 
When I'm more disciplined, I got to the gym with Cherry 😛  
Cherry is better at golf than I am, she beat me two of three outings last week.  She beat me last week at stock hacking as well so I think she-trader is beating he-trader by the score of 15-6.
I do have other family who stock hack as well, my little cousin. His nickname is Chubby, he had big cheeks as a baby so my brother called him Chubby and the nickname stuck.
Chubby is a musician by trade, a beginner real estate investor, and he was a buy and hold investor of stable stocks like Canadian banks.  During thanksgiving, we had my extended family over for dinner, remember what those days were like?
Anyways, I told Chubby he was leaving money on the table investing in stocks the way he was so I showed him how I would stock hack, I gave him Derek Fosters book "Money for Nothing and Your Stocks For Free."
Fast forward ten months later, he sends me a screen capture of his trading app showing his returns are 22% this year so far. He can't convince his wife to learn stock hacking but you know the crazy part?  His cash flow is greater than the average Canadian's work income.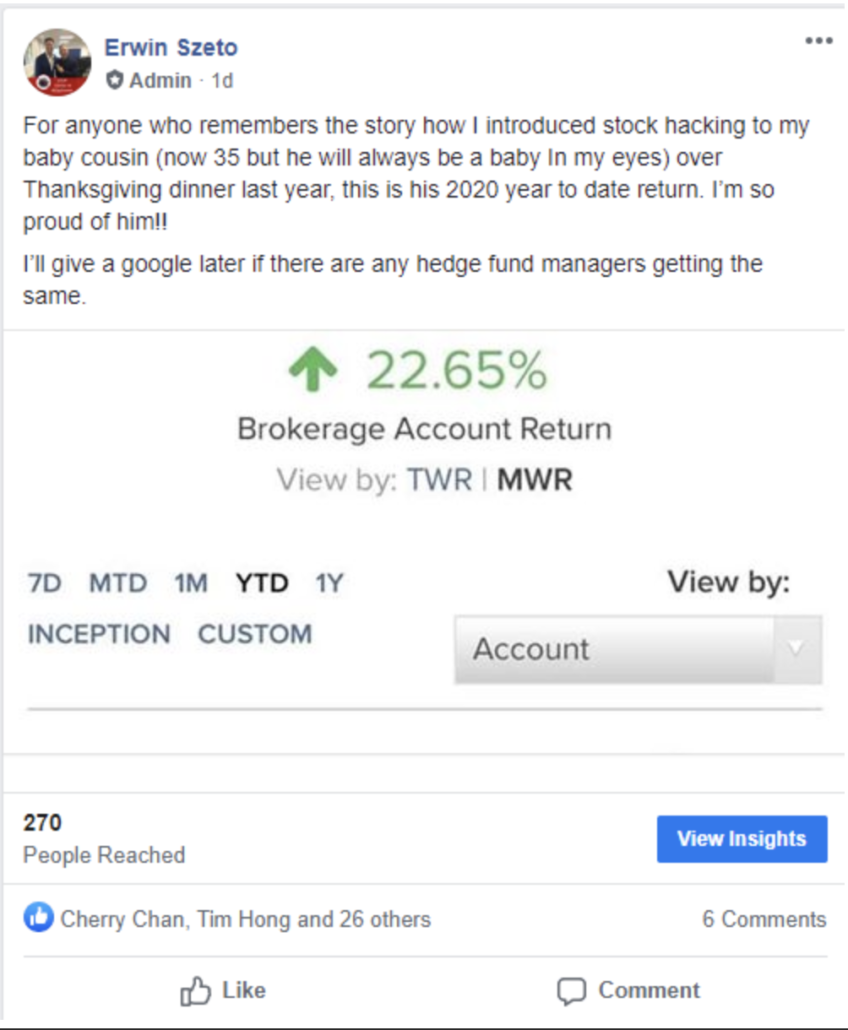 Note that is for all of 2020 so that includes the COVID crash of February and March.
Also note, Chubby wants to buy more real estate, it's just not easy as a millennial to raise 20% down payments.  But if you can, there is no better asset class to build wealth in my experience.
If you're interested in learning more about stock hacking, I'll be giving a demo on Tuesday August 18th in the evening via Zoom. 
It will be a bit more detailed than the demo I did for Chubby over turkey and wine, but my hope is the same for you the listener, to create a steady stream of cash flow. 
The bigger the better.
>> Click here to register for my free trading demonstration. <<
Those who get my emails will also see an invite and if you're not on my email list, that's just silly.  Go to www.truthaboutrealestateinvesting.ca and simply input your name and email and I hope to see you Tuesday Aug 18th in the evening on Zoom!
Proving The Husband Wrong, Investing in Cottages, Developments, Retail Commercial, and Stock Hacking for Six Figures with Monica Lee
This week's guest is Monica Lee who is like family. She is Cherry's BFF and godmother to our most prized assets, our son and daughter. 
Monica and husband, Rich, are both second generation Canadians. Their parents immigrated to Canada from Korea with not much in search for a brighter future for their kids. 
Rich and Monica both became lawyers who eventually quit law and six figure salaries to be full time real estate investors.
Monica invests in cottages for short term rentals, a couple commercial retail properties, they develop and build houses, she stock hacks for six figures all the while being a mom to three great young kids.
Just wait till you hear the story about how someone told Monica's oldest son she would fail and give up as a stock hacker.  Her response is pretty epic.
I present to you, Monica Lee.
To Listen:

Looking to add another stream of income?
On October 3rd & 4th, you can join the next Stock Hacker Academy Live Introductory Course. Learn the foundations that have helped Erwin and Cherry make upwards of $2000 USD a week. Stock Hacker Academy includes:
Live, in person or digital, weekend Course with the Godfather of Stock Options, Lee Lowell.

8 Weekly coaching webinars taught by Lee.

Access to all of the recording for 12 months

And so much more…
If you want to see this in action, click here to register for the next FREE Trading Demonstration.
NO MORE Confusion
After all the Youtube videos, books, and forum posts, you're probably still left with questions. Starting in real estate is a tricky thing.
Frustrated beginners often ask how a legal basement suite conversion actually works. Most of the time we can only give general answers. But now, we get to dive in.
At this in-depth, free class you'll learn how to take your first steps as a real estate investor.
Nothing is held back. Everything from analyzing basement suite conversion deals, to renting out your first property at a profit, and even how to refinance and do it all again!
More secrets you'll uncover are:
Profiting in a HOT market…

Municipal bylaws to watch out for…

Mortgage terms that favour refinancing…

AND one barely used tactic for higher appraisals…
If you're frustrated, unsure of how to get started, this is for you.
 Sign up now for the Invitation List and be one of the first to get an invite to the next class.
Sponsored by:
Infinity Wealth Investment Network – would you like to know how our investors returned 341.8% on positive cash flowing real estate over the last five years? On average, that was 68.4% per year, just imagine what winning in real estate could do for you. If you would like to know how we did it, ask us how by calling 289-288-5019 or email us at meaghan@infinitywealth.ca. Don't delay, the top markets we focus in are trending upward in price, so you can pay today's price or tomorrow's price.
Till next time, just do it because I believe in you.
Erwin
Hamilton, St. Catharines and Toronto Land Development, Real Estate Investor, and soon to be builder.
W: erwinszeto.com
FB: https://www.facebook.com/erwin.szeto
IG: https://www.instagram.com/erwinszeto/

https://www.truthaboutrealestateinvesting.ca/wp-content/uploads/2020/08/Monica-Lee.jpg
630
1200
Erwin Szeto
https://www.truthaboutrealestateinvesting.ca/wp-content/uploads/2017/06/TruthRectangleLogo.png
Erwin Szeto
2020-08-14 10:02:29
2020-08-14 10:20:40
Proving The Husband Wrong, Investing in Cottages, Developments, Retail Commercial, and Stock Hacking for Six Figures with Monica Lee