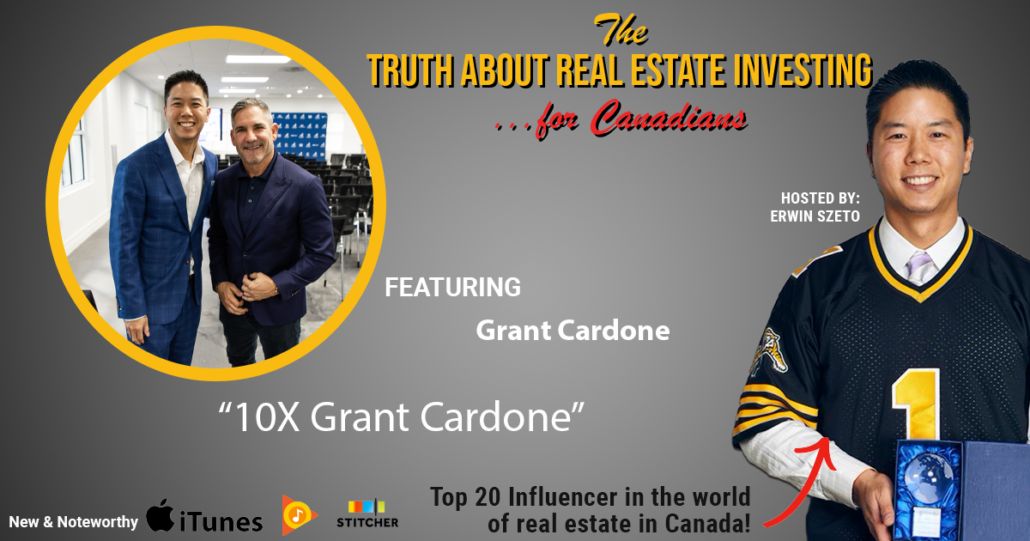 Hello Wealth Hackers!! 
Welcome to the truth about real estate investing show and we have a special guest in Grant Cardone this week.  If you're not familiar with Grant, he is the bestselling author of The 10X Rule and If You're Not First, You're Last. He's also a sales trainer, speaker, and entrepreneur who has worked in real estate and the auto industry. Grant Cardone is a real estate mogul who built his $1.2 Billion portfolio of multifamily properties from scratch. Moreover, he was named the #1 marketer to watch in 2017 by Forbes Magazine.
View this post on Instagram
You know that saying,  "You can judge someone by how they speak to the secretary"?
Well, you should see Grant. He definitely leads from the front, and I can see it in the people who work with him that he's well liked. Grant will say people only like him because he makes them money, but he's definitely charismatic, funny, and witty.
When I wasn't with Grant, I was hanging out with one of Grant's lieutenants in Steve Spray. He's the host of Cardone University's Mastermind and he's really cool. Steve used to be so broke that he secretly lived in a furniture store where he worked. Since Steve joined Grant, when they were only around ten employees, they have grown to 175 and he is extremely successful. We had lunch and did a workout together. Steve did 100 pull ups. I think I did 45. I'm going to play the age card this time as Steve is 10 years younger than me.
Steve shared how Grant personally coaches him, which is wild to have a coach on that level and, again, Steve is already very successful and is still learning.
The experience of being around Grant and his people definitely expanded my mindset to think bigger and I hope the same for you, the listener. It may not seem like it, but I stewed on these five questions I was asked to submit in advance. I've watched a lot of interviews of Grant and wanted to pull out a story no one has heard yet.
Personally, this is one of my favourite interviews, in that it was challenging and fun. From joking about Canadian modesty to next level, multifamily investing in the hundreds of units. Grant's Cardone Capital manages $1.2 Billion USD in real estate so he's definitely the biggest real estate investor we've had on this show.
If you'd like to see Grant live in Toronto, on November 9th, go to www.wealthhacker.ca and use the promo code thetruth to save 10% off the public price.
Link: https://wealthhacker.eventbrite.ca?discount=thetruth
To Listen:

Like Grant said, bring the whole team, your partner or spouse. I've been working with investors since 2010. A partner who is against investing will doom your investing business.  Get them on the same page, on the same path and journey to 10X your wealth. 
Get your tickets today at www.wealthhacker.ca. I do suggest upgrading to premium or VIP to avoid the big lineups to register and for seats closer to the stage. At the time of recording we're about to pass 1,100 tickets sold. We will see you November 9th!
Sponsored by:
TitanInvestmentRealEstate.com – would you like to know how our investors returned 341.8% on positive cash flowing real estate over the last five years? On average, that was 68.4% per year, just imagine what winning in real estate could do for you. If you would like to know how we did it, ask us how by calling 289-288-5019 or email us at admin@mrhamilton.ca. Don't delay, the top markets we focus in are trending upward in price, so you can pay today's price or tomorrow's price.
Till next time, just do it because I believe in you.
Erwin
Hamilton, St. Catharines, Toronto, Land Development, soon to be builder and Real Estate Investor
W: erwinzeto.com
FB: https://www.facebook.com/erwin.szeto
IG: https://www.instagram.com/erwinszeto/

https://www.truthaboutrealestateinvesting.ca/wp-content/uploads/2019/10/Grant-Cardone.png
630
1200
Erwin Szeto
https://www.truthaboutrealestateinvesting.ca/wp-content/uploads/2017/06/TruthRectangleLogo.png
Erwin Szeto
2019-10-25 15:48:07
2019-10-25 16:45:00
10X Grant Cardone