New Standardized Lease w/ Paralegal Diane Digiandomenico
Hello fellow Titans of real estate investments!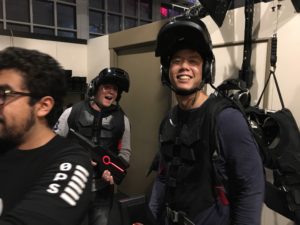 Have you been to Ghost Busters virtual reality game at the Rec Room just south of the CN Tower? It's a lot of fun!! This was my second go of the game, and this time was with my brother and my very silly childhood friends.
The game is where we, the players, are Ghost Busters! We each choose an avatar (a virtual representation of oneself, by chance we each selected the African-Canadian male avatar so we couldn't tell each other apart), we are each outfitted with VR helmets with headphones, mic, vest and of course, a gun. Once in the game, we walk around while being attacked by ghosts while having to complete mission objectives.
The silliness and hilarity ensues as we push each other, test the boundaries of the virtual reality, and poke each other with the guns. With the VR goggles on, you're basically blind to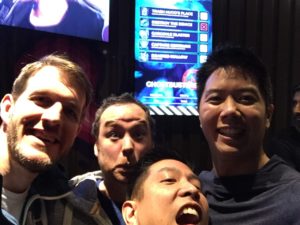 what's actually going on in the real world, plus the game is sensory overload with ghouls and ghosts and marshmallow men attacking you. I highly recommend!!
Even with all the immature silliness going on, we still fared well, completing 4 of 5 tasks for a grade of A!!!!  An improvement over my previous score of B… practice makes perfect, no different than one's 2nd investment property being smoother than one's 1st investment property.
Ontario's New Standardized Lease w Paralegal Diane Digiandomenico
Everyone's favourite combination Property Manager, Paralegal, and licensed Realtor, Diane Digiandomenico, is back for round 2, at my request, to explain her thoughts on the new standardized lease that comes into effect at the end of April.
Before we start, so that no one sues Diane or I…
The content on this web site and podcast is provided for general information purposes only and does not constitute legal or other professional advice or an opinion of any kind. Users of this web site and podcast are advised to seek specific legal advice by contacting their own legal counsel, or Diane, regarding any specific legal issues. Erwin and my companies do not warrant or guarantee the quality, accuracy or completeness of any information on this web site and podcast. The articles published on this web site and podcast are current as of their original date of publication, but should not be relied upon as accurate, timely or fit for any particular purpose.
Please seek professional advice as you should in any real estate or business transaction.
That said, I've come across many property managers and paralegals in my lengthy experience as a professional real estate investor and, as you know, our community is a small one. Everyone hears the good and bad on everyone. There is a vast amount of good references for Diane's work, hence I reached out to her for this interview that we recorded shortly after the new Ontario standardized lease was announced.
The interview was a surprising one for me. I asked Diane to do this interview to talk about the standardized lease, which we did, but she taught me even more about her people skills in communicating and setting expectations with customers. Be ready to take notes as Diane's lessons are next-level and this is not taught anywhere!
To Listen:
Until next time, Just do it, I believe in you.
Erwin
Hamilton, St. Catharines, Toronto, Land Development and Real Estate Investor
https://www.truthaboutrealestateinvesting.ca/wp-content/uploads/2018/03/21764766_10154994367711593_4331202872541331969_n.jpg
720
720
Erwin Szeto
https://www.truthaboutrealestateinvesting.ca/wp-content/uploads/2017/06/TruthRectangleLogo.png
Erwin Szeto
2018-03-13 19:43:45
2018-03-16 02:43:41
New Standardized Lease w/ Paralegal Diane Digiandomenico