Meeting In Miami, Building A Full Time Real Estate Partnership With Stephen Jones & Don Lewis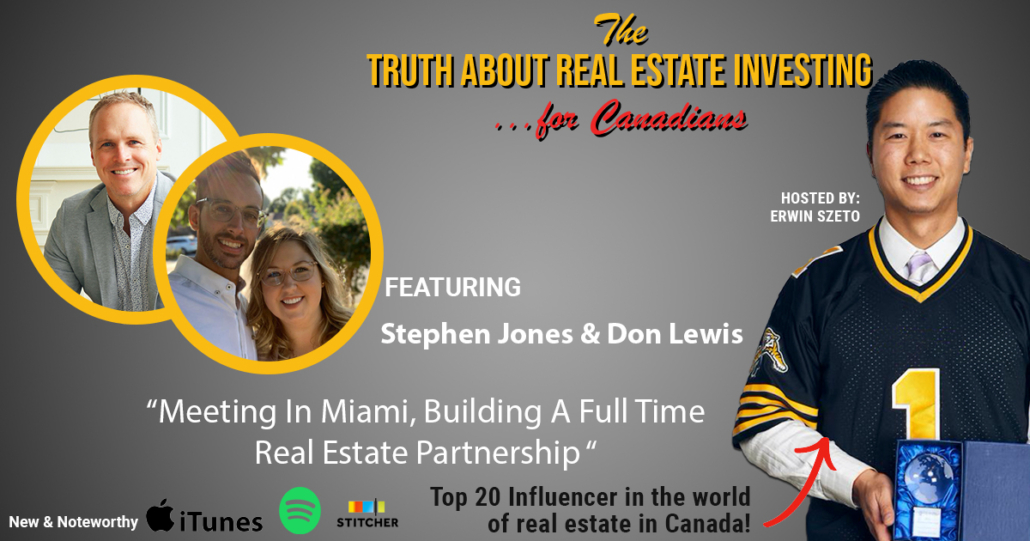 Hello, my fellow Wealth Hackers! 
Hopefully, you're all dug out of the snowstorm or staying warm wherever you are 🙂.
I've pinged my friends who made their way down to Florida, and we'll check in with them to see how things are going looking for investments down there.
Cherry and I are not that ambitious. Our investment strategy is to stay within an hour's drive from home and all of our incredible power team and contractors' service.
The truth about my experience in hacking wealth creation centers around real estate as the main course – Buy and hold real estate. 
Side dishes to this meal include using corporations to invest in real estate. All the successful people I know do the same to reduce taxes, transfer assets to kids, and lower liability from potential lawsuits.
Real estate investing is a staple in my life that has allowed me to build wealth and, more importantly, achieve financial peace about the future… knowing our retirement is taken care of and my kids will afford a home when they grow up. 
 

 

View this post on Instagram

 
The real estate investing systems we practice and help clients implement consist of all the best practices we have accumulated over the years… Over 40+ properties since 2005 for me.
Sprinkle in the tips and lessons from guests of this podcast and all the masterminding I do. Add to that the strong working relationship of contractors and trades on the ground, we can make any beginner successful!
If you are interested in my systematic strategy to implement the #1 investment strategy, the same one pretty much all my guests are doing themselves, then visit www.infinitywealth.ca/events and register for our next FREE Online Training Class.  
You should register for this class ASAP because demand is STILL extremely strong, both from buyers and tenants. 
We just had a three-bedroom, one-bath main floor apartment become available in Hamilton.  The tenant was only there 2-3 years, and the new market rent is 30% higher. How's that for inflation?!
But it's never all sunshine and rainbows…  A house I renovated to make the basement a permitted apartment, the floor was already installed when we bought it in 2017, but the floor drain was covered. 
Now there is water coming, so my contractor has to drill holes in the flooring to find it. After that, my Service Line Warranty will hopefully take care of the rest. 
I pay a monthly fee of about $25 per month to warrant all the water and sewer lines on the property (Shout out Service Line Warranties of Canada). Worst case, we will have to install a sump pump for around $3,000, but that shouldn't be necessary as we checked, and none of the neighbours have one. I'll keep you all posted on how it goes.
As I said earlier, there's no need for you to reinvent the wheel. We have our system down pat. Just go to www.infinitywealth.ca/events and register for the FREE Online Training Class.
Another growing side dish for many folks is Bitcoin, which outperformed both Toronto and Vancouver real estate in 2021.  
Personally, and for many in our Stock Hacker Academy community, we are using Stock Hacking strategies on Bitcoin-related stocks along with household brand name companies like Microsoft, Disney and Boeing. 
This includes strategies that can do done in a TFSA. It's a good thing to earn more money tax-free.
After real estate, Stock Hacking is the next best hustle, as you've heard from many past guests on this show. Among our students last year, 31 trades were shared with them. 30 were profitable for an over 96% success rate. 
I will be giving FREE virtual demonstrations, similar to the one I gave my kid cousin, a full-time musician who just made a 50% return in 2021.  
Past, of course, does not predict the future but if you'd like a free demonstration, go to www.stockhackeracademy.ca in the top right click FREE Demo.  
At the demonstration, I'll have special bonuses that we do not advertise publicly; and I only have two more demos to give in the next few weeks. Don't delay www.stockhackeracademy.ca. Stock Hacking is what I consider the future of side hustles with real estate so unaffordable for many.
About that snow ❄️…
To the best of my memory, that's the most I've ever shovelled in one day.  The kids tried to help; my son was better than my daughter.  
My daughter gave up pretty quickly after getting snow in her boot and going back inside.  My son moved some snow around, but he's only six, so I don't expect much. 
He earned $4 for his efforts, but my daughter wanted to get paid $4 too. So Cherry tells our daughter she can have $2 because she didn't shovel as much as her brother.
Our daughter was not happy, but that's the lesson, those who put in the effort get rewarded. I'm not raising a child who expects handouts.  Hopefully, she's learned her lesson, but we'll keep trying if she hasn't.
On to this week's show!
Meeting In Miami, Building A Full Time Real Estate Partnership With Stephen Jones & Don Lewis
Today's show is a treat for me as I haven't seen Stephen Jones and Don Lewis in ages. 
We all got to know each other on a fabled trip down to Miami, Florida, for a conference in early 2019. Not much has changed since then 😊.
Don and his brother, Rick Lewis, went from running a renovation company to a real estate company renovating their own properties.  They have projects and wholesaling on the go all over southern Ontario, and together they own Tridium Corp. Pay particular attention to how Don and Rick complement each other.
Then there's Stephen Jones, who's also well-known in the Durham investor and Keyspire communities. He's both a successful Realtor and real estate investor and owner of Bluelinerealestategroup.com.
This was another fun episode for me to record, and it's really cool to see how these three, including Rick, work together after meeting one another inside my Airbnb in Miami just three years ago.  
Please enjoy the show!
We're hiring!
Just a friendly reminder that we are hiring more investment Realtors who want a full-time challenge to help our clients, regular everyday people, mostly from the GTA, invest in the top investment towns west of the GTA. 
This is for driven folks who want to multiply their current incomes.
APPLY HERE: https://www.infinitywealth.ca/hiring

To Follow Stephen Jones:
Web: http://residential.bluelinerealestategroup.com/agents/
To Follow Don & Rick Lewis:
Web: https://www.tridium.ca/lewis-brothers-properties
HELP US OUT!
Please help us reach new listeners on iTunes by leaving us a rating and review!
UPCOMING EVENTS
You are the average of the five people you spend the most time with! Build connections with empire builders and trailblazers at our iWIN events.
BEFORE YOU GO…
If you're interested in being a successful real estate investor like those who have been featured on this podcast and our hundreds of successful clients please let us know.
It is our honour to give back and educate others on how we build cash flowing real estate portfolios using all the best practices shared on this podcast, from the lessons of our hundreds of clients and of course our own experience in owning investment real estate.
If you didn't know already, we pride ourselves on being the best of the best real estate coaches, having the best property managers, contractors, handy people, cleaners, lawyers, accountants, everyone you need on your power team and we're happy to share them with our clients to ensure your success. 
New investor or seasoned veteran investor, we can help anyone by providing our award winning coaching services and this isn't all talk.
We have been awarded Realtor of the Year to Investors in 2015 by the Real Estate Investment Network, 2016 by the Canadian Real Estate Wealth Magazine and again in 2017 because no one told the judges no one is supposed to win the award twice but on merit, our peers deemed us as the best.  In 2018, we again won the same award by the Real Estate Investment Network.
Hopefully being the most decorated team of Realtors in Ontario will make you consider us for your first or next real estate investment.  Even if you don't invest in our areas, there's a good chance I know who would be ideal for you. 
I've been around for a while, some Realtors are talented at servicing investors there are many with great ethics.  The intersection of the two, talent and ethics is limited to a handful in each city or town.
Only work with the best is what my father always taught me.  If you're interested, drop us an email at iwin@infinitywealth.ca.
I hope to meet you at one of our meetups soon.
Again that's iwin@infinitywealth.ca
Sponsored by:
Infinity Wealth Investment Network – would you like to know how our investors returned 341.8% on positive cash flowing real estate over the last five years? On average, that was 68.4% per year.
Just imagine what winning in real estate could do for you.
If you would like to know how we did it, ask us how by calling 289-288-5019 or email us at iwin@infinitywealth.ca.
Don't delay, the top markets we focus in are trending upward in price, so you can pay today's price or tomorrow's price.
Till next time, just do it because I believe in you.
Erwin
Hamilton, St. Catharines and Toronto Land Development, Real Estate Investor, and soon to be builder.
W: erwinszeto.com
FB: https://www.facebook.com/erwin.szeto
IG: https://www.instagram.com/erwinszeto/
https://www.truthaboutrealestateinvesting.ca/wp-content/uploads/2022/01/Stephen-Jones-Don-Lewis.jpg
630
1200
Erwin Szeto
https://www.truthaboutrealestateinvesting.ca/wp-content/uploads/2017/06/TruthRectangleLogo.png
Erwin Szeto
2022-01-24 18:18:52
2022-01-24 18:19:21
Meeting In Miami, Building A Full Time Real Estate Partnership With Stephen Jones & Don Lewis