Moving, Flipping, AirBnb, & Investing in Costa Rica w/ Rob Break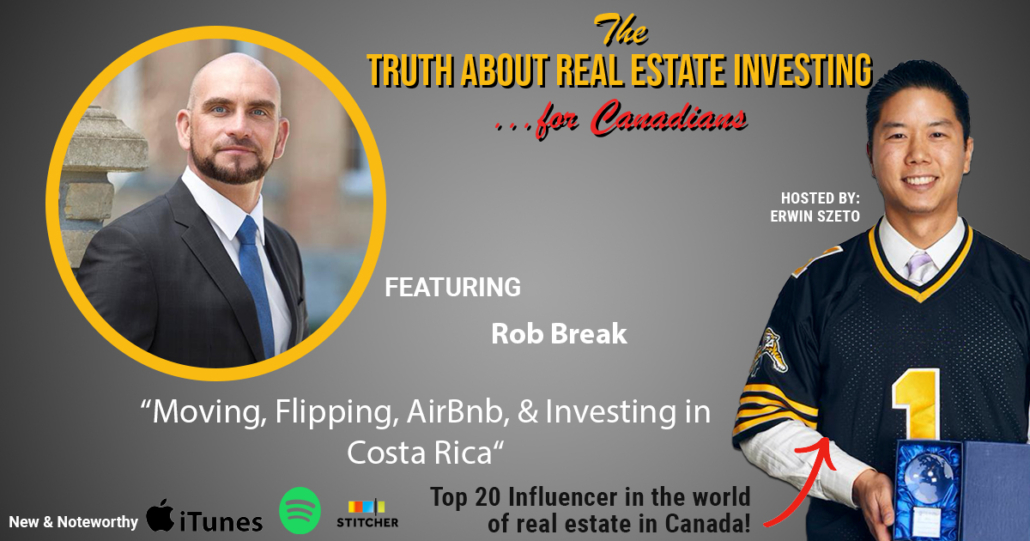 Hello, my fellow wealth hackers! I hope everyone is doing well.
Sorry if you are having a tough time with the latest lockdowns. I know it sucks, but I'd say we're much better off than 12 months ago.
As hard as it is to not place blame against the government or science or big pharma or XYZ group, I choose to blame the virus for all the challenges we currently face. A stupid faceless virus that's part of nature 'doing its thing'.
Then I give up being angry as I cannot influence what a virus does other than getting my shots; Cherry and I got boosted already, kids will have their 2nd shot soon enough.
View this post on Instagram
Getting angry is precisely what the mainstream media wants you to do and exactly what I teach my kids not to do… to control their emotions. I know my energy is better spent doing more to support my family and community.
Recently, the kids and I started an online Jiu-Jitsu program. If you didn't already know, jiu-jitsu is widely considered the most effective self-defence martial arts. We were all in jiu-jitsu, but I got injured, and our club temporarily shut down. We then pivoted to kickboxing as that sport is also practical and can be done safely.
Gracie Games is the program's name, and it's super cheap at USD 70. The kids and I watch video instructions and demonstrations, pause the video then practice what we just watched. The parent's job is to play the villain, I'm the joker, and the kids are 'Spider Kids'. LOL
Today we covered double leg takedowns. So basically, my kids now know how to tackle me and pin me down. My kids are still at an age where they like hanging out with me, so I'll enjoy this while I can 😊
Lockdown or no lockdown, I wanted the kids to practice and learn some jiu-jitsu at home to accelerate their progress in class when their club reopens, hopefully, next month.
Our kids have also been in online one on one virtual tutoring with Kumon since the schools closed to in-person classes. My daughter is in grade 2 public school and doing division with remainders in her tutoring. My son in grade 1 is adding double-digit numbers together. The investment into English has paid off as well as the kids love reading and going to the library twice per week to sign out seven or eight books each time.
As much as the pandemic isn't fun, I know it could be worse, like 12 months ago. Also, like our employee in the Philippines who still doesn't have water, electricity or internet after the worst hurricane in history hit them.
In that context, life is pretty good in comparison. Plus, my optimism is that the pandemic will end in a couple of months.
On a more positive note, our new office renovation continues. It's essentially a cosmetic project but involves a new ceiling, new bathroom, rejigging to make more "phone booths," a private meeting room for folks to conduct zoom or phone meetings.
Looking back to 2021, we invested around 80% into real estate that we control, personally or through a corporation Cherry, and I own, 20% into Stock Hacking, Crypto, RSP/TFSA's for real estate developments.
I share because I always find it interesting to learn how others allocate their capital across investments. In addition, it tells me about their investor profile and where they see opportunities.
For example, I speak to many non-investors who think it's too late to invest in real estate.
I share with them we just bought two duplexes and plan to buy one per year as long as it makes sense. When I explain to them how Canada just broke a record in executing their plan to allow 401,000 new immigrants to Canada in a pandemic, an over 1% growth this year with plans for another 400,000+ for the next few years… Some of them will need a place to live, and nothing is being built fast enough to do anything about it. That and no one is building any more land.
If you too want to learn the best practices on investing in real estate… practices that my team and I learnt from this show, coaching hundreds of investors execute successfully… then, you don't want to miss our free training on the number investment strategy in real estate right now. Just go to www.infinitywealth.ca/ to register.
If you're looking for a new side hustle in 2022 that produces cash flow and can be done from your phone, well FYI, the trades shared with our Stock Hackers in 2021 had an over 95% success rate of profitable trades. For those interested in a free demonstration, a more advanced one that I gave my kid cousin who returned 50% in 2021, go to www.stockhackeracademy.ca and register for the next free class. All virtual and, of course, past results do not predict the future.
On to this week's show!
Moving, Flipping, AirBnb, & Investing in Costa Rica w/ Rob Break
We have an action taker who didn't like the lockdowns and restrictions, so he sold his house in Oshawa, Ontario and moved the whole family to Costa Rica permanently.
Today we have the famous Rob Break of the Breakthrough Real Estate Investing podcast since 2014. He's a real estate investor, entrepreneur, licensed real estate professional in Ontario and Costa Rica. He's done wholesaling, flipping, 'buy and hold', student rentals, duplexes, buy, renovate, rent, refinance and repeats, aka BRRRRs in Durham Ontario and now Costa Rica.
Rob and I have been friends for years, even before he joined Rock Star Real Estate Brokerage years ago. He's since left, but we stay in touch, and I finally got him back to give us all an update on investing and living somewhere where the winters aren't trying to kill you lol.
Rob shares about flipping in Costa Rica, why he chose the coastal village of Playa Potrero to buy a house and settle… How his boys are adjusting to new surroundings and private school, opportunities for short-term rentals, renovation projects, and what the numbers look like.
As this show is about the truths around real estate investing, Rob being a good guy, shares his honest opinion on where to best invest for return on investment.
For aspiring podcasters and Realtors, I also ask Rob what he'd do differently if he could do it all over again. Pay attention to this one.
Side note: Maybe one of our real estate friends will be kind enough to organize a meetup in Costa Rica so we investors may all have a working vacation :).
I had a great time catching up with Rob Break, and I hope you enjoy this episode as much as I did!
We're hiring!
Just a friendly reminder that we are hiring more investment Realtors who want a full-time challenge to help our clients, regular everyday people, mostly from the GTA, invest in the top investment towns west of the GTA.
This is for driven folks who want to multiply their current incomes.
APPLY HERE: https://www.infinitywealth.ca/hiring

To Follow Rob:
Podcast: https://breakthroughreipodcast.ca/
Email: rob@mrbreakthrough.ca
IG: https://www.instagram.com/rob.break
HELP US OUT!
Please help us reach new listeners on iTunes by leaving us a rating and review!
UPCOMING EVENTS
You are the average of the five people you spend the most time with! Build connections with empire builders and trailblazers at our iWIN events.
BEFORE YOU GO…
If you're interested in being a successful real estate investor like those who have been featured on this podcast and our hundreds of successful clients please let us know.
It is our honour to give back and educate others on how we build cash flowing real estate portfolios using all the best practices shared on this podcast, from the lessons of our hundreds of clients and of course our own experience in owning investment real estate.
If you didn't know already, we pride ourselves on being the best of the best real estate coaches, having the best property managers, contractors, handy people, cleaners, lawyers, accountants, everyone you need on your power team and we're happy to share them with our clients to ensure your success.
New investor or seasoned veteran investor, we can help anyone by providing our award winning coaching services and this isn't all talk.
We have been awarded Realtor of the Year to Investors in 2015 by the Real Estate Investment Network, 2016 by the Canadian Real Estate Wealth Magazine and again in 2017 because no one told the judges no one is supposed to win the award twice but on merit, our peers deemed us as the best. In 2018, we again won the same award by the Real Estate Investment Network.
Hopefully being the most decorated team of Realtors in Ontario will make you consider us for your first or next real estate investment. Even if you don't invest in our areas, there's a good chance I know who would be ideal for you.
I've been around for a while, some Realtors are talented at servicing investors there are many with great ethics. The intersection of the two, talent and ethics is limited to a handful in each city or town.
Only work with the best is what my father always taught me. If you're interested, drop us an email at iwin@infinitywealth.ca.
I hope to meet you at one of our meetups soon.
Again that's iwin@infinitywealth.ca
Sponsored by:
Infinity Wealth Investment Network – would you like to know how our investors returned 341.8% on positive cash flowing real estate over the last five years? On average, that was 68.4% per year.
Just imagine what winning in real estate could do for you.
If you would like to know how we did it, ask us how by calling 289-288-5019 or email us at iwin@infinitywealth.ca.
Don't delay, the top markets we focus in are trending upward in price, so you can pay today's price or tomorrow's price.
Till next time, just do it because I believe in you.
Erwin
Hamilton, St. Catharines and Toronto Land Development, Real Estate Investor, and soon to be builder.
W: erwinszeto.com
FB: https://www.facebook.com/erwin.szeto
IG: https://www.instagram.com/erwinszeto/
https://www.truthaboutrealestateinvesting.ca/wp-content/uploads/2022/01/Rob-Break.jpg
630
1200
Erwin Szeto
https://www.truthaboutrealestateinvesting.ca/wp-content/uploads/2017/06/TruthRectangleLogo.png
Erwin Szeto
2022-01-17 14:58:29
2022-01-24 07:02:11
Moving, Flipping, AirBnb, & Investing in Costa Rica w/ Rob Break