Quitting the Bank to Start Lendcity Mortgages With Real Estate Investor Scott Dillingham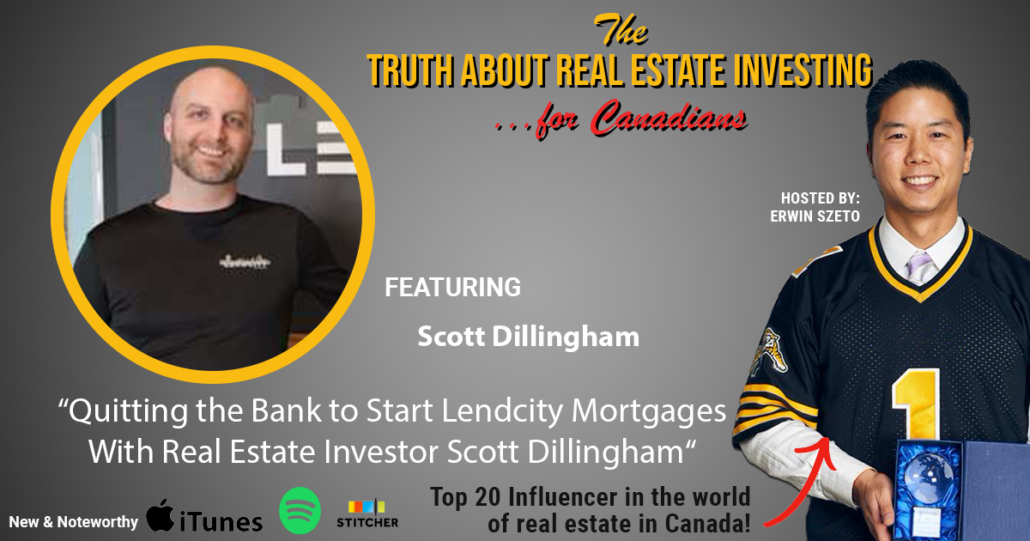 Hello, my fellow wealth hackers!
Welcome to the Truth About Real Estate Investing Show, where we interview action takers and experts so we may learn their best practices and, as hard-working Canadians, apply them to our investments, businesses and lives.
 

 

View this post on Instagram

 
We don't have sponsors for this show, so I only share services offered by my wife Cherry and me.  For example,  Stock Hacker Academy, where everyday real estate investors learn the best practices in stock investing to earn cash flow in about 15-30 mins per day from their mobile phones. 
After real estate, Stock Hacking is the next best hustle, as you've heard from many past guests on this show.
Last year, we shared 31 trades among our students; 30 were profitable. Punch the numbers, and that's over 96% success rate translating into a return on capital of over 12%. 
I will be giving FREE virtual demonstrations similar to the one I gave my kid cousin – a full-time musician who just made a 50% return in 2021.  
Past, of course, does not predict the future, but if you'd like a free demonstration, go to www.stockhackeracademy.ca and click the FREE Demo button in the top right. I'll have special bonuses that we do not advertise publicly but only for my favourite podcast listeners at the demonstration. 
I only have one more demo to give in the next few weeks, so don't delay; go to www.stockhackeracademy.ca for what I consider the future of side hustles with real estate so unaffordable for many.  
I'm hearing about a couple of problems in the private lending world. I don't have details, so I'm not naming names, but a local securities regulator has ordered a real estate investing company in central Canada to cease trading.
Out of curiosity, I checked out their Instagram. I could see how their posts would raise red flags for a securities regulator as they were telling folks interested in investing in their projects to contact them.
Very sad, and this is just one of many data points I have that support investing for yourself in your own name or, better yet, a corporation you own and control is the best investment.  
I'm not opposed to investing in passive investments managed by someone else; I'm just not willing to invest nearly as much.  
I currently only invest in two passive, private equities using registered funds, as my research tells me they're best in that class.  Both are registered with our local securities commission, so, unfortunately, I can't talk about them, but happy to refer you to them. One private equity is a young apartment building trust, while the other is large-scale real estate developments.
Just reach out to me at iwin@infinitywealth.ca, and I'll be glad to connect you. 
On the personal side, Cherry, the kids and I are enjoying the outdoors skiing because those activities are still legal, lol.  We skied Mansfield Ski Club, which was awesome.  The lineups were small compared to public ski places.  After lunch, we skied down the more challenging runs, right up to the chair lift without lining up.
What's crazy is my kids 6 and 8 were able to keep up doing snowplows down black diamonds. It's not even funny how much better skiers they are at their age than Cherry or I was at that age. They just have no fear!
We have put them through some lessons and a ski camp, and we'll invest in them the same for their investing and entrepreneurship education. Hopefully, they will also be able to attack those areas with no fear.
The ski lessons are paying off, so I selfishly can enjoy skiing more by not having to wait around; I'm able to go pretty much as fast as I want.
We hit the figure-eight ice surface at Humber College in Etobicoke on Sunday. I highly recommend it for anyone looking to skate.  It's busy, but the conditions are pretty good, and I find it less chaotic than those small ice pads.  
The kids did ok. They fell a lot, but I use the saying from Batman Begins – The first good Batman movie with Christian Bale where Batman's dad says, "why do we fall? So we can learn to pick ourselves back up."
LOL – I realize I'm not that creative, no different from my investing. It's all quite systematic and mostly disciplined. So hopefully, owning Tesla shares works out.
I'm a geek, too, as I've repeated the Marlon Brandon speech in Superman when he played Jorel, father to Kal-El, aka Superman, to my own kids.  I'll let you google that one 😉. 
Quitting the Bank to Start Lendcity Mortgages With Real Estate Investor Scott Dillingham
On to this week's guest Scott Dillingham, formerly the #2 Mortgage Broker in all of Canada for one of the big banks. 
Scott shares how the investor mortgage programs changed almost overnight at the bank, the deterioration of his health. Everything combined led to his exit to start Lendcity Mortgages, an independent mortgage brokerage with investor-friendly lender relationships, including corporations and even commercial lending on single-family rentals.
Scott has grown his business pretty quickly with almost 30 staff, including a commercial lending department. He also has a sizable real estate portfolio, so he knows firsthand what we investors go through, and he's a great guy for being one of our top donors to the Hamilton Basket Brigade.
Scott shares his predictions for interest rates in 2022, fixed or variable rate mortgages, where he's investing in the US.
Please enjoy the show!
Marlon Brando's speech: "You will travel far, my little Kal-El. But we will never leave you… even in the face of our death. The richness of our lives shall be yours. All that I have, all that I've learned, everything I feel… all this, and more, I… I bequeath you, my son. You will carry me inside you, all the days of your life. You will make my strength your own and see my life through your eyes, as your life will be seen through mine. The son becomes the father, and the father the son. This is all I… all I can send you, Kal-El."
We're hiring!
Just a friendly reminder that we are hiring more investment Realtors who want a full-time challenge to help our clients, regular everyday people, mostly from the GTA, invest in the top investment towns west of the GTA. 
This is for driven folks who want to multiply their current incomes.
APPLY HERE: https://www.infinitywealth.ca/hiring

To Follow Scott and Lendcity Mortgages:
Web: https://lendcity.ca/
Instagram: https://www.instagram.com/lendcity_mortgages/
Facebook: https://www.facebook.com/LendCity/
HELP US OUT!
Please help us reach new listeners on iTunes by leaving us a rating and review!
UPCOMING EVENTS
You are the average of the five people you spend the most time with! Build connections with empire builders and trailblazers at our iWIN events.
BEFORE YOU GO…
If you're interested in being a successful real estate investor like those who have been featured on this podcast and our hundreds of successful clients please let us know.
It is our honour to give back and educate others on how we build cash flowing real estate portfolios using all the best practices shared on this podcast, from the lessons of our hundreds of clients and of course our own experience in owning investment real estate.
If you didn't know already, we pride ourselves on being the best of the best real estate coaches, having the best property managers, contractors, handy people, cleaners, lawyers, accountants, everyone you need on your power team and we're happy to share them with our clients to ensure your success. 
New investor or seasoned veteran investor, we can help anyone by providing our award winning coaching services and this isn't all talk.
We have been awarded Realtor of the Year to Investors in 2015 by the Real Estate Investment Network, 2016 by the Canadian Real Estate Wealth Magazine and again in 2017 because no one told the judges no one is supposed to win the award twice but on merit, our peers deemed us as the best.  In 2018, we again won the same award by the Real Estate Investment Network.
Hopefully being the most decorated team of Realtors in Ontario will make you consider us for your first or next real estate investment.  Even if you don't invest in our areas, there's a good chance I know who would be ideal for you. 
I've been around for a while, some Realtors are talented at servicing investors there are many with great ethics.  The intersection of the two, talent and ethics is limited to a handful in each city or town.
Only work with the best is what my father always taught me.  If you're interested, drop us an email at iwin@infinitywealth.ca.
I hope to meet you at one of our meetups soon.
Again that's iwin@infinitywealth.ca
Sponsored by:
Infinity Wealth Investment Network – would you like to know how our investors returned 341.8% on positive cash flowing real estate over the last five years? On average, that was 68.4% per year.
Just imagine what winning in real estate could do for you.
If you would like to know how we did it, ask us how by calling 289-288-5019 or email us at iwin@infinitywealth.ca.
Don't delay, the top markets we focus in are trending upward in price, so you can pay today's price or tomorrow's price.
Till next time, just do it because I believe in you.
Erwin
Hamilton, St. Catharines and Toronto Land Development, Real Estate Investor, and soon to be builder.
W: erwinszeto.com
FB: https://www.facebook.com/erwin.szeto
IG: https://www.instagram.com/erwinszeto/
https://www.truthaboutrealestateinvesting.ca/wp-content/uploads/2022/01/Scott.jpg
630
1200
Erwin Szeto
https://www.truthaboutrealestateinvesting.ca/wp-content/uploads/2017/06/TruthRectangleLogo.png
Erwin Szeto
2022-02-01 17:49:04
2022-02-01 17:49:07
Quitting the Bank to Start Lendcity Mortgages With Real Estate Investor Scott Dillingham