Apartment Buildings, Alberta Investing, Oil Price Predictions with Pierre-Paul Turgeon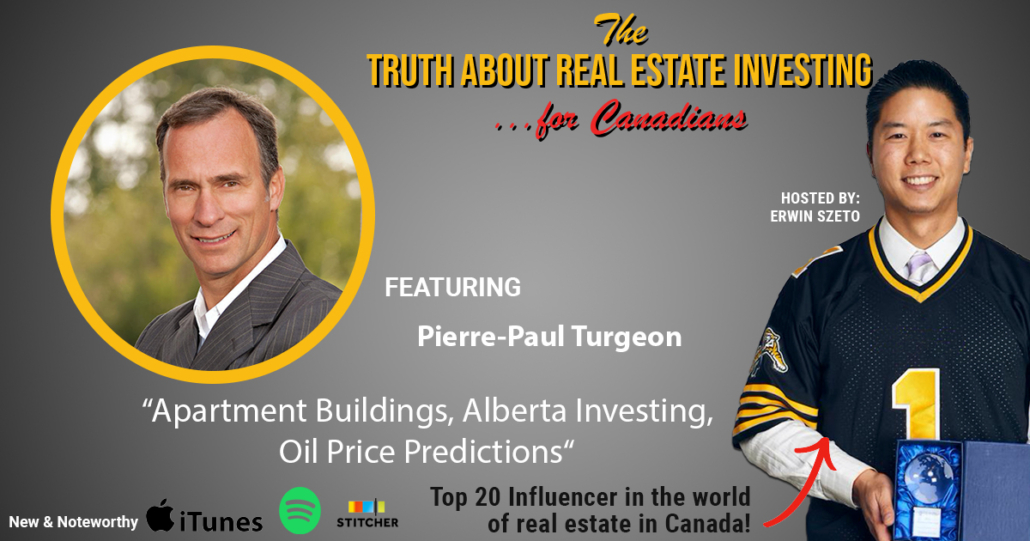 Happy Lunar New Year to everyone celebrating and Kung Hei Fat Choy to my fellow Chinese! I wish you all a prosperous year and good health!!
 

 

View this post on Instagram

 
Shout out to my friends who made their way to Florida, where they could live their lives on their terms. Although we may not agree on everything, I still love it here in Canada, despite its many imperfections. I feel bad for them and their loss of personal freedoms.
My empathy list is long – Front line health care workers, truckers facing a loss of employment, teachers, police, victims of racism, etc. Unfortunately, I can't do something about ALL of them; hence my charity, Hamilton Basket Brigade, is focused on children living in poverty in Hamilton, ON. 
My point is I've chosen to do something about a cause that's important to me. No different than my friends moving themselves and their families to where they may live their life on their terms. Like my friend Rob Break who was on this show a few weeks ago, moved to Costa Rica.
Don't like something? Do something about it – preferably morally and ethically correct. If the cause isn't worth the time and energy, invest your time and energy into something productive.
Cherry and I also enjoy guiding hard-working Canadians, showing them practical, repeatable methods to create wealth. Hence, we'll continue to educate ourselves so we may share with all of you.
For example, with cash flow harder than ever to achieve, Cherry and I started Stock Hacker Academy consisting of beginner, intermediate and advanced courses.  
As part of the beginners' course, our students receive the transactions our instructor does. In reviewing the performance in 2021, 30 out of 31 were profitable, annualized cash on cash return of 12% using an ultra-conservative strategy.  
This is exactly what I wanted for our beginner students!
Stock Hacking, to me, is the same as private lending is in real estate. Consistent cash flows, except I don't private lend, there's too much administration, due diligence, and too many stories of deals going sideways than I'd like. Plus, I'd like something more liquid and diversified from real estate. The funny thing is, even with my Stock Hacking, I'm investing in real estate companies like McDonald's, EXP Realty and AirBNB. LOL.
As always, none of this is advice, I'm just sharing what I'm doing, and past does not predict the future. For advice, please seek professional advice from a financial advisor. One that makes people rich preferably. If you know one, please let me know!
If you don't, maybe you'd like to check out my free demonstration on stock hacking, a more detailed version of the demo I gave my kid cousin, a music teacher who returned over 50% last year! 
If you're interested in a free demonstration, go to www.stockhackeracademy.ca in the top right, click FREE DEMO. I'll have special bonuses at the demo that we do not advertise publicly. 
See you there! 
Apartment Buildings, Alberta Investing, Oil Price Predictions with Pierre-Paul Turgeon
On to this week's show.
As always, we do our best from time to time to bring you leading authorities in investing… Today, I wanted someone to talk about investing in Alberta who also invests in apartment buildings.  
My guest on the show is Pierre Paul Turgeon, and he has 160 doors valued at over $22 million. Pierre-Paul is a former CMHC underwriter, so he was the financial expert who reviewed the financials for apartment buildings and apartment building investors to decide if CMHC would insure the mortgage.
Pierre-Paul is very knowledgeable, and he doesn't pull any punches today, so apologies in advance to anyone he offends. He shares:
Where his research went wrong before the most recent oil crash

The challenges of operating apartment buildings during those times

Where the oil, Alberta, apartment building market is going

The silver lining of a major fire in one of his apartment buildings where his daughter lived

How he's renovating for the new wave of tenants moving into Alberta.
Pierre-Paul has many tips, so listen closely if this subject interests you. Please enjoy the show!
We're hiring!
Just a friendly reminder that we are hiring more investment Realtors who want a full-time challenge to help our clients, regular everyday people, mostly from the GTA, invest in the top investment towns west of the GTA. 
This is for driven folks who want to multiply their current incomes.
APPLY HERE: https://www.infinitywealth.ca/hiring

To Follow Pierre-Paul Turgeon:
Web: www.multifamilyinvestingcanada.com
Facebook: https://www.facebook.com/MultifamilyInvestingCanada
Email: Support@multifamilyinvestingcanada.com
HELP US OUT!
Please help us reach new listeners on iTunes by leaving us a rating and review!
UPCOMING EVENTS
You are the average of the five people you spend the most time with! Build connections with empire builders and trailblazers at our iWIN events.
BEFORE YOU GO…
If you're interested in being a successful real estate investor like those who have been featured on this podcast and our hundreds of successful clients please let us know.
It is our honour to give back and educate others on how we build cash flowing real estate portfolios using all the best practices shared on this podcast, from the lessons of our hundreds of clients and of course our own experience in owning investment real estate.
If you didn't know already, we pride ourselves on being the best of the best real estate coaches, having the best property managers, contractors, handy people, cleaners, lawyers, accountants, everyone you need on your power team and we're happy to share them with our clients to ensure your success. 
New investor or seasoned veteran investor, we can help anyone by providing our award winning coaching services and this isn't all talk.
We have been awarded Realtor of the Year to Investors in 2015 by the Real Estate Investment Network, 2016 by the Canadian Real Estate Wealth Magazine and again in 2017 because no one told the judges no one is supposed to win the award twice but on merit, our peers deemed us as the best.  In 2018, we again won the same award by the Real Estate Investment Network.
Hopefully being the most decorated team of Realtors in Ontario will make you consider us for your first or next real estate investment.  Even if you don't invest in our areas, there's a good chance I know who would be ideal for you. 
I've been around for a while, some Realtors are talented at servicing investors there are many with great ethics.  The intersection of the two, talent and ethics is limited to a handful in each city or town.
Only work with the best is what my father always taught me.  If you're interested, drop us an email at iwin@infinitywealth.ca.
I hope to meet you at one of our meetups soon.
Again that's iwin@infinitywealth.ca
Sponsored by:
Infinity Wealth Investment Network – would you like to know how our investors returned 341.8% on positive cash flowing real estate over the last five years? On average, that was 68.4% per year.
Just imagine what winning in real estate could do for you.
If you would like to know how we did it, ask us how by calling 289-288-5019 or email us at iwin@infinitywealth.ca.
Don't delay, the top markets we focus in are trending upward in price, so you can pay today's price or tomorrow's price.
Till next time, just do it because I believe in you.
Erwin
Hamilton, St. Catharines and Toronto Land Development, Real Estate Investor, and soon to be builder.
W: erwinszeto.com
FB: https://www.facebook.com/erwin.szeto
IG: https://www.instagram.com/erwinszeto/
https://www.truthaboutrealestateinvesting.ca/wp-content/uploads/2022/02/Pierre-Paul-Turgeon.jpg
630
1200
Erwin Szeto
https://www.truthaboutrealestateinvesting.ca/wp-content/uploads/2017/06/TruthRectangleLogo.png
Erwin Szeto
2022-02-07 15:30:49
2022-02-07 19:18:07
Apartment Buildings, Alberta Investing, Oil Price Predictions with Pierre-Paul Turgeon