Buying Then Exiting $11M of Real Estate, Pursuing Passion In Buying A Business with Wade Graham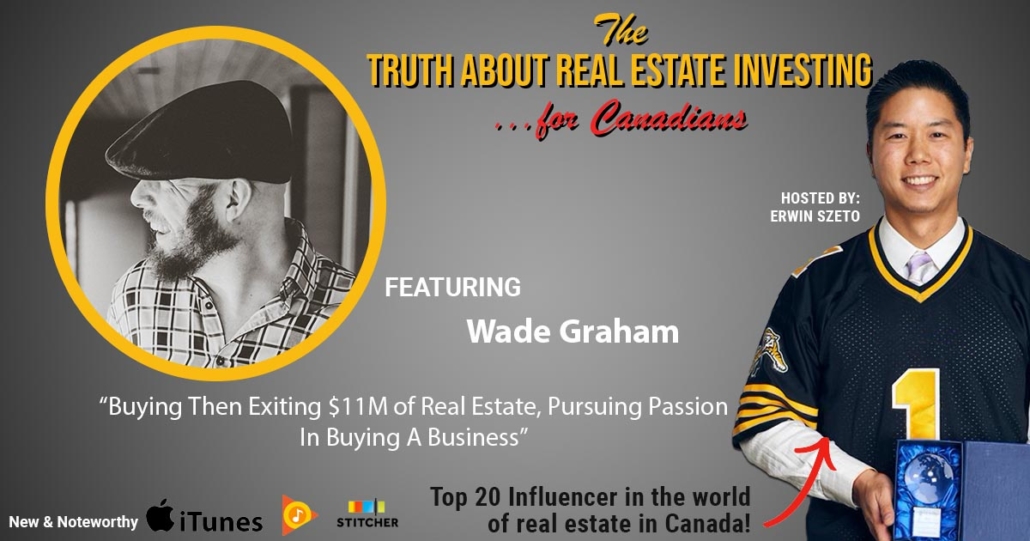 Happy Fathers Day iWIN Nation!
And happy 2nd mother's day to all you moms pulling double duty!
I have much to be grateful for thanks to my dad who moved to Winnipeg from Hong Kong when he was 17 years old in pursuit of more opportunity.
He later escaped those crazy winters and black fly seasons for a less crazy winter in Toronto but he didn't have any parents to guide him better so he ended up finishing high school at one of the roughest schools in the roughest areas of Toronto.
My dad is also a real estate investor but different from me, he makes a Doctor's income so when he started investing in real estate, he chose Toronto new construction condos near subway stations. Needless to say he's done quite well.
How silly was I to tell him he wasn't an investor but rather a speculator. Those were the exact words I'd heard spoken from stage at a real estate network I belonged to.
Buying Then Exiting $11M of Real Estate, Pursuing Passion In Buying A Business with Wade Graham
Buying high in-demand assets with growing demand makes a lot of sense in hindsight. The business case for Canada to grow the economy via immigration makes a lot of sense financially to attract investment and talent.
Unfortunately, many investors heard the same advice I did and instead of investing in Toronto, they invested in Edmonton and Calgary Alberta. Again, hindsight being 20/20, that was not a good decision. I know many of these people personally.
Then last week, Wade Graham, a long time Facebook friend of mine commented on one of my posts about real estate how he's glad to have exited all his Alberta real estate, $11 million dollars worth.
Wade was part of the same network and community I was, for just as long, and I wanted someone who's not all "rah rah real estate" to come on this podcast. Wade fits exactly that bill. 😛
What Wade offers as a guest is what went wrong in his real estate journey so you may all get it right. But real estate was not all bad to Wade as the network and skills he built translated into acquiring a failed business, making it successful, in an industry that he loves.
In these trying times, there will be many businesses that fail which is terribly sad. However, there will be some entrepreneurs who can buy these businesses and their equipment for cents on the dollar. In the restaurant industry, that's commonly known.
The restauranteur who is the first into a space and invests hundreds of thousands for commercial stoves, ovens, fryers, fridges, freezers, furnishings etc.. They have to pay retail prices plus delivery and installation.
Sadly, often the debt servicing and rent is too much, the restaurant folds, another businessperson then buys the assets for cheap and has a much better chance at survival and might even prosper. Wade has a similar experience to share which is timely considering the current environment and I wanted you my community to be aware of it.
If you don't know Wade, he describes himself as a:
"Thinker. Feeler. Active. Outdoor. Trying to love a little more and forgive faster. I fail often."
Wade tells it like it is so the language is not safe at work or if you have little ones in the car with you.
We talk about groupthink in real estate investing, the challenges of having tenants, some wild stories including when Wade had to rescue 200 pounds of gold in a backpack, and buying a business.
Without further ado, I give you Wade Graham.

To Follow Wade:
He posts some thought provoking stuff on Facebook: https://www.facebook.com/wgraham76
Float Canmore: https://www.floatcanmore.com/
NO MORE Confusion
After all the Youtube videos, books, and forum posts, you're probably still left with questions. Starting in real estate is a tricky thing.
Frustrated beginners often ask how a legal basement suite conversion actually works. Most of the time we can only give general answers. But now, we get to dive in.
At this in-depth, free class you'll learn how to take your first steps as a real estate investor.
Nothing is held back. Everything from analyzing basement suite conversion deals, to renting out your first property at a profit, and even how to refinance and do it all again!
More secrets you'll uncover are:
Profiting in a HOT market…

Municipal bylaws to watch out for…

Mortgage terms that favour refinancing…

AND one barely used tactic for higher appraisals…
If you're frustrated, unsure of how to get started, this is for you.
Sign up now for the Invitation List and be one of the first to get an invite to the next class.
Sponsored by:
Infinity Wealth Investment Network – would you like to know how our investors returned 341.8% on positive cash flowing real estate over the last five years? On average, that was 68.4% per year, just imagine what winning in real estate could do for you. If you would like to know how we did it, ask us how by calling 289-288-5019 or email us at meaghan@infinitywealth.ca. Don't delay, the top markets we focus in are trending upward in price, so you can pay today's price or tomorrow's price.
Till next time, just do it because I believe in you.
Erwin
Hamilton, St. Catharines and Toronto Land Development, Real Estate Investor, and soon to be builder.
W: erwinszeto.com
FB: https://www.facebook.com/erwin.szeto
IG: https://www.instagram.com/erwinszeto/

https://www.truthaboutrealestateinvesting.ca/wp-content/uploads/2020/06/Wade-Graham.jpg
630
1200
Erwin Szeto
https://www.truthaboutrealestateinvesting.ca/wp-content/uploads/2017/06/TruthRectangleLogo.png
Erwin Szeto
2020-06-26 12:42:39
2020-06-26 14:20:25
Buying Then Exiting $11M of Real Estate, Pursuing Passion In Buying A Business with Wade Graham