No Excuses, Growing Up Poor, Abused, Failing College, to Real Estate Multi Millionaire with Author Roger Auger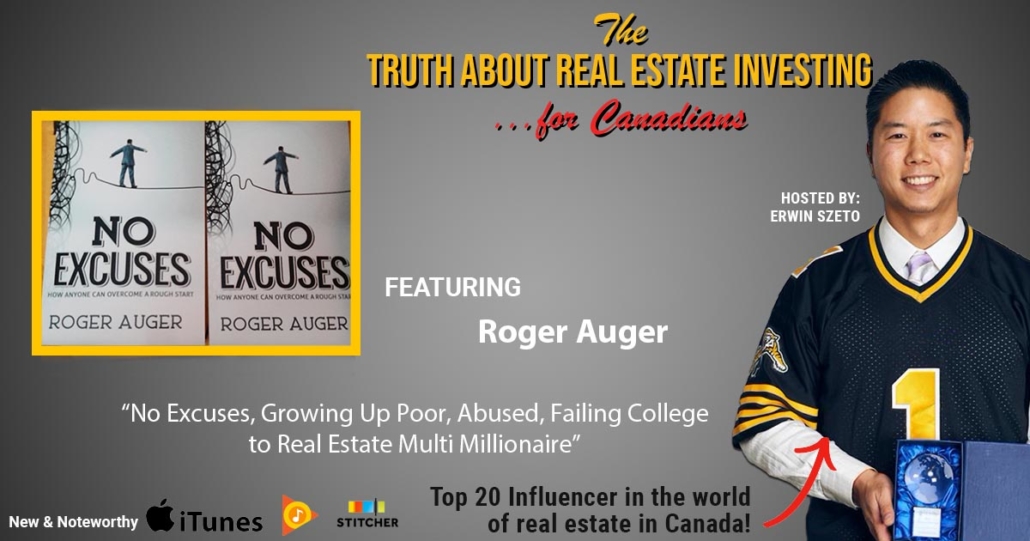 Hello iWIN Nation!
How are you holding up during these historic times?
Please do what you can to spend more time around positive awesome people. Feed yourself inspiring information. 
For myself I'm taking some time to myself each day to get lost in my thoughts. I can do so by going for a walk or pacing around my home on rainy days.  My house has a central staircase so I'll leave a notepad and pen on the dining table so I can pace and stop and make notes 😛
It's crazy how many good ideas have come to me in these moments to myself.
Health wise I was near my heaviest weight just two weeks ago at 191 pounds, and that's not muscle. I was getting skinny fat.  Cherry bought herself a scale that I found in our closet, I found it and hopped on it. 191.  This morning I was down nine pounds at 182 after intermittent fasting the last two weeks.
My intermittent fasting is simple. I basically don't eat after dinner and for breakfast I only have coffee with a bit of grass-fed butter, 1-2 tablespoons.  The fat keeps me from being hungry and I've been feeling pretty good, but I really can't wait to get back into the gym.
Speaking of gyms, sadly my friend Denise who owns a gym announced this week she is closing her doors. 
She is an amazing athlete and an even better trainer. Her energy and passion are something to be witnessed, but even with all that talent, the business didn't work. I could be wrong, but I think the lesson is to own the real estate one's business occupies. 
The BDC has been very accommodating from my experience, allowing mortgage holders to pay interest only during these extraordinary times.
The more control the better, is my saying. It's why we chose to buy our office location instead of renting. Commercial tenancy laws are heavily in favour of the landlord, so I'm not interested in being in a position of weakness when we can afford to buy.
One of the reasons we can afford to buy is because we have a residential real estate portfolio.
One of the biggest lessons from this pandemic is the government will support those in need, which includes our tenants so they can make rent. 
In a poll of iWIN members, rent collection for June was typical, many reporting 100% collected, but commercial business tenants are having all sorts of problems. And with Prime Minister Trudeau's announcement that he will extend the CERB, the Canadian Emergency Response Benefit, it looks good for residential real estate investors.
Combine that with a hot market for the properties our clients and iWIN members hold, we continue to be really lucky and in great shape to ride this out.
Quick update on the stock hacking world, with the US Fed committing even more money to prop up the US economy, many stock hacker students are reporting great results. 
Cherry continues to kick my butt and we combined bring in over $4,000 US cash flow per week.  Cherry beat me last week but I have a lead this week so I think the score is 11-2 for Cherry.
At the end of the day, I hope you're all improving your cash flow positions through small business, real estate, stock hacking, bitcoin, I don't care what as long as you're making money and making a difference in your community.
Speaking of making a difference, we have an author on today's show, an old friend named Roger Auger. I don't have a bio for Roger so I'll read you the description of his new book 'No Excuses' available on Amazon:
No Excuses, Growing Up Poor, Abused, Failing College to Real Estate Multi Millionaire with Author Roger Auger
"Deadbeat. Loser. Failure .Criminal.
Imagine growing up in a family where those words were meant to be your future. Without loved ones supporting you, would you, too, believe "You'll never amount to anything?"
All around you, right now, there are kids who dream to be great but live without the support or circumstances to do so. Whether you were raised with encouraging parents or you bootstrapped your way on your own, you have the option to give a break to a kid in need.
Successful real estate investor and business owner Roger Auger knows firsthand. No Excuses is his story of hustling stolen mac and cheese and paying his parents' mortgage at age 13, to running a successful real estate empire. Carve out your own path of growth and learn:
What life can be like at home for some kids, how to spot a kid without support, and the little things you can do that have a big impact,

How hard work can make almost any dream a reality,
The pathway to creating a better future through real estate investing—even if you're a kid who comes from nothing.
Why YOU could be the answer to changing someone's world, just by giving them a chance.
No Excuses gives us hope that the world can be improved one kid at a time. The world doesn't give you handouts…but with a dose of Roger Auger's hustle and paying it forward, you could be on your way to success."
To Listen:

NO MORE Confusion
After all the Youtube videos, books, and forum posts, you're probably still left with questions. Starting in real estate is a tricky thing.
Frustrated beginners often ask how a legal basement suite conversion actually works. Most of the time we can only give general answers. But now, we get to dive in.
At this in-depth, free class you'll learn how to take your first steps as a real estate investor.
Nothing is held back. Everything from analyzing basement suite conversion deals, to renting out your first property at a profit, and even how to refinance and do it all again!
More secrets you'll uncover are:
Profiting in a HOT market…

Municipal bylaws to watch out for…

Mortgage terms that favour refinancing…

AND one barely used tactic for higher appraisals…
If you're frustrated, unsure of how to get started, this is for you.
 Sign up now for the Invitation List and be one of the first to get an invite to the next class.
Sponsored by:
Infinity Wealth Investment Network – would you like to know how our investors returned 341.8% on positive cash flowing real estate over the last five years? On average, that was 68.4% per year, just imagine what winning in real estate could do for you. If you would like to know how we did it, ask us how by calling 289-288-5019 or email us at meaghan@infinitywealth.ca. Don't delay, the top markets we focus in are trending upward in price, so you can pay today's price or tomorrow's price.
Till next time, just do it because I believe in you.
Erwin
Hamilton, St. Catharines and Toronto Land Development, Real Estate Investor, and soon to be builder.
W: erwinszeto.com
FB: https://www.facebook.com/erwin.szeto
IG: https://www.instagram.com/erwinszeto/

https://www.truthaboutrealestateinvesting.ca/wp-content/uploads/2020/06/Roger-Auger.jpg
630
1200
Erwin Szeto
https://www.truthaboutrealestateinvesting.ca/wp-content/uploads/2017/06/TruthRectangleLogo.png
Erwin Szeto
2020-06-19 15:58:16
2020-06-19 16:00:04
No Excuses, Growing Up Poor, Abused, Failing College, to Real Estate Multi Millionaire with Author Roger Auger