100th Episode – Started From the Bottom Now We Here w/ John Roumanis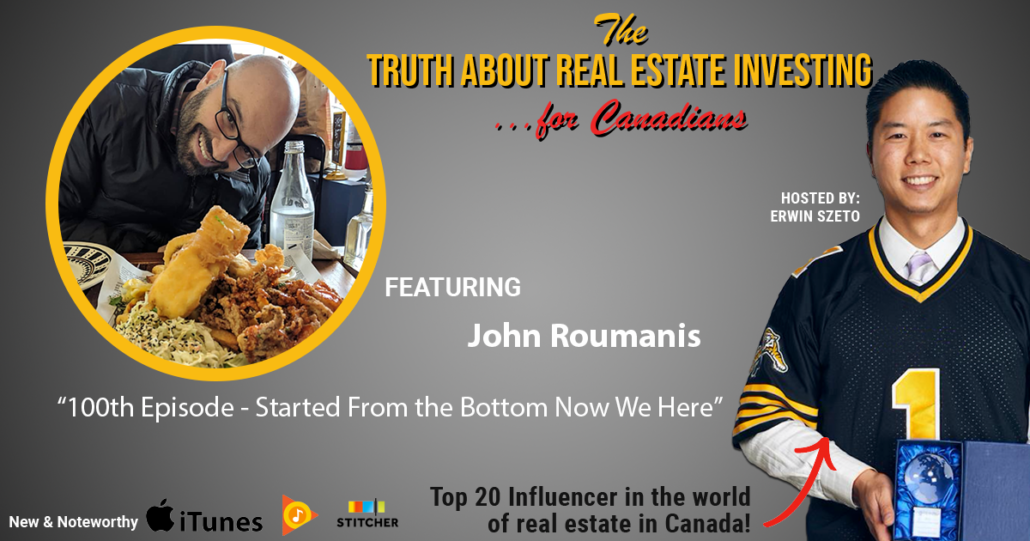 What does work/life balance mean to you?
I make it no secret that I take Sundays off. Sunday was recovery from Raptors Game 6 Series clincher AND Sunday Family Day!! For all you entrepreneurs out there seeking balance, I have no idea what balance is. What I do know is no one likes working on Sundays, so it's a good day to take off.
I've been a young hustler for over a decade, and my business and investments keep working on Sundays and statutory holidays, so I don't always have to work. If I do need to check on a property, I'll bring the kids as it's part of their education and inheritance.
Going to school will get them a job. Learning to invest in real estate lets them level up, turn down promotions for a little more pay and more responsibility and, worse, more hours. So they can spend time with my grandchildren. To me, that's balance, and the definition of wealth.
When my kids look back, other than being wildly embarrassed by my antics and silliness, I hope they remember they are a priority for me.
ICYMI (in case you missed it)
Our next speaker for iWIN's Wealth Hacker Conference Nov 9th is…
We identified this speaker as the top educator in the area of multi-family (5 units and above) investing during our brainstorming phase and he just agreed to participate.
Pierre-Paul Turgeon is Canada's leading authority and insider when it comes to investing in apartment buildings because of his unique perspective on this type of investment.
He is a former CMHC multi-family underwriter (he analyzed the risks for an insurance proposal) and a full time multi-family investor with a portfolio of 160 doors valued in excess of $22M. As a former CMHC apartment building underwriter, he has analyzed hundreds of apartment deals in three provinces and three territories. He has analyzed more apartment buildings than most of the largest landlords in the country. Not only is he familiar with the front end of buying apartment buildings, he is also very knowledgeable about the back-end of this business (that is, when apartment deals go sour and investors default on their loan), as he also managed the default management department in CMHC's Prairie office.
This wealth of knowledge and experience enables Pierre-Paul to invest in apartments buildings strategically to ensure a sound return for his investors with low risks.
To register for the waitlist to get advance access to tickets at early bird pricing go here: https://www.wealthhacker.ca
100th Episode – Started From the Bottom Now We Here w/ John Roumanis
This week's guest is….
Before I introduce this week's guest, we just passed 100 episodes, which is crazy.
This started as a six episode experiment. I was a nervous wreck with nonsensical questions for my guests. I'll always Remember asking Julie Broad if she drank coffee or tea. Her response was, do people really want to know?
Time went on, it's been three and a half years now. It's insane to me how a niche Canadian-content-only podcast made the top 60 on all of iTunes in the investment category, so I want to take a moment to say thank you to all my listeners, my guests, especially my favourite guests, many of whom dropped bombs on this podcast publicly for the very first time.
One was kicked out of home for substance abuse as a young teenager and lived on the streets for years, only to turn it around and now they are super successful and rich.
Another lost her parents as a young teen and became homeless, only to become one of the top coaches in our industry and is wealthy and successful.
Many have shared how they overcame overwhelming odds. Tahani, born in a refuge camp, came to Canada for an arranged marriage, become a single mom, barely speaking English, to go on to become one of the wealthiest people I know.
Jules Mckenzie, an "Indian", as he refers to himself, born and raised on a reserve. He was told he was worthless by his teachers, then to have a challenging job of a police officer on the reserve, many dark days, failed investments, only to turn it around and become wealthy.
To celebrate 100 episodes, I've reached out to several of our most popular guests for updates plus, for fun, a few centurion investors: investors who have owned 100 or more properties, to learn their lessons so we too may learn to invest like the best of the best.
First off, we have my friend John Roumanis, an old friend now who owns lots of property, but also the honour of having our most downloaded episode.
John is very well educated: MBA, CPA. He even teaches at a local college for fun. He manages tons of people at work, Canada's largest coffee producer. He's really smart too, as a conservative stock investor choosing value plays for blue chip companies that pay dividends. He's also really smart for choosing me to help him make close to $1million in real estate, all part time, in only eight years. If you want help to build and grow a real estate portfolio, let me know.
To Listen:

If you enjoyed the show and would like to learn more about investing in real estate then you do not want to miss my Top 10 Tips On Real Estate. It's FREE to Download!!
I've interviewed many of the leading authorities in real estate, including Best Selling Authors like Julie Broad, Don R Campbell, Russell Westcott, and Tom Karadza. My super star investors include folks who acquire two properties per month or have transacted on over 100 properties. I have learned a thing or two in my own investing and distilled it down to 10, you-can-not-ignore, tips if you want to be a successful investor.
To download the report go to www.truthaboutrealestateinvesting.ca/book
Sponsored by:

TitanInvestmentRealEstate.com – would you like to know how our investors returned 341.8% on positive cash flowing real estate over the last five years? On average, that was 68.4% per year, just imagine what winning in real estate could do for you. If you would like to know how we did it, ask us how by calling 289-288-5019 or email us at admin@mrhamilton.ca. Don't delay, the top markets we focus in are trending upward in price, so you can pay today's price or tomorrow's price.
Till next time, just do it because I believe in you.
Erwin
Hamilton, St. Catharines, Toronto, Land Development, soon to be builder and Real Estate Investor
W: erwinzeto.com
FB: https://www.facebook.com/erwin.szeto
IG: https://www.instagram.com/erwinszeto/

https://www.truthaboutrealestateinvesting.ca/wp-content/uploads/2019/05/John-Roumanis-1.png
630
1200
Erwin Szeto
https://www.truthaboutrealestateinvesting.ca/wp-content/uploads/2017/06/TruthRectangleLogo.png
Erwin Szeto
2019-05-31 20:07:33
2019-05-31 20:07:35
100th Episode – Started From the Bottom Now We Here w/ John Roumanis