Ask Erwin Anything EP1 with Joel Arndt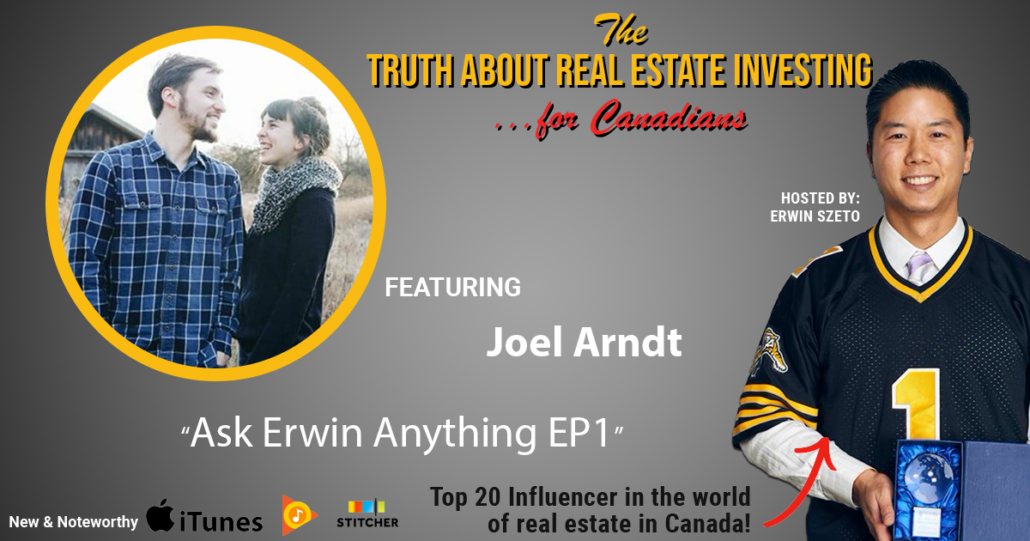 Hello wealth hacker nation!
As our regulars know, I converted one of my single family homes from being rented to students to AirBnb after an awful experience with one tenant and then dealing with the pro-tenant, Landlord Tenant Board Tribunal.
Good friends of mine who have much experience with short term rentals told me how great the tenant profile is vs. long term tenants. Guests of short term rentals, or STR's for short, are happy because they are on vacation and they have budget, otherwise they wouldn't be taking vacation. My property is inspected more frequently, as my cleaners are there every week to inspect for maintenance and damage issues. Plus damages are paid for by the guest via their damage deposit vs. a long term rental landlord has to collect themselves, it comes out of pocket, possibly goes to small claims court, which can put the tenant into collections, and you'll possibly not get paid, etc…
So is the grass greener on the other side? We will see, but so far in less than 72 hours we have $3,500 expected revenue for the month of June. Note, that's inclusive of HST. Our first guests arrived yesterday and we had our first complaint already, LOL. Our grass is too long, as the grass growing conditions have been perfect and as a student rental, we had the house mowed every two weeks.
Note, I raised the rent for this weekend from $250/night to $850/night because the Canadian Golf Championship is in town, so the rent is high but the lesson is to be aware of your market!! Many of my friends with STR's did not adjust their rents as they weren't aware of this major tourist event. Fun, useless fact of the day, my guests who booked golf week are from Florida.
Also to note – the upfront investment is significant for time and capital to prepare a house for short-term renting, but I outsourced it all from renovations, cleaners, Property Management, and furnishing the house. I'll be sharing how we did things from beginning to end at a future iWIN members meeting, plus all the technology involved to make the process completely automated.
This episode is sponsored by our Wealth Hacker Conference on November 9th, and we just announced is our venue: the Toronto Congress Center – North Building next to Pearson Airport in Toronto. We also announced Pierre Paul Turgeon as one of our many Wealth Hacking Speakers. Pierre Paul is an old friend, the best teacher of apartment building investing, and he grew his own portfolio from zero to 22 million in only a few years.  He walks the walk and talks the talk and he's a good person as he donated several of his apartments to those who lost their homes in the Fort McMurray Fires in Alberta just a few years ago.
Our keynote speaker is none other than New York Times Best Selling Author and leader of the 10X movement, owner of Cardone Capital with over $1 billion in real estate under management, our #1 pick and ultimate Wealth Hacker, Grant Cardone.
To register go to www.wealthhacker.ca, the sooner you register the better the tickets and better the prices, so please don't delay. Like many iWIN events, this one will sell out too.
Ask Erwin Anything EP1 with Joel Arndt
On to this week's guest who is less experienced to investing. This all started when I posted on Facebook that we can make any investor who is ready and willing successful, as we have 15 millionaire clients who we directly assisted with their investments. They seriously come from all walks of life. I'll detail in a future episode some interesting statistics and observations of these millionaires.
Anyway, Joel Arndt sent me a direct message, or as the young people call them, DM's. He asked if my statement was true and if he could ask me some questions. He shared his back story. Joel actually goes to Church with one of our super star clients and past guest of this show, Evelyn, and though they knew each other they have taken completely different paths.
I asked Joel if we could record our Ask Erwin Anything session to share, as I know we have many young listeners and folks looking to switch careers or learn about investing for a side hustle. He agreed, and here is the interview.
I give you, Joel Arndt.
To Listen:

If you enjoyed the show and would like to learn more about investing in real estate then you do not want to miss my Top 10 Tips On Real Estate. It's FREE to Download!!
I've interviewed many of the leading authorities in real estate, including Best Selling Authors like Julie Broad, Don R Campbell, Russell Westcott, and Tom Karadza. My super star investors include folks who acquire two properties per month or have transacted on over 100 properties. I have learned a thing or two in my own investing and distilled it down to 10, you-can-not-ignore, tips if you want to be a successful investor.
To download the report go to www.truthaboutrealestateinvesting.ca/book
Sponsored by:

TitanInvestmentRealEstate.com – would you like to know how our investors returned 341.8% on positive cash flowing real estate over the last five years? On average, that was 68.4% per year, just imagine what winning in real estate could do for you. If you would like to know how we did it, ask us how by calling 289-288-5019 or email us at admin@mrhamilton.ca. Don't delay, the top markets we focus in are trending upward in price, so you can pay today's price or tomorrow's price.
Till next time, just do it because I believe in you.
Erwin
Hamilton, St. Catharines, Toronto, Land Development, soon to be builder and Real Estate Investor
W: erwinzeto.com
FB: https://www.facebook.com/erwin.szeto
IG: https://www.instagram.com/erwinszeto/

https://www.truthaboutrealestateinvesting.ca/wp-content/uploads/2019/06/Joel-Arndt.png
630
1200
Erwin Szeto
https://www.truthaboutrealestateinvesting.ca/wp-content/uploads/2017/06/TruthRectangleLogo.png
Erwin Szeto
2019-06-10 22:15:43
2019-06-10 22:51:37
Ask Erwin Anything EP1 with Joel Arndt