Litigation & Buyers Not Closing; Real Estate Lawyer Update With Saurabh Singhal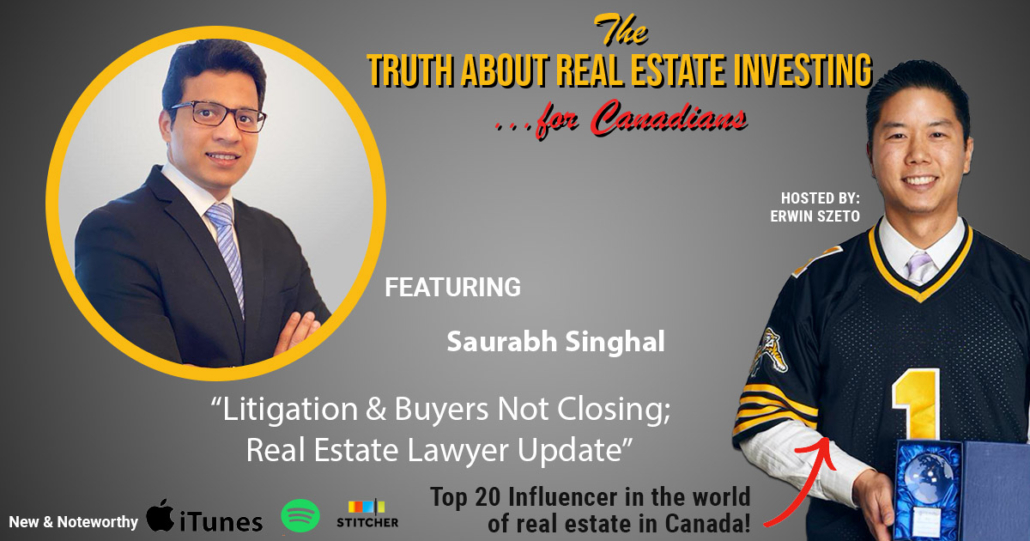 Greetings, my fellow Wealth Hackers, i.e. those on the journey of the most efficient path to your financial goals!
Cherry and I just got back from Ottawa and Quebec City. Besides the amazing food, we hung out with six-time best-selling author Derek Foster and top Business Coach, my coach MaryAnne Gillespie and recorded podcasts, so be on the lookout for those. 
We toured Christian Szpilfogel's apartment building developments and recorded it on video. If you ever want to renovate and develop small apartment buildings, you don't want to miss this. I've been around a while and was thoroughly impressed.
 

 

View this post on Instagram

 
We met with Stock Hackers local to Ottawa plus Jenn, who drove 1:45 from Montreal.  The best part was everyone there made local connections to mastermind the stock and stock options investments.  
Times like these, with everyone being down on the year: real estate, stocks, crypto, bonds… there's nowhere for investors to hide, but as discussed here and in our real estate and stock meetups, we've been talking about being defensive, mostly going to cash. 
As for timing the crypto and stock market, people I follow seem to think there's more downside, so I'm holding steady, but I think those markets will hit bottom in the next few months.
We will see; I've been wrong before, like Doug Ford's landslide victory in Ontario. I've been spending too much time on Twitter, or maybe Conservatives do not post on Twitter. 
But more importantly, I hope Doug fixes the RTA/LTB and removes single-family zoning. I can't wait to turn my single-family homes into triplexes and create more housing supply without any public money.
Speaking of real estate, it's a bit of a mess out there, but as expected, the more speculative stuff is the hardest hit. 
I chatted with a client on Monday who's closing soon on a wonderful condo in Queen's Quay.  She paid in the high $600s in 2017, which I thought was a great price. However, there are speculators out there who can NOT close on those condos.
So what's the market for these assignment deals?  Terrible!  
That's nuts. Cherry and I bought houses in 2017, and they have doubled in price AND positive cash flow. These poor condo speculators are going to lose money…. 
On the other side, the opportunities are amazing for anyone in the market to buy if they have the right connections vs. all these new projects that are hitting the market paying agents 4% commission.  
Guess what's going to get promoted and pushed by commissioned salespeople…
Litigation & Buyers Not Closing; Real Estate Lawyer Update With Saurabh Singhal
On to this week's show!
We have IMO an incredible story of Saurabh Singhal, who came to Canada recently so their kids could have a better life. He worked a full-time job, then every night after work, studied for 12 months to become a lawyer.
Saurabh is a former Crown prosecutor from back home and now practises real estate law here in Ontario, specifically in Mississauga. 
Today, he shares what he's seeing in the market to let you know how the real estate market is going and the importance of working with Realtors who understand economics, something we study here at iWIN Real Estate regularly.  
Thankfully our clients are doing great, but unfortunately, many buyers who bought this past December, January, and February aren't doing so great.
Please enjoy the show!
This episode is brought to you by me! We don't have sponsors for this show, I only share with you services owned by my wife Cherry and I.  Real estate investing is a staple in my life and allowed me to build wealth and more importantly, achieve financial peace about the future knowing our retirement is taken care of and my kids will be able to afford a home when they grow up.  If you too are interested in my systematic strategy to implement the #1 investment strategy, the same one pretty much all my guests are doing themselves, then go visit www.infinitywealth.ca/events and register for our next FREE Online Training Class.  We will be back in person once legally allowed to do so but for now we are 100% virtual.
No need for you to reinvent the wheel, we have our system down pat. Again that's  www.infinitywealth.ca/events and register for the FREE Online Training Class.
This episode is also brought to you www.stockhackeracademy.ca where everyday real estate investors learn the best practices in stock investing to earn cash flow in about 15-30 mins per day from their mobile phones. After real estate, Stock Hacking is the next best hustle as you've heard from many past guests on this show. Among our students last year, 31 trades were shared with them. 30 were profitable for an over 96% success rate and 12% return on capital. I will be giving free demonstrations online, very similar to the one I gave my kid cousin, a full time musician and he just made 50% return in 2021.  Past of course does not predict the future but if you'd like a free demonstration go to www.stockhackeracademy.ca in the top right, click FREE Demo.  At the demonstration I'll have special bonuses. We do not advertise publicly for all my favourite listeners and I only have two more demos to give in the next few weeks.
Don't delay www.stockhackeracademy.ca, what I consider the future of side hustles with real estate so unaffordable for many.
We're hiring!
Just a friendly reminder that we are hiring more investment Realtors who want a full-time challenge to help our clients, regular everyday people, mostly from the GTA, invest in the top investment towns west of the GTA. 
This is for driven folks who want to multiply their current incomes.
APPLY HERE: https://www.infinitywealth.ca/hiring
To Listen:
Audio Transcript
Erwin  
Hello everyone and welcome to another episode of The Truth About Real Estate Investing Show. Greetings to my fellow Wealth Hackers. This show is titled litigation and buyers not closing. We have a real estate lawyer update from Saurabh Singhal. Yeah, so it's pretty crazy episode. But before we get to that, I want to say greetings to my fellow wealth hackers and take a chance to redefine folks who don't know what wealth hacking means what it means to me and I, it's for those who are on a journey for the most efficient path to whatever your financial goals are. freedom, security, independence, peace of mind, whatever your goal is, we've had a lot of experience doing so with helping other Canadians, hardworking Canadians develop seven figure profits and increasing our net worth of seven figures or more, and we'd like to do it for more people. Anyways, so Cherry and I just got back from Ottawa and Quebec City, other than the amazing food that we had when we had lots of it, and I had a little bit too much to drink. We hung out with some folks including sixth time best selling author Derek Foster, and top business coach my coach Maryanne Gillespie, we recorded podcasts, so be on the lookout for those, we toured Christian Szpilfogel's apartment building developments and recorded it on video. If you ever want to renovate and develop small apartment buildings, you do not want to miss this. I've been around a long time. And I was thoroughly impressed fivestars all the way. We met up with stock hackers local to Ottawa plus Jenn who drove an hour 45. from Montreal to for the meetup. The best part was everyone who attended was able to make local connections so that they could match you know, exchanging phone numbers and stuff, you know, social media, whatever, so that they can connect on a local basis to mastermind on stock and stock option investments. I'm sure they will talk real estate as well, since they're all real estate investors as well. Times like these, with everyone being down on the year in terms of real estate stocks, crypto, bonds, there's been nowhere to hide for investors, even cash technically, because inflation is what inflation is. Even technically, cash is lost money. There's nowhere for investors to hide. But as discussed here, and in our real estate stock hacker meetups, we've been talking about being defensive for quite some time, most of the meaning to raise cash or go to cash. We told our clients to be if they're planning to sell in the next 12 months, this back in January, we told our clients there, you're planning on selling the next 12 months, if you're selling immediately in the month leading up to that. From the people I follow, they seem to think there's more downside. So I'm holding steady, but I think those markets will hit bottom, hopefully in the next six next few months, six months or beyond. And really no one knows what the bottom is everyone that I speak to or listen to pay attention to they all agree the same thing. They don't no one knows, no one knows or else they'd be richer than God. We will see I've been wrong before. Like, like Doug Ford's landslide victory in Ontario. Lesson learned, I've been spending too much time on Twitter. So I guess that there's not many conservatives who post or who posts or influence on Twitter. But more importantly, I hope Doug fixes the RTA and LTB. Our tenant laws in our tribunal, they are broken. And I hope he removes the single family zoning as I can't wait to turn all my single family homes into triplexes. Or better. In turn, I will create more housing supply, especially rental without any public assistance, no money on my own plus the banks.
Erwin  
Speaking of real estate, as I mentioned, it's a bit of a mess out there. Apologies to those who don't want to hear this. I've actually heard feedback from others that they don't like me sharing how negative things are out there, including how people have lost money. But that's kind of the point of the show, is this is the Truth About Real Estate Investing. And if I don't share about how to avoid losing money, then I'm not doing my job. So let's get into it a little bit. If you don't want to hear it, go ahead to note I'm sure you can go listen to the radio or listen to Taylor Swift or something. Because I'm here to tell truce. So again, it's a bit of a mess out there. As expected. I've mentioned before, this could easily be in 2017. It's actually looking to be worse than 2017. The more speculative real estate has been is the hardest hit. I chatted with a client just this week, who is closing soon on a wonderful condo and Queens Quay says the east side of downtown is right on the water. So she paid in the high six hundreds around 675 in 2017. So five years ago, bought, I think it's two bedroom for two 675. So somewhere around $1,000 per square foot she paid. Right in today's context. That's a wonderful price. Right. I think it's a great project. I think it's a great price she got but however there's lots of speculators out there. Many condos New developments are the statistic that Brad land gave who's like one of the top agents in Toronto for new developments. The statistic he gave earlier was like around a third, our spec pure speculators. And then about a third of buyers are investors as in their intention is to rent it out. And then the other third is detention to actually use an occupied the property. Anyways, no one has clear stats, I actually think the speculation ratio is actually higher, folks who have no intention on closing, who just want to sign. So in this market, what's the assignment market like? It is terrible. So for this condo project, and Queens Quay, if you currently are an owner of one of these properties, and you have to close so you own the paper, that's it, you haven't closed yet. They're closing soon, if you want to assign that property, to get to find a buyer, you'd have to sell at the same price they paid in 2017 plus a cash rebate from the seller to the buyer. So anyone who's buying in this project today, who knows who to talk to, will be paying a price that was from five years ago, less than the price that was five years ago. This is absolutely bonkers to me. All right. That's my opinion. I've been around for a bit, I've seen a lot. So this is new for me that you can buy for a price beyond five years old. So I've shared on the show Cherry and I bought the dip between 17 Those houses cash positive cash flow, and they've doubled in price versus I'm hearing stories of investors who bought in 2017, who are going to lose some of their capital, if not all of our capital, because they were speculators. And they're unable to close. So I feel bad for these people. But again, I'm here on the show, to educate and to share other people's experiences. So on the flip side of the coin, there's amazing opportunities for those who's on the market to buy any sort of quality investment property, and then quality can be determined on price, right? If you get cheap enough, it can be a good investment, versus there's all these new condo projects that are hitting the market. Now. FYI, they pay the pay real estate agents almost double what a regular property does intimate terms of commission. So guess what's getting promoted out there and being pushed by commission salespeople. So that should be no surprise. I'm not throwing shade anyone. I'm totally cool with anyone doing doing their own thing. But you know, my job is to look for the best opportunity for my clients. So onto this week's show. In my opinion, we have an incredible story from Saurabh Singhal, who came to Canada recently, so that their kids could have a better life, their kids actually requested to move to Canada. So Saurabh he worked, he was working full time job, and then he bring his family home, have dinner, and then he go to study for about two, three hours every evening, for 12 months in order to become a Canadian lawyer. In my opinion, it's an incredible story of resilience. His wife also studied took a couple months off to become an accountant. And I think it's amazing Canadian success story that folks can come here for seeking a better life, and they can hustle and grind and become professionals and make six figure jobs, which is incredible. Saurabh also has been a practising real estate lawyer in the GTA. He's seeing all sorts of crazy stuff. I won't get into too much because I won't spoil the show. Again, my job is to give you guys the truth about real estate investing, including like legitimate market updates. Here's an update from a real estate lawyer who practices real estate. So you probably want to tune in and see what in here what he's seeing in terms of the market. Oh, yeah. And of course, to follow us, Rob, I have his website and phone number in the show notes. Websites, not the easiest. www dot singhal dash law.ca That's si ng h al dash law.ca. And that's all you find throw up again, links in the show notes. Check them out. Nice guy knows what he's doing. As you can tell after you listen to the show, please enjoy the show. 
Erwin  
Hello Saurabh, thanks for coming on the show today.
Saurabh  
Thank you for having me, Erwin. 
Erwin  
So what's keeping you busy these days? 
Saurabh  
Just the extensions. I will say.
Erwin  
What kind of extensions?
Saurabh  
Real estate transactions and the extensions that each party buyers wants to seek because the deals are not going through. Banks are not appraising the property to their expectation to the buyers expectation or not expectation as per their agreement of purchase and sale and they are not the financing is a big issue for the buyers these days.
Erwin  
When did people when did they write the offers when were these offers like written?
Saurabh  
Most of these offers are from February I'm seeing these offers are from February or March February's are the ones that are most difficult because people you know put an offer at that time based on their on the market value of the property at that time. But now you have seen that in April the game has changed and the properties are at much more lower prices than they used to be in February. When the time comes to perform the contract. The buyers are not in the position.
Erwin  
This is crazy.
Saurabh  
Yes, it is. It is. And sometimes I feel bad for the buyers because most of them are the first time homebuyers are when and they do not have the capacity and the ability to cover up the the shortfall that you know bank is giving them. It's and it's a big, big difference. It's not like 10,000 or 20,000, I have seen a scenario and cases where the property was purchased for $1.5 million. And the bank appraise it for 1.2 million only. So even if the buyer had put, let's say $100,000 towards the deposit, they are still short of $200,000. And they do not have any means to cover that shortfall. So what they're doing is that they're they're seeking the other under options of lending. And those are B lenders and C lenders and once their B and C lenders step in they can obviously give you the higher price, they can always appraise your property at a higher price than the these a lenders top five banks to but they will charge the interest rate is much more higher, they have the commitment fee, they have all kinds of fees, which you know, the first time homebuyer never empty handed that they will or anticipated that they are going to incur towards the closing cost. So yeah, this is the main issue that is going on.
Erwin  
Right. So I'm guessing the stress test only accounts for interest rate not for price.
Saurabh  
Yes, I think it is. The most people are not net, like in my opinion, people have made up their mind that okay, this is the interest rate that they're getting. And they are okay with that they're okay with their if the mortgage payment is going to increase. But the real problem is that the appraisals they, the bank is not ready to fund the deal. If they're not ready to fund the deal, then they run the risk of the buyers run the risk of losing their deposit. Plus, if the seller ends up selling the property at a lower price, they've further run the risk of you know, getting sued by the seller to recover the loss that the sellers have suffered due to the non performance of the contract by the buyer.
Erwin  
Pretty crazy. So I've been hearing these things are happening. But we're recording today's June 2 As we're recording. So I've been hearing this from from other lawyers as well. And it's not the experience that we're seeing with our clients. I mean, on the houses that we have sold. Yeah, we have issues with two of them with the buyers. But our clients are doing well, because they sold them a good time is they followed our advice. Because I've been pretty public that this year can be just like 2017 was whenever there's government intervention back in 2017. It was the fair housing plan by the Ontario liberals at the time. And also in combination with with this new stress test at the time. So double whammy stress testing fair housing plan, the market just like all the buyers disappeared. And it wasn't as buyers just appeared as because all the buyers got were rushing before the deadline of the fair housing plan beginning and then there was like, then spring summer fall was quiet. Right. And I predicted I think I've been pretty public about it that that that this could happen again. Right? So our clients who were selling and my advice to all of our clients was, if you're planning on selling the next four months, sell it ASAP, as in the beginning of the year, right? I'm saying this into December as well, December, January, February, March, probably my man that's it, that means that you're planning on holding it, right. And so everyone heard this, so then the same reverse is true, too. If you're a buyer then you know, but again, like even our buyers who bought and January, February, they still closed in their their appraisals are fine.
Saurabh  
Yes, the other buyers, you know, closed up to like March, I will say they're they're pretty much fine. And they have if they have the capacity to hold the property because this this storm will pass, right. And if they have the capacity to hold the property that is I don't know you are you are more in the market. But this is again, this price is going to go up again after maybe after two, three years down the line who do I don't know, I'm not a expert in this area. Right. And the other other thing is, you know, your clients were lucky Erwin that you know they had you and they made the informed decision to sell it up to late January February. But most of the with all due respect the most of the clients you know, fail to get the proper professional advice. And if you're entering into a contract in January, you should know what is going to happen of the day of my closing on the you know, the day comes when you have to perform the contract. So you have to anticipate the situation of let's say in April at the time of entering into the contract because at the time of entering into the contract, it's just a contract that you have entered but which is a binding contract and you have to perform that in April and you don't know this situation and if you are if you do not have a proper professional advice, then you end up in you know getting getting into these kinds of problems. 
Erwin  
Right! Well all realtors licence so we're all licenced for professionals for me because I have such exposure to real estate. And also my because we ever just the business we operate, we help people buy an investment property. And I'm constantly reading what the top economists are, are putting out. So I've been following economics in Canada for 15 years at least. So I have my favourites because I know who's actually pretty accurate. And this was predicted that when interest rates start going up, the run up in prices was people rushing to buy before interest rates go up. And then once they start going up, that's our trigger moment, because I've seen it before. I've seen it every time there's been government intervention in the mortgage markets in real estate market. There's always a run up before that before that deadline, and then the market does take a step back.
Saurabh  
Yeah. And yeah, I think government also did a good job, they gave you a heads up that, hey, we are going to increase the interest rate, right. It's not something that happened overnight, they did not increase the interest rates overnight, they were acquired time to time, they were telling you that the interest rates are going to go up in March or in April. And they're going to go up again, again, but I'm not so happy to tell. But this is this is where most of the real estate professionals failed, or, you know, the clients did not got the chance their clients not get the chance to get a proper professional advice, whether the price that they are priced for which they are entering into the contract more is the actual price of the property at the time of the closing.
Erwin  
It's too bad. It's really unfortunate for new buyers, first time buyers because the government generally invest where they're trying to help. And that's has been slaughtered me. In the market. But our clients, we just had a low 20 Something clients of ours referral from one of our early clients. Sure, she referred her kids to us. And so we just bought them a single family detached in Burlington 60 Buy. I think it's 60 or 160. It's a huge lot detached bungalow, paid 1,050,000 for it.
Saurabh  
In Burlington? 
Erwin  
In Burlington.
Saurabh  
Okay, that's a good deal.
Erwin  
Yeah, a bay bungalow things like at least 1400 square foot bungalow, and statistically, is the second cheapest house to sell in the last six months or something like that. Right in that area. So, in general, first time homebuyers have done terribly, and here's our client doing quite well. I'm sure, I'm sure that they're gonna be extremely happy for years to come that they get they got that house for that price.
Saurabh  
Yes. And all this turmoil, you know, it's temporary, because now the contracts, you know, after March or April, whosoever has entered into the contract in March or April, I'm pretty sure that, you know, the have got the proper advice. And they know that the value of the property is not that high, or well, you know, they're, they know what they're bargaining for. So I think like people who will be closing in July or August, I think that, you know, they should be fine, they should not be facing any problem. I don't know, again, I'm not a math expert on market. But my reading is that, you know, all this mess has happened with the people who have entered into the contract in January, February or as in March. And so April, May, and June is the period where they have to perform the contract, and the appraisals are on the lower side. Now that if the if the people are smart enough, and they know that the actual price of the properties, let's say if it is listed for 1 million, and they are, if they can make an informed decision that the bank is going to appraise the property for 900,000, they should put the offer for 900,000. Only, they should not put the offer for $1,050,000. So that will save them from running into the situation. 
Erwin  
Crazy. This is wild. And so sorry, I want the listener to get all the benefit. Before we start recording. You mentioned, you're getting a lot of requests for extensions. Yes. Can you quantify, like is it like five a day one a day?
Saurabh  
It's it's like every third deal, like everyone wants extension these days. And some of the lawyers on the other side, they're very generous, I will say, and they really want to accommodate the clients, they understand the situation, but we have all kinds of people in every profession, some people like we as lawyers, we just take instructions from our clients, right? It's not like anything personal to us. So some of these sellers, they are not buzzing off and they do not intend to give any kind of extension. They are saying that okay, you have entered into the contract, it's time to perform perform it otherwise, I'm going to forfeit your deposit, sue you for damages. And you know, if I relist the property if I will resell it, if it is going for the lower price, I'm coming after you that is the strict warning I'm getting.
Erwin  
And those are the rules not the rule of law.
Saurabh  
That's a standard practice versus standard practice of the my everyone know that you know, yes, did that can be done. And if you look from the sellers perspective, it's not their fault, right. They have not done anything wrong. They are ready, willing and able to perform their part of contract. So they are expecting the same thing from the buyer. Second thing Financing condition was already waived by the buyer themselves at the time of putting the offer. Because at that time, you know, if you will have the financing condition, then your the chances of your offer getting accepted are very quite low. So, yeah, I do not blame the sellers. But if they're seeking the reasonable extensions, stiff seller can accommodate in a situation allowance, they should do it. And I have also seen examples around where we're sellers, you know, sellers, armpits, the buyers, and they, they ask for, like, let's say 20,000, in default penalty or for extensions, they asked like costs, which can run up to like 25,000. And if you ask them the reasonable basis for such such extension cost, you'll just receive a simple email, okay, then perform the contract. So that is another problem.
Erwin  
For us. If we need an extension, we usually negotiate procuring costs for the house was for whatever that period of time.
Saurabh  
That's great, that should be the thing that you are entitled to, like, you can pay per diem, their per diem, and you can pay the carrying cost if the property is still occupied, you can pay the utilities bill. And if you if, you know, some, some few dollars, here and there for legal fee, but other than that, if you're asking 20,000 50,000 15,000 10,000 as default penalty, that's like, I honestly believe that's an arm twisting by the sellers.
Erwin  
Then that's just the money, they want to accept the extension. 
Saurabh  
That's correct.
Erwin  
Right. That's not even to walk away.
Saurabh  
Nothing. No.
Erwin  
Because I'm sure a lot of people would pay it to walk away, there's 23 grand or 26 grand and they're like, can we have a mutual release?
Saurabh  
No. And on top of that, what they want the sellers want is, if you fail to close on the day of extension, your deposit will be forfeited, you have to sign the mutual release. So you know, a lot of lot of issues are there.
Erwin  
Are buyers at least trying to offer money to be out of the deal.
Saurabh  
Yes, yeah. I have seen some of them who said, Okay, keep it, keep it I have a client, you know, who who thinks that his property has gone like 250,000 down and his bank is not appraising? He is so adamant that he do not want to go with the B lender. And he has made like $40,000 of deposit, and they just want they think, even if you know advise them that no, it's not just a matter of $40,000, they can come after you for this $250,000, whatever lost, they would suffer, they don't care at all in this locality. I'll see what will happen. Let them keep my $40,000 This is good. I'll see if I'll see them in court. That's what their position if if that is the instruction of your client, you don't have any other option but to accept it.
Erwin  
So if it does go to court, what typically happens?
Saurabh  
Like every case depends upon its own facts, Erwin definitely there should be there is a duty upon the seller to mitigate the damage. And it's not like seller can stand up in front of the court saying that will have suffered like $200,000 deposit loss, sorry, and you're not giving me I'm entitled to get that money from the buyer. The first thing court is going to ask to them is that you know, what steps have you taken to mitigate your damage losses or damages that you are claiming, if seller is able to prove that they have you know, marketed the property? Well, they have taken all the steps that were under their control that they were legally obligated to take. And still they have suffered the damages or you know, they plan to you know, sometimes sellers have more brands, they were further buying the property and that seller have already that deal has fallen through because of that, and they end up losing their deposit and they are suing them. So it's a chain. So yeah, the risks are higher like you would have to pay them the it is a binding contract, and you have to pay them the loss that they have suffered,
Erwin  
Okay, this will say the party at fault. So say the buyer doesn't have the money, it doesn't have the 250 to pay, what is the sellers recourse? 
Saurabh  
If they do not have any property also, the sellers can, you know, enforce it to the buyers when a home then they can actually enforce that against them, they can register a rate against the they can register a rate against the buyers, and that's an enforcement process steps they can take. There are so many things, you know, they have to see whether the owner is occupying the property as its principal place of residence, whether that can be sold or not. That's another question to recover the money but if the sellers can definitely register it against them in that particular jurisdiction. And whenever they wanted to sell that property, the rate will pop up and it's it's the when the buyer wants to sell the property, their property the rate will pop up against them and they can not walk away without paying that the amount that is registered there.
Erwin  
So the rate is against the buyers home, then they only have to pay it when they sell the house. They're not forced to sell the house at that moment.
Saurabh  
I'm not pretty sure about it. This is the enforcement process, how it will how it will go and as I told you It depends, like each case depends upon its own fact. And the enforcement process is something another, another litigation prospect that needs to be taken. And I do not want to make any statement, especially publicly and because I don't want people to take it as a legal advice. 
Erwin  
It's hard for generalities. Yes, I can appreciate time for generalities. It's no different than like, Oh, it's good time by now, like, by what? To buy a parking spot in Vancouver, or this is all crazy. And again, if we're ever so blessed to be insulated for these problems in our business and our clients is, to me, it's always been the wild wild west out there. We've always tried to do what we do here. But we understand what we feel we can control. For example, when we sell investment property, typically, it's usually pretty fast closings. Because we don't have to sell properties. No one's trying to move. They're like our clients don't live in the Properties, and then it's just much faster. So our typical closing days are 30-60 days, right? So even if we sold in February 60 days, which is in April, we were still likely. Okay. In terms of everything. And that's been our experience, what you're telling me is so foreign to us. 
Saurabh  
Yeah, because investment properties, it's always you know, different people have the capability and ability to get the mortgage, done a mortgage approved or if not, they do not hesitate in my experience, if someone is going for the investment property, they do not hesitate in going with the B lenders or C lenders either mean for the time being obviously, it will be for the timing, and when there is there will be a better days in the market, they can always refinance it with the A lender. So with investment properties is it's quite different. But the problems that I'm sharing with you is mostly with the first time homebuyers and who want to occupy the property as a principal place of residence, or who have sold their house and they want to buy another house, they want to, you know, upgrade themselves. So they are the most I will say they are the hardest hit ones for the investors, you know, they have all means to close the property.
Erwin  
Right. I think it says something like great about the teams that mortgage people that we work with, and the lawyers that we work with that we've gotten things done and our clients are well insulated from problems. And also because our clients are generally investors, whatever property they bought, they're gonna rent it out. They're renting into like, the hottest rental market I have seen, and I don't know how long, right? Statistically, rents are higher than pre pandemic now. That's great. So it's, yeah, no complaints. For those who rent out properties. 
Saurabh  
Yeah, again, because the affordability to purchase a property has become really difficult. So people who cannot afford to buy, and they have no other option, but to you know, stick to rent or go on rent. And so, renters are high these days, I have a client, you know, who I recently closed for them. And they said, oh, sorry, we have bought a property, it's an investment property. And, you know, we bought it the advice of our real estate agent, and it's not going to give us a positive cash flow, it's a negative cash flow, call this and that. And, you know, Erwin you won't believe they have like four properties and out of four properties, that property now, the property that I'm talking about, that is the one that is giving them the best positive cash flow, what are those four because of all this happening, they said that they just put a simple ad on on marketplace and they received 50 applications on the same day and there was bid for the rent, and they just you know, gave it for the one who was ready to give the higher rent  and I told them that I did you ask them that why they why the person who is renting, they want to rent it at a higher price at such location. So they advised them that because you know, our plans to purchase the property, we have dropped our plans to purchase the property in such a market. And the interest rates are high, we don't want to go bank will not qualify for us to you know, for the mortgage. So this is another story that this is another prospect of looking at the investment properties. That is why the rents are higher than pre pandemic.
Erwin  
Aren't you glad you bought your house already? Yeah. You're getting a lot of inquiries for litigation as well.
Saurabh  
Yes, yes. Most of them Yeah, they did. Everyone wants to sue the especiallyspecial in this country. And yeah, I receive a lot of complaints that I happily you know, I do not like to sue real estate agents. So if anything goes out if anything goes out, you know, they just blame on real estate agents and lawyers like no blame to anyone I know the like clients are are in the difficult situation but the other the other ones because most of the time I get a phone call that you know my real estate agent did not advise me properly. But the most of the real estate agents I know they do their job. Like they do a great job they have worked with these clients before they were all that is why, you know, they have engaged them again. But if anything goes wrong, they just blame the real estate agent, which should not be the case, the simple buyer beware principle that applies.
Erwin  
We're dealing with million dollar purchases, like if you're buying or selling you better work with someone who's really good. Yeah, because it's a serious transaction, the most expensive you're ever gonna make. So choose wisely. And also just make it clear for the listener. If the deal doesn't close, none of the agents getting paid?
Saurabh  
Yeah, that's correct. Yeah, that those are the real estate agents are the most interested person, you know, in closing the transaction? Yeah, they are the ones who..
Erwin  
The buyer or seller, but yeah, realtors are Yeah, they don't get paid. Otherwise. 
Saurabh  
They don't get paid. And they really work hard for them to get their offer accepted, we should not forget, there was a time when there was 40 offers against one property. So if their offer was getting accepted, it was because of the real estate agents. And to not blame your real estate agent, just you know, blame the market. Do not blame yourself, do not blame your lawyers just blame the market. And if you are not able to close in time, that's that's very unfortunate. But I made some arrangements to to perform your contract rather than seeing the other side in the court. That should that is the last thing that anyone would want.
Erwin  
See, I want to screen as well, when we're selling property, I would scream the buyer that they have the ability to come up with a larger down payment, should they need to. Okay, right? I don't even think most agents ask the question. Right? So like, it's not about the top best price to me. I need I need I need good price and who is actually going to be able to close profile again. Right. So I just let the other agent know like, these are my these are my clients concerns? Like, can you tell me a bit more about your clients ability to for financing? I know you don't have a condition if that's the case, because most don't when you know, 6, 7, 12 30 offers, right, but explain to me, sell me your clients tell me your deal. Why should you pick yours over someone else? That's great, right? Cuz, uh, hopefully all people did that.
Saurabh  
If that's your style of working, yeah. 
Erwin  
I've been around for a long time. So I've seen and I'm afraid of risk. Right? So and I've lost money on certain things. So whenever there's a major loss somewhere, I forget the name. I don't think I was like urban Corp, the 2016 that condo development failed, right? In that time, that was really uncommon. So then, like, read everything to understand, like, what went wrong? Right? Those who fail to learn from history are doomed to repeat it. That's great, right? And history doesn't repeat itself but it often rhymes. Alright, so same bad things always happen over and over again. So that's why just you know prefer to learn about how to lose money so then that doesn't happen to me and the people I care about right to me that makes sense because you know, I you know, I really like having money.
Saurabh  
I know everyone does but yeah, everyone is interested like let me make it clear like everyone real estate, your lawyer even the buyer, the seller, everyone is interested in closing the transaction no one wants to wants the deal to fall through. But if I don't know I don't know whom to blame honestly Erwin but this market situation has really put buyers in toughs tough spot, especially first time buyers. 
Erwin  
Yeah, because again, I hate risk. That's why it's telling everyone Yeah, this could be 2017 again, right? And then people are like, what? 2017 Oh gee Let me tell you. So yeah, crazy. Now before we were recording, you were talking to private mortgages as well, how that's been coming up as an issue for your clients.
Saurabh  
Okay. So yeah, a lot of people like to invest in private mortgages. It's a good venture if that suits you, but now that since the market is going down, and you know, I will not say that it's a crash I'm not again, I'm not an expert on this real estate. And I can just tell you, the legality is attached to what I'm seeing and what is happening with the closings. So when very interesting situation is some people like to go for like up to 90% of the loan to value
Erwin  
I laugh because I don't like risk
Saurabh  
While 90 to 95% Wow, LTV I have seen that and yeah, it is
Erwin  
What's the rate what's the rate What's the rate?
Saurabh  
12% per annum Okay, okay. So, not more than that. No commitment fee nothing. 
Erwin  
People take interest in the property right. 
Saurabh  
Yes, they want to they just because most of these you know these risk risk investor risk investors they have a feeling or vision you know, at least their investment is secured against the property that is what their simple logic what I have analysed that okay, whatever is there my property my money is secured against the property against the real asset. But that is not true if there was an indecent In situations like this when the real asset market value has gone down, see, first of all the person who are taking the third mortgage fourth mortgage, I do not want to personally come in, but there must be some some kind of issue, right?
Erwin  
Oh, the borrower, the borrower, the borrower, I'd argue the lender too.
Saurabh  
So, if they're buying if they're having it and the person okay, they want to like if the market was up, everyone was happy, some people like to take equity out of the house and they want to invest somewhere else. I've seen the borrowers who have like three for mortgages registered on their property, but they're making good profit out of it. And they do not have any issues in paying out to the lenders because they're investing their money somewhere else and they're generating income. But the the issue that you know, with this third and fourth position mortgage that I have recently encountered in my limited experiences, the equity has drained out of the property, there is no more equity, let's say the borrower fails to pay you back or fails in servicing their mortgages first and second lenders or to the third lender, the bank, let's say bank is sitting on the first position or the some some another financial institution is sitting on the second position, and the borrower fails to service their mortgage in time. So, the fourth what happens power of sale happens go tissues, the writ of possession, and you have to the meeting in the management company or someone from the Law Offices appointed take over the property, they sell the property, by the time that you know, it reaches to the stage of power of sale, the lenders, you know, their legal fees, and their admin default admin charges us so much high that the person sitting the lender sitting on the third or fourth position Erein they run a risk of losing the complete equity in the property. Right. So the equity in the property has drained out and water security, yes, they lost their security. And the only thing that the since it was a secure it was a loan against the secured asset and the secured asset is gone in the air. What is the remedy then?
Erwin  
For the listeners benefit? powercell process? How much would the million legal fees costs?
Saurabh  
It depends some lawyers, I have seen some legal fees, you know, it goes up to like 20 $25,000,
Erwin  
Just in legal fees.
Saurabh  
Just in the legal fees. 
Erwin  
And that's, that's comes pretty quickly after after the homeowner stops paying the mortgage,
Saurabh  
That's correct. After your three regular payments, if you're stopping, if you're not able to pay three regular mortgage payments, you know, they can start the process, they can issue you the demand letter, the lender can issue the demand letter, and then they can bring a claim in the code, they can obtain the judgement from the court. If you will contest it, the legal fees will go higher and higher. Because it's a simple like a black and white you have entered into the contract you have promised to pay or fail to pay. If some people would like to contest it, they can contest for the amounts that are being charged by the lenders. But I do not see any other valid grounds for them to contest what they're going to say they have not taken the mortgage on the property. So it's a secured sad. Yeah. And once that situation comes it's it is it is again, you know, it is difficult to get it's terrible for the buyers, terrible Friday for the sorry, not for the buyers for the homeowners screw for the legal front.
Erwin  
But we're returning the legal fees. Yeah. So for the listeners benefit for whoever is private lending, they need to stay on top of things. 
Saurabh  
Yes, they need to follow and they have to, they have to monitor the sale process as well. 
Erwin  
I'm assuming before that. So hopefully they're getting their monthly interest payments. So they need to make sure that you get them. Because if they don't get them, right, they're probably not paying the first mortgage either. That's great. Yeah. All right. So that's why you need to be communicating with the lender. Right? Sorry, the borrower, right and make sure everything's still good. And that's quite hard to if it have to even start making payments for the first mortgage
Saurabh  
Time to time you can call for the information statement from the first lender or a second lender, you know that that can assure them that it is in good standing, the mortgage is in good standing and their investment is like, okay, then there's no issue with that.
Erwin  
See, this is why knowing all this, this is why I've never personally gotten involved in private in private lending. Because to me, it's like, it's a lot of work and if things go bad, and then most people get into private lending because they want the cash flow. But then like I said, if they're not making payments, and then now me is the second or the third mortgage, I have to start covering the first mortgage. That's a lot of cash outflow. That's correct. Yeah, it's not something I want in my life. I don't want more cash outflows I have enough of those have kids and kickboxing and Kumaon and stuff. Alright, so that's why like it's too much for me, I'm not interested personally and also the markets just been going the way it's been going. So my thing was always Why would I have a fixed just returned when the markets going up. That's, that's just that's just me. That's just me. And also, again, the risks involved in most of the markets has been too hot. I've always been worried about the market coming down, right and worried. And then, you know, and one of my mortgage people even said to me, like years ago, he's like, Is this really the mark you want to be lending in? If you're saying that. So thank you, thank you. Thank you, Mr. Butler for those words. And now we're seeing…
Saurabh  
The things lenders are like the most secured investment is unsecured now, because there is no equity left in the property. And the the only thing that you know, the lenders, these kinds of lenders, risky investors, I will say, you know, they should, they should monitor if the sale by first or second lender is not an improvident sale, it is better whether the property that is under the power of sale is actually has actually, like the first and second lender have actually followed all the steps that are required to be done, or they're just, you know, doing some under the table deal to, you know, drain out the equity and, and kick out the third or fourth mortgage. So that's another another risk that comes with the private lending, but some people love to do it Erwin not everyone likes to, I'll say, not everyone is inclined to you know, invest in stocks, because they might not be having any knowledge, that is what you are here for, they should consult a good person who is experienced in this field.
Erwin  
I just like making money, right? And so if something doesn't lead to making money, like to be like, again, private lending to me with too much risk, you know, so I'm always looking for options. Right. And so you asked me the question before we were recording, remember the question, you're saying people from your community?
Saurabh  
Yeah. Because, you know, they, they just like to see the hard cash? And they do not, most of them are, you know, again, you know, whatever I'm saying is, it is on based on my personal experience that I have with people like it's very limited experience, but I'm just sharing that. So people from my community, they want to invest in private lending, because I think they might be doing it from their old times. And I know in India, a lot of people do that. They just lend the money, and they just get the interest. And after one year or two years, they get their money with the interest bank. So I think they're following the same practice here. Which most of them have been successful. It's not the cases that I'm discussing it with you. It's only 1%. Most of them are successful in getting there. But what if anything goes wrong? They are taking that risk, and if they are okay to take that kind of risk. Who are we? And you, me and you to stop them? Oh, yeah,
Erwin  
I believe in freedoms. Yeah, I think people should choose wherever they want. It's just I'm so scared. So because I am in real estate, right? So I've had lots of people ask me, like, who would I recommend for private lending? And so for example, when my when my when our stocks, stock hacking, students asked about private lending, I said, You're a stock hacker, you know how to do these things. Here's an example of something I would do. This isn't advice. Like I mentioned before, we're recording, you know, a company like TELUS, right tells us its price has come down a bit recently. And then for a business perspective, who's giving up their internet or cell phone ever? Right, that's what the that's what tells the gentleman the business in. And then before that, I mentioned how I got on to tell us because Warren Buffett, the very famous self made top five richest person in the world, right, he recently bought Verizon, right. So um, you know, they're into cell phones and internet and also some media. And they pay a dividend. And so then what's the equivalent Canadian company? Because we have preferred tax treatment for dividends from cleaning companies. So I was looking at TELUS toss pays about a 4% dividend, right, and I can sell cover calls. And I'm TELUS and probably make at least 4%. I think, annualised.
Saurabh  
And security in your point of in your view, it is secured investment, right? 
Erwin  
Like, well, you have an example of someone losing all their money,
Saurabh  
And by investing in the most secured asset that they believe that they're doing.
Erwin  
Yes, but there's also the timing. And also, you're also you're not just living on the property, you're lending on the homeowner. Right? And to me, a lot of people I know have lend to flippers, right? For example, home flippers, right? So that business is entirely dependent on that individual. When something happens to them, right? What if they get hurt on the job and then the hospital for a month? What happens to that flip? Right? That's great. And I still need my interest, and I still get my money back on time. Unlikely. I don't think tails is gonna go to zero. I always give you a little example, TD Bank had joke and when I'm POS apparently serious, I specifically say the TD Bank because I think they have some of the least number of investor mortgages, there wasn't diversification away from investment, real estate. It's that's why that's why show TD Bank, not endorsement, not advice. But again, like, to me that's very secure ways of making cash flow. If your objective is, you know, 812 15%, compared to, again, already have a lot of exposure in real estate, I'm not necessarily looking for more, right, in effect, in general at the same returns diversified. And also tax preferred tax treatment is better tax wise, not accounting advice, folks, then why wouldn't I do it? Right, because private private lending interest is 100% taxable, that expresses dividend and while I'm talking about covered calls as capital gains, so that's why, again, to me, that just makes sense. I'm a logical investor, and not someone who's willing to risk much. And unfortunately, some of these people are getting whacked. And it's not uncommon. I'm hearing this widely across the market. Because if if people who bought in February, aren't doing their appraisals, no different for people who are flipping homes. That's correct. Yeah. Or their, their planned exit was an appraisal and a refinance, that their appraisal doesn't come in your deal no longer works for those. Right. That's great. Yeah. And then how do people get paid out? Let alone get their get their return? So yeah, Glad, I stayed out of it. You mentioned India. Yeah. How long ago? Did you leave India?
Saurabh  
It's been four years now.
Erwin  
So Cherry and I told you and your wife Jyoti, to you that it's incredibly impressive how much you've accomplished in just four years time?
Saurabh  
I'd say that you know, we just met nice and kind people and you know, things keep happening.
Erwin  
Right? So it was easy to bring your law degree over from India to Canada, right?
Saurabh  
Not easy. I did the SST my degree and I have to go through the process of becoming a lawyer again, in Canada, I have to they they assign me eight subjects that I have to write. And on top of that, I had to write the barrister and solicitor the licencing exam. I was able to do it within one year within one year. Yeah. All the exams.
Erwin  
Was it like full time school with me? No purpose? 
Saurabh  
No, they just give you the study material. Once you register them or register with them, then
Erwin  
You're out. You're on your own. 
Saurabh  
Yeah, you are on your own.
Erwin  
Here's the assignment. Here's the book. Yeah. You've exams to complete. That's correct. Yes, that takes discipline. Okay, so you're you're off, right. You had all the time in the world to do this. 
Saurabh  
No. Yeah, I was working full time. 
Erwin  
Oh, so you're a full time job. Joy. Yeah, I was willing to complete a course. Yes, in total months. That's okay. Sounds easy. You don't have kids, right. So you know, I have things or friend yourself. 
Saurabh  
I have two daughters. 
Erwin  
Okay. Okay. So you have a full house. full time job. Right, eight courses to complete. So easy.
Saurabh  
I will not say easy, but now I looked at it. And I think that yeah, it was really it was it was very hard work. Like I remember I was working I was working as a law clerk in a farm and I went to because no one gives you any job. You know, I was it's interesting. You know, I had a very good practice back home. Mostly I was practising in the Supreme Court of India. So when I came here for initial federal level federal, the central level the applet code, so when I came here no one was I was my degree was not recognised nothing and nothing nothing. So I was you know, very discouraged and we were about to leave in April we decided that okay, we will go back in April we landed in February we decided that okay, we'll go back in April this country is not for us, but luckily luckily I got a job offer from our law firm and they offered me a position of a law clerk I happily accepted that and the my mentor Adi she's there you know, my principal lawyer there she she encouraged me a lot and yes, from there I just you know, focused on my on getting the licence and getting all this these exams. So it is it was a good journey.
Erwin  
So when did you have time to work on the courses early or do you do it stayed?
Saurabh  
No. After you know after returning from my office I had straight away to my because we were renting at that time. It was a small room. And your girls were living in one room? Yeah, one room and with a small living room? Yeah. Oh, easy. So So yeah, soon after my job I was headed straight to the library to to use to take care of the kids and yeah, she supported me a lot. And straight to the library from six to nine. Esther just started this was my routine from from April 2018 up to June 2019. In the meanwhile, you know, we bought our first home we bought our first home in the closing was on 31st of May 2019. Or In and on fourth of June 2019, I had to write my barrister exam. Easy. There was so many things a lot of things were going on at the same time.
Erwin  
Easy right? , you know, I have all these real estate clients of mine who told me they're too busy to invest in real estate. They don't have to study for three hours and then Wait wait When did Jyoti have time to study then?
Saurabh  
I know Jyoti, Jyoti took a while, you know, once we decided that first I should complete my licencing process. And then once I was clear, then Jyoti took a break from her job for three months to three months. And then she converted her because she was chartered accountant in India. So she has to write CFP, which is a three day exam here in Canada. So, then she prepared in 2021.
Erwin  
So it took her three months, three months full time, full time skier for a three day exam. Two, two, and we're hiring to talk to Jyoti, we're looking for more more accountants as well. So that was easy, right?
Saurabh  
Nothing is easier in and nothing is difficult. It's all your mind, you know? Very difficult. Oh, you're all UK. In your mind.
Erwin  
Why did the decision to come to Canada, you must have a very well respected role at home.
Saurabh  
Yes, I was practising with my cousin who is additional Solicitor General of Punjab and now he's addition Solicitor General of Chattisgarh. And yeah, it was, it was a big time. And it was a good, very good lifestyle there. But for the quality of life, you know, my daughter had five year old daughter at that time, we came here as a tourist in 2016. And 2017, again in 2017. So I in 2016, I figured out you know, this place is not for us, because we have to do our own shows and so much used to help units specially in NZ had a lot of help, we have someone to drive our car, we have someone to wash our dishes for cooking everything. And when I saw when, when I came here, and I saw the Canadian lifestyle, I was totally like, this was not for me, this isn't, I'm here for fun. I'll be going back in one month. So the I in 2017, again, became as a tourist, I sent my way because my sister in law lives here. So that was the time my daughter mother, she was five year old at that time, and she said, Daddy, I like her more. I do not want to go to India, said okay, let's take a decision. And Jody was also inclined to move to Canada. So we went back, we applied for our PR from India. And we were very lucky, we got our application approved within 49 days, because it was a federal FSW programme that we you know, migrated. So it is simple. Like if you match the score, if you hit the score, you fall under that pool and your application is approved. So after clearing eyes, it was fun. So within 49 days, you know, we got our application approved. And yeah, that is how we we ended up here. I think we were destined, and we do not regret our decision at all. Even if whatever we were having back home, the kind of people we meet here and the kind of opportunities this country provides. And if you work hard this country there is no limit what you can achieve here. Like your high road gets recognised and you are you make meet a lot of nice people who are there to support you. So I do not regret my decision at all.
Erwin  
What is your turn and your wife Jyoti prefer to hear? Why did your daughter say she'd likes to return?
Saurabh  
I think because we were in New Delhi. Right. And I don't know whether you have heard about New Delhi or not. It's like I've heard of it. So it's a small city. It's not a small cities it is Caravela friends for motivation. Population is like 25 million. That is what a district that is registered. Might be.
Erwin  
I think worth what 30 million and all of Canada. Yes. Okay. All right. Yes. 25 million small got it. 
Saurabh  
It was like always congested like we were on road it was but a lot of I don't know what to say anything. Anything about activity. I think we were designed here. That's that that's all I would like to call and he or she liked her. She liked the lifestyle. We enrolled her in some window classes. She she loved it. She didn't don't want to go back. And now Jyoti also Jyoti, I think everyone every woman wants to escape from their in laws. So I think Jyoti was more inclined. And this Canada gave her the opportunity 
Erwin  
And you like it here in Canada? 
Saurabh  
Yeah, I am. I'm not regretting my decision. Now. It took me a long time like honest Even like starting was like hell for me it was, I might have gone into depression for initial one and a half years, which is, so many things happened with me which I, I do not like to share and which I just want to remember which should not have happened. But initially, I was like, I felt like, you know, this country is not accepting me. Yeah, it was difficult. But when I when I got my licence, I felt like I got my identity back. Then, when of Mr. Atkinson. They recruited me and I learned a lot under him. I'm still in touch and very good terms with him. I worked for him and with him, and he also trained me a lot. I got good exposure, which was which I was missing missing here. Yeah. And then now now, I do not regret my decision. I am. I am. I'm very, very happy here now.
Erwin  
It's quite similar. Here. Versus back home.
Saurabh  
Yeah, they are quite similar. Okay. They're quite similar. Yeah. What was your question? I mean, sorry.
Erwin  
Like, I don't know, the courts operate similar?
Saurabh  
Yes, they are. They are completely similar. Very professional. Yes, very professional. And there is also common law country. And the procedure. Procedure wise, it's pretty it's bit different here. But here in law, the basic concept is similar to what was there in India, what we practised in India.
Erwin  
At the DOJ, the Indian panel COVID. Well, from my understanding, and not compared to here, even though channel always we have mistakes, but it wasn't as bad as India.
Saurabh  
The problem there is when you know, it is very densely populated with a lot of people, a lot of people, it is very difficult to manage. Imagine if Mississauga and right now if they have like a population of, let's say, 1 million, and if 5 million people started living in Mississauga, what will happen to the city, all the systems would collapse. So yeah, that is, that is what the problem with India is.
Erwin  
Yeah, we're not currently we have, we're not as dense here. It just makes it comfortable. For anyone wants to follow your journey, where can they follow you? Or if they want to speak to someone?
Saurabh  
Yeah, I think there are more good journeys and inspiring journeys, and then what I have been through, but if they want to sue someone, yeah, they can. They can definitely retain me pay their dollars, which I call vitamin D. They can.
Erwin  
You have a website, you have a tik tok. 
Saurabh  
Sorry?
Erwin  
Like, do you have a website you can share?
Saurabh  
Oh, yeah, I have a website that can visit my website at WWE dot singhal dash law.ca. You can book an appointment there, you can call us at 647-915-6175. We make sure to return calls to our client located conveniently located at Darien Tomkin. intersection in Mississauga, very involved in Euro so far from here, which is nice. Yes. So if you're looking for any real estate transaction, or corporate commercial litigation or any corporate needs, we feel free to reach out to us.
Erwin  
And don't reach out to you if they need an extension and you're not
Saurabh  
No you can you can I try my best. As I say, you know, I will try my best and I will I will always believe in working in the best interest of the of the clients. So whatever you know, is in my hands, I'll do my best. And and yeah, you will see the result.
Erwin  
Oh, a question I forgot to ask earlier it was what is the process for for litigation? So say I'm a seller and want us to a buyer. Okay. Because I don't think most people know.
Saurabh  
Yeah, it's a simple there is no than that. Not like you need any defined process Erwin. So first, you can book a consultation with me initially, if you know if you're coming from a reference that would be free, if you're coming means it depends, like initial half hour are mostly free after that, you know, we charge on hourly basis. And then once you decide to go with us, then we will send you our retainer agreement that will outline all the terms in there with our hourly rate. Yeah, once you sign up the retainer, you deposit the retainer into our trust account. We start working on your file and you will be billed on the hourly basis.
Erwin  
So just folks you know listener, suings that free Yeah, nothing is void these things.
Saurabh  
This country taught me very good thing or window, nothing is free.
Erwin  
Nothing is free. Nothing is guaranteed life guarantees in life except death taxes and there will be legal. Saurabh thanks so much for doing this.
Saurabh  
Thank you for having me. 
Erwin  
Congra Congratulations on all your success.
Saurabh  
Thank you so much, Erwin. Thank you for having me.
Erwin  
Yeah, what you did to be where you are was not easy. So thanks. 
Saurabh  
Thank you so much, Erwin.
Erwin  
Before you go if you're interested in learning more about an alternative means of cash flowing like hundreds of other real estate investors have already, then sign up for my newsletter and you'll learn of the next free demonstration webinar I'll be delivering on the subject of stock hacking. It's much improved demonstration over the one that I gave to my cousin chubby at Thanksgiving dinner in 2019. He now averages 1% cash flow per week, and he's a musician by trade. As a real estate investor myself, I got into real estate for the cash flow, but with the rising costs to operate a rental business, it's just not the same as it was five to 10 years ago when I started there. Forgive the cash flow reduces your risk. The more you have, the more lumps you can absorb. And if you have none, or limited cash flow, you're going to be paying out your pocket like I did on a recent basement flood at my student rental in St. Catharines. Ontario. If you're interested in learning more but secure for free for my newsletter at www dot truth about real estate investing.ca. Enter your name and email address on the right side. We'll include in the newsletter when we announce our next free stock hacker demonstration. Find out for yourself what so many real estate investors are doing to diversify and increase our cash flow. And if you can't tell I love teaching and sharing this stuff.

To Follow Saurabh:
Web: https://www.singhal-law.ca/about/
Phone: 647.915.6175
HELP US OUT!
Please help us reach new listeners on iTunes by leaving us a rating and review!
UPCOMING EVENTS
You are the average of the five people you spend the most time with! Build connections with empire builders and trailblazers at our iWIN events.
BEFORE YOU GO…
If you're interested in being a successful real estate investor like those who have been featured on this podcast and our hundreds of successful clients please let us know.
It is our honour to give back and educate others on how we build cash flowing real estate portfolios using all the best practices shared on this podcast, from the lessons of our hundreds of clients and of course our own experience in owning investment real estate.
If you didn't know already, we pride ourselves on being the best of the best real estate coaches, having the best property managers, contractors, handy people, cleaners, lawyers, accountants, everyone you need on your power team and we're happy to share them with our clients to ensure your success. 
New investor or seasoned veteran investor, we can help anyone by providing our award winning coaching services and this isn't all talk.
We have been awarded Realtor of the Year to Investors in 2015 by the Real Estate Investment Network, 2016 by the Canadian Real Estate Wealth Magazine and again in 2017 because no one told the judges no one is supposed to win the award twice but on merit, our peers deemed us as the best.  In 2018, we again won the same award by the Real Estate Investment Network.
Hopefully being the most decorated team of Realtors in Ontario will make you consider us for your first or next real estate investment.  Even if you don't invest in our areas, there's a good chance I know who would be ideal for you. 
I've been around for a while, some Realtors are talented at servicing investors there are many with great ethics.  The intersection of the two, talent and ethics is limited to a handful in each city or town.
Only work with the best is what my father always taught me.  If you're interested, drop us an email at iwin@infinitywealth.ca.
I hope to meet you at one of our meetups soon.
Again that's iwin@infinitywealth.ca
Sponsored by:
Infinity Wealth Investment Network – would you like to know how our investors returned 341.8% on positive cash flowing real estate over the last five years? On average, that was 68.4% per year.
Just imagine what winning in real estate could do for you.
If you would like to know how we did it, ask us how by calling 289-288-5019 or email us at iwin@infinitywealth.ca.
Don't delay, the top markets we focus in are trending upward in price, so you can pay today's price or tomorrow's price.
Till next time, just do it because I believe in you.
Erwin
Hamilton, St. Catharines and Toronto Land Development, Real Estate Investor, and soon to be builder.
W: erwinszeto.com
FB: https://www.facebook.com/erwin.szeto
IG: https://www.instagram.com/erwinszeto/
https://www.truthaboutrealestateinvesting.ca/wp-content/uploads/2022/06/Saurabh-Singhal.jpg
630
1200
Erwin Szeto
https://www.truthaboutrealestateinvesting.ca/wp-content/uploads/2017/06/TruthRectangleLogo.png
Erwin Szeto
2022-06-20 16:11:59
2022-06-21 14:44:57
Litigation & Buyers Not Closing; Real Estate Lawyer Update With Saurabh Singhal