Lessons Investing In The Pandemic, Misfiring on US Investments, Building Houses for Investment With Andrew Hines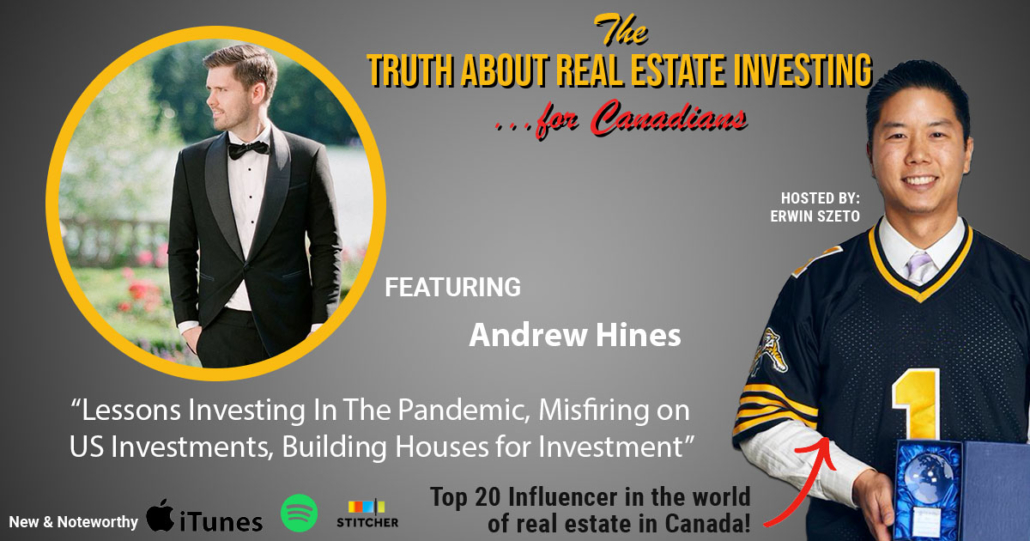 Well, we got the keys to our new house this week!
We plan to renovate a little bit. The two 2nd floor bathrooms are original builder so in our ensuite bathroom, we are removing the corner tub since having a bigger shower and double sink vanity is more important to us.  
Renovations have already begun as our general contractor is mutual friends of the sellers and me so that's a nice bonus. Cherry wants to do a bunch of renovations to the kitchen as well. 
Personally, I'm really frugal when it comes to spending on ourselves.  It may be my own issue as it is my personal belief that you cannot become rich by saving. One becomes rich by creating value for more people.
For anyone following the real estate market, you'll know our investor clients who took action to buy investment properties on land in the areas west of Toronto are doing just phenomenally.
Add to that, our Stock Hacker Academy students are doing amazing as well. 
Susan White Livermore came into the office to record a podcast last week and she's up 51% since May 2020. Lynne Tham who was on the podcast this past fall provided me with an update, she finished 2020 up 64%.  My ultra-conservative good old friend and I emphasize OLD, Nick Ditomaso, a past guest of this show is up 42% since April 2020.
All of them had no prior experience with Stock Hacking and this weekend we are about to kick off the next 12-month installment of the Stock Hacker Academy to well over 200 new students, new friends and I look forward to seeing them discover a new life skill. A "game-changer" as many of our past students and guests of this show have described.
The nice thing about Stock Hacker Academy vs. my iWIN Real Estate business is that we are able to help more people.
Our real estate coaching business is focused on investment properties west of the GTA and while everyone should be investing in real estate, not everyone can afford to invest and for those who already do invest, you're like me in that you're searching for cash flow.
Hopefully, whatever investment vehicle you've chosen is doing awesome for you. 
Pretty much all of them work with enough capital and sweat equity, I've researched them all and interviewed folks who do. Not theory only take is allowed on this show. 
For me, I know I've found the best ones for me.
Speaking of folks who do, our guest speaker for the Saturday, March 27th iWIN meeting is backyard suite expert Andy Tran of Suite Additions will be sharing the latest on construction costs, zoning, rents, and financing because who wants to pay for this themselves when we can get banks to finance our investments with cheap debt. 
We also have my banker Stephen from Meridian Credit Union. Meridian has been awesome to us in refinancing the properties that we've moved from our personal names for ownership into a corporation so these investment properties no longer affect our personal credit. 
The benefit is Cherry and I were able to get more mortgages in our personal names, e.g. our new home and maybe one or two more properties this year. We nicknamed the strategy of getting one's mortgage virginity back 😉
We actually explained the strategy to this week's guest Andrew Hines who is a former mortgage agent and he too thought it brilliant.
Don't you love networking? That's how you pick up these golden nuggets!
Anyways, March 27th, 9 am – 12 pm. We have excellent guest speakers, plus my team sharing the latest on what's happening at the street level in terms of rents, reno costs, where the opportunities are. 
If you're on my email list, you'll see the invites.  If you're not, that's just silly.  www.infinitywealth.ca, put in your name and email address and we'll let you know!!
Lessons Investing In The Pandemic, Misfiring on US Investments, Building Houses for Investment With Andrew Hines
On to this week's guest Andrew Hines!
Andrew is a builder, invests in student rentals and he has his podcast, The Andrew Hines Real Estate Investing Podcast.
Andrew is on the show today sharing how he started investing in real estate including the time he went to the US to invest, how that experience didn't go so well but Andrew took responsibility to learn from that experience to become a better investor and how he's become an in-demand builder of investment properties.
On the show, Andrew shares how build costs have changed, his findings in researching the starting of a real estate investment trust, the changes he's made to his investing in a pandemic, etc…
I hope you all have as much fun listening as I did having Andrew over for lunch and chatting about investing and money.
Enjoy! 
To Listen:

HELP US OUT!
Help us reach new listeners on iTunes by leaving us a rating and review!
To Follow Andrew: 
Linktree: https://linktr.ee/theandrewhines
IG: https://www.instagram.com/theandrewhines/
FB: https://www.facebook.com/theandrewhines
Youtube: https://www.youtube.com/channel/UCYGIvt3fC0OK378EIEHccpA
Before you go, if you're interested in being a successful real estate investor like those who have been featured on this podcast and our hundreds of successful clients please let us know.
It is our honour to give back and educate others on how we build cash flowing real estate portfolios using all the best practices shared on this podcast, from the lessons of our hundreds of clients and of course our own experience in owning investment real estate.
If you didn't know already, we pride ourselves on being the best of the best real estate coaches, having the best property managers, contractors, handy people, cleaners, lawyers, accountants, everyone you need on your power team and we're happy to share them with our clients to ensure your success. 
New investor or seasoned veteran investor, we can help anyone by providing our award winning coaching services and this isn't all talk.
We have been awarded Realtor of the Year to Investors in 2015 by the Real Estate Investment Network, 2016 by the Canadian Real Estate Wealth Magazine and again in 2017 because no one told the judges no one is supposed to win the award twice but on merit, our peers deemed us as the best.  In 2018, we again won the same award by the Real Estate Investment Network.
Hopefully being the most decorated team of Realtors in Ontario will make you consider us for your first or next real estate investment.  Even if you don't invest in our areas, there's a good chance I know who would be ideal for you. 
I've been around for a while, some Realtors are talented at servicing investors there are many with great ethics.  The intersection of the two, talent and ethics is limited to a handful in each city or town.
Only work with the best is what my father always taught me.  If you're interested, drop us an email at iwin@infinitywealth.ca.
I hope to meet you at one of our meetups soon.
Again that's iwin@infinitywealth.ca
NO MORE Confusion
After all the Youtube videos, books, and forum posts, you're probably still left with questions. Starting in real estate is a tricky thing.
Frustrated beginners often ask how a legal basement suite conversion actually works. Most of the time we can only give general answers. But now, we get to dive in.
At this in-depth, free class you'll learn how to take your first steps as a real estate investor.
Nothing is held back. Everything from analyzing basement suite conversion deals, to renting out your first property at a profit, and even how to refinance and do it all again!
More secrets you'll uncover are:
Profiting in a HOT market…
Municipal bylaws to watch out for…
Mortgage terms that favour refinancing…
AND one barely used tactic for higher appraisals…
If you're frustrated, unsure of how to get started, this is for you.
 Sign up now for the Invitation List and be one of the first to get an invite to the next class.
Sponsored by:
Infinity Wealth Investment Network – would you like to know how our investors returned 341.8% on positive cash flowing real estate over the last five years? On average, that was 68.4% per year.
Just imagine what winning in real estate could do for you.
If you would like to know how we did it, ask us how by calling 289-288-5019 or email us at meaghan@infinitywealth.ca.
Don't delay, the top markets we focus in are trending upward in price, so you can pay today's price or tomorrow's price.
Till next time, just do it because I believe in you.
Erwin
Hamilton, St. Catharines and Toronto Land Development, Real Estate Investor, and soon to be builder.
W: erwinszeto.com
FB: https://www.facebook.com/erwin.szeto
IG: https://www.instagram.com/erwinszeto/

https://www.truthaboutrealestateinvesting.ca/wp-content/uploads/2021/03/Andrew-Hines.jpg
630
1200
Erwin Szeto
https://www.truthaboutrealestateinvesting.ca/wp-content/uploads/2017/06/TruthRectangleLogo.png
Erwin Szeto
2021-03-05 16:56:37
2021-03-08 11:25:02
Lessons Investing In The Pandemic, Misfiring on US Investments, Building Houses for Investment With Andrew Hines