Building a Brand of Influence, Alberta Market Update with Best Selling Author Russell Westcott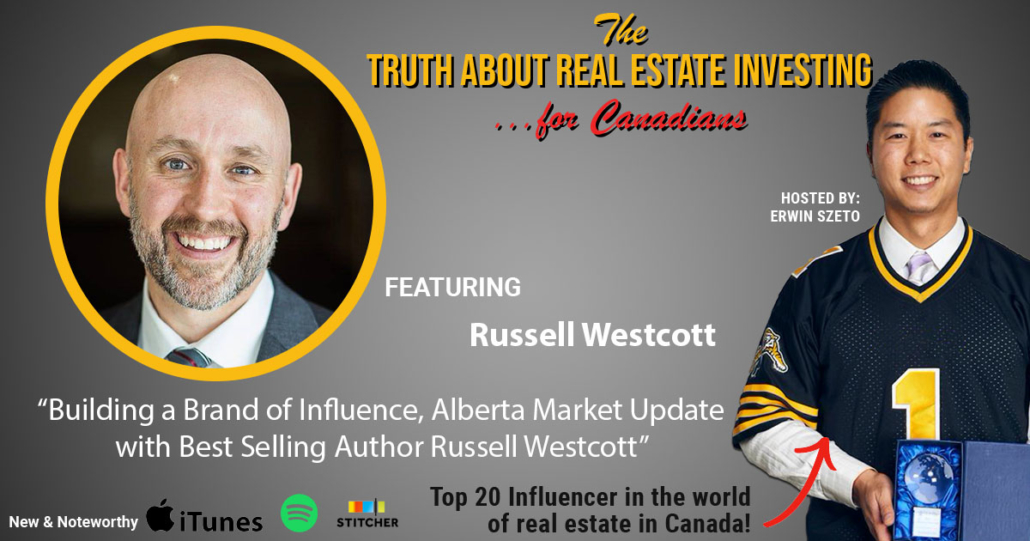 Hello, my fellow wealth hackers!
I trust you're keeping well and if you're not and you're able, that's ok too.
View this post on Instagram
I worked on myself since I was a frustrated new graduate immediately after the dot com bubble burst and the events of 9-11.
We've all been down and underpaid when compared to our abilities. It wasn't until I read Robert Kiyosaki's Rich Dad Poor Dad that lit a fire under my butt. If you feel you're being underpaid, then do something about it.
Hence I got into real estate investing, full send, joining a real estate networking group and never missing a meeting. I'm still friends with many of the folks I met there and those same relationships have been integral to my journey here… A podcast with 12 listeners!!
Speaking of meetups, we will be hosting our next iWIN Real Estate virtual meeting on Saturday morning of March 27th.
Our keynote speaker is the leading expert in backyard apartments, Andy Tran of Suite Additions. A backyard apartment is something I made up to describe an addition to a house or a standalone tiny home built behind an existing house. 
For many of you, that will be the third and final apartment and major value add, highest and best use of a property. This is our final frontier for significant additional cash flow.
Andy has been researching this subject from all angles including zoning, construction, and financing so you don't want to miss this. 
If you're receiving my emails, you'll be notified once event registration is available. If you are not on my email list, go to www.truthaboutrealestateinvesting.ca
As I'm typing and recording this, the Gamestop stock is going up again. For fun, I bought 5 shares and will donate the profits and the investment to charity. I was thinking about donating the money to my own charity, I'm not sure if that's considered kosher or not…
I actually have a lot of my Stock Hacking funds in bitcoin-related stocks and options and making good money. Hopefully, my theory is right about bitcoin becoming the digital version of gold for savings and a hedge against all the money printing going on by our governments.
Whether you agree if Bitcoin is a hard asset or not doesn't matter as long as you're taking action and buying quality hard assets like real estate.
My opinions are my own and this is not advice but to quote one of the smartest people on the planet in Elon Musk, "In hindsight, this was inevitable."
That's what Elon tweeted days before it became public record his company Tesla investing 1.5 billion dollars into bitcoin or 8% of their cash reserves. What gets missed in the story is Tesla bought some gold ETFs too.
One thing is for certain… Smart money does not want to hold cash for the long term when our governments are creating new money out of thin air each day.
Building a Brand of Influence, Alberta Market Update with Best Selling Author Russell Westcott
Speaking of my favourite hedge against inflation, real estate, I don't know many people who own more real estate than today's guest in Russell Westcott.
He's been through a lot of economic cycles being an Edmonton, Alberta real estate investor.  Russell is an old and good friend of mine so it's always great to catch up on what he's up to helping people out. 
He's possibly the top real estate investor coach out there and it helps that he's owned over 100 properties and co-authored the best selling book "Joint Venture Secrets."
Admittedly, I don't invest in Alberta and my outlook is bearish on the oil industry.  With the growing popularity of electric vehicles and carbon taxes, I don't see the demand for oil keeping up, not with Ford and GM planning to be all-electric by 2035…
But I'm not an expert and I'm always keen on listening to opinions different from mine.
I give you Russell Westcott.
To Listen:

HELP US OUT!
Help us reach new listeners on iTunes by leaving us a rating and review!
To Follow Russel: 
Web: https://russellwestcott.com/
Youtube: https://www.youtube.com/channel/UC1yg9_UmqwD67NGuRWnPHVw
Podcast: https://russellwestcott.podbean.com/
Before you go, if you're interested in being a successful real estate investor like those who have been featured on this podcast and our hundreds of successful clients please let us know.
It is our honour to give back and educate others on how we build cash flowing real estate portfolios using all the best practices shared on this podcast, from the lessons of our hundreds of clients and of course our own experience in owning investment real estate.
If you didn't know already, we pride ourselves on being the best of the best real estate coaches, having the best property managers, contractors, handy people, cleaners, lawyers, accountants, everyone you need on your power team and we're happy to share them with our clients to ensure your success. 
New investor or seasoned veteran investor, we can help anyone by providing our award winning coaching services and this isn't all talk.
We have been awarded Realtor of the Year to Investors in 2015 by the Real Estate Investment Network, 2016 by the Canadian Real Estate Wealth Magazine and again in 2017 because no one told the judges no one is supposed to win the award twice but on merit, our peers deemed us as the best.  In 2018, we again won the same award by the Real Estate Investment Network.
Hopefully being the most decorated team of Realtors in Ontario will make you consider us for your first or next real estate investment.  Even if you don't invest in our areas, there's a good chance I know who would be ideal for you. 
I've been around for a while, some Realtors are talented at servicing investors there are many with great ethics.  The intersection of the two, talent and ethics is limited to a handful in each city or town.
Only work with the best is what my father always taught me.  If you're interested, drop us an email at iwin@infinitywealth.ca.
I hope to meet you at one of our meetups soon.
Again that's iwin@infinitywealth.ca
Looking to add another stream of income?
We just completed the long anticipated Stock Hacker Academy Live Introductory Course and it was awesome!
Stock Hacker Academy is the foundation that has helped Erwin, Cherry and many other Stock Hackers make thousands of $$ weekly and now they never have to worry about money again!
If you desire the same for yourself, click here to register now
NO MORE Confusion
After all the Youtube videos, books, and forum posts, you're probably still left with questions. Starting in real estate is a tricky thing.
Frustrated beginners often ask how a legal basement suite conversion actually works. Most of the time we can only give general answers. But now, we get to dive in.
At this in-depth, free class you'll learn how to take your first steps as a real estate investor.
Nothing is held back. Everything from analyzing basement suite conversion deals, to renting out your first property at a profit, and even how to refinance and do it all again!
More secrets you'll uncover are:
Profiting in a HOT market…
Municipal bylaws to watch out for…
Mortgage terms that favour refinancing…
AND one barely used tactic for higher appraisals…
If you're frustrated, unsure of how to get started, this is for you.
 Sign up now for the Invitation List and be one of the first to get an invite to the next class.
Sponsored by:
Infinity Wealth Investment Network – would you like to know how our investors returned 341.8% on positive cash flowing real estate over the last five years? On average, that was 68.4% per year.
Just imagine what winning in real estate could do for you.
If you would like to know how we did it, ask us how by calling 289-288-5019 or email us at meaghan@infinitywealth.ca.
Don't delay, the top markets we focus in are trending upward in price, so you can pay today's price or tomorrow's price.
Till next time, just do it because I believe in you.
Erwin
Hamilton, St. Catharines and Toronto Land Development, Real Estate Investor, and soon to be builder.
W: erwinszeto.com
FB: https://www.facebook.com/erwin.szeto
IG: https://www.instagram.com/erwinszeto/

https://www.truthaboutrealestateinvesting.ca/wp-content/uploads/2021/02/Russel-Westcott.jpg
630
1200
Erwin Szeto
https://www.truthaboutrealestateinvesting.ca/wp-content/uploads/2017/06/TruthRectangleLogo.png
Erwin Szeto
2021-03-01 16:15:13
2021-03-01 16:15:16
Building a Brand of Influence, Alberta Market Update with Best Selling Author Russell Westcott