Investing In Apartment Buildings Across Canada with Michael Ponte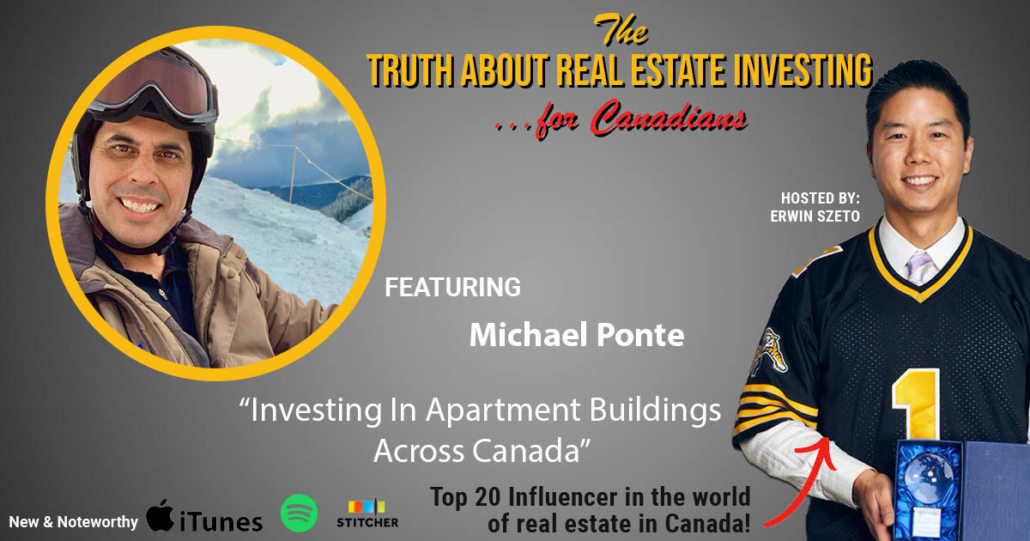 Hello, my fellow Wealth Hackers!
How is everyone doing?
Back at home we finally replaced the batteries in our weight scale. I'm about 15 pounds heavier than the last time I checked.  At just under 200lbs, this is the heaviest I've ever been lol… which is ok.
I am in week 4 of 8 in a muscle building challenge and I've kept up with the workouts, not so much the recovery and stretching nor sleep.  I haven't even kept up with the 2500 calories per day I'm supposed to eat so this has been an interesting journey for sure.
I believe life is all about experiences and I'm enjoying this process.
View this post on Instagram
Our new house that we move into in March has a pool so the goal is to be pool body ready by the summer. 
On a fun note, we just had our best month of stock hacking yet so we are reinvesting the money into getting a Peloton Bike: an indoor bike with a built-in tablet that streams live and on-demand classes.  My output is tracked and shared which is cool.
If you're a fellow wealth hacker with a Peleton hit me up, it would be cool to ride together.
Speaking of Stock Hacking, the Stock Hacker Academy is proud to announce that 20% of our trading profits will be donated to the registered charity the Hamilton Basket Brigade.
How this works is the Stock Hacker Academy is a business and the profits will be added to the corporate trading account, then 20% of trading profits will be donated. 
In January alone, the donation will be about $6,400 US dollars. 
As we grow Stock Hacker Academy to help more and more every day, hard working Canadians create a six-figure side hustle, we will donate and support the most disadvantaged children in Hamilton.
Just last week, the Hamilton Basket Brigade, the charity I co-founded and preside over, last week we outfitted 176 boys and girls with each receiving a winter coat, hoody, winter boots, hat, and mitts. We sourced all the products from a wholesaler as well so we saved around 60 cents on the dollar.
I trust your investments are going well. 
In my day job as a real estate professional, I get to connect with real estate investors from all over Canada and a couple in the US too.  It's fascinating to a real estate geek like myself how different all the markets are across Canada. I'm looking at an interactive map on wowa.ca (https://wowa.ca/reports/canada-housing-market) on real estate price change by province.
Nova Scotia, Ontario, Quebec, and BC led the way in price appreciation. Saskatchewan and Alberta had the slowest price growth but they did grow in the single digits.
This gives me the idea that I need to reach out to friends in Nova Scotia and Quebec to find out what's going on in those markets.
Just to take a step back, some like to overcomplicate real estate investing when put simply, real estate is like any other business in that things start with supply and demand. The supply of land in desirable areas is limited. That is why my own investing has focused on houses on land and not condos in the sky.
Demand comes from jobs and immigration. Where is there job growth and where do immigrants want to live? The greater Vancouver area makes a ton of sense since the weather and lifestyle are awesome. They are accepting of folks from different cultures much like Ontario which is another top destination for immigration and job seekers.  
When demand outstrips supply, that's where you find price appreciation. 
For all you killing it on the real estate appreciation, congratulations!! You paid attention to economic fundamentals and took action. 
For some investors, their requirements lead with cash flow so I'm hearing how everyday investors are going to Windsor, North Bay, Edmonton, Moncton, New Brunswick or apartment buildings which bring us to this week's guest, nationwide apartment building investor, Michael Ponte!
Investing In Apartment Buildings Across Canada with Michael Ponte
I first met Michael at a real estate conference many years ago where he was collecting his award as apartment building investor of the year.
Michael invests all across Canada and more recently in the Maritime provinces and he has a unique strategy, one I can't recall I've heard of before in the multifamily space.
Michael also shares some tips on how he's able to invest in real estate on the other side of the country as he lives in British Columbia but invests as far away as Moncton, New Brunswick. 
I give you Michael Ponte.
To Listen:

HELP US OUT!
Help us reach new listeners on iTunes by leaving us a rating and review!
To Follow Michael: 
Facebook: https://www.facebook.com/michael.ponte.16
Web: http://www.prosperityinvestments.ca/
Before you go, if you're interested in being a successful real estate investor like those who have been featured on this podcast and our hundreds of successful clients please let us know.
It is our honour to give back and educate others on how we build cash flowing real estate portfolios using all the best practices shared on this podcast, from the lessons of our hundreds of clients and of course our own experience in owning investment real estate.
If you didn't know already, we pride ourselves on being the best of the best real estate coaches, having the best property managers, contractors, handy people, cleaners, lawyers, accountants, everyone you need on your power team and we're happy to share them with our clients to ensure your success. 
New investor or seasoned veteran investor, we can help anyone by providing our award winning coaching services and this isn't all talk.
We have been awarded Realtor of the Year to Investors in 2015 by the Real Estate Investment Network, 2016 by the Canadian Real Estate Wealth Magazine and again in 2017 because no one told the judges no one is supposed to win the award twice but on merit, our peers deemed us as the best.  In 2018, we again won the same award by the Real Estate Investment Network.
Hopefully being the most decorated team of Realtors in Ontario will make you consider us for your first or next real estate investment.  Even if you don't invest in our areas, there's a good chance I know who would be ideal for you. 
I've been around for a while, some Realtors are talented at servicing investors there are many with great ethics.  The intersection of the two, talent and ethics is limited to a handful in each city or town.
Only work with the best is what my father always taught me.  If you're interested, drop us an email at iwin@infinitywealth.ca.
I hope to meet you at one of our meetups soon.
Again that's iwin@infinitywealth.ca
Looking to add another stream of income?
We just completed the long anticipated Stock Hacker Academy Live Introductory Course and it was awesome!
Stock Hacker Academy is the foundation that has helped Erwin, Cherry and many other Stock Hackers make thousands of $$ weekly and now they never have to worry about money again!
If you desire the same for yourself, click here to register now
NO MORE Confusion
After all the Youtube videos, books, and forum posts, you're probably still left with questions. Starting in real estate is a tricky thing.
Frustrated beginners often ask how a legal basement suite conversion actually works. Most of the time we can only give general answers. But now, we get to dive in.
At this in-depth, free class you'll learn how to take your first steps as a real estate investor.
Nothing is held back. Everything from analyzing basement suite conversion deals, to renting out your first property at a profit, and even how to refinance and do it all again!
More secrets you'll uncover are:
Profiting in a HOT market…
Municipal bylaws to watch out for…
Mortgage terms that favour refinancing…
AND one barely used tactic for higher appraisals…
If you're frustrated, unsure of how to get started, this is for you.
 Sign up now for the Invitation List and be one of the first to get an invite to the next class.
Sponsored by:
Infinity Wealth Investment Network – would you like to know how our investors returned 341.8% on positive cash flowing real estate over the last five years? On average, that was 68.4% per year.
Just imagine what winning in real estate could do for you.
If you would like to know how we did it, ask us how by calling 289-288-5019 or email us at meaghan@infinitywealth.ca.
Don't delay, the top markets we focus in are trending upward in price, so you can pay today's price or tomorrow's price.
Till next time, just do it because I believe in you.
Erwin
Hamilton, St. Catharines and Toronto Land Development, Real Estate Investor, and soon to be builder.
W: erwinszeto.com
FB: https://www.facebook.com/erwin.szeto
IG: https://www.instagram.com/erwinszeto/

https://www.truthaboutrealestateinvesting.ca/wp-content/uploads/2021/02/Michael-Ponte.jpg
630
1200
Erwin Szeto
https://www.truthaboutrealestateinvesting.ca/wp-content/uploads/2017/06/TruthRectangleLogo.png
Erwin Szeto
2021-02-05 17:37:24
2021-02-05 17:37:27
Investing In Apartment Buildings Across Canada with Michael Ponte