From Top Real Estate Coach in Canada To Launching New Authors From California With Julie Broad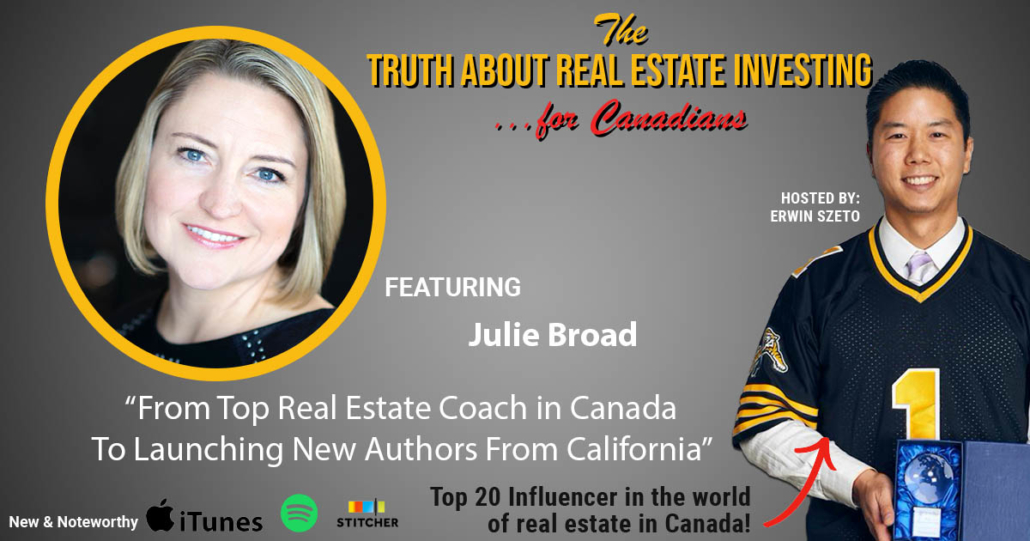 Hello, my fellow wealth hackers!!
You know those career moments you have once in a while?
Well, back when I worked in corporate for Big Blue and was making the jump to becoming a Realtor full time, I identified my greatest weakness was negotiations.  So I attacked that weakness reading books and taking courses on the subject, believing all skills can be learnt.
Next, my mentors in Tom and Nick Karadza of Rock Star Real Estate told me the most important part of the business was Marketing.  So I attacked that pretty hard to become what I believed is a decent Marketer.
Then it was Sales skills hence I hired the top Realtor coach in Canada and surrounded myself with unbelievable sales professionals and was a sponge.
About six weeks ago, without proper planning, we bought a house in Oakville, Ontario because it was very nicely renovated, but more importantly has a pool for the kids and a view of the water for Cherry. So I negotiated to win and we won the house.
Next, we had to sell our house to pay for the new house.
So we sold, donated, and gave away about half of our belongings. I'm honestly bad at throwing stuff out and our kids have been lucky to be on the receiving side of a lot of hand me downs and generous gift giving friends and relatives.
So we did that, did a lot of minor renovations for over $10,000.  Spent another $10,000 on professional photography, drone, video, staging, a hotel room for my family and nanny's family for a week.
Over four days we had 66 showings, 4 offers. I used my communication and negotiation skills to the best of my ability and managed a new neighborhood high for the style of my home. 
Overall, my house is #3 for the all-time highest price. #1 is 1,000 square feet bigger and #2 beats ours by 10 grand but they spent $300,000 more in renovations than I did. Sale price is great, ROI is better for judging financial returns IMHO.
We beat our stretch goal. We are thrilled. I'm exhausted as I couldn't sleep last night. I don't have much to complain about as Cherry and I lead blessed lives.
Shout out to Francisco Almeida for bringing us the winning offer and a bottle of champagne as a thank you. 
It's weird as we can't celebrate by going to a nice restaurant so instead, I'll order a bubble tea tonight, hopefully lift some weights in our home gym that took over the eat in kitchen and reflect on the journey.
I hope you're all crushing it out there. 2021 has started off like a rocket for all you wealth hackers. 
Our real estate clients are reporting record price appreciation and our stock hacker community is killing it with many having their best week ever last week and best month ever this January.
Our accounts are up 14% this January so far. What a game changer this is!
If you too would like to learn how I and our crazy successful real estate clients use the #1 strategy in real estate investing, we offer free training online at www.investortraining.ca. If you type in your name and email, you'll be emailed about the next live presentation on how we invest in real estate for maximum returns.
If you're already in real estate in some shape or form and will never be our client, especially you Realtors and Mortgage professionals, and you're looking for the best side hustle, Stock Hacking is the best I've seen for cash flow.
I believe I have only one free demonstration booked this February.  To register for that, www.stockhackeracademy.ca/demo
From Top Real Estate Coach in Canada To Launching New Authors From California
On to this week's returning guest and it's only been four short years since episode 1 featuring Julie Broad.
Well, she's back and not much has changed!!
Except she left her dominant position in the real estate influencer space in Canada to move to California and open a new business.
She still invests in real estate in Nanaimo, BC but she's here today to share about her new book coming out, share why everyone needs to write a book and a few how-to's to make your book a good one.
She's the author of "More Than Cash Flow" which is still a top 3-5 real estate book IMHO.
So without further ado, I give you Julie Broad.
To Listen:

HELP US OUT!
Help us reach new listeners on iTunes by leaving us a rating and review!
To Follow Julie: 
Web: https://booklaunchers.com/
Before you go, if you're interested in being a successful real estate investor like those who have been featured on this podcast and our hundreds of successful clients please let us know.
It is our honour to give back and educate others on how we build cash flowing real estate portfolios using all the best practices shared on this podcast, from the lessons of our hundreds of clients and of course our own experience in owning investment real estate.
If you didn't know already, we pride ourselves on being the best of the best real estate coaches, having the best property managers, contractors, handy people, cleaners, lawyers, accountants, everyone you need on your power team and we're happy to share them with our clients to ensure your success. 
New investor or seasoned veteran investor, we can help anyone by providing our award winning coaching services and this isn't all talk.
We have been awarded Realtor of the Year to Investors in 2015 by the Real Estate Investment Network, 2016 by the Canadian Real Estate Wealth Magazine and again in 2017 because no one told the judges no one is supposed to win the award twice but on merit, our peers deemed us as the best.  In 2018, we again won the same award by the Real Estate Investment Network.
Hopefully being the most decorated team of Realtors in Ontario will make you consider us for your first or next real estate investment.  Even if you don't invest in our areas, there's a good chance I know who would be ideal for you. 
I've been around for a while, some Realtors are talented at servicing investors there are many with great ethics.  The intersection of the two, talent and ethics is limited to a handful in each city or town.
Only work with the best is what my father always taught me.  If you're interested, drop us an email at iwin@infinitywealth.ca.
I hope to meet you at one of our meetups soon.
Again that's iwin@infinitywealth.ca
Looking to add another stream of income?
We just completed the long anticipated Stock Hacker Academy Live Introductory Course and it was awesome!
Stock Hacker Academy is the foundation that has helped Erwin, Cherry and many other Stock Hackers make thousands of $$ weekly and now they never have to worry about money again!
If you desire the same for yourself, click here to register now
NO MORE Confusion
After all the Youtube videos, books, and forum posts, you're probably still left with questions. Starting in real estate is a tricky thing.
Frustrated beginners often ask how a legal basement suite conversion actually works. Most of the time we can only give general answers. But now, we get to dive in.
At this in-depth, free class you'll learn how to take your first steps as a real estate investor.
Nothing is held back. Everything from analyzing basement suite conversion deals, to renting out your first property at a profit, and even how to refinance and do it all again!
More secrets you'll uncover are:
Profiting in a HOT market…
Municipal bylaws to watch out for…
Mortgage terms that favour refinancing…
AND one barely used tactic for higher appraisals…
If you're frustrated, unsure of how to get started, this is for you.
 Sign up now for the Invitation List and be one of the first to get an invite to the next class.
Sponsored by:
Infinity Wealth Investment Network – would you like to know how our investors returned 341.8% on positive cash flowing real estate over the last five years? On average, that was 68.4% per year.
Just imagine what winning in real estate could do for you.
If you would like to know how we did it, ask us how by calling 289-288-5019 or email us at meaghan@infinitywealth.ca.
Don't delay, the top markets we focus in are trending upward in price, so you can pay today's price or tomorrow's price.
Till next time, just do it because I believe in you.
Erwin
Hamilton, St. Catharines and Toronto Land Development, Real Estate Investor, and soon to be builder.
W: erwinszeto.com
FB: https://www.facebook.com/erwin.szeto
IG: https://www.instagram.com/erwinszeto/

https://www.truthaboutrealestateinvesting.ca/wp-content/uploads/2021/01/Julie-Broad.jpg
630
1200
Erwin Szeto
https://www.truthaboutrealestateinvesting.ca/wp-content/uploads/2017/06/TruthRectangleLogo.png
Erwin Szeto
2021-01-29 15:35:57
2021-01-29 16:50:49
From Top Real Estate Coach in Canada To Launching New Authors From California With Julie Broad