Giving Cancer The Finger, Getting Screwed and Buying 10+ Investment Properties Anyways w. Tom Sullivan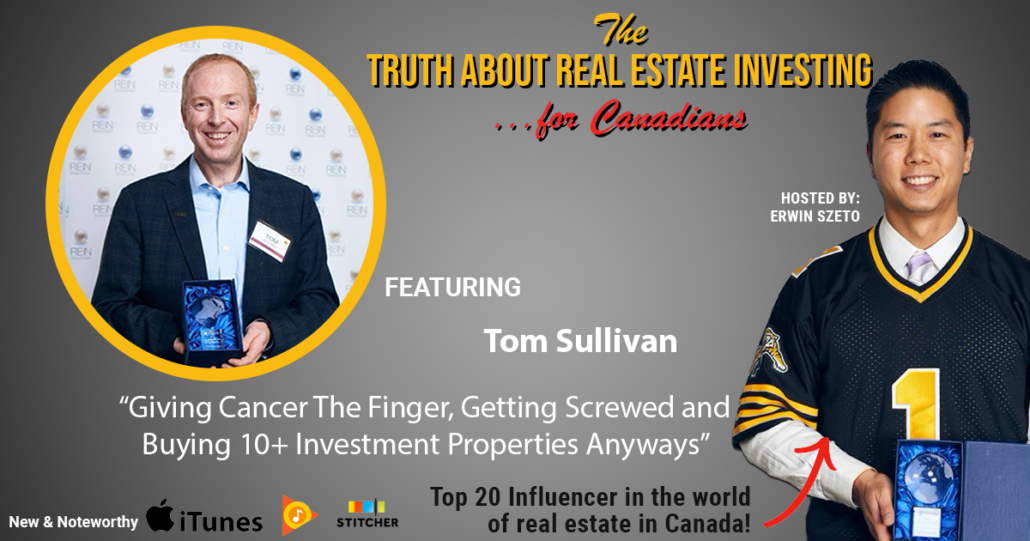 Happy New Year my fellow investors!!
I hope you enjoyed the holidays and are ramping up for an epic 2019!!
I had my mastermind session with the WuMASTERS just before Christmas, an overnight affair with a bunch of ballers who all have big plans for 2019, 2025, 2040.
The amazing part is some of my mastermind members already have 80-90% of what I want, which is why I'm so lucky to be a part of this group.
Just have a look at the lovely log cabin we stayed at on the river is just on the edge of Cambridge. One of my goals in life is to live part of the year in what many would consider a vacation property, so friends and family can come visit whenever they want, stay a weekend or a week or two. I'll work mornings only and come noon, I join my guests for lunch and take the rest of the day off. This property fits my vision and how cool is it we all got to enjoy it together.
2018 has been an amazing year for me and my family. Not business wise, as the government was successful in slowing down the market and, in turn, my business for the first half of 2018. Thanks to my investment portfolio, I can weather the storm between lines of credit and cash flow.
Real estate is not all sunshine and lollipops but keep in mind, the average investment property has its mortgage paid off around $500 per month by the tenant. If you have just five investment properties that's $2,500 per month or 28,000 per year. How many people do you know are putting away 28,000 per year for retirement or for kid's education fund?
I did a double take just last week to see my University program has increased its tuition to 28,000 per year!!! Up 155% from what I paid, or a compound growth rate of 5.4% per year. Is anyone earning 5.4% more each year over year in their job??
Quick event announcement, my networking group is getting together the evening of Jan 23rd at our new location near Pearson Airport!
You are the average of the five people you spend the most time with and, lucky for us, my mastermind group will be in attendance plus many other of the most successful real estate entrepreneurs I know. Such as Rob Break of the Break-Through Podcast, Brian of Pulis Investments who owns hundreds of doors in apartment building investing, plus several other award winning investors, flippers, wholesalers, AirBnb pros, etc…. My commitment to you the attendee is to assemble Ontario's best, tightly knit networking group of real estate investors. I have some networking exercises planned so you all can get to know one another better.
Seating is limited, so register as soon as you receive the invite. To get on the invite list go to https://www.truthaboutrealestateinvesting.ca/meeting/
I'll be sharing the business framework I created for investing in real estate that decides for me if now is the time to invest.
We have keynote speakers Andy Tran and Charles Wah to share how they created "free land" to build four units from the ground up and how we investors may be sitting on tens of thousands of "free," unlocked equity in your existing portfolio, or how to seek out similar properties.
Again, to get on the invite list: https://www.truthaboutrealestateinvesting.ca/meeting/
Giving Cancer The Finger, Getting Screwed, and Buying 10+ Investment Properties Anyways w. Tom Sullivan
On to this week's guest, Tom Sullivan. He is a Cancer survivor, and when he learned of his Cancer it served as a reminder of how short and precious life is. He went on a tear to acquire over 10 investment properties and earned him the Real Estate Investment Network's award for Rookie of the Year in 2015.
Tom is a smart guy holding his Masters in Business and Chartered Professional Accountant designation, investing in the Durham Regions and places east of Toronto. He's also one of the nicest, most sharing people you'll ever meet, which is why it's awful how another investor did not live up to their contractual, joint venture obligations when the partner profited so massively above projections from the deal.
As always, this is the Truth About Real Estate Investing show, so we bring you real stories, including those of headaches and financial losses so you may learn how to avoid similar mistakes.
As the saying goes, a fool learns from their own mistakes, a smart person learns from someone else's mistakes.
Do have your note taking implements handy, as Tom is full of great tips and, thanks to him, I just loaded up with tons of extended warranties. Without further ado, I give you, Tom Sullivan.
To follow up with Tom:
On LinkedIn: https://www.linkedin.com/in/tom-sullivan-mba-cma-cpa-471604/
If you enjoyed the show and would like to learn more about investing in real estate then you do not want to miss my Top 10 Tips On Real Estate. It's FREE to Download!!
I've interviewed many of the leading authorities in real estate, including Best Selling Authors like Julie Broad, Don R Campbell, Russell Westcott, and Tom Karadza. My super star investors include folks who acquire two properties per month or have transacted on over 100 properties. I have learned a thing or two in my own investing and distilled it down to 10, you-can-not-ignore, tips if you want to be a successful investor.
To download the report go to www.truthaboutrealestateinvesting.ca/book
Sponsored by:

TitanInvestmentRealEstate.com – would you like to know how our investors returned 341.8% on positive cash flowing real estate over the last five years? On average, that was 68.4% per year, just imagine what winning in real estate could do for you. If you would like to know how we did it, ask us how by calling 289-288-5019 or email us at admin@mrhamilton.ca. Don't delay, the top markets we focus in are trending upward in price, so you can pay today's price or tomorrow's price.

HaltonREI.ca – This episode is brought to you by my networking group, the Halton REI. We meet in Oakville (part of the Halton Region), but mainly invest in the top investment towns west of Halton: Brantford, Hamilton, Niagara Region, Kitchener-Waterloo-Cambridge.

We regularly feature the top speakers from our industry. The vast majority of our attendees are seasoned investors, so you will want to spend more time around these folks, as you are the average of the five people you spend the most time with. Your net worth is your network, so choose how you spend your time wisely.

Knowledge is power. Every meeting we share the latest in market rents, prices in the top neighbourhoods, and strategies for investment. We share the best property available as our Best Buy Property of the Month. We share the best tips and tricks for you to implement immediately to your investment businesses to fast track YOU on your journey to financial freedom. It's up to you if you'd like to be on said journey.

To get on the invite list please register at https://www.truthaboutrealestateinvesting.ca/meeting/ and you will receive an invite to the next Halton REI meeting once announced.

But don't listen to me, here's what members of our community are saying about the Halton REI!!

Till next time, Just do it because I believe in you.
Erwin
Hamilton, St. Catharines, Toronto, Land Development, soon to be builder and Real Estate Investor
FB: https://www.facebook.com/erwin.szeto
IG: https://www.instagram.com/erwinszeto/
https://www.truthaboutrealestateinvesting.ca/wp-content/uploads/2019/01/Tom-Sullivan.png
630
1200
Erwin Szeto
https://www.truthaboutrealestateinvesting.ca/wp-content/uploads/2017/06/TruthRectangleLogo.png
Erwin Szeto
2019-01-10 17:26:31
2019-02-01 04:46:50
Giving Cancer The Finger, Getting Screwed and Buying 10+ Investment Properties Anyways w. Tom Sullivan