Preview of What To Expect Jan 23rd with Andy Tran and Charles Wah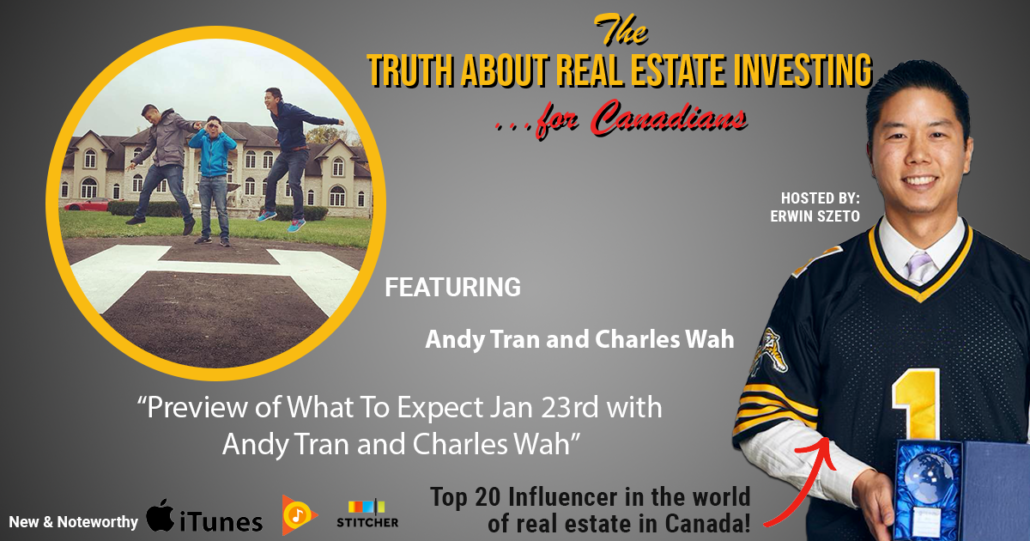 Our keynote speakers Andy Tran, Charles Wah and Construction Manager, Steve Ford, are currently building two houses from the ground up on a lot they already own and had severed. Basically, they got it for free so the returns are quite significant when you have next to zero land acquisition costs, especially the cash flow once the basements are legally suited. Andy Tran knows a thing or two about that too. Two houses >> four units, brand new.
This is an ideal strategy for investors new to developing and we are very lucky to have Charles Wah and Andy Tran to share how they are doing it.
To get on the invite list: https://www.truthaboutrealestateinvesting.ca/meeting
Sponsored by:

TitanInvestmentRealEstate.com – would you like to know how our investors returned 341.8% on positive cash flowing real estate over the last five years? On average, that was 68.4% per year, just imagine what winning in real estate could do for you. If you would like to know how we did it, ask us how by calling 289-288-5019 or email us at admin@mrhamilton.ca. Don't delay, the top markets we focus in are trending upward in price, so you can pay today's price or tomorrow's price.

HaltonREI.ca – This episode is brought to you by my networking group, the Halton REI. We meet in Oakville (part of the Halton Region), but mainly invest in the top investment towns west of Halton: Brantford, Hamilton, Niagara Region, Kitchener-Waterloo-Cambridge.

We regularly feature the top speakers from our industry. The vast majority of our attendees are seasoned investors, so you will want to spend more time around these folks, as you are the average of the five people you spend the most time with. Your net worth is your network, so choose how you spend your time wisely.

Knowledge is power. Every meeting we share the latest in market rents, prices in the top neighbourhoods, and strategies for investment. We share the best property available as our Best Buy Property of the Month. We share the best tips and tricks for you to implement immediately to your investment businesses to fast track YOU on your journey to financial freedom. It's up to you if you'd like to be on said journey.

To get on the invite list please register at https://www.truthaboutrealestateinvesting.ca/meeting/ and you will receive an invite to the next Halton REI meeting once announced.

But don't listen to me, here's what members of our community are saying about the Halton REI!!

Till next time, Just do it because I believe in you.
Erwin
Hamilton, St. Catharines, Toronto, Land Development, soon to be builder and Real Estate Investor
FB: https://www.facebook.com/erwin.szeto
IG: https://www.instagram.com/erwinszeto/
https://www.truthaboutrealestateinvesting.ca/wp-content/uploads/2019/01/Andy-and-Charles.png
630
1200
Erwin Szeto
https://www.truthaboutrealestateinvesting.ca/wp-content/uploads/2017/06/TruthRectangleLogo.png
Erwin Szeto
2019-01-08 21:03:50
2019-02-01 04:42:12
Preview of What To Expect Jan 23rd with Andy Tran and Charles Wah