From Back Injury, Flipping Corvettes to Full Time BRRRR Investor with Manny Cabral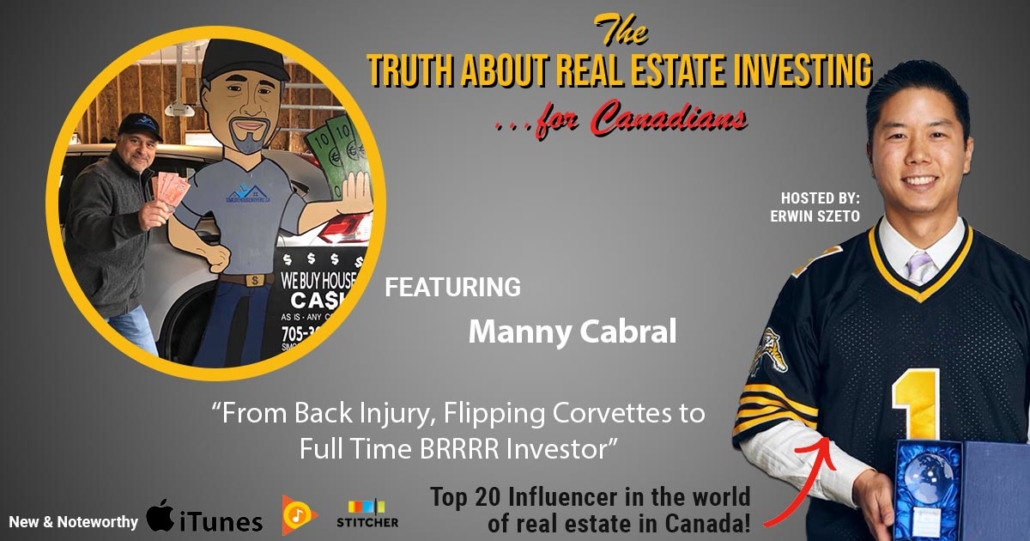 I lost money last week. 
I lost $1,400 USD Stock Hacking while Cherry turned in another four figure weekly profit.
This competition or rather lack of competition is love serving eight.  Terrible for me right? Combined we were still net positive last week ,and well, I made $2,100 on Monday so I'm on track to recover my losses and turn more profits in what has been a great side hustle for Cherry and myself. Especially during these trying times.
These trying times have caused some problems in our real estate too. 
I'm quite sure the value of our commercial property has gone down since we purchased it in early February and the haters who surprisingly listen to this podcast will be happy about it. 
I find it so odd haters would waste their time listening to this podcast and leaving me terrible reviews, thinking I'm all about making money, telling me about their dislike for offering Stock Hacking as an opportunity, as if the stock market is guaranteed to lose one"s money.
Whereas past guests of this show, like best selling authors Lee Lowell and Derek Foster, both have financial freedom from stock hacking and own virtually no real estate besides their homes. 
If someone has success in the world of money making, I'm all for hearing more about it. As you long time listeners know we've had past guests in ecommerce and cryptocurrency. 
A friend of mine who has a TV show shared with me he disabled all ability to comment on his content as he too doesn't like reading negative feedback. I'm honestly the same, even though some of the negative posts are baseless.
Here's what I mean. This is an example of someone who was pretty grateful to learn stock hacking, especially in the midst of crazy meltdown.
For a bit of context, after the market correction, I know a bunch of my friends who took the original course did not fair well during the correction. No different than many investors, including myself, as well as the top investors in the world.  So we offered all past students to retake the all new 2.0 version of Stock Hacker Academy for $100.
Here's what one student messaged me after taking the course a 2nd time.
"Man, you have no idea how much this means to everyone learning this. It's literally something we'll all be doing until the very end and will benefit our families. My premiums right now are helping my parents who have lost their jobs because of Covid.  Many many thanks."
At the end of the day, those who put in the work will be the most successful.
I know hundreds of people who lost money in real estate. I have too, but my clients and I have made a whole lot more money to make up for the losses.  It's why I ask guests about what works and what doesn't, so we as a community may rise up and create better futures for ourselves, our families and communities we live in.
Speaking of supporting our communities, there are sectors of our local economies that are really suffering, restaurants, services, and tourism.  If you're able too, they could really use our patronage. Emma's Back Porch in my own city just announced that, after 30 years, they are closing. Same with Crocodile Rock in downtown Toronto. 
I really hope those business owners also own the real estate they are located in.  The former is right on the lake, Crocodile Rock is downtown.  There is a chance owning the real estate is a better investment than operating the business.
As a friendly reminder, that's McDonald's real business. Even though they're a burger chain restaurant, they own most of the real estate their restaurants occupy and they often have great locations while they collect rent from the franchisees.
From Back Injury, Flipping Corvettes to Full Time BRRRR Investor with Manny Cabral
On to this week's guest, my friend, client, iWIN member, real estate investor, Captain Manny Cabral. 
He's a great guy, for years he owned and operated a large scale construction company that even took on government contracts.  One day Manny hurt his back and got a desk job running a car dealership.  Manny loves cars and he's got some good stories to share as he turned his passion into a successful side hustle importing luxury sports cars.
Manny eventually made the leap to leave his great job to be full time in contracting and investing in real estate. 
What I really enjoy about Manny's application of buying private sales is  he doesn't squeeze the seller for every last dime and instead shares what price he needs for the deal to make sense, for the work and risk he's assuming.
So without further ado, I give you Manny Cabral of Simcoe House Buyers.
To Listen:

To Follow Manny:
IG: https://www.instagram.com/emanuelc101/?hl=en
FB: https://www.facebook.com/profile.php?id=100015667688586
NO MORE Confusion
After all the Youtube videos, books, and forum posts, you're probably still left with questions. Starting in real estate is a tricky thing.
Frustrated beginners often ask how a legal basement suite conversion actually works. Most of the time we can only give general answers. But now, we get to dive in.
At this in-depth, free class you'll learn how to take your first steps as a real estate investor.
Nothing is held back. Everything from analyzing basement suite conversion deals, to renting out your first property at a profit, and even how to refinance and do it all again!
More secrets you'll uncover are:
Profiting in a HOT market…

Municipal bylaws to watch out for…

Mortgage terms that favour refinancing…

AND one barely used tactic for higher appraisals…
If you're frustrated, unsure of how to get started, this is for you.
 Sign up now for the Invitation List and be one of the first to get an invite to the next class.
Sponsored by:
Infinity Wealth Investment Network – would you like to know how our investors returned 341.8% on positive cash flowing real estate over the last five years? On average, that was 68.4% per year, just imagine what winning in real estate could do for you. If you would like to know how we did it, ask us how by calling 289-288-5019 or email us at meaghan@infinitywealth.ca. Don't delay, the top markets we focus in are trending upward in price, so you can pay today's price or tomorrow's price.
Till next time, just do it because I believe in you.
Erwin
Hamilton, St. Catharines and Toronto Land Development, Real Estate Investor, and soon to be builder.
W: erwinszeto.com
FB: https://www.facebook.com/erwin.szeto
IG: https://www.instagram.com/erwinszeto/

https://www.truthaboutrealestateinvesting.ca/wp-content/uploads/2020/05/Manny-Cabral.jpg
630
1200
Erwin Szeto
https://www.truthaboutrealestateinvesting.ca/wp-content/uploads/2017/06/TruthRectangleLogo.png
Erwin Szeto
2020-05-22 14:43:17
2020-05-22 14:43:58
From Back Injury, Flipping Corvettes to Full Time BRRRR Investor with Manny Cabral